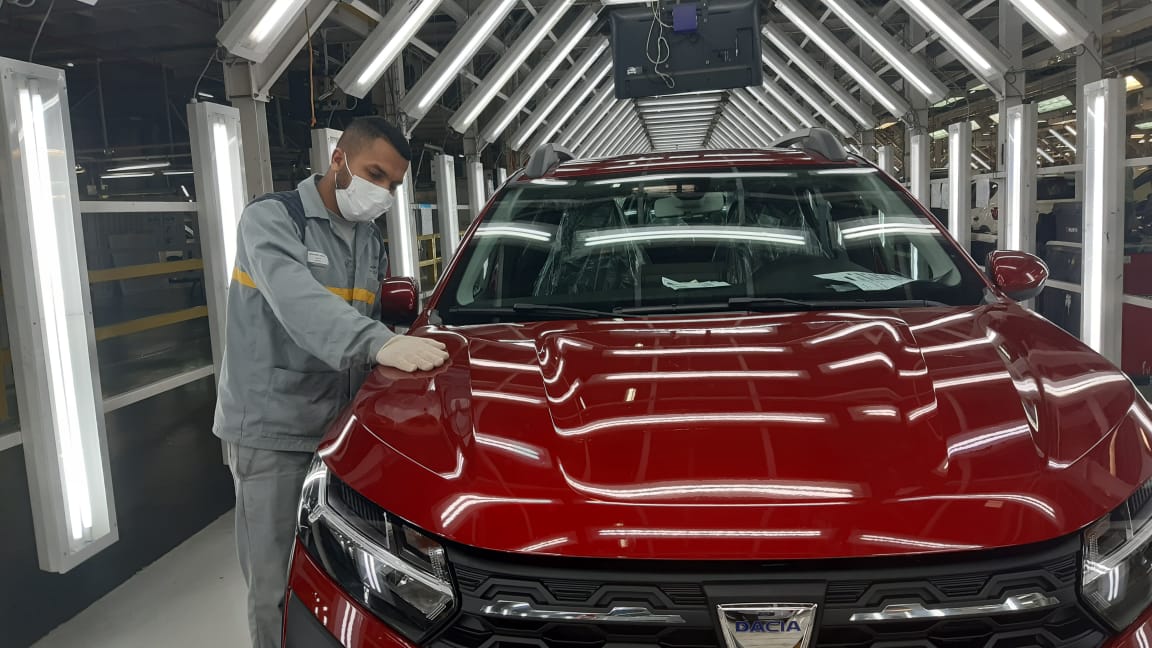 Despite modest sales numbers, Morocco is becoming a real success story as an automotive manufacturing hub. How will the country sustain it, we asked this week? Moroccans buy about 180,000 new cars every year, a relatively small number considering the country has a population of 37m. Despite this modest sales number, it is becoming a real success story as an automotive manufacturing hub and in 2018, passed South Africa as the biggest exporter of passenger cars on the continent. So, what are the drivers behind this steady expansion in production in the country? Read on to find out.
Lots of news from Ford this week, some, not all of it good, but EVs and batteries were mentioned a lot. So what better time for our resident futurist to eye the blue oval's EV plans? The announcement of job cuts by Ford of Europe did not affect the timing of previously stated electric vehicle launches, the automaker said and there is another US battery plant in the works with tech courtesy CATL. New EVs start with a crossover this summer.
Ford's announcement of job losses in Europe and the next steps on batteries in North America herald a more aggressive electrification stance. As the auto industry grapples with the energy transition ahead, the latest announcements point to the emerging seriousness of the associated industrial transformation that is getting inexorably closer. For Ford, there has been a feeling for a while now that the company needs to up its game on battery electric vehicles (BEVs) after a period when it seemed to focus too heavily on developing highly efficient ICEs and hybrids. A deal with Volkswagen to use its MEB platform for future Ford BEVs in Europe made good business sense, but also highlighted a gap in Ford's proprietary electric vehicle tech development. Now, it is focusing on the business strategy and BEV supply chain.
Students from the Eindhoven University of Technology, located in the Netherlands, have developed a what they claim is a fully sustainable electric car concept which captures CO2 while driving. It is hoped the concept of such CO2 capture can eventually contribute to the reduction of global warming. The students are continuing to work and further develop the project, with the aim of eventually making the complete lifecycle of the concept car CO2 neutral and road ready. The concept vehicle has been designed with a unique filter allowing the car to capture 2kg of CO2 per year when 20,000km has been travelled. This means that 10 cars with this technology can capture as much CO2 as an average tree. We spoke to two students involved with the development of the Zem to find out more.
Financial results continued to roll in this week, mostly good. Mercedes-Benz Group, now fully separate from the spun off heavy trucks company, said on Friday full year EBIT "substantially improved" 28% year on year for full year 2022 to EUR20.5bn (2021: EUR16bn) on revenue up 12% to EUR150bn (EUR133.9bn). Cars' adjusted Return on Sales (RoS) reached 14.6% (13.1%) and 11.2% at Vans (8.3%) while adjusted Return on Equity (RoE) at Mobility was 16.8% versus 22%) "despite macro challenges". For full year 2023 the automaker is forecasting group revenue at the 2022 level with EBIT "slightly below" the 2022 level, Cars adjusted RoS in the range of 12%-14%, Vans adjusted RoS at 9%-11% and Mobility adjusted RoE at 12%-14%. Trebles all round in Stuttgart tonight, I should think.
Glasses might be raised at supplier Visteon, too, which reported Q4 net sales up 35% year on year to US$1,064m driven by the ramp up of recently launched products, favourable pricing, and customer vehicle production growth. Net income was $34m (vs $31m in Q4 2021) and adjusted EBITDA $103million or 9.7% of sales, despite global semiconductor shortages impacting production throughout the quarter. Full year sales also grew 35%, to $3,756m, and net income was $124m ($41m). Visteon said positive pricing mostly offset incremental costs caused by the ongoing global semiconductor shortages and other supply chain challenges.
Renault Group said it doubled profitability in full year 2022, achieved record free cash flow, resumed dividend payments and and expected further performance improvement this year. The company exceeded its forecast updated in July 2022 with operating margin doubled to a 5.6% from 2.8% a year ago, ahead of "above 5%" guidance, and up EUR1.4bn to EUR2.6bn. The group is targeting 2023 operating margin "superior or equal to 6%" and automotive operational free cash flow "superior or equal to EUR2bn".
Latest data estimates put January's global light vehicle (LV) market annualised selling rate at 83 million units/year, broadly in line with the previous month. LMC Automotive (a GlobalData company) says that global supply constraints remain a key issue though distortions from tax changes also held back the global total last month. Monthly registrations were down 8.0% year-on-year (YoY), at 6.0 million units for the month. China's market had a sluggish start in 2023 with raw sales down 33% YoY, largely due to the spike in national COVID-19 infections and the termination of the tax incentives. Both North America and Western Europe had positive YoY growth in January, but this should not be overemphasized as 2022 was a weak base of comparison. Eastern Europe, on the other hand, continued to suffer YoY negative growth.
China's SAIC-owned MG Motor is already well established here in the UK and making inroads into the electrified and BEV segments but competition is a-coming – it this week appointed dealer distributors for Ireland, Finland and Iceland as it expands its passenger car market entry across the UK and Europe. Some models are already sold RHD in Asia Pacific and a recent New Zealand review of the Atto 3 (January's top selling BEV down there) following long-distance driving and recharging was favourable. BYD has a Thai (RHD) plant in the works (as does SAIC) to supply ASEAN markets and reportedly is mulling a European factory presumably to supply us.
Separately. BYD Auto plans to spend CNY8bn (US$1.2bn) to build a new electric vehicle (EV) battery plant in Zhengzhou, the capital of Henan province, according to local reports citing an application for an environmental assessment report published on a Zhengzhou local government website. The unconfirmed reports suggested BYD Auto's wholly owned subsidiary, FinDreams Technology, planned to build a plant with capacity for 40 gigawatt-hours (GWh) of Blade batteries per year. BYD claimed its lithium iron phosphate Blade battery was safer than others and would not catch fire. It was less bulky than many other batteries and already fitted to some of BYD's best selling models, including the Han and Seal passenger cars.
Ford is claiming to be the first automaker to commit to build both nickel cobalt manganese (NCM) and lithium iron phosphate (LFP) batteries in the US, after confirming earlier reports it would build a $3.5bn LFP battery plant in Marshall, Michigan. The new plant would be a wholly owned subsidiary and part of the automaker's "$50bn-plus global push to lead the EV revolution". Initial production was scheduled for 2026 with an initial 2,500 employees. Under a new agreement with Contemporary Amperex Technology (CATL), the plant would manufacture the battery cells using LFP battery cell knowledge and services provided by CATL, which operates 13 plants in Europe and Asia. Ford said adding LFP batteries to its EV model range this year, starting with the Mustang Mach-E, and backing a US LFP battery plant were key parts of the Ford+ plan.
Great for Michigan but European and UK employees got bad news – Ford is, according to a statement issued on Tuesday, 'taking the next steps to transform' its European business, cutting 3,800 jobs over the next three years. The company, based in Cologne, Germany, said it was "preparing its organisation and product line up to compete and win in a highly competitive region that is facing significant economic and geo-political headwinds". Restructuring the Europe business in Europe, "creating a leaner, more competitive cost structure", included "the elimination of 3,800 jobs over the next three years". Unions had expected 2,500 people to face the axe.
Have a nice weekend.
Graeme Roberts, Deputy Editor, Just Auto