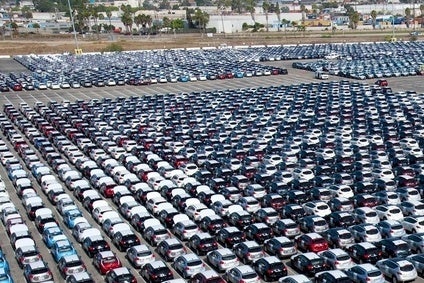 Latest data estimates put January's global light vehicle (LV) market annualised selling rate at 83 million units/year, broadly in line with the previous month.
LMC Automotive (a GlobalData company) says that global supply constraints remain a key issue though distortions from tax changes also held back the global total last month. Monthly registrations were down 8.0% year-on-year (YoY), at 6.0 million units for the month.
China's market had a sluggish start in 2023 with raw sales down 33% YoY, largely due to the spike in national COVID-19 infections and the termination of the tax incentives. Both North America and Western Europe had positive YoY growth in January, but this should not be overemphasized as 2022 was a weak base of comparison. Eastern Europe, on the other hand, continued to suffer YoY negative growth.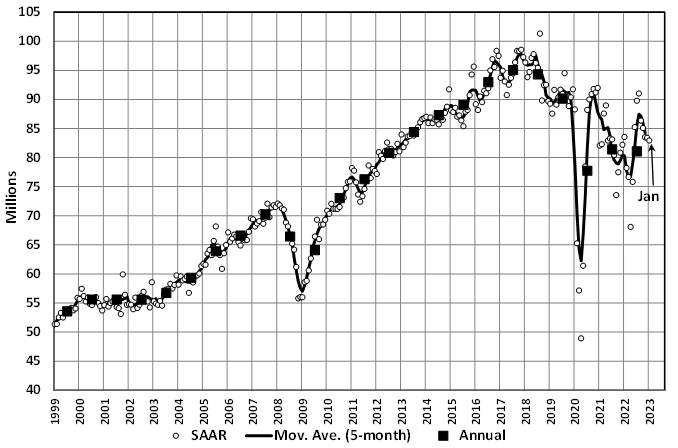 A summary of market developments in the world's regions follows.
North America
US LV sales grew by 6.1% YoY in January, to 1.1 million units, against a weak start to 2022. While the selling rate rose to 16.0 million units/year from 13.5 million units/year the previous month, this increase should not be overemphasised as seasonality has been disrupted the last several years. The daily selling rate provides a better view as it declined to 43k units/day from 48k units/day in December. Average transaction prices, however, fell to $46,771, -1.2% MoM, but still rose 4.9% YoY.
Canadian LV sales rose 1.6% YoY, to 96k units, with the selling rate rising to 1.8 million units/year, from 1.5 million units/year in December. Despite a strong January performance, limited inventory is likely still holding back sales. In Mexico, sales were up by 20% YoY in January to 94k units. The selling rate also increased to 1.2 million units/year, from 1.1 million units/year in December, the highest rate since February 2020.
Europe
The West European selling rate fell from 14.7 million units/year in December to 12.4 million units/year in January – the 2022 year-end having enjoyed a stronger selling rate in part due to legislation changes pulling forward sales. In raw monthly terms, January registered 930k units, up 9% YoY, though this compares to a weak January 2022.
The East European selling rate rose slightly to 3.4 million units/year in January from 3.0 million units/year in December. The conflict in Ukraine continues to hamper the region's LV market performance, with raw registrations down 19% YoY, at 200k units. Russia is driving this decline as raw registrations fell almost 62% YoY.
China
The Chinese market is off to a sluggish start in the New Year. Advance data indicates that the January selling rate was 24.1 million units/year, down 5% from a lacklustre December. In YoY terms, sales (i.e., wholesales) plunged by 33%. The slowdown was caused by the spike in COVID-19 infections across the country and the termination of the tax incentives. In December, the temporary purchase tax cut on ICE Passenger Vehicle (PV) models and the decade-old NEV subsidy program both ended. The timing of the Chinese New Year holiday (which started on 21st January this year, while it began on 31st January last year) distorted YoY comparisons, too.
According to China Passenger Car Association, NEVs accounted for almost 26% of retail PV sales in January. Sales of NEVs continued to outpace those of non-NEVs and Chinese brands performed relatively well, compared to foreign brands. Sales are likely to grow in 2023, with COVID infections subsiding and economic activities normalizing fast.
Other Asia
The Japanese market started 2023 well as January recorded the highest selling rate since April 2021 at 4.9 million units/year. Sales increased by 17% YoY against a weak 2022 and continued to improve along with an easing of the supply-chain bottlenecks. Mini Vehicles' sales (accounting for about 40% of total LV sales) have been recovering at a faster pace than those of non-Mini Vehicles, as they require less semiconductors than larger vehicles. Yet, demand continues to outstrip supply.
The Korean market started the New Year with mixed results. PV sales expanded by 9% YoY, supported by the extension of the temporary excise tax cut and the abolishment of the mandatory public bond purchase (a kind of tax) for smaller PVs, which became effective on 1 January 2023. Brisk sales of the all-new Hyundai Grandeur (406% YoY) led the PV market. In contrast, LCV sales declined by 22% YoY, as buyers held off on purchases, waiting for the government to finalize the BEV subsidies for LCVs.
South America
Brazilian LV sales grew by 11.3% YoY in January to 130k units, recording the second lowest January result since 2016. The selling rate declined to 1.7 million units/year, which is the lowest since April 2022, perhaps indicating that the increasing cost of vehicles is starting to impact demand. Despite improvements in inventory since 2022, dealership stocks did decline between December and January.
In Argentina, sales are estimated to have grown by 15.4% YoY in January, to 47.7k units, although the selling rate declined to 374k units/year. While this is a slowdown from the surge at the end of 2022, it is the best January result since 2016. The uptick in sales comes despite inflation nearing 100%.