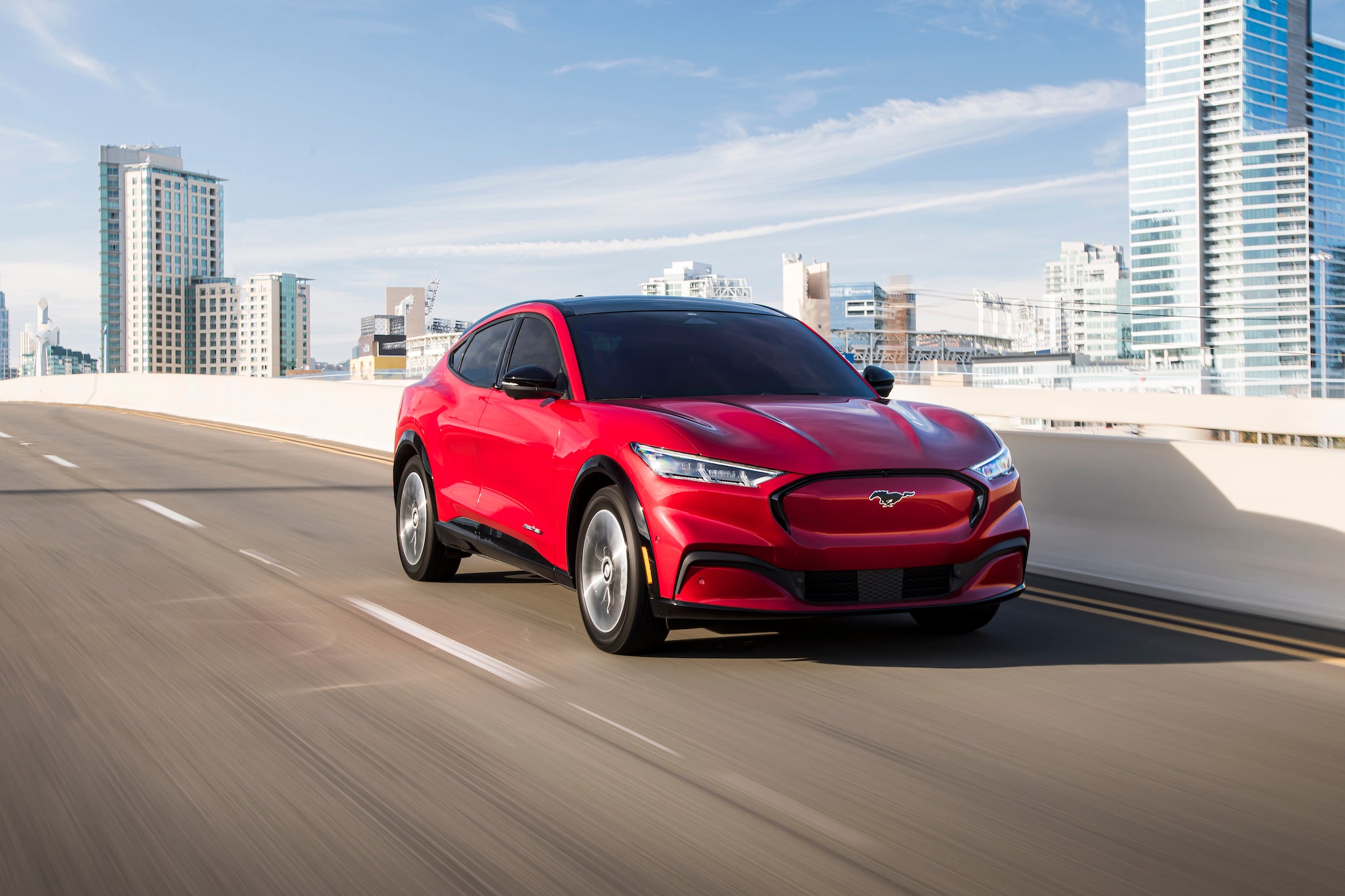 Today's announcement of job cuts by Ford of Europe does not affect the timing of previously stated electric vehicle launches, the division notes. And that starts with a new crossover this summer.
Highlights of Ford Motor Company's likely electrification plans for not just the European region but North America, Asia and elsewhere are explored below.
SUVs & Crossovers
The Puma continues to be a big success story all over Europe and yet the little crossover has no electrification options. That's set to change in 2024 when an EV arrives. Build will only be for three years as the second generation is due in 2027. That model should be electric-only.
Will the first of two SUVs which utilise Volkswagen's MEB architecture use the name 'Explorer Sport'? That's yet to be confirmed but seems a strong bet for this made-in-Germany C segment model. It will be revealed in March.
Developed by Ford of Europe, the electric SUV will be manufactured at the Niehl plant in Cologne. Both rear- and all-wheel drive variants of this VW ID.4 challenger should feature.
Ford stated last July that it intends to manufacture 30,000 units of this model in 2023. No total for 2024 has been announced but the regional division intends to be manufacturing a combined 600,000 units of its future Volkswagen architecture EVs later this decade.
The second electric crossover or SUV to be made at Niehl should also have a six to seven-year production cycle. It's not due to debut until 2024 but already we know that this model will be more of a sports crossover. Think of it therefore as a VW ID.5 competitor.
Despite being a partner in several joint ventures, for various reasons, China isn't a major market for the blue oval brand. Retail sales sell by 13 per cent year on year to 234,239 locally made passenger vehicles. Nonetheless, the company remains committed to its operations and has been selling an electric SUV there since 2019.
The Territory EV, produced in partnership with Jiangling Motors, has been updated once since its introduction, the original motor and battery pack having been upgraded in 2020. The outputs are 120 kW (163 PS) and 280 Nm (207 lb ft), with the battery's capacity becoming 60.4 kWh.
The JMC-Ford venture should continue producing the electric Territory (as well as petrol-powered versions) at their Nanchang plant until late 2025, a new model being likely to arrive in early 2026.
In the size segment above the Territory EV and the two future VW-based EVs, the Mustang Mach-E is doing well. Production capability for the now two+ years old crossover is presently bring lifted in the North American region from around 60,000 units per annum to 200,000. The electric crossover is also made in China (though only 3,597 were sold in 2022 versus 39,458 in the US). There should be facelifts for each towards the end of 2024 and a fresh battery pack.
The provisional code for the second generation Mustang Mach-E is said to be CX733. In North America, it may shift manufacturing locations, moving to Oakville in Ontario. Production should commence in either 2027 or 2028.
An electric Explorer is coming, Ford announced in May 2021, without saying when. It will be based on a new platform, although this is highly likely to be evolved from the existing CD6, a RWD-AWD architecture. The Explorer's Lincoln equivalent – the Aviator – will also gain an electric variant.
Originally due in mid-2023 and having a project code of CDX746, the whole project was rethought, suppliers have reported. Now, it is U759 and the Lincoln equivalent is U760 (formerly CDX747).
As for launch timings, both of these SUVs should appear in 2025. The plant is yet to be named. Originally, it was to be Cuautitlán in Mexico but Ford has instead already begin to add far more capacity there for the Mustang Mach-E. Ford of Canada's Oakville plant could be the new location.
MPVs & LCVs
The imminent E-Tourneo Custom is an electric MPV for mainly European markets. It will compete with the VW ID.Buzz and Stellantis' many alternatives in the size class.
Revealed in November 2022 but not yet in production, the E-Tourneo Custom is based on the new Transit Custom van. There will be two model grades: Active (grey plastic around the wheel-arches for a rugged crossover look) and Titanium X (luxury). Both have a 74 kWh battery pack.
Build should commence for European markets in June. An eight to ten-year life cycle is forecast.
The next Transit (V710) is part of a JV between Volkswagen AG and Ford Motor Company. Ford Otosan, a long running JV with Turkey's Koç Holding, will build the range of vans and passenger vans from later in 2023. The partners' Kocaeli manufacturing complex has seen the equivalent of two billion euro invested in it for this family of models.
As for the specifics of the Transit Custom, there will be a choice of petrol, diesel, mild hybrid, plug-in hybrid and fully electric drive choices.
An equivalent Volkswagen 1-tonne commercial vehicle will also be made at Kocaeli. A prototype of the EV, called E-Transit Custom, was revealed to the media in May 2022. Production of this variant won't start until the second half of '23.
Pick-ups
Ford hasn't said anything officially about electrifying the Bronco but that could change by mid-decade as the model reaches its mid-life point. A Lightning (EV) and a hybrid are likely to be added, probably for the 2026 model year.
As for the Bronco Sport, there possibly won't be an electric variant until the next generation lands for the '28 model year. However, a hybrid option for the current CX430 shape model seems like a strong possibility and may join the line-up at the time of next year's scheduled facelift.
The first plug-in hybrid Ranger should be revealed later in 2023 although it isn't scheduled to go on sale in relevant countries until early 2024. The powertrain will reportedly consist of Ford's EcoBoost four-cylinder petrol engine and a single motor. Outputs of 270 kW (362 horsepower) and 680 Nm (501 lb ft) are claimed to be the targets.
There should also be an electric variant which would be called Ranger Lightning. Production should endure for seven years, the mid-life facelift being due in late 2026.
Build of the F-150 Lightning commenced in April 2022, this electric pick-up being quite a big deal for the company. And even though production numbers are not yet anywhere near the gasoline-powered F-150's, Ford has invested a great deal in this EV and what it represents.
A separate production facility to produce the Lightning was erected next to the Dearborn plant where F-150s are made. The EV's body is made at Dearborn Truck but assembly takes place at the nearby Rouge Electric Vehicle Center.
The electric truck has a unique front, two motors, standard all-wheel drive and independent rear suspension. Other features include an on-board generator, up to four x 2.4 kW power outlets and a 'mega power frunk' (front trunk/boot) which has 400 litres of luggage capacity.
There are two battery options with the standard one giving around 230 miles or 300 with the long range alternative. Ford also created separate variants for both retail (Lightning) and commercial (Lightning Pro) customers.
Originally, the Ford said it expected to manufacture 80,000 units a year of the truck. However in January 2022, the firm said that annual build capacity would rise to 150,000 units a year by mid-2023.
Ford has applied to patent a range-extending gasoline engine+motor generator for the F-150. This can reportedly be removed from its position in the truck's load bay. As yet though, there has not been any official statement about this technology.
The next generation F-150 Lightning is expected to be based on an architecture with the internal code of TE1. Some have claimed that the new truck could appear in 2025 but 2027 seems more likely.
Ford stated in September 2021 that it would be building a giant new manufacturing complex in Tennessee. This will be its first greenfield plant since Kentucky Truck in 1969.
The US$5.6bn 'Blue Oval City' project stretches for six square miles at a site near Stanton. It will be three times the size of the Rouge Complex in Michigan. Scheduled to open in 2025, the project includes battery cell build and a supplier park. Around 6,000 people will work there.
On the same day as it announced Blue Oval City, Ford revealed plans for a related project near Glendale in Kentucky which will be staffed by some 5,000 workers. This is for BlueOvalSK, a joint venture with the Korean battery maker SK Innovation. The location, which is south of Louisville, will comprise a 1,500-acre two-plant battery park. The combined sites will produce batteries with an annual capacity of 129 gigawatt hours.
Ford wishes the Kentucky and Tennessee sites to be carbon neutral, stating in September 2021 that its intention is to power them with renewables.
The battery plant news continues too, with the most recent announcement being a JV with CATL in Michigan.
This is the first of two reports on Ford Motor Company's next generation models. It will be followed by a look at the company's many planned next generation combustion engine cars, pick-ups, crossovers and SUVs.