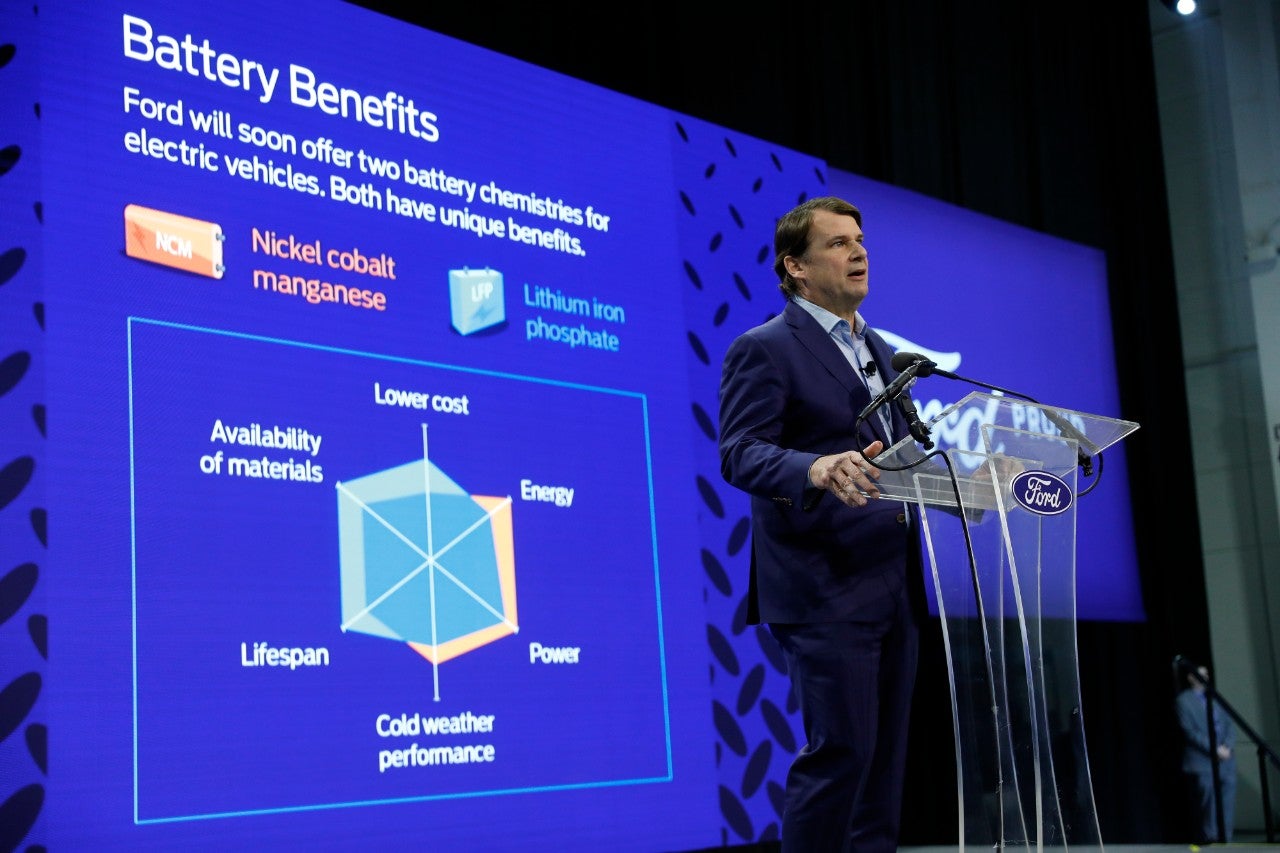 As the auto industry grapples with the energy transition ahead, the latest announcements from Ford point to the emerging seriousness of the associated industrial transformation that is getting inexorably closer.
For Ford, there has been a feeling for a while now that the company needs to up its game on battery electric vehicles (BEVs) after a period when it seemed to focus too heavily on developing highly efficient ICEs and hybrids. A deal with Volkswagen to utilize its MEB platform for future Ford BEVs in Europe made good business sense, but also highlighted a gap in Ford's proprietary electric vehicle tech development.
Now, it is focusing on the business strategy and BEV supply chain. It will work with Chinese battery giant CATL on a new battery plant in Michigan. The plant will also specialize in emerging lower cost LFP (lithium iron phosphate) battery technology, another tick for the blue oval. Moreover, political and trade tensions between the US and China and concerns over reliance on Chinese technology are sure to be dampened down by the positive economic impact of a major EV battery manufacturing plant located in the US.
On a broader sector note, the transition from ICEs to electric vehicles will drastically transform automotive supply chains over the next decade. Not only is it a case of different vehicular component systems required, but the complexity of the vehicle and the manufacturing process itself is impacted in terms of labour requirements. A simpler powertrain with fewer moving parts means simply that making the car is less manufacturing (or indeed, labour) intensive.
Ford chief Jim Farley flagged this – and issued a warning to powerful North American labour unions – not so long ago.  He pointed out that producing electric vehicles requires 40% less labour than making conventional petrol-powered vehicles. Wow. This, remember, comes at a time when underlying automation in manufacturing is on the rise, too. Farley added though, that the company is seeking to insource as much as possible – greater vertical integration means getting more control of the supply chain, as well as potentially retaining more jobs – a whiff of altruism in the face of a coming sector-wide shakeout, but with a solidly business head. Control of rapidly shifting BEV supply chains – from raw materials through to final components for assembly – is emerging as a new battleground in the sector, especially alongside the potential shortages of critical materials and parts. It's not just semiconductors, either.
A higher degree of vertical integration is one strategic lever that Ford can use to mitigate job losses as its vehicle content and associated supply chain transitions to a much higher percentage of electric vehicle components over the next five years.
Ford has announced a series of initiatives for sourcing battery capacity and raw materials as part of plans reach a targeted annual run rate of 600,000 BEVs by late 2023 and more than 2 million by the end of 2026.
As a result of today's announcement, Ford in Europe is to axe 3,800 jobs over the next three years (mainly in engineering and admin functions in Germany and the UK). The company said the restructuring will "align" product development organisation and administrative functions in Europe, with a smaller, more focused, and increasingly electric product line.
Ford made it plain that the job losses are driven by the transition to fully electric powertrains and reduced vehicle complexity – particularly relevant, in this case, to design engineering needs.
Ford in Europe has therefore now taken an important step in its necessary e-mobility-driven labour force adjustment. It won't be the last from Ford (North America will be a much more daunting challenge) and other OEMs will surely be forced to take similar actions in the coming years.
See also:
Ford confirms new US EV battery plant