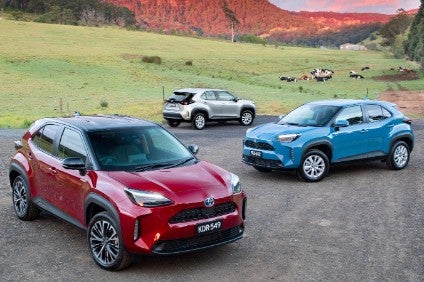 This week we reported Toyota's Yaris nameplate (including Yaris, Vitz, Yaris Cross and GR Yaris) had reached 10m worldwide sales, joining Toyota's other eight figure achievers – Corolla, Camry, RAV4, Hilux and Land Cruiser. The first generation Yaris was the first Toyota model built in a brand new plant in France and also the first to be named European Car of the Year, in 2000. The Japanese Vitz variant won Japan Car of the Year. The Yaris again was European Car of the Year in 2021. The third generation claimed the distinction of being the first B-segment model to offer customers a full hybrid electric powertrain and the current fourth generation UK range is all hybrid. The fourth generation line was expanded to include the GR Yaris performance version in 2020 and the high-riding Yaris Cross urban crossover SUV in 2021. From the launch of the original model in 1999 to the end of February 2023, cumulative sales of Yaris family models in Europe had reached 5,155,506; these include 715,845 sold in the UK. In 2022, Yaris accounted for a third of Toyota's total European sales and 8% of the market segment; in the UK the proportions for the hybrid hatchback were greater still, at 21.7% and 10%, respectively. Initial production started in January 1989 at the Takaoka plant in Japan and has since expanded to Brazil, China, Taiwan, Indonesia, Malaysia, Pakistan, Thailand, France and the Czech Republic. Toyota Motor Manufacturing France has produced Yaris since 2001 and Yaris Cross since 2021, the same year that Toyota Motor Manufacturing Czech Republic launched additional production to meet increasing demand.
Yaris rising
Which got us thinking about the ongoing rise of the Yaris. More successful in Europe than it is even in Japan, the now two years young model only seems to become ever more popular. Last year, Yaris sales crossed the 165,000 cars mark (EU-EFTA-UK) according to Dataforce, more than double the number delivered in China. So even without any availability in the US, this is now one of Toyota's global top sellers. One of the keys to understanding how Toyota Motor Europe (TME) became such a force in recent years is knowing that it doesn't just rely on the Yaris. The Yaris Cross is rising fast, the Corolla continues to be a great success, while C-HR and RAV4 deliveries were also strong in 2022. This continues in 2023. As with those other four mainstays of TME's volume, most examples of the Yaris have petrol electric propulsion. Europe wide, Toyota seems only to become ever better at conquesting, having overtaken every mass premium and other make apart from Volkswagen. Britain is an especially fascinating case with March data showing a fifth place year to date. In fact the Japanese brand's 31,748 sales were too close for comfort if you're fourth placed Audi (32,698) or Kia (32,255). Ford (36,423) and VW (40,991) are safe though. A really good April could therefore see Toyota vaulting into third position in the British market, which is far from being an unthinkable proposition. Particularly when sixth and seventh placed Nissan (25,950) and BMW (25,846) are so far back.
50 years of Civic
Compared to Honda's half century old Civic, Yaris is just a young pup. Looking back to the early 70s, until then, the few Honda cars about were mostly either sporty (S800) or diminutive city cars (N360/600) with air cooled engines reflecting their maker's motorcycle heritage. There was also a sedan called the 1300 which was more conventional and a short-lived successor with water cooled motor. Then came that first Civic – longer, wider, higher and on a longer wheelbase than the Ns with an 1,169cc, 37kW, water cooled, I4 mounted transversely with a four speed gearbox, optional Hondamatic two-speed semi-auto and power brakes. Two-door 'sedan' (in the same way of the original Mini) or three door hatchback. Some markets could have air conditioning in lieu of a glovebox. Now consider today's Civic – 4,551mm long, a full metre stretch, 1,802mm wide, 1,408mm high, 2,734mm wheelbase, 1533kg, 1,993cc, 105kW petrol engine supported by a 135kW electric motor to make a hybrid. Yes, Civic, you sure have grown a bit in your half century.
End of entry level?
Which is kind of a good point to ask: Are we seeing the end of the entry-level car? The number of the smallest, entry-level cars has been on the decline in Europe, yet demand will always remain. The reason? Profit! In this Analyst Briefing, we explore the factors leading to the disappearance of small cars, how the supply crisis accelerated this trend, and why they all tie back to the same overarching theme – profit and margins. The entry point to car ownership usually starts with A-segment hatchbacks, such as the Renault Twingo and Volkswagen Up! but an entry-level price tag leads to very limited profit margins for the manufacturer. In Europe, these tight margins are being further squeezed by EU legislation covering the latest safety and emissions standards. For example, to meet new regulations for CO2 emission reduction, manufacturers are adding hybrid and battery electric technology to vehicles, which increases production costs. However, the smallest cars are worst placed to absorb these extra costs, as the price sensitivity at this end of the market means that increases are less tolerated by buyers. The Conventional (which includes hatchbacks, sedans, and wagons) A-segment is therefore caught between the expensive need to adhere to EU legislation and the inability to pass these costs on to buyers. So, we are seeing a sharp decline in the number of models on sale in this segment as manufacturers are opting not to continue producing the smallest cars for diminishing returns.
A Citroen made by Opel
After some dark years of more or less reskinning Peugeot underpinnings with a new interior, we have been seeing a return to really stylish Citroens that stand out in the crowd, like they used to. In common with a few other Groupe PSA and FCA models, the DS 4 was close to pre-production as Stellantis came into being in early 2021. You can see the evidence of this in a few places on the car itself, 'PSA Automobiles S.A.' appearing on a sticker inside the driver's door jamb. Built at Opel's Ruesselsheim factory near Frankfurt, this 4.4 m long hatchback showed just how rapidly Peugeot-Citroën-DS and Opel-Vauxhall were being integrated into the expanded PSA Group. It's doubly impressive to see what's happened since, with so many other brands steadily enmeshing where it makes sense to do so. DS Automobiles didn't look like being a natural survivor of the merged PSA-FCA but to Stellantis' credit, it's investing in this and 13+ other names. The number really depends on whether you include Fiat Professional and Ferrari, which makes 16 in all by our reckoning. Carlos Tavares promises to keep feeding all the hungry mouths but targets have naturally been set to ensure that minds are focused on sales and profits.
OVO streaming
Start-up company OVO Automotive has developed a new system, allowing drivers to stream apps onto car infotainment screens. Infotainment systems are become more complex, personalised, and advanced with every new vehicle launched, allowing drivers to access a wide variety of apps and services through the built-in system. However, if you want to use certain apps within your vehicle you can sometimes find yourself limited due to compliance issues or tech giants such as Apple and Google controlling which content is accessible within vehicles. This issue has been addressed by Israeli start-up, OVO Automotive, who claim to have developed a first-of-a-kind system which allows app streaming inside the car, instead of direct installation. The company aims to allow companies and fleet managers to access various apps without the need to install anything onto the infotainment system in the car; instead they can be streamed from the cloud. We spoke to the company's founder and CEO Dr. Gilad Zlotkin, to find out more about how this technology works and the benefits it brings to the automotive industry.
Is Skoda's Enyaq state of the EV art?
It's been almost two years since Skoda began deliveries of its first E-crossover. So is the Enyaq iV a mainstream model yet? The lustre came off the Czech brand last year. Long the darling of the Volkswagen Group for its ability to sell ever more vehicles and deliver ever better profits, things didn't go so well in 2022. China was and continues to be a source of woe for the company: this isn't even a top 50 brand there any more. February was yet another ghastly month, sales plunging by 49% to just 1,732 locally made models. Last year Europe wasn't the happiest place for Skoda, either. The chips crisis was the main reason why it ended up a long way behind Audi, the regional sales tally being only 538,623 cars. Now however, what had once been normal service has resumed. And that means battling it out with the four rings for the title of being the group's second best selling division in the home region. In fact, Skoda beat Audi during the first two months, their market shares being 5.6% and 5.5% in EU+EFTA+UK. One of the main reasons behind the bounce-back has been the UK, and in particular, demand for electrified models, of which the brand offers many. Including its best selling EV, the Enyaq iV. The brand's first mainstream electric car was joined last year by a curvier alternative called Enyaq Coupé iV. That one is taking a little time to gain sales traction Europe-wide. However as a backlog of orders is worked through, resultant registrations will start to paint a more realistic picture of its real performance. Even with all the difficulties endured in 2022, Skoda still managed to sell 47,475 units of the Enyaq iV (plus 2,430 Coupés).
First AWD EV Mini
BMW Group's drip feed of information on the redesigned Mini Countryman continued this week with news the second generation PHEV with all wheel drive would be followed up by a new Countryman SE ALL4 model, the brand's first AWD EV. Two integrated drive units on the front and rear axles together generate an output of 230kW/313hp, including a temporary boost. Battery capacity is 64.7 kWh. The new generation will be fully electric. The base Countryman E has 140kW/191hp. Estimated range is up to 450 kilometres (280 miles). Overall length is increased 130mm to 4,429 mm and height is up 60mm to 1,613mm, boosting headroom. For environment reasons all decorative elements on the exterior and interior have been "dispensed with" and the cast light-alloy wheels are made from up to 70% recycled aluminium.
New battery materials factory
Always something on materials: Group14 Technologies, a manufacturer and supplier of advanced silicon battery technology, has announced the commencement of construction of a second commercial-scale US Battery Active Materials (BAM-2) factory in Moses Lake, Washington State, US, in support of domestic efforts to advance the electric vehicle (EV) market. The company says the 1m square foot campus will be home to the world's largest factory of advanced silicon battery materials for EV programs to meet global decarbonisation targets. Leveraging a $614 million Series C round backed by Porsche AG and Microsoft Climate Innovation Fund, and a subsequent US$100m grant from the US administration and the US Department of Energy, Group14's second BAM factory will join its first factory in Woodinville, WA, in manufacturing commercial quantities of SCC55. SCC55 is described as an advanced silicon battery technology that delivers 'higher energy density and charge rates than traditional lithium-ion batteries for applications such as EVs'.
Romanian EV batteries
Belgian company Avesta Battery and Energy Engineering (ABEE) reportedly is preparing to invest EUR1.4bn in Galati, eastern Romania, to build an e-vehicle battery factory, according to the Adevarul daily. Representatives of the Belgian firm announced that they would have a production capacity of 22GWh per year and would also develop a unit for recycling 50,000 tonnes of batteries annually. According to local media, cited by romania-insider.com, investors expect technical and administrative approvals by mid 2024 and would purchase production lines in 2025.
Kia EV targets
Kia Corporation announced an updated mid- to long-term business strategy at its CEO Investor Day meeting in Seoul with a particular focus on powertrain electrification as the company steps up its transition towards becoming a "sustainable mobility solutions provider". The automaker said it aimed to sell 4.3m vehicles annually by 2030, up from 2.9m in 2022, of which 2.38m would be electrified – equivalent to 55% of total sales. Battery electric vehicles (BEVs) were forecast to reach 1m units by 2026 and 1.6m by the end of the decade. The company said its aimed to have 15 BEV models on sale by 2027, including purpose-built vehicles (PBV) such as robotaxis with autonomous driving technology. The first PBVs would go into production at a dedicated facility in Hwaseong in 2025.
March US light vehicle sales
US light vehicle (LV) sales grew by 8.6% year-on-year in March according to preliminary estimates issued by LMC Automotive, a GlobalData company. The annual growth rate also follows a strong March market last year. General Motors continued its reign as the bestselling OEM in a streak that now measures eight months. GM's closest rival remains Toyota Group, although the gap between the two OEMs was 52k units, significantly larger than the 27k unit difference in February. Toyota once again saw a YoY deficit as the manufacturer faces tighter inventories than most competitors. While Ford retained the title of number one-selling brand in March, its margin to the nearest challenger – Chevrolet – was under 9k units. Chevrolet had fallen behind Toyota in February, but overtook the Japanese make in March, albeit only by around 2k units. The Ford F-150 was once again the bestselling Light Vehicle in March, around 7k ahead of the Chevrolet Silverado, which pushed the Toyota RAV4 into third place.
GM ditches standalone apps
Future General Motors EVs reportedly won't have standalone Apple CarPlay or Android Auto smartphone connectivity as the automaker switches to Google-based infotainment systems. Motor Authority said GM EVs and ICE vehicles currently on sale would retain Apple CarPlay and Android Auto but new EV models would drop those features in favour of a new infotainment system that "will be an evolution" of the Google built in systems already available in some GM models, like the GMC Hummer EV. The report noted Apple CarPlay and Android Auto had proven popular because they projected familiar smartphone interfaces onto a car's infotainment system, allowing drivers to sidestep the eccentricities of the native systems. But GM claimed Google built in systems would provide a more streamlined experience. "We believe a simple, seamless and built in experience that integrates basic infotainment features with key vehicle systems is the best path forward," GM spokesperson Anna Yu told Motor Authority. "Requiring our customers to navigate in and out of different solutions and go back and forth for different needs is not seamless." Some of Android features, such as Google Maps and Google Assistant voice recognition, would carry over to the new infotainment systems "at no additional cost" for the first eight years of ownership, according to GM. Spotify would be natively available as well, while other third party apps would be available through the Google Play Store, GM added. Bluetooth and Siri support would continue as well, but GM would not comment to Motor Authority on future availability of Apple Music.
Brightdrop starts shipping Zevo 600
BrightDrop said it had started shipping the first 500 Zevo 600s built in the first quarter at CAMI Assembly in Ontario, Canada, opened three months ago. The GM electric van subsidiary said all model year 2023 Zevo 600 was sold out while commercial vehicle rental company Ryder planned to add 4,000 of the EVs to their rental and lease fleet through 2025. The company said it secured 30 commercial customers in two years across industries like retail, rental, parcel delivery and service-based utilities. This includes American Tire Distributors, WasteNot Compost and Rexel USA in addition to previously announced FedEx, Walmart, Hertz, DHL Express and Purolator.
AvtoVAZ recovers?
Russia's largest vehicle producer AvtoVAZ is planning to make 400,000 vehicles this year with a step-up planned for the second half after the 'validation of components'. It says the validation of components follows a move to localise supply with parts 'delivered by new partners from friendly countries as part of the step-by-step import substitution plan'. The localisation move follows economic sanctions imposed on Russia by Western nations following last year's military conflict in Ukraine. Major AvtoVAZ shareholder Renault also divested its stake to local interests last year. As well as testing components, the company is also building stocks to 'enable non-stop work of production lines in the second half, when AvtoVAZ is going to significantly increase production output'.
Tesla Q1 record
 Tesla produced over 440,000 vehicles and delivered over 422,000 vehicles in the first quarter of this year – with the level of deliveries posting a new quarterly record. The record deliveries figure follows significant price cuts initiated by the firm in January. Analysts however, noted that the quarter-on-quarter gain from Q4 was smaller than the preceding quarter's. Tesla is facing intense competition in China from BYD, while in Europe VW is raising the competitive ante in the BEV segment with the ID.4. Tesla ramped up production during 2022 as new plants in Berlin and Shanghai produced more. Earlier this year, Tesla chief Elon Mush said Tesla could achieve sales of more than two million vehicles this year, which would compare with just over 1.3m in 2022.
Have a nice weekend.
Graeme Roberts, Deputy Editor, Just Auto