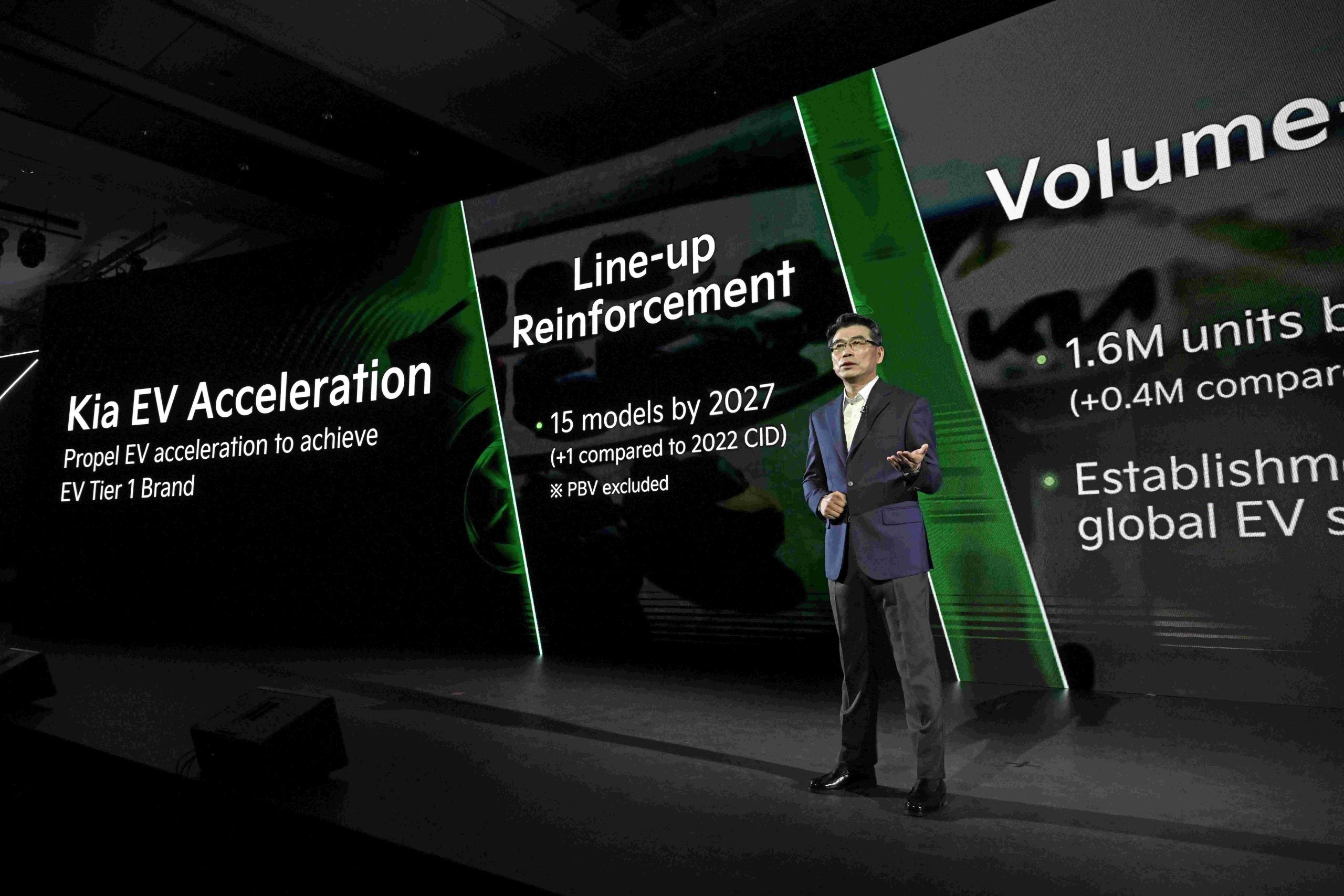 Kia Corporation announced an updated mid- to long-term business strategy at its CEO Investor Day meeting in Seoul with a particular focus on powertrain electrification as the company steps up its transition towards becoming a "sustainable mobility solutions provider".
The automaker said it aimed to sell 4.3m vehicles annually by 2030, up from 2.9m in 2022, of which 2.38m would be electrified – equivalent to 55% of total sales.
Battery electric vehicles (BEVs) were forecast to reach 1m units by 2026 and 1.6m by the end of the decade.
The company said its aimed to have 15 BEV models on sale by 2027, including purpose-built vehicles (PBV) such as robotaxis with autonomous driving technology. The first PBVs would go into production at a dedicated facility in Hwaseong in 2025.
Kia noted its EV6 model won the 2022 European Car of the Year and the 2023 North American Utility Vehicle of the Year awards, which it saw as proof of market confidence in the brand and its products.
Kia also said it would apply connectivity to all new models by 2025, adding the newly launched EV9 would feature conditional level three autonomous driving technology including HDP (Highway Drive Pilot) which allows the driver to operate the vehicle "hands off" under specific conditions.
By 2026, its planned to introduce HDP2 technology which would support "eyes off" driving under certain conditions.
The company also said it planned to commercialise data and software based products to introduce customised product and service for the diverse needs of customers, and to develop mobility services in connection with Hyundai Motor Group's Advanced Air Mobility (AAM) and robotics businesses.
Kia said it would continue to pursue its four core goals set last year to achieve its new targets for 2030, including achieving global sales of 4.3m units; accelerating its EV transition; strengthening its product competitiveness with a focus on autonomous driving technology and connectivity; and establishing a tailored PBV business structure.
Investor Day Key Announcement Highlights
Global Sales
2030: Target of 4.3m units (+34% from 2023 target)
2030: Electrified vehicle sales target of 2.38m units, 55% of all sales
2026: 4.01m units (+25% from 2023 target)
2023: Annual sales target of 3.2m units (+10.3% from 2022)
EV Strategy
2030: EV annual sales target of 1.6m units, 37% of all sales
2027: EV lineup of 15 models (up one model from 2027 goal announced in 2022)
2026: EV annual sales target at 1m units, 25% of all sales
2024: To operate first dedicated EV factory at Gwangmyeong
2023: EV annual sales target of 258,000 units, 8% of all sales
Produce EVs in US, Europe, China and India
Product Strategy
2025: Launch all vehicle models as connected car beginning in 2025
2026: Bring HDP2 to EV9
2023: Implement conditional Level 3 autonomous driving to the EV9, enable over the air (OTA) software updates
PBV Strategy
2025: Launch dedicated mid-size PBV
Establish a tailored business structure and offer an integrated solution for PBV
Establish a full PBV lineup including PBV robotaxi with autonomous driving
Develop a solution that seamlessly manages data, software, charging for PBVs
ESG/New Business
2045: Gradual carbon reduction (from 2019 levels) to reach carbon neutrality by 2045: 2030: 10% reduction; 2035: 35% reduction; 2040: 70% reduction
2030: Increase proportion of recycled plastic use to 20%
Financial Targets
2030: Gross revenue KRW160trn, operating profit KRW16trn, operating profit margin 10%
2030: Elevate EV's contribution to profitability (53% of all profit)
2026: Gross revenue KRW134trn, operating profit KRW12trn, operating profit margin 9%
2023: Gross revenue KRW97.6trn, operating profit KRW9.3trn, operating profit margin 9.5%
Investment / Shareholder Policy 2023-2027
Invest KRW32trn for next five years (45% for future businesses)
2023-2027: Purchase up to KRW0.5trn worth of shares each year and cancel 50% of the repurchased shares