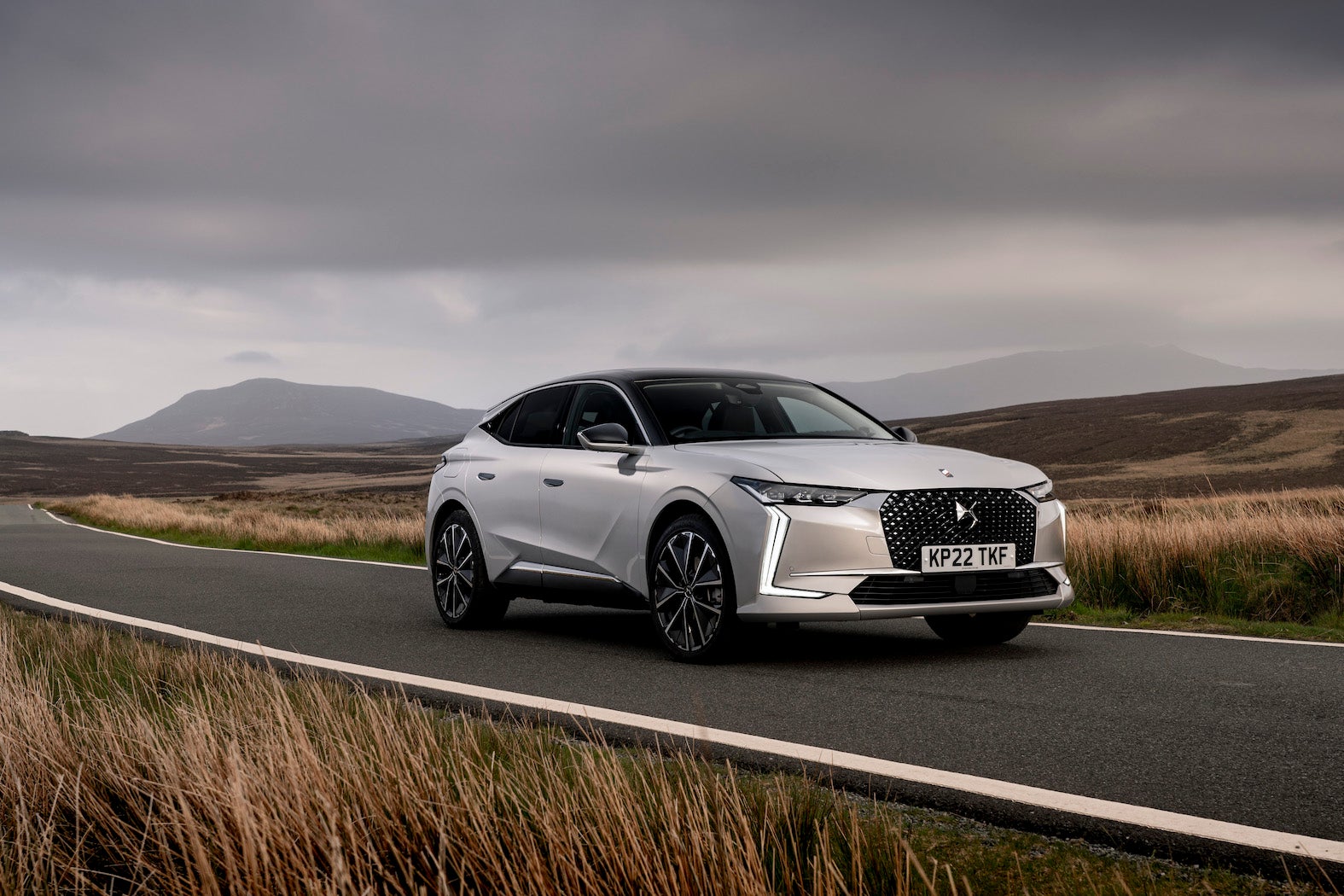 In common with a few other Groupe PSA and FCA models, the DS 4 was close to pre-production as Stellantis came into being in early 2021. You can see the evidence of this in a few places on the car itself, 'PSA Automobiles S.A.' appearing on a sticker inside the driver's door jamb.
Made by Opel
I found that label whilst seeing if I could locate any references to the 4's manufacturer. Built at Opel's Rüsselsheim works, this 4.4 m long hatchback shows just how rapidly Peugeot-Citroën-DS and Opel-Vauxhall were being integrated into the expanded Groupe PSA. It's doubly impressive to see what's happened since, with so many other brands steadily enmeshing where it makes sense to do so.
DS Automobiles didn't look like being a natural survivor of the merged PSA-FCA but to Stellantis' credit, it's investing in this and 13+ other names. The number really depends on whether you include Fiat Professional and Ferrari, which makes 16 in all by my reckoning. Carlos Tavares promises to keep feeding all the hungry mouths but targets have naturally been set to ensure that minds are focused on sales and profits.
Premium Brands group = DS-Alfa (and in Italy, Lancia)
In the UK, the division is bundled in with Alfa Romeo as Stellantis' Premium Brands group. This is headed up by Julie David, who explains in simple terms what needs to happen next: "We have beautiful products. We just need more people to know about them".
It's refreshing to hear an MD speaking in such a no-nonsense way, particularly when DS is already doing fairly well in the British market. As noted in a recent review of the larger 9, deliveries in the two months to the end of February numbered 459 saloons, hatchbacks and SUVs.
An ever-expanding range
The 4 remains DS' newest model, with the 3 and 7 having just had mid-life refreshes. The UK range therefore now comprises the 3, 3 E-Tense, 4, 4 E-Tense, 7, 7 E-Tense and 9 E-Tense. The suffix means EV in the case of the smallest DS but plug-in hybrid when talking about the 4, 7 and 9. A tad confusing, that.
Another EV in 2024
Next year, badging could become even trickier to decipher as Stellantis says an electric DS 4 will be launched. As a DS 4 E-Tense (PHEV) already exists, what will the EV be called? Also, commencing in 2024, new models will be electric-only.
Present wrinkles in the naming system will eventually be ironed out and the two meanings for E-Tense don't seem to be doing any harm to sales. Fairly brisk in Europe, last year, the region accounted for 87 per cent of DS' worldwide deliveries.
Building awareness and sales
Helping get numbers up to what was just a single vehicle shy of 50,000 sales, the new-in-2022 DS 4 had a good first twelve months. Build started in November 2021 and as the car didn't reach all markets for some months, the EU-EFTA-UK tally of 15,544 units was a fine result. Also consider that the brand itself, as Julie David points out, remains in the building awareness phase (and not just in the UK).
Future models for 2024 and 2025
Given the young average age of most models or at least recent refreshes in some cases, it should be another good year in 2023. That might well continue as two other cars, reportedly codenamed D75 and D85, are added by the end of 2025 (along with the electric 4).
Eye-catching elegance
One glance at the 4 is all it takes to realise why this C segment vehicle had a good introductory year when so many things should have held it back. There's a complicated intersection of lines all over the car and these only seem to make it all the more striking. There's not one angle from which the 4 looks anything but arresting. And in a good way.
On the inside, the impression is indeed premium, just as DS wishes it to be. Lessons have clearly been learned from the experience of the (pre-facelift) 3 and 7 where not everything you touched or saw said 'equal to Audi'. The diamond shape theme from the grille and tail lights is also present for certain soft-plastic dashboard pieces and controls.
There are huge felt-lined door pockets, physical controls for HVAC functions (even if they do then draw your eyes away from the road and to a screen), two storage cubbies and a big glovebox. But when it comes to space for people, those up front get the best deal. It does seem that there's a downside to the swoopy exterior as taller passengers might feel a little too snug.
Petrol, diesel or PHEV
When it comes to engines, there's a choice between PureTech 130, 180 and 225 horsepower petrol units and a 130 horsepower BlueHDi. An eight-speed automatic gearbox is standard for each. Not every petrol and/or diesel option is available in all European markets, though (180 and 225 are not for the UK).
As an alternative to the ICE-only variants, the PHEV's powertrain is a 132 kW (180 PS) 1.6-litre four-cylinder turbo supported by an 81 kW (110 PS) motor. Combined power is 165 kW (225 PS).
As with the combustion cars, the E-Tense has an eight-speed automatic transmission delivering torque to the front axle. The stated range in electric mode from the 12.4 kWh battery was originally 50 kilometres (WLTP Combined) but this was extended by 12 km as part of software changes announced in October 2022.
EMP2 platform
Key to understanding how all these options can be justified is knowing about the production and platform part of the equation. The 4 shares its EMP2 Evolution architecture with the Opel/Vauxhall Astra, plus a production line. And this also explains the future EV: that one will likely have the new Astra Electric's 115 kW and 270 Nm motor plus the same 54 kWh li-ion battery.
What's it like to drive?
Comfort is the emphasis for any DS model and this one is no exception. It also handles very well and is really only let down by steering that could do with a little more precision off dead-centre.
For a two-wheel drive car with a generous amount of torque, the 4 E-Tense also has an impressive level of grip, at least in the dry conditions present during the media drive event.
Conclusion
If appearance alone sold cars, then the waiting list for the DS 4 would stretch for years and years. It's a terrific looking thing, and has some genuine character – not something you can say about every premium brand model in the C segment.
Pricing starts at GBP28,330 (Bastille 130) and rises to GBP48,250 (Cross Opera PHEV).