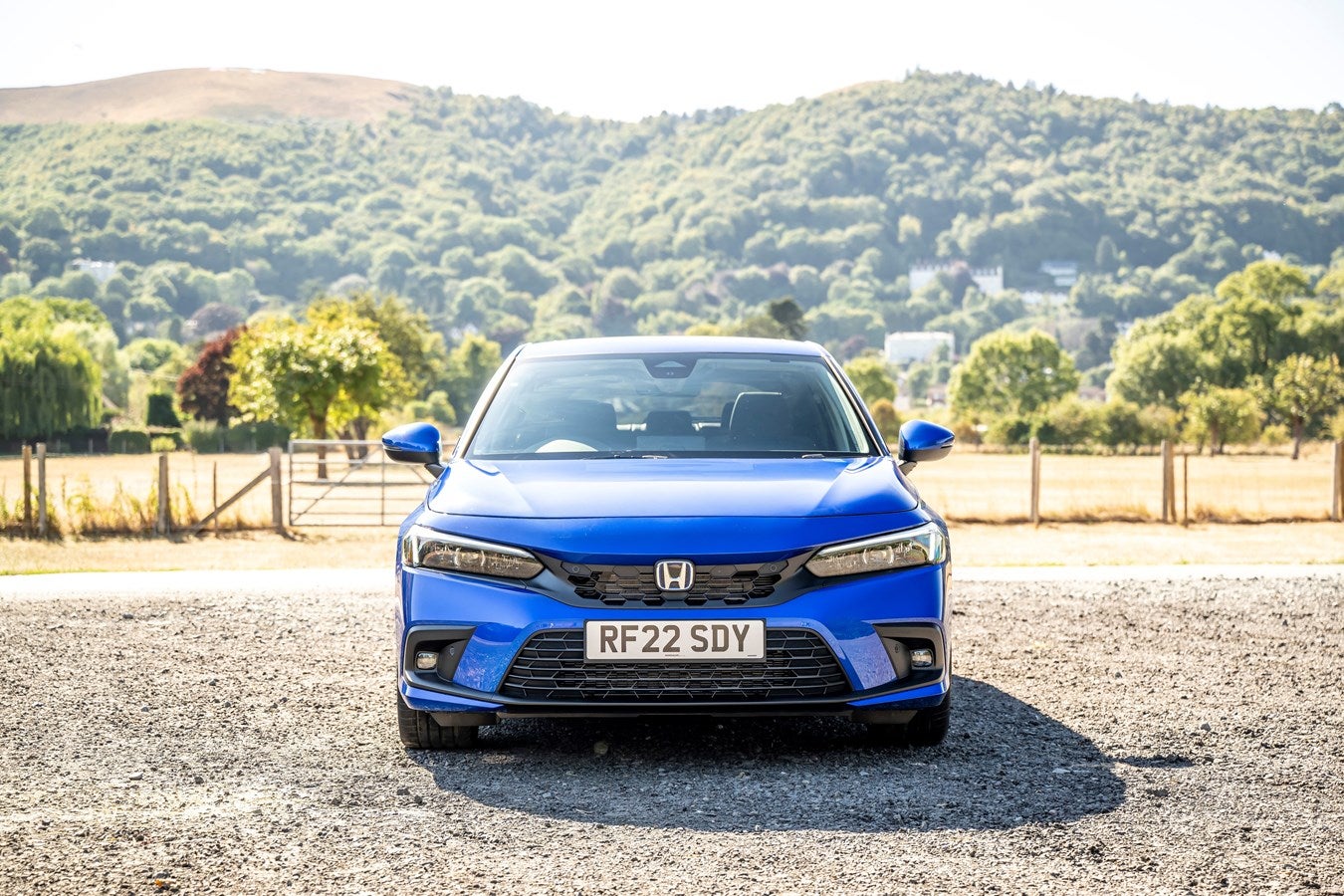 One of the few advantages of advancing years is being able to remember way back when. As in waaaaaaaaay back when. As in 50(!) years to when the first Honda Civic broke cover.
Until then, the few Honda cars about were mostly either sporty (S800) or diminutive city cars (N360/600) with air cooled engines reflecting their maker's motorcycle heritage. There was also a sedan called the 1300 which was more conventional and a short-lived successor with water cooled motor.
Then came that first Civic – longer, wider, higher and on a longer wheelbase than the Ns with an 1,169cc, 37kW, water cooled, I4 mounted transversely with a four speed gearbox, optional Hondamatic two-speed semi-auto and power brakes. Two-door 'sedan' (in the same way of the original Mini) or three door hatchback. Some markets could have air conditioning in lieu of a glovebox.
Compare the dimensions: 3,550mm long on a 2,200mm wheelbase, 1,505mm wide, 1,330mm high, 790kg weight. Various different engines, a longer four-door sedan and five door wagon followed as did multiple generations, initially every four years or so.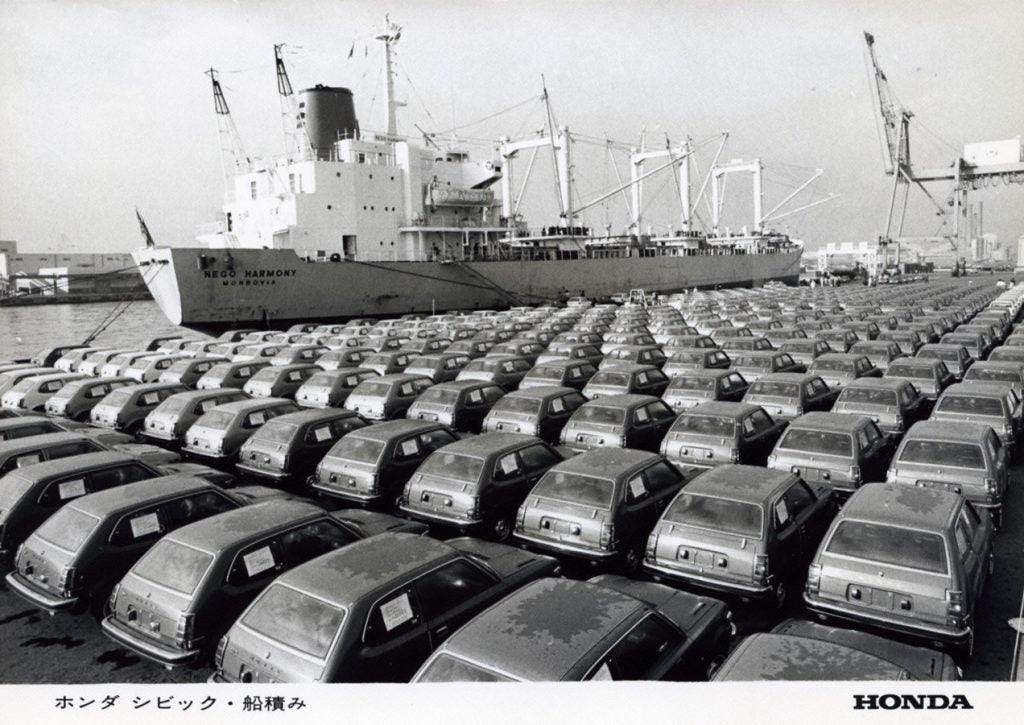 Consider today's Civic – 4,551mm long, a full metre stretch, 1,802mm wide, 1,408mm high, 2,734mm wheelbase, 1533kg, 1,993cc, 105kW petrol engine supported by a 135kW electric motor to make a hybrid. Yes, Civic, you sure have grown a bit in your half century.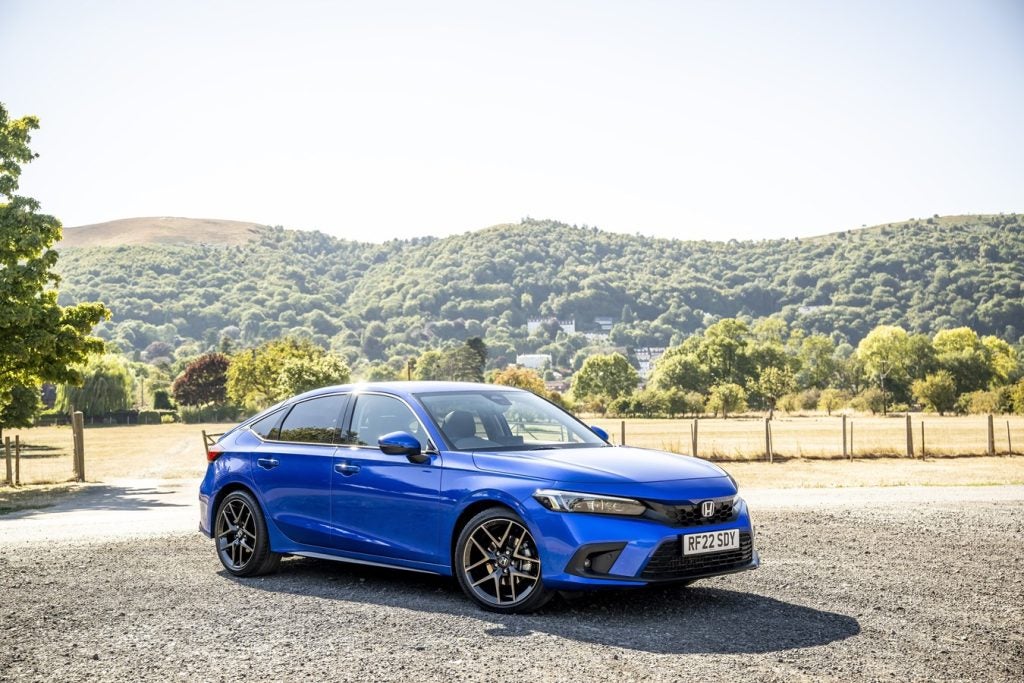 Although those early ones, thanks to 1970s Japanese body design, could almost be heard rusting, the little 'onda advanced the art of small city runabouts and was a smash hit, especially when the 1970s oil crises hit and tout le monde suddenly wanted economical cars and, again, when emission laws tightened and the new CVCC engine could pass muster without the horsepower loss and driveability issues that plagued many older engines, particularly those from US manufacturers.
This latest iteration is generation 11 and, Honda claimed at launch, came after 27.5m units had been sold in 170 countries. Going back 20 years or so, I remember the Civic and other small models in the UK being the darling of the 'Eastbourne blue rinse set' – retirees – so the company switched tack, aiming for younger buyers with more sporty looking models which bordered on the garish before settling down with a smooth coupe appearance for the 10th generation cars which was further refined for this 11th. Gone are the days of hatchbacks, sedans, estate cars and coupes – now, for the UK, there's just one sleek five-door hatchback 'coupe' with a two litre hybrid powertrain and three trim levels. In a premium blue metallic with a gloss black grille and exterior trim pieces, and predominately black wheels, it certainly looked sporty.
This latest Civic's wheelbase is 35mm longer than the previous model, but with a 20mm shorter rear overhang and reduced overall height. Width stays 1,800mm.
The resin tailgate – developed through new manufacturing technology – is 20% lighter than its predecessor. The aluminium bonnet (hood) is 43% lighter than the previous model's steel panel. For the first time on a Civic, the company has applied laser brazing which has allowed the roof and side panels to be mounted closer together, increasing the premium look and feel of the car. This has been achieved through the welding technique negating the need for a moulding strip along the roof length.
A 19% increase in body rigidity over the previous model further improves stability when cornering. At the front, a strong ring shaped framework creates a more efficient joint structure for the front bulkhead. This is mirrored at the rear, with a second ring shaped bulkhead bracing the tail end of the car. Connecting these is a highly rigid grid frame structure along the floor, which is paired with a butt-jointed centre tunnel. In addition to the improved dynamic behaviour of the car, the stiffer shell also provides refinement and safety benefits; with reduced NVH transfer to the cabin and improved floor deformation in the event of a collision.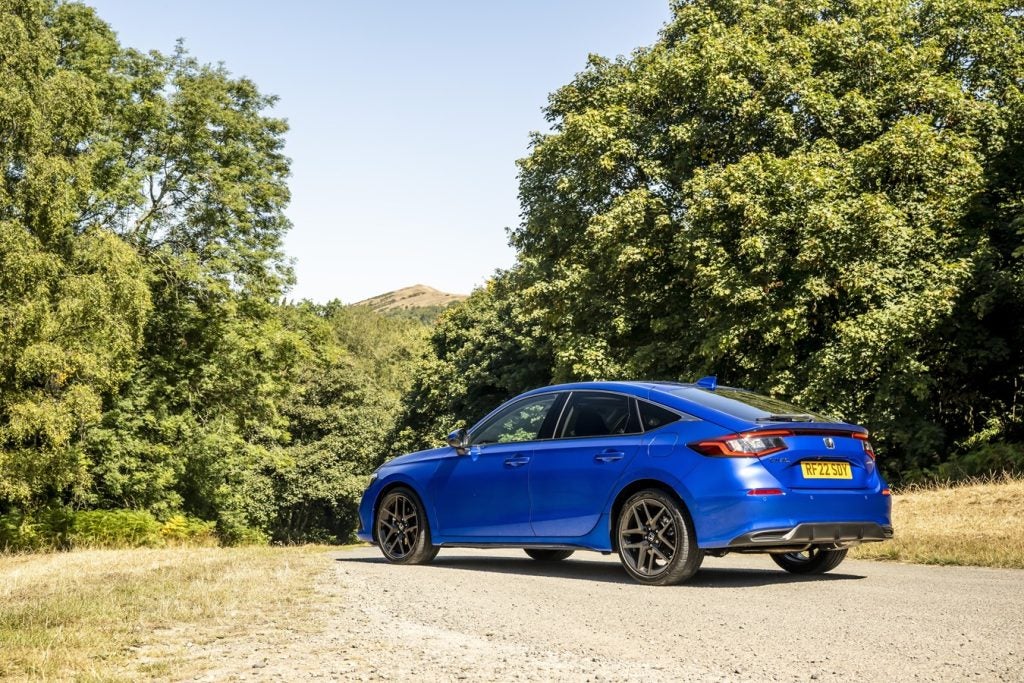 The development ethos was 'Exhilarating Civic', with engaging handling and dynamics, and a powerful and efficient drivetrain suitable for all driving requirements.
Proven (also seen in the popular CR-V hybrid and other models) e:HEV powertrain technology is standard as the brand completed a goal to electrify all its mainstream European models by the end of 2022. The hybrid powertrain uses a lithium ion battery to power two compact electric motors which work together with a two litre direct-injection, Atkinson cycle petrol engine. Honda claimed impressive energy density, thermal efficiency, and torque and tailored this application for the new Civic to be smoother with a more responsive power delivery and a greater sense of linear acceleration, as well as high fuel efficiency and low CO2 emissions.
In urban areas, the vehicle runs in EV Drive most of the time. When the driver requires stronger acceleration, the car will switch to Hybrid Drive to propel the wheels via the powerful electric motor, with the internal combustion engine generating the required electric power. When driving at constant high speeds, such as on the motorway, the system will shift to Engine Drive, and is directly powered by the petrol engine with minimum losses and assisted by the electric motor when necessary. When the required drive energy becomes high towards top speed, the system switches back to Hybrid Drive to unleash the full output of the electric motor.
In all drive modes, brake and deceleration energy is recuperated to improve the overall efficiency and, thanks to the high rigidity of the crankshaft and the secondary balancer shaft, the engine has lower vibrations over the entire engine speed range than in previous generations of the e:HEV system.
Linear shift control correlates engine sound to engine speed for a more reassuring acceleration feel, which is a major evolution from previous Honda hybrids. In Sport mode, this is enhanced further using Active Sound Control, which generates an enhanced aural sensation.
For sporty driving on twisting roads, Honda developed a 'winding road detection system'. This ensures the vehicle is in the most appropriate drive mode to improve responsiveness and reduce unnecessary and frequent switching of drive modes. In this scenario, a stronger deceleration level is also deployed to increase feedback to the driver. At high speeds, and in Engine Drive, the system provides responsive acceleration by providing high engine torque at higher loads thanks to the direct-injection technology.
Using a drive selector, users can switch between 'Normal', 'Sport', 'Eco' and 'Individual'. Sport mode sharpens throttle response and improves performance, while Eco mode adjusts throttle response to improve fuel efficiency. The new Individual mode allows users to tailor the Civic's characteristics to suit their driving style, including steering weight and throttle response. At any time, users can switch back to Normal mode, where the car provides a set-up that balances performance and efficiency.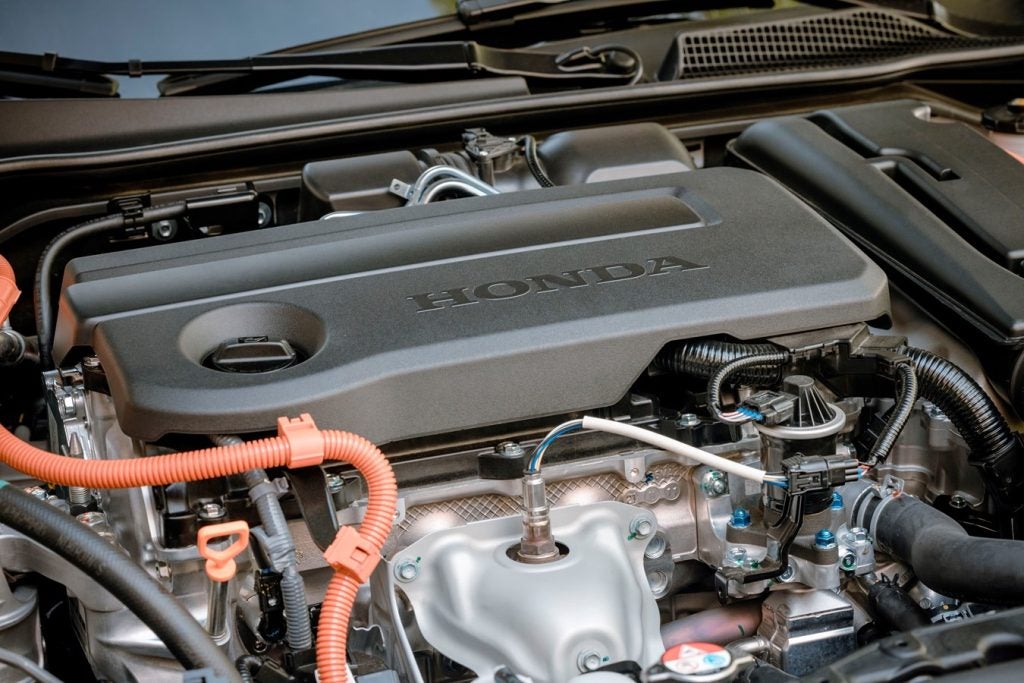 We just left the car to choose its mode and it was really good to drive and can sprint to 62mph in a claimed 8.1 seconds and on to 112mph top speed. Or, more to the point, thanks to the instant torque delivery of electric motors, be totally trustworthy when there's break in the busy roundabout you can just launch into if you're quick enough ahead of the oncoming truck.
Tomoyuki Yamagami, large project leader for the new Civic, said at launch time: "Modern consumers seek emotional styling, engaging driving dynamics and exceptional usability and we have surpassed this brief through our development ethos and by applying our latest technologies. We continue to evolve our e:HEV technology as we understand how drivers use hybrids, while enhancing the suite of advanced safety features to make driving both easier and safer, without impacting on the driving experience." He added the new model had been engineered to appeal to "those seeking a dynamic and responsive option in the segment. Its e:HEV powertrain, upgraded steering and enhanced suspension combine to deliver the superior levels of performance, dynamic response and feedback that have always been central to the Civic's appeal".
Infotainment in that original 1973 Civic was a pushbutton radio with one speaker – extra in my market – and things have advanced a bit: the latest system has Apple CarPlay and Android Auto standard and the top grade Advance sampled also had a 10.2-inch, fully digital, instrument panel with customisable displays. I found everything intuitive and easy to use.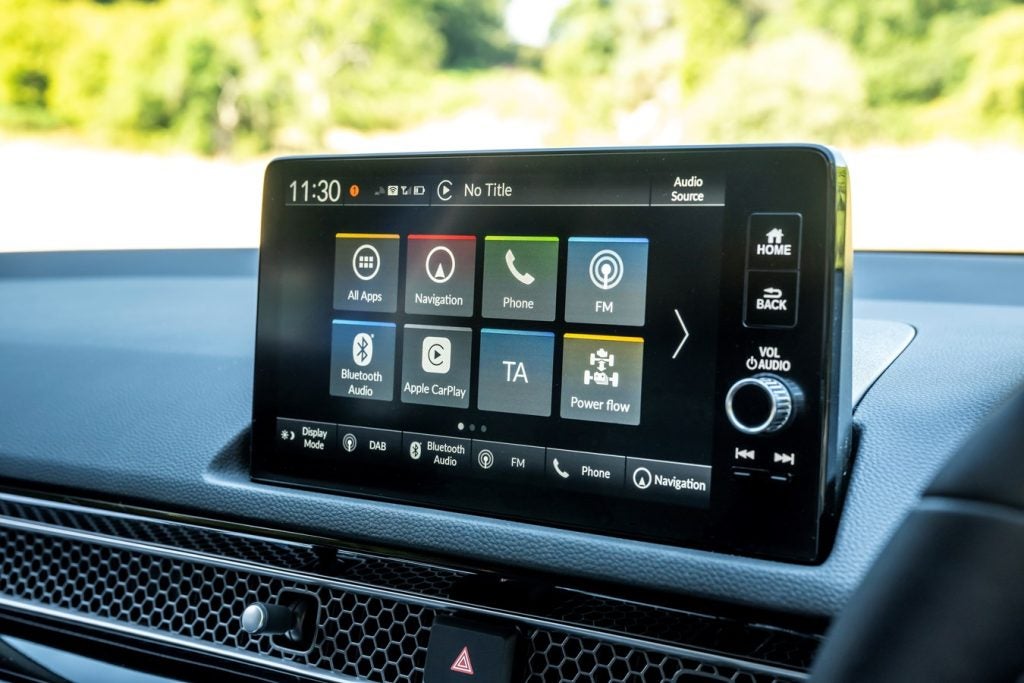 Honda's expanded Sensing suite of safety features and driver aids has been improved specifically for this new model and there are more airbags. Sonar sensors debut in the new model, four at the front and four at the rear, and use the reflection of sound waves to detect non metallic objects such as glass and walls far more reliably and with far greater accuracy than the millimetre wave radar previously used. The new Civic is also fitted with a front wide view camera. It provides a wider 100-degree view and enables enhanced recognition technology to improve the car's ability to identify road lines, verges, motorcycles, and cyclists. A new high-speed processing chip has been used to improve the detection, performance, and control of the system, meaning the system can detect objects earlier and more accurately than conventional millimetre radar systems, including pedestrians in light and dark environments.
The cross traffic monitor also benefits from improved radar sensors, enabling earlier warning of cars approaching from either direction when reversing from a parking space or driveway.
The latest radar allows the car to scan each side from the front doors backward, helping to increase the range of the blind spot detection from three to 25 metres.
Traffic Jam Assist is new to the Civic and helps to keep the vehicle in its lane, starting from rest. When congestion clears, from around 60km/h (37mph), the system seamlessly switches to lane keeping assist, at a lower speed than conventional systems.
Benefiting from the new cameras, the updated Adaptive Cruise Control system can detect vehicles much earlier and more accurately than before, enabling progressive acceleration and braking for a gradual and more human reaction. When overtaking a car, the system works in conjunction with the indicator and steering operation to provide strong acceleration depending on the specific driving situation. When a slower vehicle leaves the lane ahead, the system gently accelerates back up to the set speed. It also responds more quickly when changing into an open lane from behind a slower car, and when a slower car moves out of the lane ahead.
The latest Adaptive Driving Beam is an evolution of earlier auto high beam and variable light distribution technology. This intelligent system reduces glare and the chance of blinding other vehicles and pedestrians by using the on-board camera to detect vehicles in front, automatically switching multiple LEDs on and off individually to provide suitable visibility without blinding others. The system can also switch to high beam itself.
The UK market gets the same hybrid car in three grades: Elegance has a rear view camera, dash vent air diffusion system, front and rear parking sensors, keyless entry and start, auto high beam, heated door mirrors and front seats, Sensing and Connect with nice inch touch screen; Sport gains a rear air conditioning vent, auto dim rear view mirror, low gloss black window surrounds, synthetic leather and fabric seats, wireless charging, red meter illumination, gloss black mirror caps, 18-inch gloss black alloy wheels and LED fog lights; and Advance, as reviewed adds adaptive driving beam, synthetic full leather seats, electrically adjusted driver and front passenger seats, heated steering wheel, glass panoramic roof, a 10.2 inch centre display, Bose 12 speaker audio and 18 inch, two tone black and diamond cut wheels. No buyer at any of the three levels (Honda UK currently only prices the Sport and Advance from GBP33,815 and GBP36,470 respectively plus GBP975 for premium paint) will feel short changed. A non-hybrid 2.0 VTEC turbo hoon special Type R with six speed manual transmission is also available from GBP49,090.
This is the first Civic to adopt Honda's Body Stabilising Seat for the front passengers. The seat incorporates a planar resin mat structure to support the passenger's entire lower body, from the pelvis through lumbar spine, for greater stabilisation and support. We found the seats very comfortable – front and rear – but the car is, of course, very low and more difficult to get into (for ageing bones) than contemporary SUV body styles.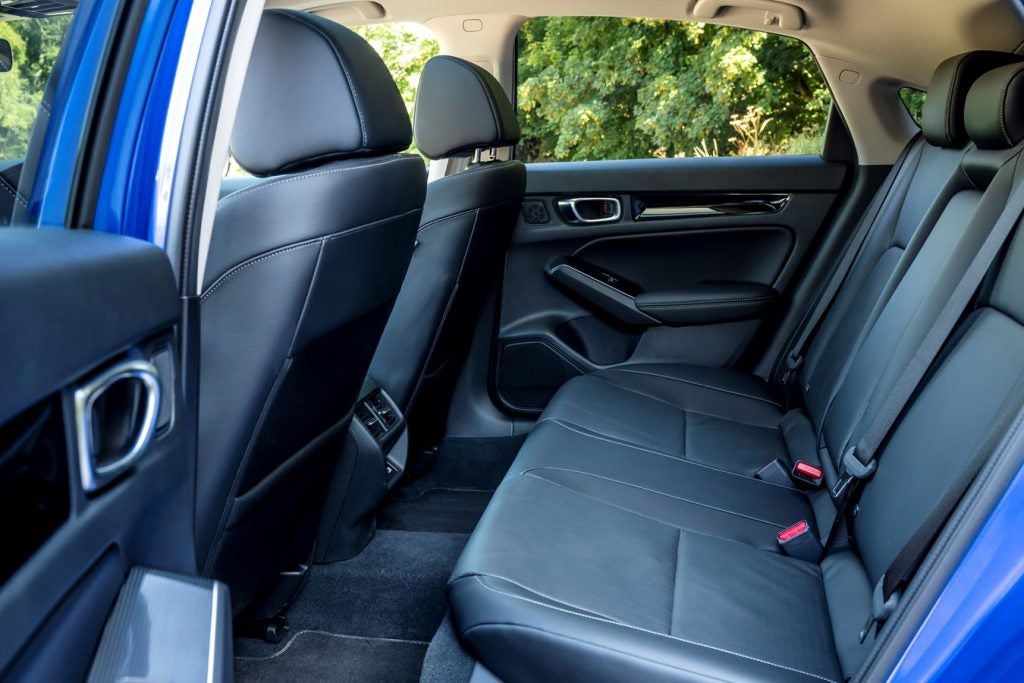 Being a hatchback (that looks like a four door coupe), the Civic is practical, too. A decent sized boot is supplemented by assymetrically folding rear seat back extensions – the pull out from the side load cover blind is unusual.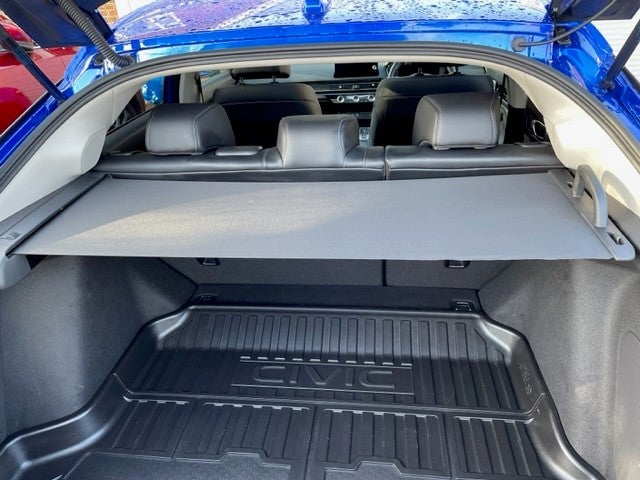 It's been a fair while since I last pedalled a Civic – from memory it was the 1.8 litre petrol estate car built at the English Swindon plant which has since closed. I do remember vividly my first drive in a Gen 1 car – being unused to front wheel drive, and equal length driveshafts not being a thing yet, I lurched from one side of the lane to the other every gearshift till I got used to the car.
Today's Civic is light years ahead. Or half a century.