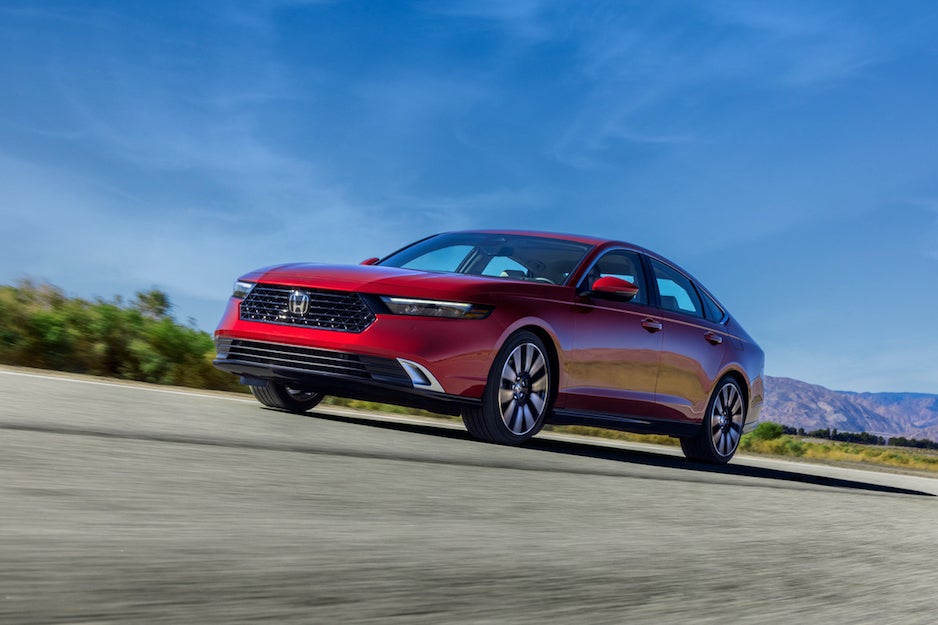 We put Honda Motor's powertrain strategy and future models under the magnifying glass this week – weak in Europe but big in the US, China and Japan, Honda understandably has no plans to eliminate petrol powered models despite all the electrification and net zero hype here in Europe. It would make little sense for Honda (like Toyota) to join the ranks of OEMs which have stated that they will phase out internal combustion engines by 2035 or sooner. Doing so too quickly could destroy the super sized profits needed for a switch to electrification, not to mention what would happen to many of its employees in Japan, China and North America. This first of two features consideres which models would likely continue with ICE power, albeit with hybridisation in many cases. Multiple EVs are coming though and they – along with a look at future Acura cars and SUVs – will be the focus of a second report later.
Is Tesla's approach to autonomous drive the right one? The recent anti Tesla commercial aired at the US Super Bowl highlights a growing debate on approach to the next level of autonomous drive operations. Some in the industry argue that the time has come for automotive OEMs to move past the Tesla model and towards models that prioritize good governance and secure-by-design vehicles. We asked Moshe Shlisel, CEO of GuardKnox, for his views.
A change in automotive fortunes is a-coming. In recent times, demand for new vehicles has far outstripped supply, leading to a surge in prices. However, it can't continue, Pete Kelly, director of research at GlobalData's LMC Automotive wrote on Just Auto this week. The post-pandemic period has been characterised for the automotive industry, perhaps above all other things, by the profound shortage of semiconductors. The effect on the new vehicle industry has been dramatic, causing global industry volume to be at levels we would in more normal times associate with a severe economic recession – at least as bad as the 2008/9 global financial crisis. As a result of such a supply constrained reduction in vehicle sales (and production), demand for vehicles has far outstripped supply. The consequence of this imbalance, as we all now know, has been a surge in new vehicle pricing, and OEM profitability.
National and regional bosses always insisted that Genesis' push into Europe was a long term project. And now with three EVs, sales are on the up at last. Hyundai Motor launched its premium brand into three European countries in 2021, shortly after a roll out in China. Results have been far from strong in the latter market, with just 1,201 cars delivered in 2022 (fun fact: Rolls-Royce did better – 1,507). Numbers weren't that great in Switzerland, the UK and Germany either last year. Yet they weren't terrible, and now a second expansionary phase is planned. Rather than more countries, Genesis is adding what it terms 'brand touchpoints'. The Mercedes EQE rivalling G80 EV will surely help.
In the news, we had several reports of automakers and suppliers now firmly exiting Russia. Toyota, after huge investments in its assembly plant in Saint Petersburg, was reported by TASS news agency as possibly transferring the factory to FSUE NAMI, described as a state research centre under the Russian government's industry and trade ministry. The report cited remarks by deputy prime minister and industry and trade minister Denis Manturov. "The transfer of Toyota's Russian assets to NAMI is being worked out," he said. The St. Petersburg plant, which had previously suspended operations, was being mothballed. However, the ministry had previously said that, together with the St. Petersburg city administration, it was working on potential options for developing the production site.
Meanwhile, VW Group's Skoda Auto was in the final stages of quitting Russia after taking an almost EUR700m (US$742m) charge from the impact of Moscow's war in Ukraine, its CEO said this week. The Czech Republic automaker had seen its Russian operation hit hard by the disruptions caused by the war and by western sanctions imposed on Russia. The carmaker also said its net profit dropped 11.7% to EUR489m in 2022, affected also by a steep rise in material prices and global supply chain shortages. Vehicle deliveries in Russia plummeted to 18,300 cars in 2022 from 90,400 in 2021 when the country was Skoda's second largest market. "The talks (on the sale) are in the final stages, but I can't give you details until they are agreed by all parties," chief executive Klaus Zellmer said.
And, this just in today, Nokian Tyres' latest update on divestment of its Russian investment confirmed it had received payment for the sale of its operations there. It had said earlier the Russian Governmental Commission on Monitoring Foreign Investments (the Russian Governmental Commission or RGC) had approved PJSC Tatneft's purchase of the Russian operations. "Nokian Tyres has received the sale price of EUR285m from PJSC Tatneft for its operations in Russia," the tyre maker said.
Better news came from the 2022 results front as another VW Group company – Audi – Audi Group said it closed the financial (and calendar) year with record sales and profits. Revenue rose 16.4% to a record EUR61.8bn while operating profit climbed nearly 40% to an all time high of EUR7.6bn. Operating margin rose from last year's 10.4% to 12.2%, and net cash flow reached EUR4.8bn, the second highest figure in company history. The Audi brand last year delivered 1,614,231 (2021: 1,680,512) cars with stronger sales in the second half following challenges in supply chains and logistics that were felt in H1. The brand noted key drivers of the strong 2022 financials included a good price position and strong results from the group's Bentley, Lamborghini, and Ducati brands. Trebles (and bonuses) all round, I should think.
VW Group itself said this week it planned to invest EUR180bn (US$193 billion) over five years in areas including battery production and raw material sourcing in a bid to cut electric vehicle costs and protect its market share. Over two thirds of the company's five year investment budget announced earlier this week was allocated to electrification and digitalisation, including up to EUR15bn for batteries and raw materials. With stock markets in turmoil over the collapse of Silicon Valley Bank earlier this week (but now recovering), VW's chief financial officer Arno Antlitz reportedly told analysts the company could postpone some battery investment if the market did not grow as expected. "The overall target is having at all times solid financials."
Porsche, too: the rapidly electrifying sports car maker said this week it set four new financial records in full year 2022. Sales revenue rose 13.6% year on year to EUR37.6bn versus EUR33.1bn for 2021. Operating profit rose 27.4% to EUR6.8bn while deliveries and automotive net cash flow reached new highs last year. Operating return on sales rose from 16% to 18%. Porsche said it sold 309,884 cars last year, "despite the effects of the war in Ukraine, the challenges of the coronavirus pandemic, and global supply chain disruptions", a rise of 2.6% over 2021's 301,915."In difficult conditions, we achieved the strongest result in the history of Porsche, by some distance," said chairman Oliver Blume.
Never a week goes by these days without news of Chinese automakers and suppliers. Also just in today: state owned automaker BAIC Group has agreed to step up collaboration with the country's leading electric vehicle (EV) battery manufacturer Contemporary Amperex Technology Company Limited (CATL) to help improve its competitiveness in the country's fast growing new energy vehicle (NEV) market which comprises mostly electric and plug in hybrid vehicles. Beijing based BAIC, which has been collaborating with CATL since 2010, said CATL would become "deeply integrated into the vehicle development and production process" of its upcoming NEVs "to provide competitive power battery products and services". The automaker added their deeper strategic relationship would improve the development of both companies, giving them "abundant impetus for strategic expansion on both sides".
BYD seems at the moment to be opening marketing and distribution operations in a new export market almost daily – sales started here in the UK this week – and has also started construction of a new right hand drive vehicle plant in Thailand as it expands manufacturing in south east Asia into a key vehicle producing and exporting country. The automaker held a ground breaking ceremony for this first vehicle plant in the Asian region earlier this month, in the Eastern Economic Corridor (EEC) special zone in (RHD) Thailand's Rayong province, already home to multiple plants owned by global automakers. The BYD factory will produce electric and hybrid vehicles for sale locally and for export to ASEAN markets, and further afield. BYD is joining other top Chinese automakers which have already established local manufacturing hubs in Thailand, including SAIC Motor and Great Wall Motors, while SAIC-GM-Wuling has chosen Indonesia as its main regional production centre. Along with Hyundai-Kia, BYD and its fellow Chinese automakers want to challenge the long standing dominance of the Japanese companies which have multiple manufacturing and assembly plants in the region in countries such as Indonesia and Malaysia.
As well as making EVs, BYD is also a major supplier of batteries to automakers and there was an intriguing report this week which said both Tesla chief executive Elon Musk and BYD had denied a media report which said the US company was ending cooperation with the Chinese firm on battery supplies. According to Reuters, the Korean Economic Daily last Sunday cited industry sources as saying Tesla had not asked BYD for an additional supply of batteries for certain Model 3 vehicles after their supply deal expired earlier this year. "That media report is false. Relations between Tesla and BYD are positive," Musk said in a tweet cited by the news agency. In a statement to Reuters, BYD said the report "is not in line with the actual situation".
Remember GM's exit from India some time back? An update this week said Hyundai Motor had agreed to acquire the defunct GM vehicle assembly plant as the company, which already has two large factories there, targets a greater share of the vehicle market, according to local reports. The automaker was said to have signed a non binding memorandum of understanding (MoU) to take over the factory in Talegaon in Maharashtra state, including land, buildings and equipment. A Hyundai spokesperson in Seoul, South Korea, confirmed the company "has inked the deal as it is necessary to increase capacity in the fast growing Indian market". Other global automakers had previously eyed the plant, including China's Great Wall Motors (GWM) which was said to have failed to get the necessary regulatory approval. Hyundai India produced 701,000 passenger vehicles last year, including 553,000 for domestic sale for a market share of 15%, plus 148,000 for export. Its best selling car in India is the Creta compact SUV with 170,000 sales last year.
Have a nice weekend.
Graeme Roberts, Deputy Editor, Just Auto