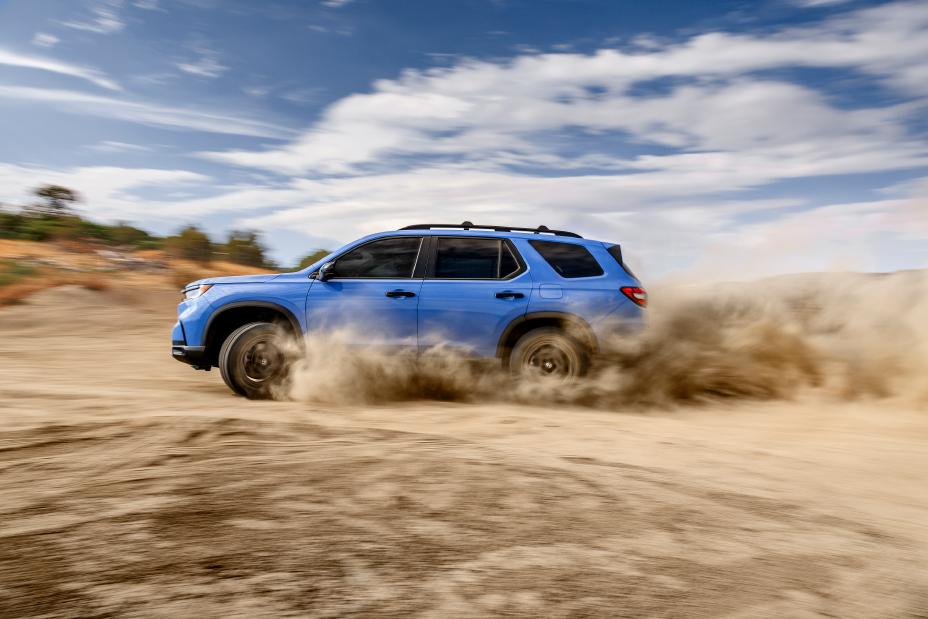 It would make little sense for Honda to join the ranks of OEMs which have stated that they will phase out internal combustion engines by 2035 or sooner. Doing so too quickly could destroy the super-sized profits needed for a switch to electrification, not to mention what would happen to many of its employees in Japan, China and North America.
This first of two features considers which models will likely continue with ICE-power, albeit with hybridisation in many cases. Multiple EVs are coming though, and they – along with a look at future Acura cars and SUVs – will be the focus of a second report later this month.
Cars
Having been launched in 2021, Civic generation eleven is now a year away from a facelift. It's large for the segment but that is an advantage in North America, the traditional number one market.
Honda builds the car in China with two JV partners, Dongfeng producing the Civic and GAC manufacturing a tweaked variant called Integra. Successors for each are due to arrive in 2027. These will be based on a new architecture.
Details of the new Accord can be found in this Just-Auto news story. And in terms of production, there was a statement from American Honda earlier on 14 March, noting that build would shift out of Marysville and into Greensburg in 2025.
China's Dongfeng Honda JV also produces its own version of the Accord. That car, the Inspire, has bespoke front and rear ends as well as certain other differences.
Both Accord and Inspire should be facelifted in 2026 and replaced in the fourth quarter of 2027 by a twelfth generation model.
Pick-up
The Ridgeline maintains its niche position in North America as a modest volume pick-up, the brand's only such offering worldwide.
A third generation model of this unibody vehicle is due to debut for the 2025 model year, replacing the model which has been built at AAP (Alabama Auto Plant) in Lincoln since May 2016.
Minivans/MPVs
Due to changes in buyer preference, quite a few MPVs have quietly disappeared from Honda's home market. But the Step WGN is still going strong. Now in its sixth generation, this seven- or eight-seat model dates to mid-2022.
Non-hybrid versions are powered by a 1.5-litre turbocharged engine and can be ordered with optional electric AWD, whereas the e:HEV has a 2.0-litre engine, two motors, a standard CVT and is FWD-only.
The Step WGN is scheduled for an update in 2025 with its replacement due for launch in 2029.
American Honda has been manufacturing the current Odyssey minivan since April 2017. Which means a new model is likely for the 2024 model year. Generation six should share its architecture with the Accord and its V6 with the Pilot.
A successor for the long-in-production Elysion – another large MPV – isn't expected until late 2025. The existing model, which dates to 2004, had been due to be replaced in the early 2020s but Dongfeng Honda instead gave it another facelift in December 2021. The next model will inevitably be electrified and might even be an EV. The current Elysion, which had also once been built in Japan too, is a hybrid.
SUVs
A second generation of the WR-V, one of the company's smallest SUVs, is only a few months old. The 4,060 mm long model is specific to certain Asian countries. It was heralded by the SUV RS Concept which premiered at the Jakarta motor show in November 2021. The production version, initially for Indonesia, premiered one year later.
The standard engine for the Karawang-built WR-V is naturally aspirated and has a capacity of 1.5 litres. Underlining the low-cost nature of the project, the interior is shared with that of India's Amaze (a small sedan), while the manual transmission has just five ratios. A CVT is optional.
The WR-V's successor should appear in 2028.
The 'Elevate' name isn't yet confirmed but Honda is soon to announce a special SUV for the Indian market to challenge the Hyundai Creta and Kia Seltos. The code is said to be 3US and the platform the same as that of the City hatchback. Sources indicate that both 1.5-litre and 1.5-litre hybrid variants for this circa 4.3 m long vehicle will be offered.
The new HR-V, which should be in production for seven years, has become a slightly complicated model. Two years ago, American Honda announced that its replacement for the then outgoing shape HR-V would differ from the vehicle for Japan and Europe. New for the 2023 model year, it was revealed in April 2022.
The vehicles can be easily told apart as the HR-V for the Americas is larger (4,568 mm long) and has horizontally-positioned exterior rear door handles. The model is headed for Europe too but with a different name: ZR-V. The same applies for Japan.
China's Guangqi Honda joint venture also markets a ZR-V. Aside from a few exterior details it is all but identical to North America's new-for-2023 HR-V.
Both HR-V and ZR-V are for a mid-life freshening in 2026/2027.
Honda's best selling SUV worldwide is of course the CR-V and its derivatives. The sixth generation was revealed by American Honda in July last year. GAC Honda in turn debuted the slightly longer Breeze for the Chinese market in December (in the PRC, Dongfeng Honda produces and distributes the CR-V).
Both CR-V and Breeze can be ordered with five or seven seats. In China, each is powered by a 142 kW and 243 Nm 1.5-litre four-cylinder turbo with drive to the front or both axles. A CVT is standard.
Meanwhile, American Honda specifies a 1.5-litre turbocharged engine for its non-hybrid CR-V with outputs of 190 hp and 179 pound-feet of torque. Both front- and all-wheel drive variants are offered.
In Federalised form, the new-for-2023 gas-electric CR-V is offered with the choice of front- or all-wheel drive. The sole engine is a turbocharged 1,993 cc four-cylinder unit. This is boosted by two motors, with the combined outputs being 204 hp and 247 lb ft.
The production life of this generation CR-V and Breeze should be six years. A mid-cycle facelift is therefore due in 2025.
China has a few unique models, including the UR-V. This 4.8m long SUV is manufactured by Dongfeng Honda. It is the twin of Guangqi Honda's Avancier. Launched in late 2016/early 2017, each is due a replacement in 2024.
Fresh for MY23, the latest Pilot has been in production since November. At 5,077 from bumper to bumper, this three-row, eight-seat SUV is American Honda's largest SUV yet.
The new Pilot is powered by a 3,471 cc V6. Power and torque for what is also a new engine are stated as 285 hp and 262 lb ft. A ten-speed automatic gearbox is fitted as standard. Both vehicle and engine are manufactured at AAP (Alabama Auto Plant) in Lincoln with the transmission built at the Honda Transmission Plant in Tallapoosa, Georgia.