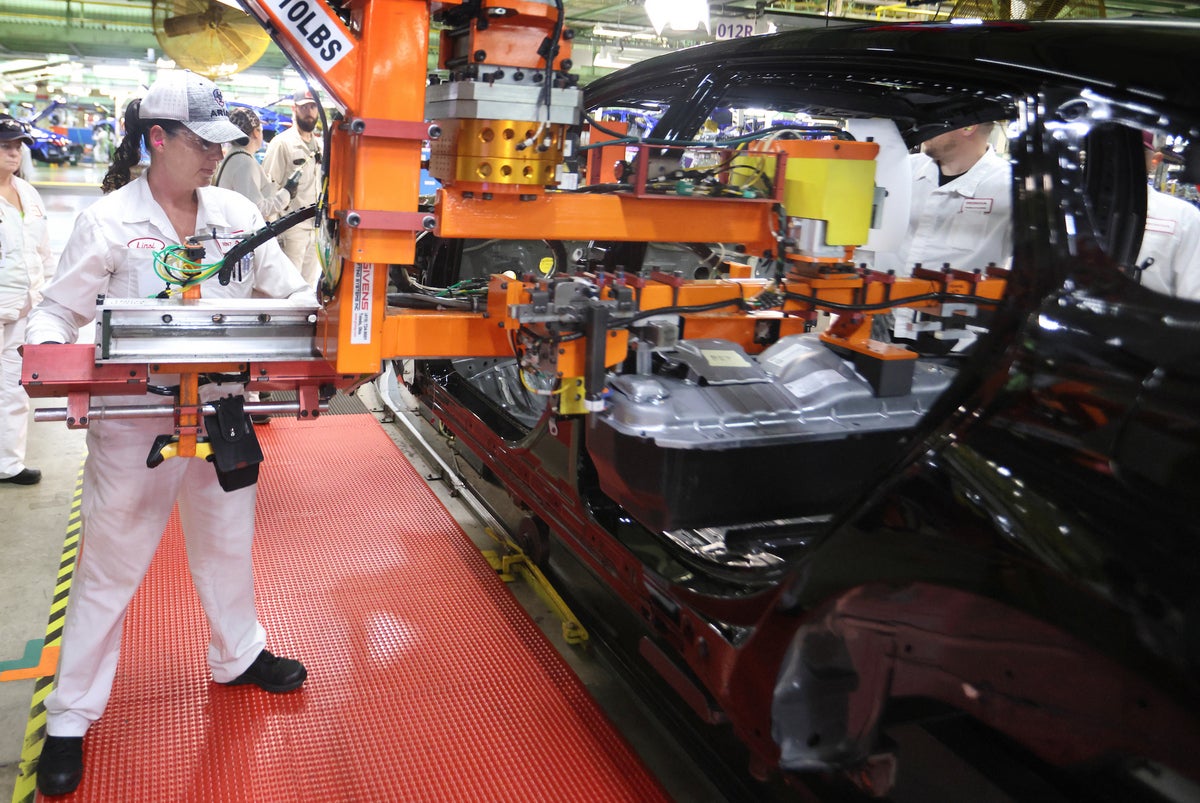 Marysville Auto Plant (MAP) to consolidate two assembly lines to retool for production of EVs and EV components
Accord production to be transferred from MAP to Indiana Auto Plant as MAP retools for EVs
Honda Transmission Plant Georgia to dedicate one production line to e-axle production
Anna Engine Plant to shift production of some engine components to engine plant in Alabama to prepare for production of EV battery cases for EV models
"Stable employment during these changes"
American Honda has announced key next steps in the establishment of its EV production hub in Ohio.
In October 2022, the automaker announced it would invest $700 million to retool several of its existing auto and powertrain plants to establish the new EV hub to prepare for output of battery electric vehicles in 2026. Marysville Auto Plant (MAP), where Honda began car production in America with the Accord in 1982 would be the first US plant to switch to making EVs.
MAP, the East Liberty Auto (assembly) Plant (ELP) and Anna Engine Plant (AEP) would assemble EVs or provide the powertrains.
"This hub will play a key role in developing the company's knowledge and expertise in EV production that will be shared across [our] entire North American auto production network in the coming years, even as many [of our] plants continue production of gasoline-powered vehicles," Honda said in a statement.
The automaker has vehicle assembly plants in the US and four making components. It also has an assembly plant in Alliston, Ontario in Canada plus three vehicle assembly facilities in Mexico.
The automaker added each North America auto production facility "will have a critical role to play in our electrification strategy".
Marysville Auto Plant
MAP would begin preparing for EV production as early as January 2024, by consolidating its two production lines currently making ICE and ICE hybrid-electric vehicle systems. Consolidating production to one line would enable MAP to begin building the infrastructure necessary for EVs production.
"Every MAP associate will have a position as part of this transition," Honda said, adding workers would be placed on training programmes designed to prepare them for the skills required for EV production.
Indiana Auto Plant (IAP)
Based on the planned consolidation of MAP production lines, Accord assembly would transfer to IAP in 2025. This would maintain production volume of a core model while enabling MAP to transition to EV production.
Anna Engine Plant (AEP)
AEP will transfer component production for two different engine generations to the engine facility at the Alabama Auto Plant (AAP). Machining of the engine head, which ended at AEP in February, for the existing V6 engine that now powers only Honda's light trucks would be added to existing AAP operations beginning this month. Block casting for the redesigned V6 just introduced in the redesigned 2023 Pilot large SUV would begin at AAP in August 2023.
These two moves would allow AEP to reallocate space for future IPU case production, the automaker said. The cases would be combined with battery modules produced at the new joint venture battery factory under construction in Ohio with LG Energy Solution (LGES). EV batteries from there would power EVs produced at MAP and ELP.
Transmission Plant – Georgia (TMP-G)
TMP-G would partner with "a Honda supplier" to install a new line to build e-axles which combine electric motors, gearing components and power electronics. The unnamed supplier will install, own, and operate the new e-axle line in space currently occupied by a transmission production line not in operation.
Joint venture EV battery plant
As part of the new EV hub, Honda and LGES recently held the official groundbreaking ceremony for the new joint venture EV battery plant to be located near Jeffersonville, Ohio. The two companies have committed to spend US$3.5bn on the new JV factory of 2m square feet, scheduled for completion by the end of 2024, and targeting 40GWh of annual capacity. Overall investment by the two companies in the facility is projected to reach $4.4bn.
Continued production of ICE and hybrid vehicles
Though Honda is planning for BEVs and FCEVs to account for all of its vehicle sales by 2040, it in the meantime plans to "sustain current ICE and hybrid-electric vehicle production in order to continue to meet anticipated strong customer demand through 2030 and beyond".
"The sustained success of ICE and hybrid-electric vehicle sales also will support the required investment in the electrified future," Honda said.
Third North America factory starts building Honda hybrid