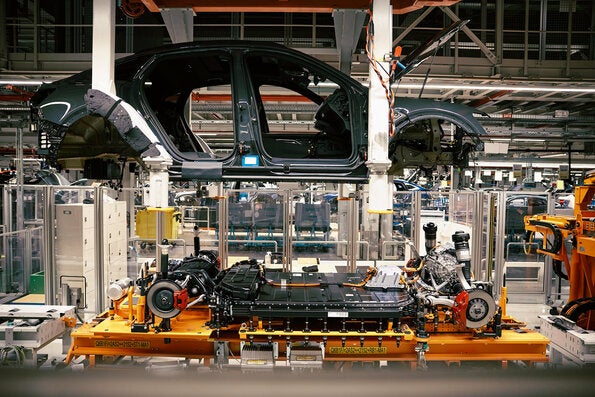 Volkswagen Group-owned Audi Group has closed the 2022 fiscal year (ended 31 December 2022) with record sales and profits.
Audi said revenue rose 16.4 percent to a record €61.8 billion while operating profit climbed nearly 40 percent to an all-time high of €7.6 billion. Operating margin rose from last year's 10.4 percent to 12.2 percent, and net cash flow reached €4.8 billion, the second-highest figure in the company's history.
In 2022, the Audi brand delivered 1,614,231 (2021: 1,680,512) cars to customers, with stronger sales in the second half following challenges in supply chains and logistics that were felt in H1.
The brand said that key drivers of the strong 2022 financial performance included a good price position, and strong results from the Bentley, Lamborghini, and Ducati brands.
2022 also saw a sharp increase in the number of fully electric models delivered – an increase of around 44 percent in deliveries of fully electric cars (118,196 vehicles).
In 2023, Audi will launch what it describes as 'the largest product campaign in the company's history, starting with the future Q6 e-tron model series'. It will be the first electric model based on the Premium Platform Electric (PPE).
"With the Audi Q6 e-tron, e-mobility is coming from Ingolstadt for the first time," says Audi CEO Markus Duesmann. "To this end, we're also building a dedicated battery assembly facility on site. This will enable us to retain important know-how here in Germany and train our employees in future fields."
Bentley, which also sits within the Audi Group, achieved a new delivery record for the third time in a row. It delivered 15,174 vehicles in 2022 (14,659 in 2021). Bentley also significantly increased revenue to €3,384 (2021: 2,845) million. The brand's operating margin rose to an all-time high of 20.9 (2021: 13.7) percent, while operating profit was €708 (2021: €389m), also significantly above the previous year's figure.
The brand group currently foresees – subject to the supply situation and global economic performance – that the group will continue to see positive developments in the fiscal year 2023.
Deliveries of brand group models to customers are expected to be between 1.8 and 1.9 million cars, while revenue is expected to reach a new record level of between €69 billion and €72 billion. The operating margin is expected to be between 9 and 11 percent, 'assuming that car prices remain high'.