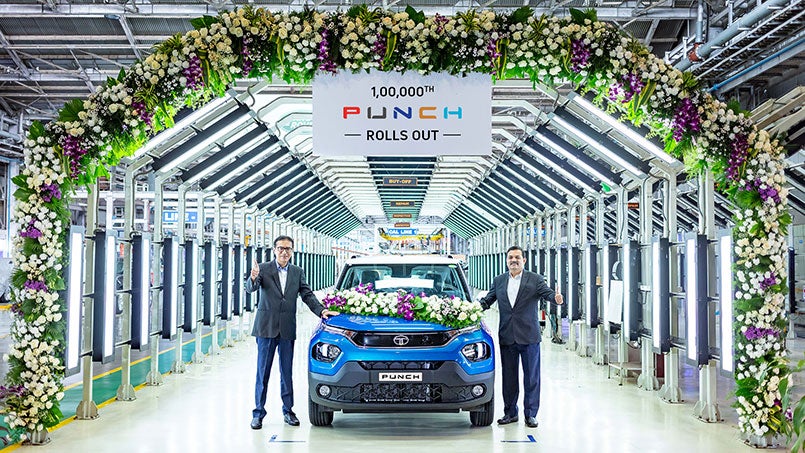 India became the world's third largest light vehicle market last year following a strong post-pandemic rebound, but can the country sustain it? The market is roaring back. At the height of the pandemic, Light Vehicle (LV) sales plunged to a 10 year low of 2.8 million units in 2020, a 30% decline, compared to 4 million units in 2018. In the last two years, however, the market rebounded strongly – indeed, so strongly that sales reached a record high of 4.39 million units in 2022, surpassing Japan's dismal 4.17 million units. Thus, India became the world's third-largest LV market last year, following China and the US. But can India sustain third place in the future? GlobalData recently revised the Indian sales forecast upward to 4.7 milllion units in 2024, 5.8 million units in 2030, and 6.9 million units in 2035. We now expect that India will take over Japan's third place from 2026 and beyond, after falling back to fourth place in the next few years (as sales in Japan will catch up after the significant supply disruptions in 2022). So, what's driving India's growth? Read on for the answer.
Sustainable enthusiasm waning?
With prices of many consumer goods rising considerably over the past 18 months, there are signs the willingness to purchase sustainable products has decreased. What does this mean for the auto industry and aftermarket lubricants? With scientists delivering a 'final warning' on the issue of climate crisis, it is now more important than ever that sustainability is considered by both businesses and consumers. However, with prices rising and household budgets under pressure, picking sustainable options is proving to be much harder due to their often higher price bracket. A new report commissioned for PETRONAS Lubricants International (PLI) highlighted that cost is a significant barrier to reaching sustainability goals, as 38% call for prices to be brought down and better choices to be given for those with differing vehicle needs (22%). Alongside this, the report also showed that 57% of Brits say they want to help contribute to a greener automotive industry but over half (56%) wouldn't be willing to pay any more for alternative products. In fact, Brits are the least willing to pay more. We spoke to Marsha Thomas, country manager, UK & Ireland at PLI, to discuss these findings as well as to touch on what more the industry could be doing to improve these figures.
ASEAN decline reverses
New vehicle sales in the ASEAN region's six largest markets combined increased by just over 4% year-on-year to 859,655 units in the first quarter of 2023, reversing a slight decline in the fourth quarter of 2022, according to data compiled from the region's main industry associations and government departments. First quarter economic growth in much of the ASEAN region was underpinned by a rebound in domestic and international tourism after the Covid lockdowns of the previous two years. This was offset in part by high inflation and rising interest rates which impacted consumer spending, while some countries also struggled with weaker exports and investment. Overall vehicle sales in the region were helped by improving supplies of semiconductors, which slowed the regional recovery last year. The performances of the individual vehicle markets in the region varied significantly, however, with sales in Thailand and Vietnam falling as consumers struggled most with rising interest rates while economic growth was also held back by declining exports and slower investment. The Philippines market expanded by over 30% in the first quarter, making it the region's fastest growing market as the strong rebound from the pandemic lows continued despite surging inflation and significant interest rate hikes over the last year. The Malaysian vehicle market expanded by over 20%, as vehicle manufacturers stepped up deliveries before the expiry of the sales tax exemption at the end of March. Sales in Indonesia continued to grow moderately, with demand driven by recent new models by key brands and higher vehicle output. The industry remains cautious over the full-year outlook for vehicle sales in most markets in the region, after economic growth likely slowed further in the first quarter as interest rates continued to rise. Slowing global growth will likely impact export activity from the region this year, slowing regional economic growth further.
McLaren EV R&D
Efficiency and driving dynamics are key for designing a new EV for the market. With this in mind McLaren Applied has partnered with in-wheel motor specialists, Elaphe, to help automakers enhance overall electric vehicle (EV) performance. McLaren Applied is combining its next-generation IPG5 800V silicon carbide inverter with Elaphe's range of in-wheel motors, creating a highly efficient system that will enhance EV packaging, efficiency and driving dynamics. We spoke to Steve Lambert, head of electrification to learn more about the partnership as well as the benefits of combining the two companies' technologies.
New products
Suzuki GB recently added a second full hybrid to its range and Ford has launched the Raptor version of its global Ranger pickup truck. We've taken a look at both.
Magna OEM deal
Magna has been awarded a high volume contract with a Europe based global premium OEM to supply its new eDrive system (eDS Mid). The eDrive is planned for 2027 model SUVs/sedans, with production expected to begin in 2026. Magna's eDS Mid is a high-speed e-motor that offers a scalable power range from 100 kW to 140 kW, optimized for 800V. As a high-voltage eDrive system for electric AWD applications, Magna says it enables fast reconnecting through a new decoupling system. It also delivers an inverter with Silicon Carbide (SiC) technology. The production of the new eDrive System will start 2026 in Austria and Slovakia.
Indonesian nickel processing
Barely a week goes by without at least one story about battery materials – South Korea's POSCO Holdings said it would invest US$440m in a new nickel smelting plant on the Indonesian island of Halmahera to increase capacity for intermediate materials for electric vehicle (EV) batteries. The factory would be built in the Wedabay Industrial Park with annual capacity for 52,000 tons of nickel mattes with nickel content of 70% to 75%, enough for around 1m EVs. Construction was expected to be complete in 2025. Halmahera, the largest island in the Muluku islands group in north east Indonesia, has world leading reserves of nickel. The government has imposed restrictions on exports of raw minerals as it wants to add value by attracting investment in downstream processing industries.
SK On eyes the US
SK On said it would join with US graphite producer Westwater Resources to develop battery anode materials to strengthen its North American supply chain and qualify for tax incentives under the US Inflation Reduction Act (IRA). Colorado based Westwater owns the rights to explore and mine the Coosa Graphite Deposit in Alabama and is currently building a graphite processing plant in nearby Kellyton which is scheduled to be completed in the first half of 2024. Graphite is a key material used in battery anodes. SK On said it signed an agreement with Westwater to study and develop eco-friendly and high performance anode materials over the next three years for use in its batteries.
Posco joins with Chinese
POSCO FUTURE M, formerly known as Posco Chemical, said it had signed a new agreement with China's Zhejiang Huayou Cobalt to build a major processing plant in South Korea to produce high purity nickel precursor materials for electric vehicle (EV) batteries. Precursors are intermediate materials for battery cathodes and mostly comprise nickel, cobalt and manganese. Cathodes typically account for around 40% of the cost of battery raw materials. The two companies have agreed to jointly invest KRW1.2trn (US$910m) in a new factory in Pohang which will increase Posco's global precursor production capacity to 440,000 tons per year from the current 150,000. The plant will start operating in 2027 and supply materials to Posco's growing network of cathode plants, including a new factory in Pohang announced last March.
Charging in minutes not hours
Battery charging time is still the bane of EV adopters but Nyobolt has announced plans to reduce electric car charging time down from hours to a few minutes through working with UK design and engineering business, Callum. A concept vehicle designed by Julian Thomson – now design director at General Motors Advanced Design Europe – and engineered by Callum will be unveiled next June. The two companies claim their patented battery technology will "revolutionise the sector by removing batteries as the bottleneck in the development of electric cars". If the claims holds true, bring it on.
Tesla dominates in BEVs
Analysis undertaken by GlobalData shows that Tesla led Europe's battery electric vehicle (BEV) market in the first quarter of 2023, with around 93,000 units sold versus 91,000 units for Volkswagen Group brands. Tesla is benefiting from ramped up production of the Model Y from its Berlin manufacturing plant as well as price cuts. GlobalData's analysis also suggests that Tesla's better component supply management during the semiconductors crisis enabled it to keep up with orders better than many other OEMs, who have built up big order backlogs during the past year. As Tesla has prioritised volume over profit, that has brought its order backlog down rapidly – alongside more output becoming available from its Shanghai and Berlin plants. However, other manufacturers may be forced to react to Tesla's actions and cut their prices, too, according to GlobalData senior analyst Al Bedwell.
Global sales dipped last year
Global new vehicle sales in 2022 fell 2% year on year to 79.4m from 80.7m in 2021. Positive results in several emerging markets (India, Middle East, South East Asia, Africa), which accounted for 24% of global volume, were significant enough to offset declines seen in North America, Europe, and China.
Bosch refocuses auto
Bosch says it is responding to the trend toward software-based automotive engineering by realigning its automotive supply business. Within Robert Bosch, a new business unit called 'Bosch Mobility' will be managed as a business sector with responsibility for its own business and its own leadership team. Bosch says the aim is to be able to serve existing and new customer needs with customized technologies and solutions from a single source. With some 230,000 associates at more than 300 locations in 66 countries worldwide, Bosch Mobility will be the biggest of Bosch's four business sectors.
UK forecast upgraded
SMMT has upgraded its 2023 outlook from 1.79m units to 1.83m as supply chain disruption eases, but its BEV forecast softened. As parts supply shortages ease, the UK's new car market continues to show growth versus the depleted level of sales a year ago. The UK new car market recorded its ninth successive month of growth in April, with an 11.6% year-on-year increase to reach 132,990 registrations. The performance marks the best April since 2021's 141,583 units but remains 17.4% down on 2019 volumes.
Porsche profitable (as usual)
Porsche group sales revenue rose 25.5% year on year to EUR10.1bn in the first quarter of 2023. Operating profit was up 25.4% from EUR1.47bn to EUR1.84bn. Operating return on sales was flat at 18.2%. "Markets around the world remain volatile so we're all the more satisfied with our figures. The significant growth is due to a number of factors: higher group sales, continued positive pricing and mix effects," said finance chief Lutz Meschke. In spite of "challenging circumstances worldwide", the sportscar maker is sticking with its full year targets of sales revenue of EUR40bn to EUR42bn.
Ford makes a buck, too
Ford has announced first quarter revenues up 20% on last year at $41.5bn. The company also posted $1.8bn net income for the quarter which compares with a net loss of $3.1bn for the same quarter last year. Ford broke out its results by major operating unit and its staple 'Ford Blue' unit (where its high volume ICE passenger vehicles sit) posted first quarter revenue of $25.1bn, EBIT of $2.6bn and an EBIT margin of 10.4%, all up sharply from a year ago. Strong demand for high margin trucks in North America continues to benefit Ford's bottom line. Ford 'Model e' which is where the EV business sits and – according to Ford – operates like a startup, posted Q1 revenues down 27% alongside an EBIT loss of $722m. Ford is maintaining the full-year 2023 performance expectations that the company first articulated in early February: for adjusted EBIT of $9 billion to $11 billion and adjusted free cash flow of about $6 billion.
Korea sales analysis
Domestic sales by South Korea's five main automakers combined rose 8% to 128,853 units in April 2023 from 119,628 a year earlier, according to preliminary wholesale data released individually by the companies. The data did not include sales by low volume commercial vehicle manufacturers or sales of imported vehicles which will be covered in a separate report later. Sales last month were lifted by improving supplies of semiconductors, which helped automakers increase production compared with last year, while demand was also driven by new models from Hyundai and Kia. Most local manufacturers reported higher sales last month. Hyundai reported a 12% sales increase to 66,660 units while Kia sales were just slightly lower at 49,579 units as the company prioritised export production. GM Korea enjoyed a 77% rebound to 5,230 units following the launch of the new Trax crossover vehicle and KG Mobility, formerly known as Ssangyong Motor, reported a 15% increase to 5,583 units while Renault Korea sales plunged 23% to 1,801 units. In the first four months of 2023, domestic vehicle sales increased 16% to 498,181 units from 428,189 last year.
Have a nice weekend.
Graeme Roberts, Deputy Editor, Just Auto