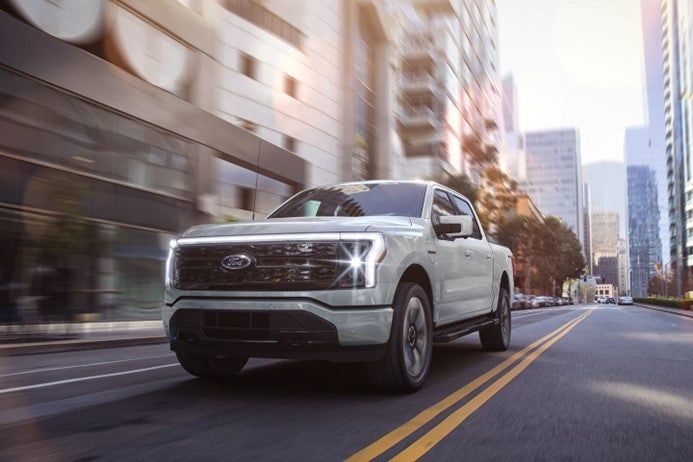 Ford has announced first quarter revenues up 20% on last year at $41.5bn. The company also posted $1.8bn net income for the quarter which compares with a net loss of $3.1bn for the same quarter last year.
Ford broke out its results by major operating unit and its staple 'Ford Blue' unit (where its high volume ICE passenger vehicles sit) posted first quarter revenue of $25.1bn, EBIT of $2.6bn and an EBIT margin of 10.4%, all up sharply from a year ago. Strong demand for high margin trucks in North America continues to benefit Ford's bottom line.
Ford 'Model e' which is where the EV business sits and – according to Ford – operates like a startup, posted Q1 revenues down 27% alongside an EBIT loss of $722m.
Ford is maintaining the full-year 2023 performance expectations that the company first articulated in early February: for adjusted EBIT of $9 billion to $11 billion and adjusted free cash flow of about $6 billion.
Additionally, the company reaffirmed 2023 segment-level EBIT expectations: about $7 billion for Ford Blue, up modestly from last year; a full-year loss of about $3 billion for Ford Model e; and EBIT approaching $6 billion for Ford Pro, which would be nearly twice its 2022 earnings.
Ford said its operating targets were subject to:
Headwinds including economic uncertainty around the globe; higher industrywide customer incentives, as vehicle supply-and-demand rebalances; a lower profit from Ford Credit; lower past service pension income; exchange rates; and growth-related investments, e.g., in customer experience, connected services and capital expenditures, and
Tailwinds such as supply chain improvements and higher industry volumes; launch of the all-new Super Duty truck; and lower costs of goods sold, including for materials and commodities.
Ford CEO Jim Farley said: "We're bringing Ford+ to life by zeroing in on what distinct customers need and value the most.
"Ford Pro is leading the way on profitable growth, our big investments in iconic Ford Blue vehicles and derivatives are winning with customers, and Ford Model e's different approach to EVs is significantly reducing costs on our first high-volume products while rapidly developing breakthrough next-generation vehicles from the ground up."