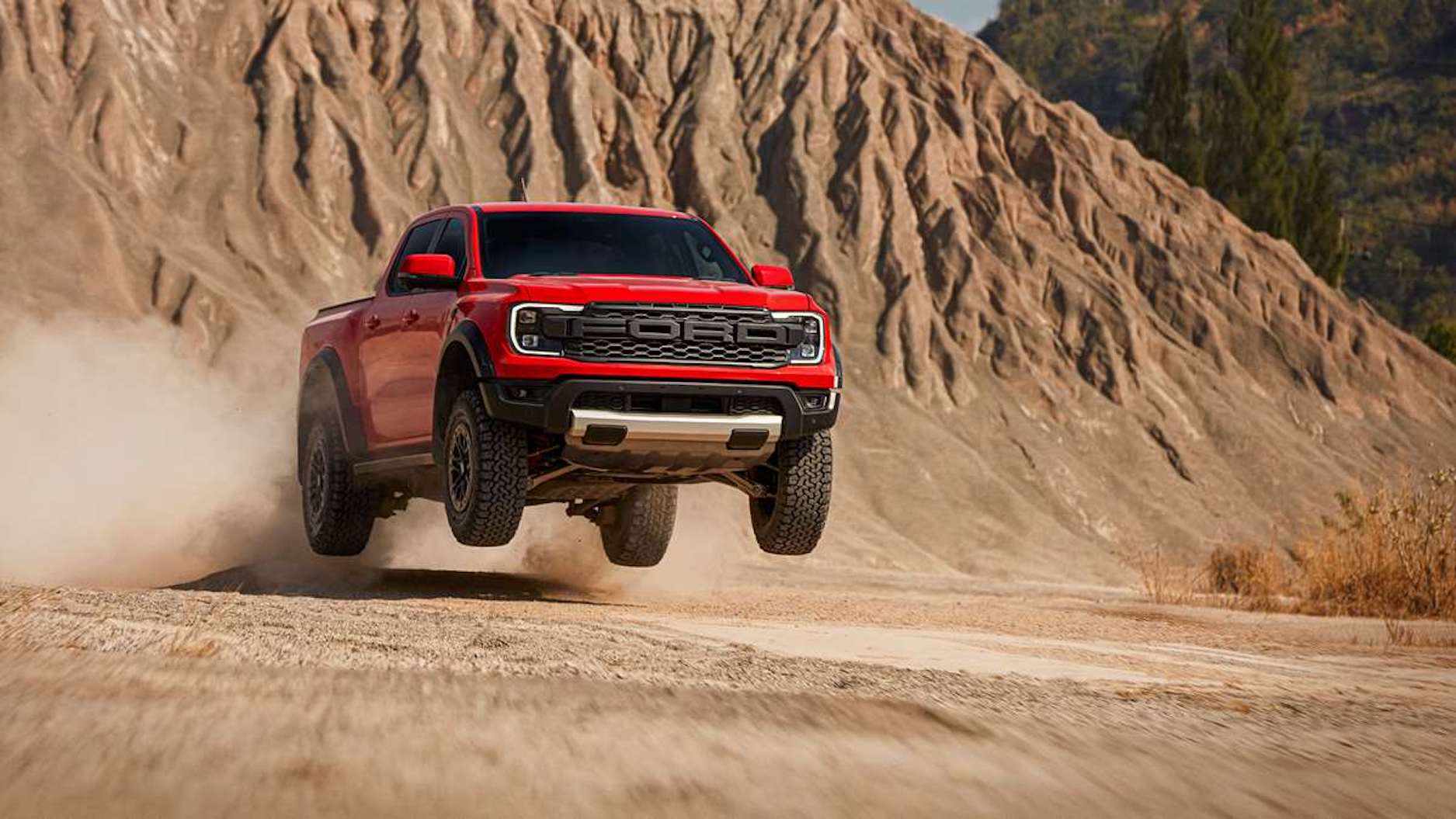 Built for almost twelve years, the P375 series Ranger will finally be fossilised after (US) production ends later this quarter. The successor is already cleaving competitors in Asia-Pac, Africa, South America and Europe, making this menacing mid-sizer a key new global model.
Hamlet harrumphing
Living in a small village, the sight and sound of a tall, wide, burbling pick-up painted 'Code Orange' had my WhatsApp buzzing: "Glenn, is that giant truck yours?".
Yes, my neighbours know what I do for a living and are used to all manner of novel automotive arrivals. Aside from a VW Grand Cali, Audi e-tron GT or the more recent X7, the Ranger Raptor is about the widest monster to have squeezed its way down my lane. And surprise, surprise, everybody loved it.
OK, maybe most of the appreciation came from kids. And that's the thing about a truck that knows it's been Tango'd: one glance and your inner infant is activated.
Relishing the roll-top
My four-year old godson thought the Raptor was about the coolest thing he'd ever seen. With the button in the tray's sidewall which activates an electric tonneau being just one of multiple fun things to press. Who says the next generation will only want touch-screens?
If the size of James' grin during the hours he spent playing with and riding in the new Ranger is a factor for success, this is going to be a Very Big Thing. As well it should be, given how large an investment Ford Motor Company made in this, project P703.
TMC i.n.a.
The old model and now already the new one was and is, the best selling vehicle with a blue oval on its rump in some countries. One of which is my homeland, where utes rule and Toyota is not amused to have seen the HiLux dethroned. How important a market for medium-sized pick-ups is that country? Well, the importer of the 'lux truck ignores the lower case l mandated for all other markets by HQ in Japan.
Medium-sized pick-ups are not only big business in Australia and certain other regional markets; they are developed there. So it was with the Ranger. Perhaps because the preference of locals (and soon, Americans) wanting a Raptor wouldn't be the old-shape model's four-cylinder bi-turbo diesel. That's been ditched, supplanted by a petrol V6 with the same number of forced aspirators.
Dragoooning into drinking
The thirst of the thing is the sole bad news about this new-to-Britain pick-up. In every other way, it is gloriously mental, from the height (you need to remove the bee-sting aerial for some multi-storey carparks), to the girth, to the four giant letters spelling out the brand name across an equally vast grille. Yet it really does make people grin.
Tackling the Tacoma
I mentioned Toyota above and when the US market's Ranger launches there soon, the segment leading Tacoma is going to be greatly threatened. Which is why the new-for-2024 model which premieres on 19 May will be a total redesign, ready to defend the Japanese make's class dominance against Ford's attack.
No matter how well Toyota Motor Sales USA's new pick-up does, it will be no match for the Ranger worldwide. Recently added to the countries where P703 is or will be manufactured/assembled (South Africa, Thailand, Argentina, Vietnam, USA, Nigeria) was one surprise: China. Ford made the announcement at the recent Shanghai motor show but is yet to state which of its JV partners will be involved in production.
What about a velocious VW?
Something which is highly unlikely to happen for the PRC-made vehicle is an equivalent for Volkswagen, the OEM supply deal being restricted to mainly European markets. I'm yet to try the new, second generation Amarok but something which the VW won't be able to match is the mega-priced and therefore similar margin Raptor.
While an Amarok R isn't ruled out, you can't imagine FMC would be too keen on supplying such a competitor for its own GBP60,000 LCV. And that's the thing about the Ranger, so thoroughly engineered is it you forget this is not a state-of-the-art car. Well, a rather high-riding car but something which feels like its chassis was fettled by Ford of Europe.
Handy handling
The similarly pricey Mustang Mach-E doesn't have the same level of polish as the Raptor, even if it obviously goes around corners way faster. Yet the pick-up hasn't much in the way of nose dive under heavy braking, there's brilliant traction even in 2WD with no load in the tray and incredibly, the suspension gives all onboard a comfy ride.
One thing I'd change is to make the tightest of the three selectable steering feel options standard. That was the first button I pressed after firing the thing up every time. And then, the Sport exhaust note (choose also from Normal or Quiet plus Baja if off-roading), also just a tap of a toggle on the tiller away.
Heavy, and Light
Before you start the 3.0-litre forced induction V6, there's a firm-handled door to open and that has a similarly pleasing weight to it. Then take a step up onto a black metal running board, admire the word RAPTOR by each rear door and then FORD PERFORMANCE on a silver tread-plate.
The gauge cluster is digital and comes alive with a sound and light show which somehow never became tiresome even after a week. Another thing which delights is a kind of robotised action when you switch off: no need to shift into P first as the selector lever slowly clicks forward to that position from D through N and R.
Digitalisation demands a digit
Ford has done something curious with the HVAC system too, which is less pleasing. Yes there are dials for each front occupant's preferred temperature and buttons for rapid defrosting and MAX A/C but turn the fan speed knob and a slider pops up on the screen. Which is fiddly and, it has to be said, potentially dangerous. Why? Because it's hard to get your finger on it at the first attempt plus all manner of other heating and cooling options flash up.
The iPad-like central display isn't badly overloaded, which is refreshing. You also get the feeling that Ford may have stopped a perhaps previously planned move to eliminate physical controls late in the Ranger's development programme. It will be fascinating to see what if any changes North America's model is launched with.
Ranger Extender
Prototypes on an extended body have been seen on test in the US, so that might also be a bespoke variant for the firm's home region. This would make sense, given the tailored approach taken for the imminent new-for-2024 model. That should include touches such as a special Federalised 2.3-litre EcoBoost I4 as the base engine. An official announcement should be coming soon, particularly as the Wayne plant southwest of Detroit is due to commence build shortly.
In many countries, the diesel powertrain line-up consists of single and double-turbo versions of Ford's 2.0-litre four-cylinder unit, as well as the company's 'Lion' 3.0-litre Power Stroke V6. The latter has replaced the old model's 3.2-litre inline five. Six-speed manual, six-speed automatic and ten-speed automatic transmissions feature, as well as two four-wheel drive systems.
Weighty matters
The chassis is an evolution of the body-on-frame T6 architecture. Clearly it has been not only greatly modified but tweaked too for first-rate dynamics and comfort. Having said that, this is no lightweight vehicle, the press-tester Raptor tipping the scales at an EV-like almost two point five tonnes. Just imagine what the rumoured Ranger PHEV will weigh when that one arrives in a year or two. And there may even be a Lightning for North America; perhaps Europe and China too.
Getting back to the top-spec, this rally raid-look variant comes with matte-grey rims and wheel-arch extenders, big and knobbly M&S tyres and a silver bash-guard up front below that massive dark plastic grille. RAPTOR stickers on its sides are optional. No, essential. No wonder kids love its Tonka-like appearance. Hey, there's even a spare tyre (slung underneath and it's full-sized: ten out of ten, Ford). I found the jack and brace under the back seat, which is where a first-aid kit and tow-bar goose-neck also live.
Pleasing PVC
The good stuff extends to other parts of the interior, not just the presence of robust-feeling controls. Doors and dash are covered in pleasing-to-touch grey vinyl or perhaps some bits are leather, who knows. The headliner is equally soft, as is the lid of a deep central cubby, but other car companies do better cup-holder wells (the Ford's have too small a diameter).
Socket(s): two of 'em
Points are pulled back for lots of USB slots as well as 12V and 230V/400W sockets inside the cabin and on the left-hand wall of the load-bay. That's also the side where the fuel flap lives, a giveaway that the Ranger's platform is native to North America and Asia-Pacific.
Lifting a petrol pump hose soon becomes a regular work-out for any Raptor owner's arm as no matter how softly you tread, circa 22 mpg is reality. For me, that was the result after hundreds of miles. Yet worth it for the pleasure to be found on favourite-fast roads.
Rapture in A Raptor on the M50
The beauty of south-central Wales seen from long, banked bends only made me adore this truck all the more. Plus a digitally enforced 50 mph limit on the once fantastic A465 Heads Of The Valleys did at least lower consumption to a more bearable 25 mpg.
Its thirst for jurassic juice is the only big issue with the ironic-in-that-context Raptor. Such is the power of the aussie and US markets, the diesel was ditched for generation two. Ford had better hope that the 'charged gas engine finds favour with Americans: the made-in-Michigan old model was never offered as a Raptor so a big marketing push – "all-noo for '24: the F-150 Raptor's little bro" – will be needed.
Teeming with torque
At least the 215 kW (292 PS) and 491 Nm V6 beats the 157 kW (213 PS) and 500 Nm of the old model's 2.0-litre compression-ignition I4. Shame we don't get the 292 kW (397 PS) and 583 Nm version which the Aussies' less rigorous emissions laws allow. There again, give me the UK's toll-free motorways and enlightened policing of speed limits any day over the reality of life down under.
And the transmission? As with the diesels, it's GM and Ford's superb torque converter automatic. Somehow, this ten-speeder is even better than before, the paddle shifts sublime and perfectly matched to that wall of torque.
A great-to-drive pick-up isn't that much of a novelty in 2023 but one this good certainly is. In a European context, it's biggish (5.39 m long, 1.96 m wide) yet not really that brash. Furthermore, just hit the Quiet button and it purrs out of the driveway.
Conclusion
If it ran on e-fuel or hydrogen, this would be my co-favourite Ford in a fantasy garage with a 5.0-litre Mustang. Here's the thing though: not many examples of the Raptor will be imported to Britain or neighbouring countries. So the overall eco-impact might be as teeny as, um…how about my little buddy James? OK, perhaps a bit more. And when he's old enough for a driving licence I would bet that the Ranger Raptor will be as rare and desirable in 2036 as it is right now.
Ford of Britain states the CO2 average as 315 g/km, with MPG averaging between 11.9 and 18.7. The Combined number of 20.4, V-max is 111 mph and zero to 62 mph takes a claimed 7.9 seconds.
Pricing starts at GBP58,901. Code Orange paint (pictured) is an extra GBP720, a Raptor Splash decals pack is GBP600 and the Exterior Dress-Up Pack is GBP1,860 (plastic cab roll-over bar and electric roll-top tonneau).