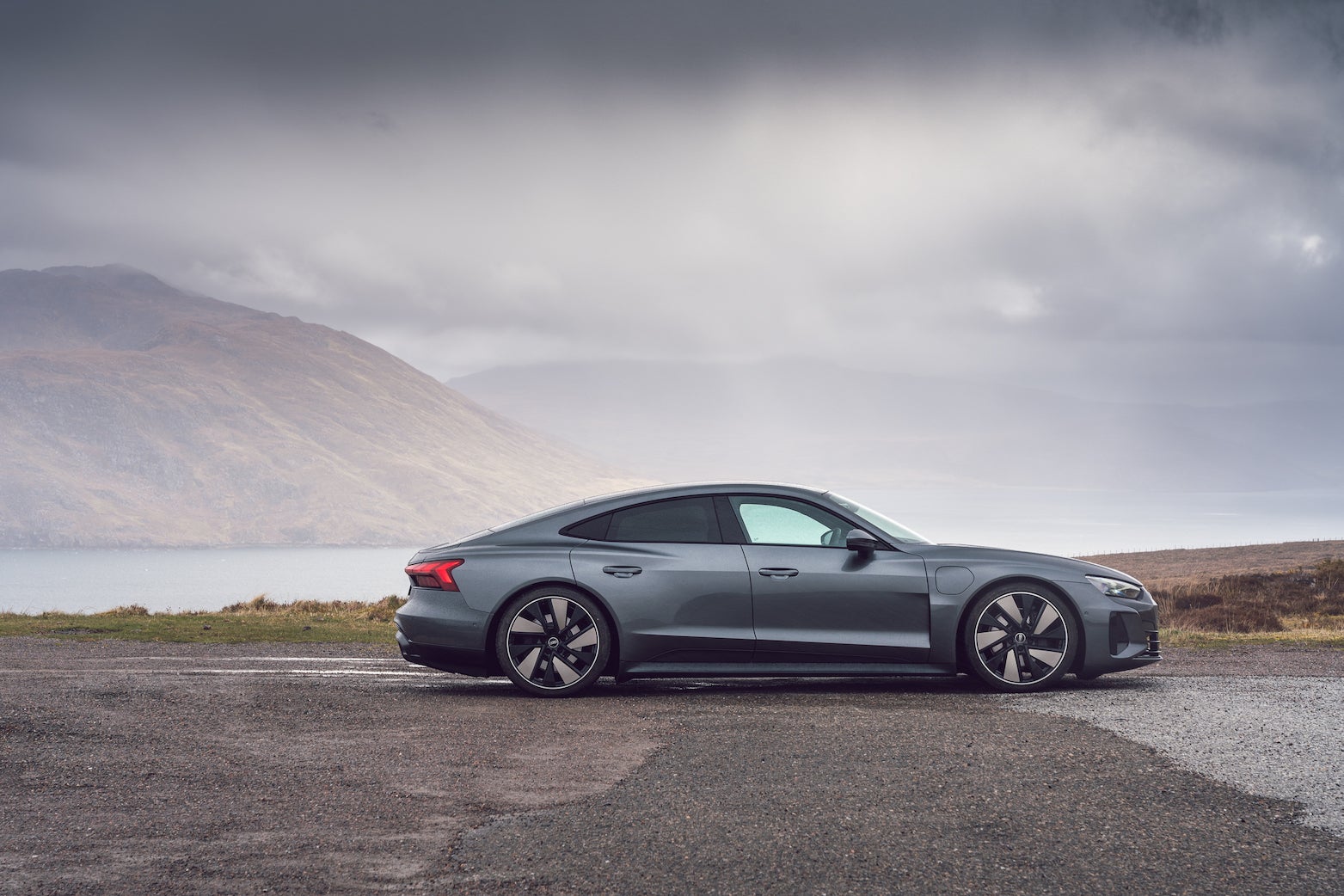 Audi says its global sales of EVs surged by 57.5 per cent to 81,894 cars and SUVs last year and by 2025 there will be 20 electric models in the portfolio. The year after that will be when the final ICE vehicle is launched.
Plans can of course change yet they might not, as so many of Audi's e-model projects are already active and advancing towards eventual series production.
The Ingolstadt-based firm's board recently approved close to EUR18 billion worth of spending on various hybrid and EV programmes between this year and 2026 out of a total budget of EUR37 billion on all future models.
That big spend that's now underway excludes the additions of the e-tron GT, RS e-etron GT, Q4 e-tron and Q4 Sportback e-tron as they landed in 2021.
Many more e-tron models to come
The four extra models will be joined by others later in 2022. That may include an E6 and an E6 L, a Q6L e-tron & Q6L e-tron Sportback as well as the Q5 e-tron. There might also be a renaming of the e-trons, the big SUVs becoming the Q8 e-tron and Q8 e-tron Sportback as each undergoes a mid-life facelift.
In 2023, an electric A4 and Q7 could arrive, followed by an A2 e-tron plus certain other e-vehicles and quite a few TFSI e plug-in hybrids.
Ferociously fast four-door coupés
Due to all of the work presently occupying Audi's engineers as well as many others working for suppliers, the e-tron GT quattro should be regarded as a kind of high-priced signpost to the premium marque's future.
The big sedan has been in production since December 2020 at Audi Sport GmbH's Böllinger Höfe works in Neckarsulm. The first two variants were officially announced in February 2021 but Covid meant there were delivery delays.
Both the e-tron GT quattro plus the even faster and astonishingly high-priced RS e-tron GT (from GBP113,915) are five metres long. The RS hits 100 km/h in 3.1 seconds with the e-tron GT a mere one second exactly slower.
Three hundred and ninety kilowatts
The front motor puts out 175 kW (238 PS), with the rear one producing 320 kW (435 PS). As both have reserves available for what Audi terms "extreme driving situations", their individual outputs exceed the 350 kW (476 PS) combined total.
The GT's power can even rise further to 390 kW (530 PS). This is available for 2.5 seconds in boost mode via launch control. Torque is 630 Nm (465 lb-ft) or 640 Nm (472 lb-ft) in Boost.
In the RS e-tron GT, the front-mounted motor's power is 175 kW (238 PS), while the back one puts out 335 kW (456 PS). Their combined total is 440 kW (598 PS). In Boost, that increases to 475 kW (646 PS). Torque is 830 Nm (612 lb-ft).
The US should steadily become of the most important markets, so Audi of America's announcement of Federalised specifications is relevant. The new-for-2022 cars' data is as follows:
GT: 469 net SAE horsepower or 522 with overboost; 464 lb-ft of torque or 472 lb-ft with overboost; 238 miles estimated EPA range; 5,060 lbs. curb weight
RS GT: 590 SAE horsepower or 637 hp with overboost; 612 lb-ft torque, the same with overboost; estimated EPA range of 232 miles; 5,139 lbs curb weight
Fast but hefty too
Those mass numbers partly explain why the car needs so much power, although the 2.3 tonnes+ is fairly standard for larger EVs, particularly ones with big batteries.
The high-voltage pack can store 85 kWh of net energy (93 kWh gross) in both GT and RS GT. It integrates 33 cell modules, each of which comprises twelve pouch cells with a flexible outer skin.
Thirty modules form the battery's lower level and this features a wide recess in the rear section, making space for passengers' feet. The upper 'floor' of the battery contains three further modules and these are positioned below the rear seats.
Audi has located the connections, fuses, and the main control unit under the centre console. An 800 V electrical system meanwhile enables a high continuous output and shortens the charging duration; in addition, it reduces the weight of and space required by the wiring.
A bit squeezy in the back
That claim about the special efforts made to ensure room in the back has the whiff of the company knowing this is an issue.
For a car of this size, it's a cosy fit for rear seat passengers, and they'll also wonder why it's not that easy to get in and out. This isn't just due to the low roof but a wheelbase which isn't actually that lengthy (2.9 m and look at the overhangs in the picture above) plus sills and wheel arches which get in the way. Crash protection for the battery pack has clearly been the priority so perhaps Audi should be applauded not criticised.
Room up front is by contrast terrific. We hear so often about all the alleged benefits of bespoke EV platforms and in this one, the claims of spaciousness add up. At least for two of the occupants they do.
Porsche platform
J1 is a purpose-built, Porsche-engineered architecture, Audi's rival using it for the very slightly shorter (4,963 mm) Taycan. This other electric sedan, one year older than the e-ron GT, can also seem squishy to those used to flying first class, or even business. It's all due to what is an inherently high floor although both these cars sit low to the ground.
Of the two J1 platform models for me the Audi is the better looking one. Mostly because, as with the original Boxster, try as I may I can't get on with the Taycan's headlights. The same thing ruined the otherwise gorgeous Alfa 4C until Fiat Chrysler fixed them.
More than 2 m wide with mirrors
Some of the reason why the e-tron GT looks so striking is proportions. It's only 1.41 m tall but the width is 1.96 m and while that's at times a pain for parking, it really helps with handling and road-holding. The tyres are also unusually wide for an EV so grip is phenomenal.
It's such an accomplished piece of engineering, this big Audi. The one thing missing is a spine-tingling noise. Listen to the 'acoustic statement' then think how an R8 sounds.
No electric car yet can matches the best V8s for aural wonder. And the fact that buyers are invited to pay extra for an option pack which comprises two control units and amplifiers in the boot is just silly. Even then, what you hear is unusual rather than inspirational.
Conclusion
The things which really stand out with this car are the speed, the braking and the beauty of the shape, which includes details such as a standard dark glass roof with a CFRP one optional. Pricing is almost as arresting as the looks though. Yet if people are happy to pay what Audi asks for the e-tron GT then you can't blame the company for setting the positioning of its big e-sedan so high.
The Audi e-tron GT is priced from GBP82,865.