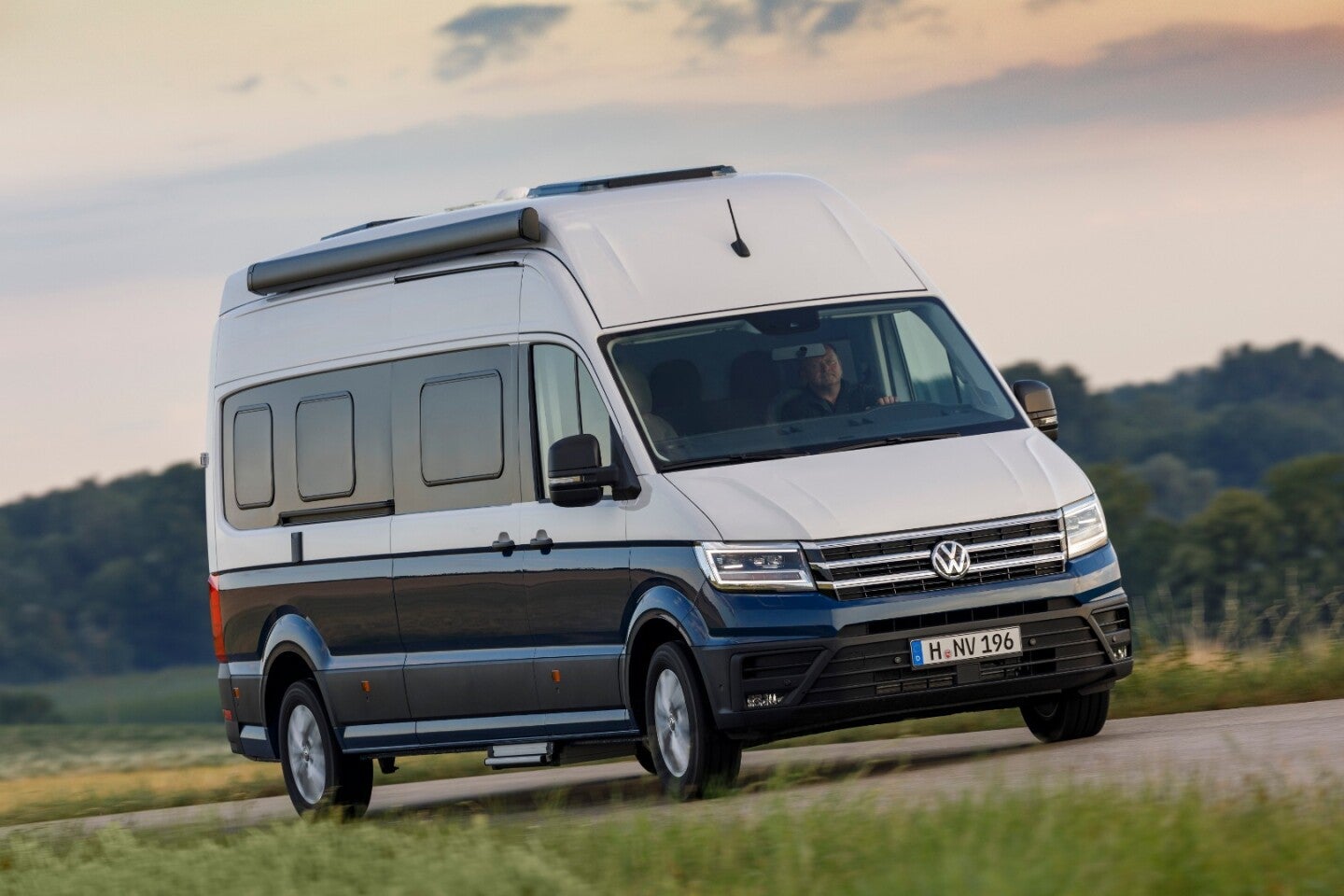 The last almost two years has seen demand for certain vehicles take off as others have collapsed. Now, even as international travel restrictions are eased in many countries, campervans remain big business.
Nutzfahrzeuge: German for maximum margin
Volkswagen, like Toyota, always seems to be cooking up multiple fresh models in its development kitchen. And not just passenger cars, including all the ID. vehicles which have landed at the right time, or even ahead of the demand curve. Nutzfahrzeuge division too has much on its own menu.
As with the equivalents at other OEMs, the commercial vehicles part of Volkswagen AG isn't sexy yet it surely punches above its weight when talking margins. Imagine what the profit must be on an eighty-plus thousand pound Grand California, a model which hit the UK market just before flying more or less stopped overnight in 2020.
That number can shock anyone who's unfamiliar with the ballpark for this class of extended length camper. VWCVs let me have a go in one and the price, including options, was a decidedly Audi-esque GBP86,938. Examples of extras are an awning (GBP960), water heating and interior powered mains (GBP672), a rear-view camera (GBP282) – incredibly it's not standard, and one other essential (?), 'Toilet Ventilation' at GBP216.
What you get for your money
Yes the Grand Cali has a loo; in fact it has a wet room. You can even detach the shower gubbins and take it outside for an alfresco one should perhaps some mountain bike riding have become muddy. Naturally, there's a gas bottle and a rather impressive kitchenette. The whole shebang has the feel of a real VW about it too. Not to attack the ID.3 cars or Golf but we know certain things about them and other new-era Volkswagens are not universally admired.
This giant campervan is based on a commercial vehicle chassis; specifically, the Crafter van. The engine is a fairly low-power (177 PS) but at least high-torque (410 Nm) version of the well known 2.0-litre TDI. The transmission might be self-changing but it too has been honed for this weighty vehicle.
Four and a half metre wheelbase
The Grand Califiornia is no lightweight. How could it be with all those modifications which turn an XXL-sized van into a cosy apartment on wheels? The test model was the 6,836 mm 680 (GVW: 3,880 kg) as opposed to the 5,986 mm 600. A few other stats: the AdBlue tank holds 18 litres although the fuel tank only takes 75 l, the wheelbase is 4,490 mm and width including mirrors is 2,410 mm which makes an Amarok or even an Audi e-tron GT seem narrow.
To drive, it's slow but not painfully so (top speed is a decent 102 mph). More that it's best to take time for maneouvres due to the length of the thing. Sudden stops can result in personal effects being tossed around if not secured, although there are so many latches and handles and locks that nothing like a loo door swinging open happens. More that the centre of gravity is high so respect is essential. Braking is very good yet it's always wise to allow extra distance, particularly in the wet.
Does it need all-wheel drive?
Volkswagen doesn't specify 4MOTION as standard, which is not so much another chance for an even better profit as more a sensible policy for those who won't ever need it. In the north of Europe, yes we do, at certain times of the year at least. In places where heat, height above sea level and a dry climate may mean less power and torque from the turbocharged engine, any weight saving is a very good thing.
The example from VW's press fleet was front-wheel drive and it never lost traction although there wasn't any rain during my week of (Grand) California Dreaming. The eight-speed transmission shifted amazingly quietly and smoothly given the load it has to deal with and even though noise can be van-like, I like that. Not diesel clatter as such, more that appealing mechanical music which has either been engineered out of most passenger vehicles now or drowned by sound deadening/anti-noise tech.
New-found respect for the DPD man
As the driver, the effect is one of being at the helm of a small coach rather than a humungous LCV. It also makes those of us who reside in villages even more in awe of the courier company drivers who zip in and out of narrow lanes at the wheel of LWB Crafters, making it look easy.
For various reasons, I didn't go camping in the GC but I did play with all its accessories, tried everything out, drove it lots and its ability to become a bedroom was also tested. You can switch it to office mode by swivelling either front seat and there's a rear bench too so the family will fit, or even work colleagues. Make everyone a cuppa via one of the hobs or plug in a kettle.
Comfort at the wheel as well as on the mattress
As I write this, I'm back from a weekend to Rotterdam in a slightly smaller van (Vauxhall Vivaro) to view and subsequently buy a classic car, bringing back a load of spares which came with it. The drive home from the Netherlands via Belgium and France to the west of England could have given any of us a bad back 10-20 years ago.
I was tired but otherwise fine after being in four countries on Sunday. The big Volkswagen would have handled that distance and the gloriously empty dual carriageways just as well. Watch the low bridges though, something I had to keep remembering during the week with the GC. And make time for the electrically lowering and lifting side steps which deploy when the sliding side door is opened or closed. It's a cool thing to watch, as is the lighting all around the vehicle when it comes on or turns off.
Like trying to park a palace?
Even if few would accuse the extended length Grand California of possessing beauty, it's still a shapely thing to give the once over to, pressing the lock button and walking away from the almost two parking spaces needed by way of a berth. Call it a lovely land yacht or a cosy cruiser. While lots of people have been buying one to enjoy staycations, that's continuing even with more freedom of movement. I can completely see the appeal of such vehicles. Just take your time reversing and in the case of this one, the camera above the rear end's doors is worth every penny.
Volkswagen will be very happy to continue building the GC in both 600 and 680 forms for as long as there is high demand. Next will come electrification, once OEMs and Tier 1s can work out how to accommodate the size and heft of the massive batteries which will be needed: we've all seen the breathtaking mass of the GMC Hummer EV pick-up (reminder: 4,103 kg before options, so just imagine what the SUV with all its extra glass and metal will be). The eCrafter already exists, of course, but all the additional glazing, metal and interior fittings of a high-roof campervan quickly see the kerb weight shooting up.
Why no MHEV, HEV or PHEV?
The German giant seems to be keen on jumping straight to EVs, bypassing hybridisation, which has to be a rather substantial engineering feat. Until that results in a production model which is the equal of the GC, the latest TDI-propelled one, all sub-25 mpg (Combined average) of it, remains an utter delight. To drive, to work in, to sleep in, to cook in, to wash-up in, to shower in. Might this actually be the perfect premium-priced vehicle?
The production version of the ID.Buzz will be revealed by Volkswagen Commercial Vehicles on 9 March. There won't initially be a California version, and there are no official plans (yet) for electric successors to today's Grand Californias. VW Nutzfahrzeuge did however note in a December press release that an ID. Buzz California would be in production at its Hannover factory during the "second half of the decade".