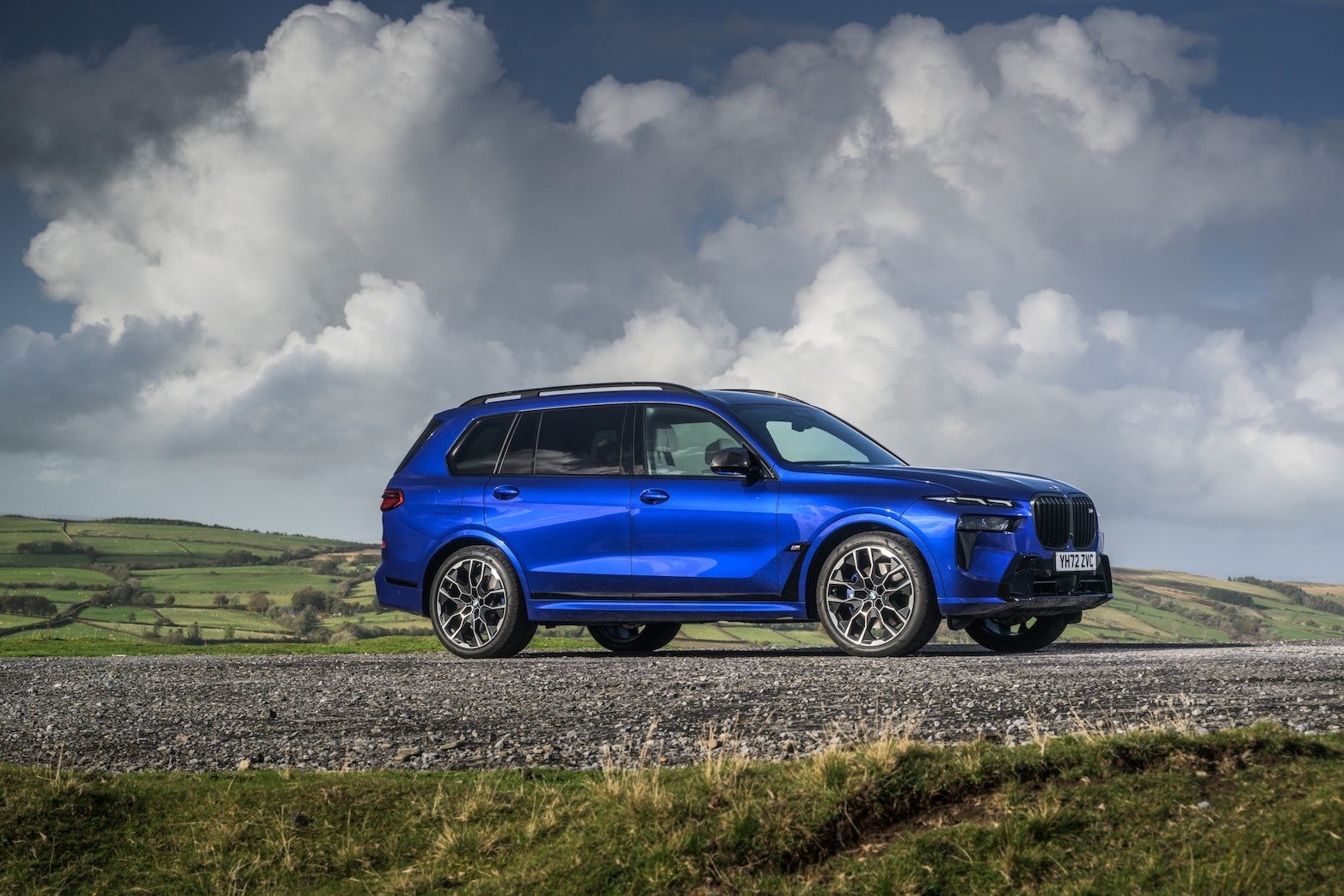 Perhaps ironically for a model which is most definitely not an EV, did BMW look to Elon Musk for inspiration when it developed the X7? If the idea was to ignore the haters and prioritise profit, then the German firm is succeeding, just as Tesla continues to.
Why does BMW have such a confronting vehicle in its line-up though? The recent facelift hasn't done much to pacify those who took against the aggressive front end of the 2019 original either. Yet without this vehicle, would the company be making all the money it needs to fund a future replete with EVs?
Longer and heavier
The lengthy and far from featherweight SUV is now even longer and heavier in newly revised form. It tips the scales at about the same mass, incidentally, as the only slightly smaller Tesla Model X.
BMW's biggest SUV is now 5,181 mm from bumper to bumper and 2,218 mm wide but 'only' 2,000 with mirrors folded. That latter measurement is identical to the Model X, so neither is ideal for the British market. The same can be said of the XM (5,110 mm long, 2,235/2,005 mm wide), BMW M's first 4×4.
It depends on the country, but the X7 usually has seven seats as standard or six optional. In both cases, the boot space is surprisingly not too generous although the third row can be easily folded. Volume varies from a minimum of 326 litres to a maximum of 2,120 if both rows are lowered or 750 in five-seat form.
New digital dash
The vibe inside is luxury, 2023-style. That means a lot of light-coloured materials, not all of them necessarily former cow skin, far fewer dials and switches than had been the case pre-facelift, and soft synthetic surfaces everywhere. Many of these have integrated illumination, including the new dashboard – something that can also be specified for the grille. BMW calls this 'iconic glow' and it looks better than it sounds.
Firm pneumatic springs
For such a huge and heavy machine, the X7 can be hustled along with, well, not quite aplomb but it does corner without any drama. Air springs and some well executed suspension calibration combine to keep things fairly flat and the ride is just superb. A 3,105 mm wheelbase and the impressive mass are contributing factors here.
Steering? It's never going to do a convincing impression of a 3 Series but the feel is far from sloppy. And does any other company do big SUV dynamics as well as BMW? Maybe only Land Rover.
Three new mild hybrid engines
Some of the extra weight is due to new engines plus lots of other novelties, including the first 23-inch wheels for an X7 (they're optional). The powertrain choices have been reduced to three:
xDrive40i – 280 kW (381 PS) & 540 Nm 2,998 cc single turbo I6
xDrive40d – 259 kW (352 PS) & 720 Nm 2,993 cc biturbo I6 diesel
M60i xDrive – 390 kW (530 PS) & 750 Nm 4,395 cc biturbo V8
Each is a 48 V mild hybrid, the ISG being integrated into a new eight-speed ZF automatic transmission. Drive is sent to both axles in all cases.
Coinciding with the facelift and fresh interior, those outputs above show that the xDrive40i and xDrive40d have gained power/torque while the M60i xDrive replaces the M50i xDrive. The higher number signifies this being a new engine even if its outputs are the same as the previous 4.4-litre V8.
Anyone reading this who lives in Britain would be forgiven for believing the X7 to be a niche model. You hardly ever see one here and when I checked registrations data for Germany, the X7 is far from a strong seller there either. Worldwide, however, things are different.
Global rivals
In the full-sized segment, the BMW competes with the Range Rover, Mercedes GLS, Audi Q7, Lexus LX, Cadillac Escalade, Stellantis' Grand Wagoneer, Lincoln Navigator and Hongqi HS7. So a fair bit of competition then.
China and US vie to be top market
For the X7, the USA just beat China as the number one market in 2022, 10,735 to 10,626. Then it was Europe (4,660), South Korea (4,345) and various three-number countries such as Canada (977) and Australia (840). Yes, well over 30,000 units worldwide, in a year of chip shortages and continued Covid issues.
Clearly, this is a crucial model for BMW, the brand's biggest 4×4 surely packing some major margins, built as it is in low-cost South Carolina. The platform is also shared with other SUVs such as the X5, X6 and XM. Not every part of the vehicle is sourced from the US though: Greer/Spartanburg might be BMW's largest factory worldwide but it has no powertrain operations (or stamping: a press shop is coming in 2024 though).
Most of the engines for the brand's built-in-America SUVs are imported from Germany or Austria and that won't change. Which isn't just to keep metal worker unions in Europe on side, but also because 'Plant Spartanburg' will gradually become an EV production centre. That won't happen for a few years yet, and why would it when buyers in so many countries still want mega-margin big ICE-driven SUVs?
Conclusion
The X7 certainly isn't what anyone who doesn't want to be noticed buys. You could call it blingy but that really only applies to how it looks head-on. From the back and sides it's almost elegant, while the big new screen affixed to the dashboard screams high-tech and the massive glass roof lights up what is a vast interior.
Who can blame BMW for giving those in the full-size luxury SUV segment exactly what sells? This comprehensively updated model probably has a few years of impressive sales numbers – yielding big returns for its maker – left in it yet.
BMW X7 pricing starts at GBP86,260
Replacement
Due likely in 2026, the second generation X7 should still be available with combustion engines. However, depending on market trends in the US, the Middle East and Asia, the company may extend the life cycle of the current model, instead phasing it out towards decade-end. The successor would then be an EV and/or powered by a fuel cell.