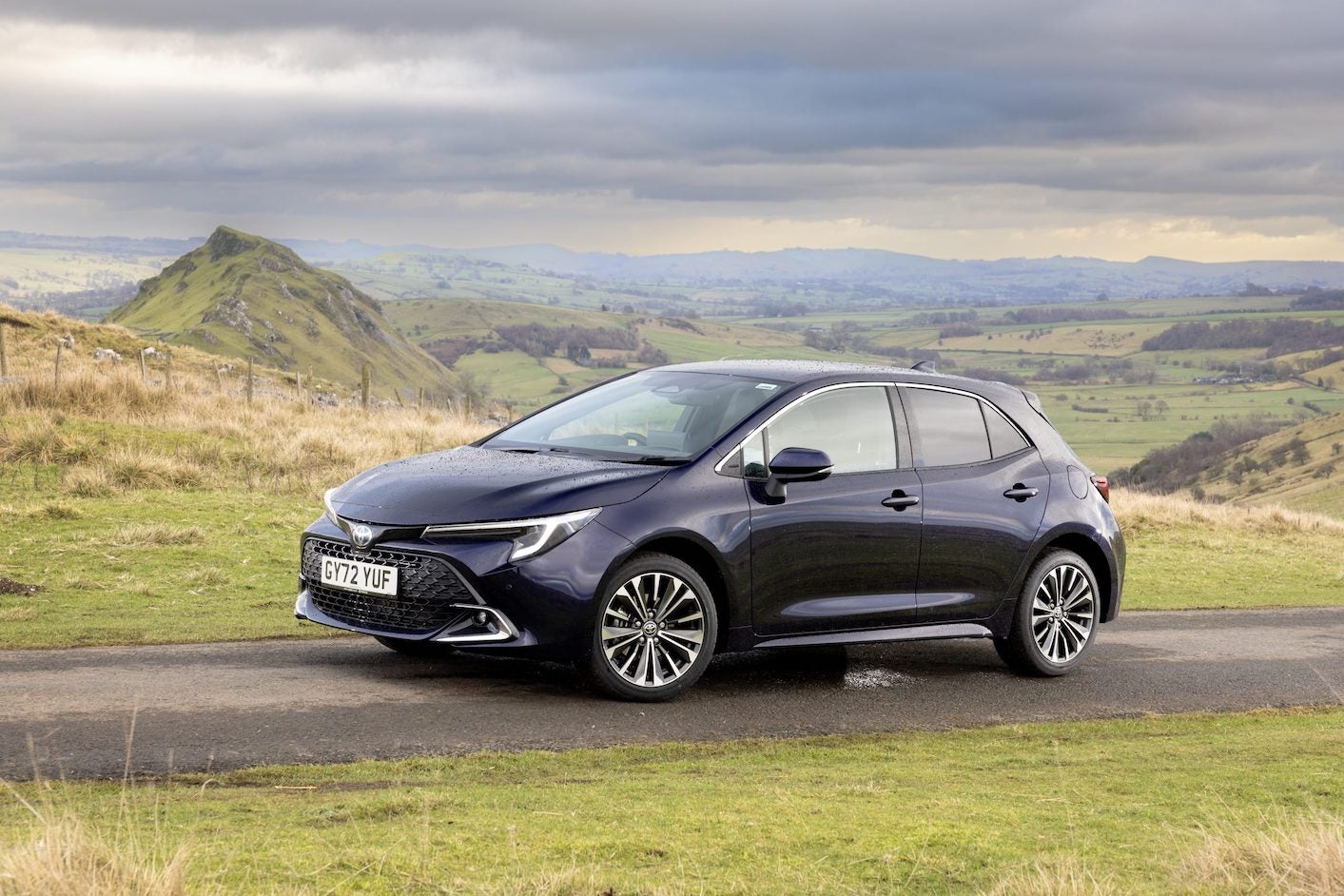 Global new vehicle sales in 2022 fell 2% year on year to 79.4m from 80.7m in 2021.
Positive results in several emerging markets (India, Middle East, South East Asia, Africa), which accounted for 24% of global volume, were significant enough to offset declines seen in North America, Europe, and China.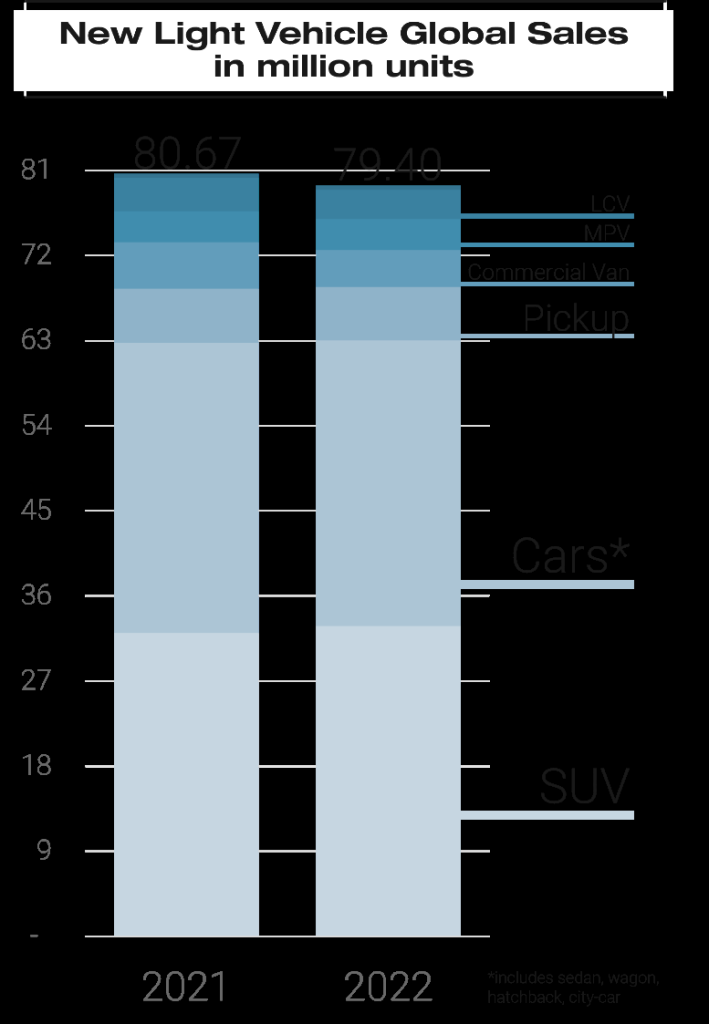 Felipe Munoz, global analyst at JATO Dynamics, said: "This decline can be attributed to two key factors. Firstly, ongoing supply chain disruption and the shortage of semiconductors in North America and Europe led to a reduction in the availability of new vehicles, while sales in China, the world's largest market, weakened."
In 2022, the three regions combined accounted for 69% of sales.
The Ukraine war also contributed to the decline. As a result of sanctions, the Russian market suffered heavily with sales dropping 59% or about 1m units.
"The market is shifting away from NSCs and OEMs, instead becoming increasingly reliant on importers. The withdrawal of western brands has created an opportunity for China to expand its presence in the Russian car market – the 21st largest in 2022", addedIrina Dedova, JATO Dynamics' area manager for eastern Europe.
In contrast, demand in India soared 24%, to a new record of 4.37m units which saw the country pass Japan to become the world's third largest car market.
Despite the increase in volume, only 3.1 vehicles were sold per 1,000 inhabitants – the lowest among the top 25 largest vehicle markets.

Ravi Bhatia, president and director at JATO Dynamics India, said: "Consumer confidence has been bolstered by the recovering economy and supportive government policies including production linked incentives totaling US$7.5bn over the next five years to encourage exports, and the introduction of a new vehicle scrappage policy to boost demand for new vehicles. Banks and financial institutions have also become more accommodating in offering loans at competitive rates."
Financial incentives, post-pandemic measures and benefits helped to boost demand in the Middle East. New vehicle registrations across the six countries of the Gulf Cooperation Council (GCC) reached 2.75m or 46% of the regional total. SamirSawalhi, vice president at JATO Dynamics Middle East, said: "The Middle East looks set to take on a more significant role in the global automotive industry; Saudi Arabia – the world's 19th largest car market – aims to become a hub for electric vehicle production with investment expected to reach $50bin over the next 10 years."
In Africa, volume increased 5.5% to 1.15m units driven by a 14% increase in South Africa – the continent's largest market, accounting for 44%. Northern Africa volume accounted for 42% of the continent total while Southern Africa represented 45%. In contrast, Eastern, Central, and Western Africa accounted for 4.8%, 1.3%, and 6.7%, respectively.
EV surge continues
Battery electric vehicle (BEV) sales surged 66% last year to 7.37m units, up 2.9m and ahead of the 2.4m rise in 2021. Last year, the global market share for BEVs jumped from 5.5% in 2021 to 9.3%. Regionally, only China and Europe secured a double-digit share of the market with 15.6% and 12.2% respectively.
Munoz said: "The EV boom looks set to endure. Governments in the developed world have continued to offer generous incentives, encouraging consumers to make the switch away from ICE vehicles while average prices have decreased thanks to the introduction of more affordable models."
Norway continued to set the standard for EV adoption. Last year, 71% of light vehicles registered in the country were BEVs, however Hong Kong saw the highest market share increase from 24.4% in 2021 to 53.1% last year.
"The scrappage program for those vehicles at least six years old, and the tax exemption for new electric vehicles up to certain price is pushing many consumers to make the switch from petrol to electric" said Bo Yu, area manager for China.
China was the world's largest market by volume, accounting for 53% of global EV sales – a significant margin more than the country's share of overall global light vehicle sales at 32%. China's success is the result of shorter waiting times for BEVs when compared with ICE models and a burgeoning offer for consumers – in 2022, 15 new brands were launched.

While Tesla led the EV charge in 2022 with a 43% growth in sales, it lost share to Chinese OEMs, down 3% to 17.6%.
Toyota leads again
Toyota was the world's best selling OEM, accounting for 13 of every 100 new light vehicles purchased. The Japanese OEM was able to increase global market share 0.3% thanks to strong results in China, now its largest market ahead of the US and Japan. These results are explained by Toyota's strong offering across both hybrids and SUVs – in 2022, Toyota outsold Volkswagen Group to emerged as the world's best selling SUV maker.
As in 2021, Volkswagen Group was second behind Toyota in the rankings by OEM, however it saw a volume decrease of 10%, losing 0.7% of share. In China, its second largest market, sales fell 6% as a result of increasing local competition but it remained the leading OEM in both China and Europe.

Hyundai-Kia was third due to its strong market position in Korea, India, North America, and Europe. Unlike rivals in Europe and the US, Hyundai-Kia has a relatively widespread sales distribution, with 71% of global sales spanning four regions. In fourth place, Stellantis volume was 5.8m, down 10%. Its Europe sales dropped 14% with supply chain issues affecting availability. But it was the best selling OEM in Latin America. General Motors sold 4.6m units to close out the top five with Chevrolet accounting for 62% of its total (excluding JV volume with SAIC-Wuling).
BYD was the fastest growing OEM in 2022, gaining 1.5% of global market share due to its strong offering across all mainstream segments and competitive EV line. BYD followed Tesla as second best BEV manufacturer with volume up 184% to 911,000 units in 2022. For OEMs like Suzuki, Mahindra, and Tata, increased demand in India meant their volume also accelerated.
Tesla's top selling models
Two Tesla models were top 10 sellers worldwide in 2022 while the Model Y was the third best selling passenger vehicle in 2022 behind traditional leaders, the Toyota RAV4 and Corolla/Levin sedans.
Munoz: "It is a historic moment to see a pure electric vehicle not only so close to the top position, but a relatively new brand getting so far in the global ranking, particularly given they are not the most affordable vehicles."
The Model 3 was 10th but dropped one position compared to 2021. Toyota had five models in the top 10 while Ford, Nissan and Honda had one model each.
Global gains for Chinese OEMs
Another interesting trend to emerge last year was the increasingly influential role Chinese brands are playing outside China. In 2022, almost 1.5i light vehicles made by Chinese OEMs were exported, a 48% increase over 2021. This growth was driven by a more competitive, higher quality offering, and a big push in the affordable EV segments.
China's manufacturers are finding ways to ehance their position in the global market. While some are introducing products to new markets directly, other are rebadging their vehicles and selling them under brands that are well established
in the west. Some Chinese carmakers are producing vehicles for western OEMs which want to increase their presence in markets through more competitive products.
The growth of Chinese OEMs is also being felt in emerging markets where their market share jumped from 4.8% in 2021 to 6.4% last year. While this remains a relatively small percentage, China's manufactuers have been successful in taking market share away from the European and Korean carmakers. In regions like Eurasia, the market share of China OEMs doubled, increasing from 6.2% in 2021 to 12.8% in 2022.
SUVs gain further traction
Despite the overall market falling 2% between 2021 and 2022, sales of SUVs increased 2.3% to a record 32.8m units. The global market share for these vehicles jumped from 39.7% in 2021 to 41.3%. SUVs saw the fastest growth in Europe, with a market share increase of 4.3% for a record of 43% of all light vehicle sales – the second highest globally. In North America, SUV sales accounted for 54% of total light vehicle sales, while in China these vehicles took 41% of the market.
In 2022, the majority of these vehicles sold worldwide were compact SUVs – 15.6m units. Sales of small SUVs reached 7.6m, followed by midsize SUVs at 5.05m and luxury SUVs at 4.5m.
The uptick in SUV sales came at the expense of traditional segments such as sedans, hatchbacks, MPVs and wagons which saw a 2% decline to 33.3m. Sales of pickup trucks dropped 2% due to lower demand in North America, the largest market.
Considering the outlook for 2023, Munoz added: "The decline seen in 2022 was not unexpected given the supply chain issues and global semiconductor shortage that the industry had to contend with. While OEMs were able to weather the storm, new challenges have emerged. As demonstrated by last year's biggest market share winner, BYD, China's OEMs at the forefront of the EV transition are rapidly gaining a foothold across markets with an increasingly competive and affordable offering. To meet this challenge, Tesla has started to cut prices and established western OEMs will be forced to follow suit if they are to maintain their market positions."