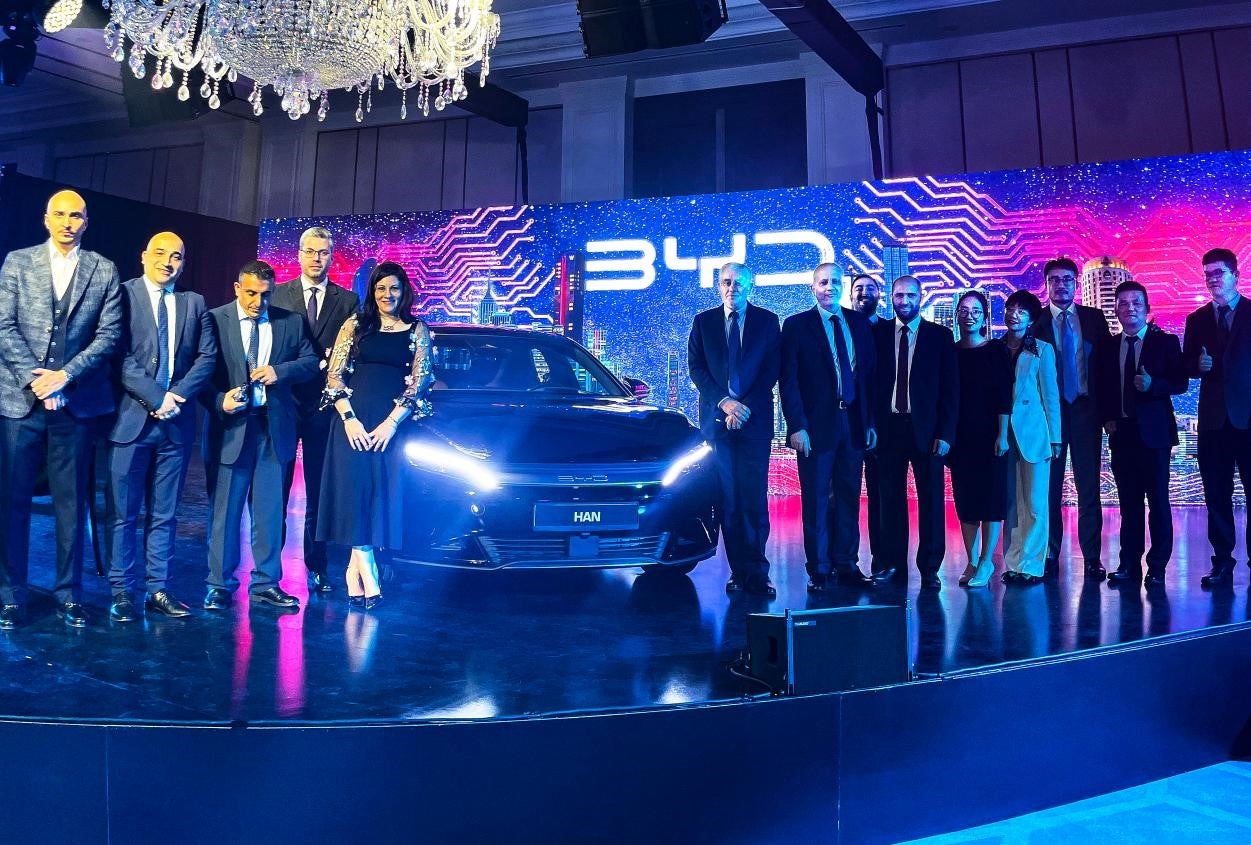 The rapidly expanding global BEV market is being fought over by BYD – which seems to enter a new market every other day – and Tesla. Analysis by GlobalData shows that strong growth in the US and China was instrumental in delivering a solid performance to global battery electric vehicle (BEV) demand in February, somewhat compensating for the very poor January. However, year-to-date growth, at 27%, remains well below the 70% seen for 2022 as a whole. Analysts at GlobalData maintain we are in a period of slower growth, though they also caution there are strong seasonal effects in play during the first quarter of the year. GlobalData analyst Al Bedwell says he sees strong growth ahead for the year and highlights the impact of price cutting, especially in China. "Our current expectation is that global passenger car BEV sales will expand by 40% in 2023. "Some of the strong gains made in February's BEV market were due to the price cutting initiated by Tesla and followed by some others. However, this effect – Tesla aside – is predominantly seen in China where a full-blown price war has broken out, to the extent that some weaker brands may not even be in business by the time peace breaks out again." He also points to BEV order backlogs as a positive factor in the outlook, keeping supply tight. "Backlogs remain strong for many OEMs in the USA and in Europe hence there is little need or advantage to be gained by following Tesla's lead and cutting prices at this point. That may change later in the year when underlying demand becomes more visible, potentially being a drag on sales." GlobalData analysis shows that February saw global BEV and PHEV (plug-in hybrid) growth get back to the long-term trend after the cliff-edge drop in January, albeit at a lower level of volume. FHEV was not impacted and had a strong start to 2023 as more models are rolled out, particularly in China, to meet fuel efficiency standards.
The X7 is probably BMW's most profitable model, selling in greater numbers than is generally realised. Perhaps ironically for a model which is most definitely not an EV, did BMW look to Elon Musk for inspiration when it developed the X7? If the idea was to ignore the haters and prioritise profit, then the German firm is succeeding, just as Tesla continues to. Why does BMW have such a confronting vehicle in its line-up though? The recent facelift hasn't done much to pacify those who took against the aggressive front end of the 2019 original either. Yet without this vehicle, would the company be making all the money it needs to fund a future replete with EVs? The lengthy and far from featherweight SUV is now even longer and heavier in newly revised form. It tips the scales at about the same mass, incidentally, as the only slightly smaller Tesla Model X. BMW's biggest SUV is now 5,181 mm from bumper to bumper and 2,218 mm wide but 'only' 2,000mm with mirrors folded. That latter measurement is identical to the Model X, so neither is ideal for the British market. The same can be said of the XM (5,110 mm long, 2,235/2,005 mm wide), BMW M's first 4×4. It depends on the country, but the X7 usually has seven seats as standard or six optional. In both cases, the boot space is surprisingly not too generous although the third row can be easily folded. Volume varies from a minimum of 326 litres to a maximum of 2,120 if both rows are lowered or 750 in five-seat form.
Simulation technology is increasingly being used within the industry for a range of use cases from testing autonomous vehicle functions to assessing passenger anxiety (see also: Leave your stress behind: Reducing driver anxiety with NewTerritory). Companies such as UK software specialise rFpro, are pushing the boundaries of what simulation can achieve within the automotive space. The company has recently launched a new simulation tech that reduces the industry's dependence on real-world testing for the development of autonomous vehicles (AVs) and ADAS. This new 'ray tracing rendering technology' is described as the first to accurately simulate how a vehicle's sensor system 'sees' the world. We spoke to Matt Daley, operations director at rFpro to learn more about this new technology and its benefits.
Renault-Nissan's simple cross-badging strategy in India failed, but a new approach will determine the group's future in the market, wrote Ammar Master, Director, South Asia, LMC Automotive (a GlobalData company) for us this week. Renault and Nissan's planned capital injection of US$600 million (₹53 billion) in India – mainly towards six new vehicles (three each), including two BEVs from 2025 onward – coupled with a modified strategy will determine the group's future in the market. We believe the two partners' novel approach will be akin to the decades-old strategy employed by Hyundai and Kia globally; the Korean sister companies jointly develop vehicles and share common platforms and powertrains but employ distinct styling between their products. This is importantly unlike Renault and Nissan's previously failed strategy of simple cross-badging in the form of the Nissan Micra/Renault Pulse, Nissan Sunny/Renault Scala, and Renault Duster/Nissan Terrano in India. We have assumed the three new vehicles from Renault will be the third-generation Duster, the Bigster, and the electrified version of the next-generation KWID, which is now assumed to go into production by Q4 2025. In the case of Nissan, we have a placeholder model called C-SUV in our database. Yet, it is also possible that the Duster could be rebadged and sold under the Nissan brand. We have also added a Nissan B-MPV placeholder model, which is foreseen to be a badge-engineered version of the second-generation Renault Triber. Lastly, Nissan's new BEV is likely to be a badge-engineered version of the electrified KWID – which we will be adding to our forecast.
Porsche reportedly turned to a British company to allow passengers to stream film and TV on built-in screens. A new in car video streaming function will allow owners in 56 countries to access their subscriptions with the likes of Disney+ and Amazon Prime, as well as live TV, via a platform run by ScreenHits TV, The Guardian reported on Friday. The carmaker had said on Thursday its new Cayenne SUV, which launches next month, would allow drivers to watch film and TV on the central display when the vehicle is stationary, and on the passenger display – not visible to the driver – while moving. The newspaper said Teslas have been able to stream video when parked via platforms including Netflix and YouTube since 2019, although other carmakers have taken longer to introduce screens large enough to make in-car viewing worthwhile. Streaming has also been held back by mobile network speeds and costs. The car industry was gearing up for an explosion in in car TV watching and other potentially lucrative services as more and more vehicles become able to drive themselves. In the UK, the government last year brought in changes to make it possible to watch films on the motorway, where driving is heavily regulated.
Another week, another EV battery plant in the works. Tesla was in deal talks with China's Contemporary Amperex Technology (CATL) to build a new electric vehicle (EV) battery plant in the US to expand capacity to meet growing EV demand in the region. According to local reports, Tesla met with government officials in Washington this week to discuss the potential project in light of the growing economic and political tensions between the US and China. People close to the matter said the EV maker, led by its senior global director of public policy Rohan Patel, sought to clarify the Inflation Reduction Act rules that came into force in the US last year. Ford Motor last month announced plans to build a US$3.5bn wholly owned plant in the US for the production of nickel cobalt manganese (NCM) and lithium iron phosphate (LFP) EV batteries using CATL technology and support services. The deal was structured so the deal did not fall foul of any trade restrictions between the two countries. Many lawmakers in the US oppose any Chinese company benefiting from US subsidies, prompting Ford to say CATL would not receive any US public money.
And materials. Ford has joined Brazilian mining giant Vale and China's Zhejiang Huayou Cobalt in investing in a nickel processing plant in Indonesia, as the automaker steps up efforts to secure supplies of battery materials for future electric vehicle (EV) production. Local subsidiary PT Vale Indonesia began building a nickel processing plant last November in Pomalaa on the island of Sulawesi, where it also has a nickel mine. The US$4.5bn jointly-owned high-pressure acid leaching (HPAL) plant was scheduled to be operational in 2026 with annual capacity of 120,000 tons of mixed hydroxide precipitate, a material extracted from nickel ore. Indonesia was estimated to have the world's largest reserves of nickel and had recently introduced policies to help develop downstream processing industries. The government banned the export of unprocessed nickel ore in 2020, forcing exporters to add local value.
From the supplier front: Valeo has announced its 'SCALA 3' LiDAR has been chosen by a 'leading Asian manufacturer and a leading American robotaxi company'. It says it now has registered orders worth more than EUR1bn for SCALA 3. Valeo SCALA 1 and 2 delivered conditional autonomous driving in traffic jams. However, it says SCALA 3 dramatically increases the domain of operation – and therefore the customer value – of private vehicles thanks to a wider scope of use and higher speed support. Valeo also maintains it is positioned as a leader in robotaxis equipment as SCALA 3 'enables our clients to make robotaxis a reality at scale, using a proven, best-in-class technology in mass production'. Valeo also claims it remains the leading company in the production of automotive LiDAR sensors and perception software on an industrial scale. 'Our clients recognize our ability to deliver on our ambitions', the company says.
Faraday does have a future: Faraday Future Intelligent Electric, the California-based luxury EV start-up has announced the start of production (SOP) of its FF 91 Futurist model. The company said the SOP marks the final manufacturing milestone (#7) of the FF 91 Futurist and the culmination of much hard work since the company was founded in 2014. "We have made great strides in recent months getting to this SOP milestone, with thanks to our dedicated team, supportive investors and suppliers," said Xuefeng Chen, Global CEO of Faraday Future. "I'm excited to finally see the culmination of many years of hard work, all focused on our one goal, bringing the Ultimate Intelligent TechLuxury FF 91 Futurist to market." Faraday Future says the The FF 91 Futurist features a 1,050 horsepower powertrain, with an EPA-certified range of 381 miles, capable of 0-60 mph in 2.27 seconds, as well as a 'unique rear intelligent Internet system, and a revolutionary user experience designed to create a mobile, connected, intelligent, and luxurious third Internet living space and user mobility ecosystem platform'.
UK car production rose 13.1% in February, to 69,707 units, according to the latest figures published today by the Society of Motor Manufacturers and Traders (SMMT). The SMMT said that volumes in February were buoyed by an easing of supply chain shortages – notably of semiconductors – which have impacted the global industry since the early months of 2021. Production for both home and overseas markets rose by double digits, up 20.3% and 11.5% respectively, with exports driving the overall uplift. Some 56,634 cars were produced to fulfil global orders, up from 50,786 a year before and accounting for 81.2% of output, with the majority of these exports (59.6%) heading into the UK's largest trading partner, the EU. Shipments to the EU rose 6.5%, helping to offset declines to the US (-19.9%) and China (-21.6%). Exports to Turkey, Japan, Australia and South Korea also rose, collectively by 85.0%, and together represented a total of 6,498 cars, or 11.5% of exports.
BEV market share continues to grow across Europe this year. In February, it grew across 25 markets. Finland led the charge with an increase of almost 18 points between February 2022 and February 2023. Double-digit market share was recorded for BEVs in 14 countries: Ireland, France, Belgium, Luxembourg, Austria, Portugal, Norway, Sweden, Netherlands, Denmark, Finland, the UK, Germany, and Switzerland.
The Tesla Model Y was the top selling BEV in Europe in February 2023 despite February usually seeing fewer registrations for Tesla. The Model Y was in the top five models for Austria, Denmark, Finland, Germany, Luxembourg, Netherlands, Norway, and Portugal. It was also the 10th most registered passenger car in the YTD ranking. However, the rise in its popularity has resulted in less volume for the Model 3 which recorded a fall of 49% in contrast to February 2022 registrations.
More batteries: LG Energy Solution (LGES) is in talks to supply Toyota Motor with batteries to power future electric vehicle (EV) models, according to local reports citing a senior company official. LGES is South Korea's largest EV battery manufacturer and aims to challenge China's Contemporary Amperex Technology Company Limited's (CATL) global leadership by the end of the decade. The company has been investing heavily in new manufacturing capacity, particularly in the US where it has manufacturing joint ventures with General Motors, Stellantis, Honda and Hyundai. Last week it announced a new US$5.5bn investment in an Arizona factory which would be its second wholly owned EV battery plant in the country. Last year LGES, which also has factories in South Korea, China and Poland, said it planned to have capacity for 200 gigawatt hours of batteries in place in North America by 2025, enough to power 2.5m high performance EVs.
Not so good EV news: Lucid Group CEO Peter Rawlinson has told workers in a letter posted on the company's website the EV startup would reduce its workforce by about 18%, affecting both employees and contractors. "This action is aligned with the cost discipline announcement we made in late February when we reported earnings. We are also taking continued steps to manage our costs by reviewing all non-critical spending at this time," he added. That would be about 1,300 people. "We have been reviewing and implementing several other ways to optimise our cost structure, but unfortunately these measures alone won't achieve our objectives," Rawlinson said. He added the US workforce would see reductions in nearly every organisation and level, including executives.
The EU's parliament has approved the new CO2 emissions reduction targets for new passenger cars and light commercial vehicles. With 340 votes in favour, 279 against and 21 abstentions, MEPs endorsed the deal reached with the European Union Council on revised CO2 emission performance standards for new cars and vans in line with the EU's increased climate ambition. The EU said new legislation sets the path towards zero CO2 emissions for new passenger cars and light commercial vehicles in 2035 (an EU fleet-wide target to reduce CO2 emissions produced by new cars and vans by 100% compared to 2021). Intermediate emissions reduction targets for 2030 are set at 55% for cars and 50% for vans. Manufacturers responsible for small production volumes in a calendar year (1,000 to 10,000 new cars or 1,000 to 22,000 new vans) may be granted a derogation until the end of 2035 (those registering fewer than 1,000 new vehicles per year continue to be exempt).
Ford is reviving the Capri nameplate for an EV. The nameplate was used on a variety of vehicles over the years. First iteration was a coupe version of the Ford of England Consul Classic (aka Consul 315) from 1961-1963. Then it returned in 1969 for several generations of a shared Ford England/Germany coupe and then hatchback (with some model years to 1979 imported into North America by Ford's Lincoln-Mercury division initially being sold as the unbranded Capri and later under the Mercury brand) which finally bowed out in the mid 1980s. It was revived again between 1989 and 1984 by Ford Australia which produced a cabriolet on Mazda 323 underpinnings sold as a Ford or, again in North America, as a Mercury. The latest rerun will be an EV costing about GBP40,000 with a range of up to 310 miles on a full charge. It would accelerate from rest to 60mph in 6.4 seconds. The new 300hp Capri would also have rear wheel drive and four headlights as a nod to some variants of original versions. Inside it will would have a 15in upright touch screen, wireless phone charging and massaging seats.
Also revived: Renault is bringing back the Espace, billing what was once an MPV/minivan a "people carrier seating five or seven" though it now looks like an SUV. The automaker agrees the new model has "an SUV vibe" while Esprit Alpine trim "adds a motorsports edge". It will continue as the Renault range's most spacious model and an available one square metre sunroof is said to be "one of the largest on the market". Exterior dimensions are smaller and the new model is 215kg lighter than its predecessor. It will have a 200hp E-Tech full self charging hybrid powertrain and fuel consumption of 4.6 litres per 100km gives it up to 1,100 km of range. CO2 emissions are 104 grams per kilometre. It is built on the Alliance's purpose-designed CMF-CD platform and comes with 32 driver assistance systems. Multi-Sense and 4Control Advanced, a four wheel steering system, are available.
More materials: Rock Tech Lithium has broken ground for a lithium factory in Guben, Brandenburg, to supply Mercedes-Benz with battery grade lithium hydroxide from 2026. The automaker said this was its next step towards localisation and greater vertical integration in drive technology for its electrification goals in Europe. The deal with Rock Tech would enable the Stuttgart based car maker to supply its battery vendors with high grade lithium hydroxide to scale up production of fully electric vehicles. The new converter plant is a further milestone in the relationship between automaker and German-Canadian startup. The two companies signed an agreement last year for the supply to battery makers of high grade lithium hydroxide refined in the new covering an amount sufficient for 150,000 fully electric vehicles.
And more: SK On Company plans to build a battery precursor plant with EcoPro Company and China's GEM Company as the company targets growing global demand for EV materials. According to local reports, the three companies plan to build a processing plant in Saemangeum, an industrial complex built on reclaimed land on South Korea's southwest coast, to produce precursor materials for battery cathodes which can account for up to 70% of the cost of EV batteries. The new KRW1.2trn (US$925m) factory would have a production capacity of 50,000 tons per year, enough for 300,000 EVs annually, once operational in 2024. The plant would mix cobalt and manganese with intermediate material MHP sourced from Indonesia.
Have a nice weekend.
Graeme Roberts, Deputy Editor, Just Auto