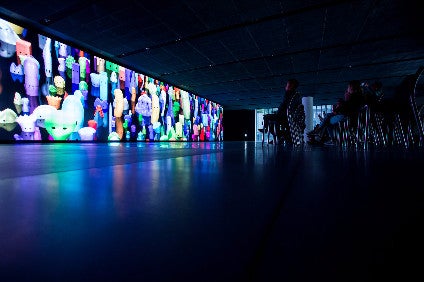 A great new interview published on Just Auto this week: From console to vehicle: How video game technology can assist the auto industry. Virtual technology has become a key player in vehicle design and manufacturing. However, do you realise that some of the technology has originated from video games? Much of this technology originates in the video game industry. This is also true of the work currently being carried out by Unity, a company claiming to be the world's leading platform for creating and growing real-time 3D (RT3D) content. The company has been helping automotive leaders such as Mercedes-Benz and Hyundai to power infotainment systems and even create a virtual Meta-Factory. We spoke to Callan Carpenter, vice president of digital twin solutions, to learn more about the work the company is carrying out and how video game technology can be used in the automotive sector.
Future Chevys and GMCs
Our popular series on major automakers' future models continued this week with The General's Chevrolet & GMC model plans under our resident futurist's microscope. As he says, General Motors' four North American divisions are well prepared for the EPA's future emissions regulation announcement made, as expected, this week. Planning for the largely electric US future which that EPA announcement indicated clearly would be government policy to encourage/incentivise the auto industry to further electrify, started years ago and fittingly, as GM's biggest brand, Chevrolet is leading the advance, supported in higher pricing brackets by GMC and Hummer. This first report looks at those three makes with a second overview covering Buick and Cadillac coming soon.
Indonesia electrifies
Staying with EVs, it seems Indonesia's EV aspiration could face more challenges than opportunities. The government finally made a preliminary announcement of its long awaited incentive programme for electric vehicles in March 2023. However, details of the programme remain scarce. This is what we know so far. The scheme will cover 35,900 EVs. Locally built battery electric vehicles (BEVs) will be subject to a reduced VAT of 1% compared to the 11% applicable to other types of vehicles. The programme is likely to include a subsidy, but no particulars have been made available so far. Further details on the scheme were scheduled to be announced on 1 April, having been delayed from 20 March. Indonesia has been rather late in getting on the EV bandwagon. Any further delay could cause it to fall off the wagon altogether. Abundant nickel reserves, which could give the country an edge in battery and BEV production, have been a cause of concern for neighbouring manufacturing bases, especially Thailand. However, advances in battery chemistry and a clear emphasis on minimising the reliance on scarce, high cost, raw materials are leading to lower use of nickel and other expensive materials in BEV battery production. Hence Indonesia's advantage in this area may not be as significant as many initially feared.
More new EVs
Hyundai this week launched its redesigned, second generation Kona Electric in South Korea – the new compact SUV will be launched overseas later this year. This new EV is powered by a 65kWh battery pack with the Long Range model able to cover 417km (260 miles) on a single charge according to the certification standards of the Korean Ministry of Trade, Industry and Energy. Meanwhile, Chinese EV specialist BYD is adding two new models to its European market offering. After launching three full electric vehicles earlier, the Atto 3 (C-segment SUV), the Han (E-segment sedan) and the Tang (E-segment SUV), the Dolphin and Seal are the next BEVs to be launched by the company in Europe. The Dolphin is described by the company as an "agile and versatile C-segment hatchback" while the Seal is described a "highly stylised, sporty and dynamic D-segment sedan equipped with advanced technology". The front wheel drive Dolphin has a 60kW lithium iron phosphate Blade battery. The Seal has an 82kWh Blade battery with rear wheel drive or all wheel drive.
More rear seat occupant detection
The last three or so press demo cars we've driven have all had a very useful, relatively new safety feature – rear seat occcupant detection and, on exit, 'check cabin' visual and aural warnings. On the UK spec cars it's usually a driver selected feature and often buried deep in menu settings. Given the recent media coverage of the deaths of children and pets in blistering hot vehicle interiors it's been good to see suppliers and automakers start fitting the devices – they are a relatively easy add-on to existing seat occupancy detection/seat belt wearing detection systems already pretty much a universal fit these days. Latest supplier to the party: Continental which has added 'child presence detection' to its digital access system. This function detects children left behind inside the vehicle and triggers a warning, avoiding the aforementioned hot weather tragedies. The supplier said this week it had expanded its digital access system CoSmA by adding the Child-Presence-Detection (CPD) function for extra passenger safety. This function uses ultra wideband (UWB) technology to detect a child in the cabin and sends out a warning 'within seconds'. The CPD function also addresses vehicle manufacturer's needs to meet in cabin safety targets in view of the upcoming Euro NCAP safety rating and US regulations which are driving for new child safety requirements in the vehicle by 2025.
Honda's Pakistan hiatus
Pakistan is not a market we hear much about though it's long been home to modest volume CKD kit assembly by the likes of Toyota which established a plant decades ago. Today we heard of the Honda-Atlas assembly JV which has said it would continue suspension of vehicle production in Lahore until the end of April due to foreign exchange restrictions imposed by the government which make it difficult to do business in the country. The Pakistani government had imposed tight foreign exchange restrictions to help control rampant annual price inflation, estimated at 35% in March. Early in April, the central bank raised its benchmark interest rate by 100 basis points to 21% as the country's foreign exchange reserves continued to drop to levels where they barely covered the country's monthly import requirements. The local joint venture, Honda Atlas Cars Pakistan, halted production early last month for an initial 23 days but since extended the shutdown until the end of April due to the tough economic conditions. The company blamed the government's stringent measures to deal with the economic crisis, including restrictions on foreign payments and on letters of credit for imports.
New Volvo interior 'sunlight'
Geely's Volvo Cars is fitting "near sunlight" lighting in the new EX90 BEV SUV due for launch this year. "….As you step inside your car, a hint of sunshine greets you, turning an everyday commute into a ritual that lights up your day," trilled the latest drip fed statement on technology in the much anticipated new model. Interior lighting will use 72 SunLike LEDs supplied by Seoul Semiconductor, complementing a panoramic roof and open cabin. "The new, non-flickering lighting addition enables a more natural colour expression beyond what's achievable with LEDs used today in the automotive industry – delivering low light reflection and a high colour index that expresses natural colours just as they are seen in nature," Volvo said. "By utilising the spectrum of light emitted from the SunLike LEDs, the progressive materials and interior design… stand out more clearly and without colour distortion."
Plug and Charge expanding
Following Genesis' announcement earlier in the week, comes news of another Plug and Charge deal, this time from electricity supplier Octopus Energy's electric vehicle (EV) roaming service Electroverse, which said it had "opened up Plug & Charge technology to customers with compatible cars, in a bid to make the EV charging experience even easier". Plug & Charge simply allows EV drivers to plug their car into a (functioning, not always guaranteed here in the UK) public charge point and walk away, dispensing with the need for a network-specific charge card and/or app or, with some newer charger types, just a contactless debit or credit card. In this case, very similar to the new deal between Genesis and Shell's Recharge network working with Hubject, the vehicle syncs with the charger through the customer's Electroverse account and begins charging automatically. Octopus handles the charging process and billing. Separately, BYD Europe and Shell EV Charging Solutions said they would provide "at least 100,000" of the Chinese BEV and PHEV maker's customers in Europe with Shell Recharge network platinum membership which offers discounted charging at fast and ultra fast DC charging locations. BYD EV owners would have access to 300,000 charge points across Europe through Shell's growing network at its fuel stations, mobility hubs, destination, and on-street locations and also to what was claimed to be one of Europe's largest roaming networks. BYD fleet customers would also be able to access EV charging through the Shell Card, a single payment service which covers invoicing for petrol and diesel, EV charging and "alternative lower carbon fuels".
Comau welding line for China
Stellantis unit Comau told us this week it had supplied Hycan Automotive Technology (Hycan) with an intelligent welding system for its body framing line. The innovative system is used for multi model manufacturing of new energy vehicles at a high JPH (Jobs per Hour) rate and with a "concrete" reduction in production losses. Installed at Hycan's Hangzhou factory, the flexible automated production system can randomly switch between four different platforms, is fully compatible with the existing manufacturing platforms and is used to build the brand's BEV A06 sedan and Z03 SUV at a cycle efficiency of 60JPH. In addition to facilitating seamless introduction, adaptation and scaling of new Hycan models, the system gives the automaker complete flexibility for the future. The Hycan installation is based on a customised version of Comau's Opengate framing system, which delivers flexible, high precision, body in white assembly, and virtual commissioning technology.
HMG eyes EV top three
Hyundai Motor Group (aka Hyundai-Kia) announced a goal to become one of the world's top three EV manufacturers by 2030 through the combined sales of Hyundai Motor, Kia and Genesis electric models. The target was announced at the groundbreaking ceremony for Kia's dedicated plant for purpose-built vehicle (PBV) production in Korea. The group also highlighted its plans to invest KRW24 trillion in the domestic EV industry through Hyundai Motor, Kia and Hyundai Mobis by 2030. Hyundai-Kia plans to significantly expand its annual EV production in Korea to 1.51m units and global volume to 3.64m units by 2030.
Euro NCAP to rate trucks
Euro NCAP said it would expand its scope to provide detailed information about the safety of heavy trucks via an innovative Truck Safe City and Highway rating scheme. As Euro NCAP outlined in its latest report Safer Trucks: on the Road to Vision Zero released this week, the new Truck Safe rating scheme will enable all in the freight industry to identify and assess the safety level of equipment in their heavy truck fleets. This deliver enhanced safety for drivers and create a market for safe technology which will allow manufacturers to innovate and advance their offering within a clear framework for safety grounded in Euro NCAP principles. Cities and public authorities will be able to clearly identify the best vehicles for their roads and incentivise adoption and companies will be able to easily determine the vehicle specifications they need to comply with in road authority schemes.
Honda Motor-POSCO collaboration
South Korea's POSCO Holdings this week announced it had signed a broad based agreement with Honda Motor to collaborate on materials sourcing for future electric vehicles (EVs). Posco Holdings is South Korea's largest steelmaker and has been investing heavily to expand production and processing of key materials for EV batteries in the last few years. The two companies signed a memorandum of understanding (MoU) to expand sourcing including cathode and anode materials, as well as low carbon steel and materials recycling to help the automaker make the transition to low carbon emissions.
China sales rise
New vehicle sales in China increased by almost 10% to 2,451,000 units in March 2023 from 2,234,000 in the same month of last year, according to passenger car and commercial vehicle wholesale data from the China Association of Automobile Manufacturers (CAAM). The vehicle market continued to rebound from weak year earlier levels, as the country's economic recovery from last year's Covid lockdowns gathered pace. GDP growth was widely forecast to return to above 5% in 2023 after plunging to a multi decade low of 3% in 2022, despite growing concerns of a global economic slowdown. Still, first quarter sales were down 7% at 6,076,000 units from 6,509,000 a year earlier, reflecting a 35% drop in January, with sales of passenger vehicles falling 7% to 5,138,000 units while commercial vehicle sales were down just 3% to 938,000. Sales of new energy vehicles (NEVs), mainly electrics and hybrids, increased 35% to 653,000 units in March and 26% to 1,586,000 year to date (YTD). Deliveries of BEVs increased 14% to 1,152,000 units YTD while sales of hybrid vehicles surged 74% to 434,000. Vehicle exports jumped 71% to 994,000 units in the first quarter while overall vehicle production fell 4% to 6,210,000.
Have a nice weekend.
Graeme Roberts, Deputy Editor, Just Auto