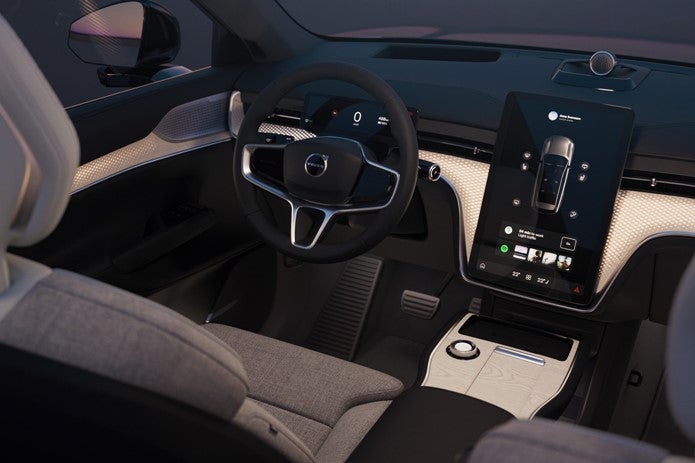 Geely's Volvo Cars is fitting "near sunlight" lighting in the new EX90 BEV SUV due for launch this year.
"….As you step inside your car, a hint of sunshine greets you, turning an everyday commute into a ritual that lights up your day," trilled the latest drip-fed statement on technology in the much anticipated new model.
Interior lighting will use 72 SunLike LEDs supplied by Seoul Semiconductor, complementing a panoramic roof and open cabin.
"The new, non-flickering lighting addition enables a more natural colour expression beyond what's achievable with LEDs used today in the automotive industry – delivering low light reflection and a high colour index that expresses natural colours just as they are seen in nature," Volvo said.
"By utilising the spectrum of light emitted from the SunLike LEDs, the progressive materials and interior design… stand out more clearly and without colour distortion," added head of colour and materials Dan Fidgett.
SunLike lights are already used to bring natural light to interior spaces in residential places, hospitals, schools, museums and horticultural applications but Volvo Car Group was said to be first to introduce such LEDs to production vehicles with the Polestar 3 and EX90.
All non decorative lights in the SUV's interior – ceiling, floor, door pocket or boot – have SunLike LEDs as standard.
The automaker claimed suppression of blue light, in combination with non flickering light from cabin luminaires, can help reduce eyestrain and headaches associated with such exposure.