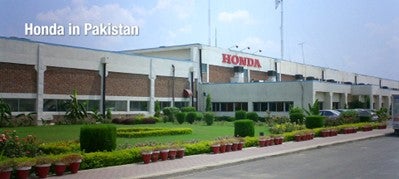 Honda Motor said it would continue suspension of vehicle production in Pakistan until the end of April due to foreign exchange restrictions imposed by the government which make it difficult to do business in the country.
The Pakistani government had imposed tight foreign exchange restrictions to help control rampant annual price inflation, estimated at 35% in March. Early in April, the central bank raised its benchmark interest rate by 100 basis points to 21% as the country's foreign exchange reserves continued to drop to levels where they barely covered the country's monthly import requirements.
The automaker's local joint venture, Honda Atlas Cars Pakistan, halted production early last month for an initial 23 days but since extended the shutdown until the end of April due to the tough economic conditions.
The company blamed the government's stringent measures to deal with the economic crisis, including restrictions on foreign payments and on letters of credit for imports, for "severely disrupting" its supply chain. In a letter to the Pakistan Stock Exchange it said it was not "in a position to continue with production" and would shut down its plant until 30 April.
Other locally listed automakers including Indus Motor and Pak Suzuki Motor have also been forced to halt production in recent months due to the country's financial crisis.
Vehicle sales by local manufacturers plunged 61% year on year to 27,730 units in the first quarter of 2023, according to local industry association PAMA.