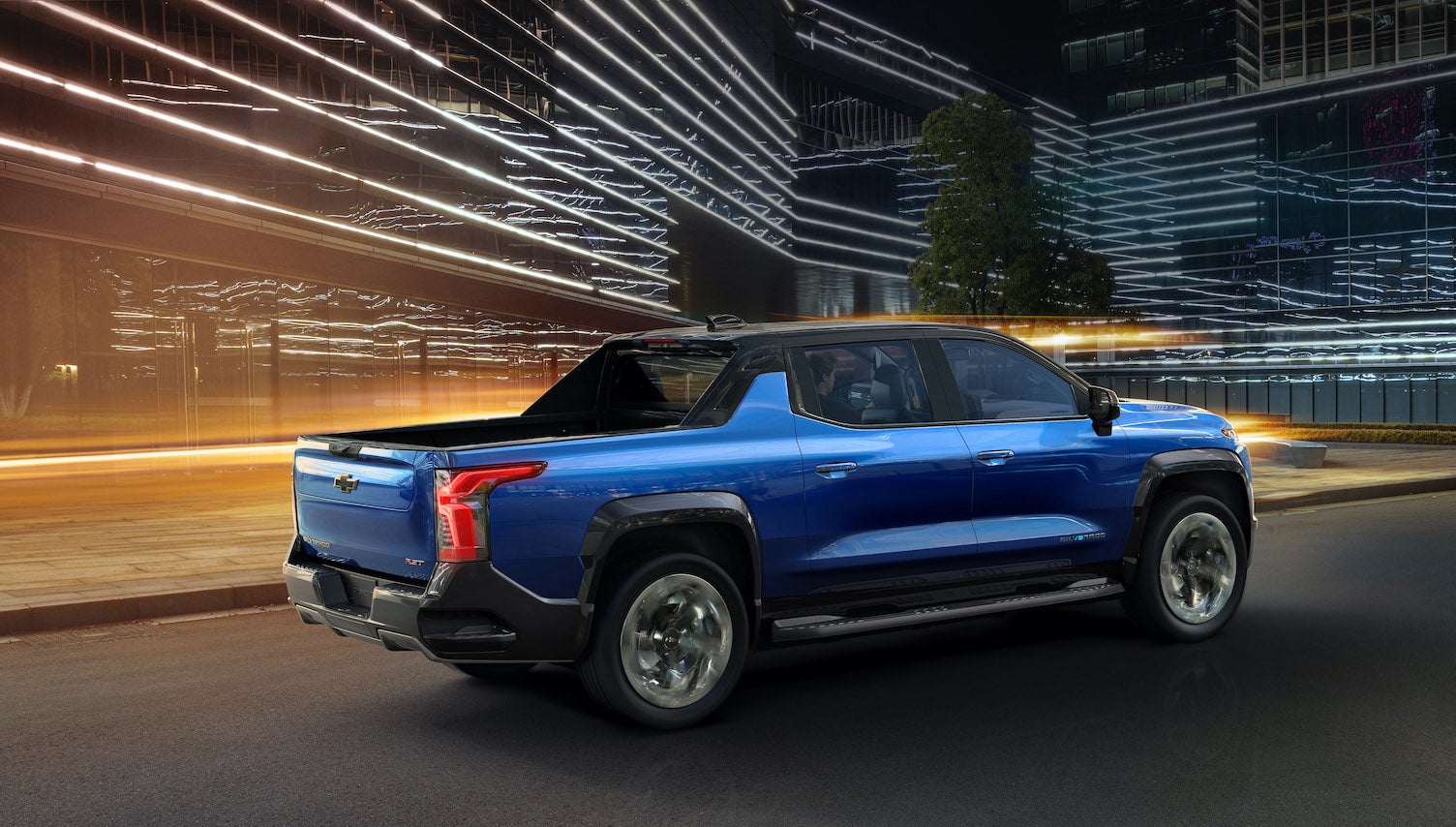 General Motors' four North American divisions were already well prepared for the proposed standards announced by the United States Environmental Protection Agency.
Planning for a largely electric future started years ago and fittingly, as GM's biggest brand, Chevrolet is leading the advance, supported in higher pricing brackets by GMC and Hummer. This report looks at those three makes with a second overview covering Buick and Cadillac coming soon.
Chevrolet
An Equinox EV is coming later in 2023. Base trim (LT1) pricing will be around the US$30,000 mark and this SUV's range is between 250 and 300 miles.
DC charging at up to 150 kW features, while front-wheel drive variants will have a motor with estimated outputs of 210 hp and 242 lb.-ft. (328 Nm). More expensive AWD versions will have 290 hp and 346 lb.-ft. (469 Nm). The market launch is inked in for Q4.
China's new Buick Electra E5 is closely related to the Equinox EV, both being based on GM's BEV3 platform.
There will be another new Equinox for the '24 model year, this one being a direct replacement for the gasoline-powered '23 Equinox. Aside from the name, there is no real connection between the pair. The architecture is an adaption of Delta 2.
GM's strategy would appear to be this model being a lower-priced alternative to the EV, based on a tried and tested (i.e. solidly profitable) set of mechanical components.
We've seen it in preview images and soon, the 2024 Silverado EV will be headed to US dealers. One of the main things to point out is this model has nothing in common with Chevy's best seller, the existing IC-powered Silverado.
The new pick-up is set to be manufactured at the plant formerly known as D-HAM (Detroit-Hamtramck), now 'Factory Zero'. Build is about to start, with production at Orion Township/Assembly, also in Michigan, due to be added in 2024. After the Orion Assembly ramp-up, annual production capacity for the electric Silverado and its GMC Sierra EV twin will be a combined 600,000 trucks, GM claims.
Along with four-wheel steering, details include up to 664 horsepower with more than 780 lb-ft of torque (in Wide Open Watts Mode on RST model grade). DC fast charging at up to 350 kW also features on WT ('Work Truck') and RST, as does up to 10.2 kW of offboard power on WT and RST with optional equipment. Furthermore, up to 10,000 pounds of maximum towing capacity and up to 1,300 pounds of payload are part of RST trucks.
The timing of its arrival means that the EV will be launched perhaps a year (or more) before the next shape Silverado (the ICE variants should be replaced in either 2024 or 2025). While the EV features the same electric-only platform as the GMC Hummer EV and Hummer EV SUV, the future Silverado will instead be based on T1. That's the same frame architecture as the current model but it will be updated.
As for the EV's launch timings, WT comes first – later this quarter – followed in six months' time by a fully loaded RST First Edition. Each has a 400-mile range and the latter has a MSRP of $105,000 + DFC. After production ramps up, Trail Boss and other variants will be added. All will have an Ultium-branded battery pack containing LG Chem cells.
The life cycle of the Silverado EV (and GMC Sierra EV) should be eight years, meaning a facelift in CY2027.
Chevrolet is far from giving up on cars, although very few such vehicles are now offered in the US market. However, elsewhere in the Americas and in China too, sedans and hatchbacks continue to thrive.
SAIC GM has for example just started exports of a new Aveo. The little car (codename: 310C HB) shares almost everything with a Wuling-badged equivalent for the Chinese market. An Aveo sedán (310C S) follows later this year. It too will be a '24 model year vehicle for Mexico and other countries in The Americas. Both use the SAIC R platform.
Mark Reuss, General Motors' president, confirmed or announced certain details of selected GM future vehicles in November 2022. Among them was the statement that GM China would have a "pretty dramatic low roof" Chevrolet 'Car-D sports sedan'. There is a chance that this might replace the Malibu, although it could instead be an additional vehicle.
A few days after GM's presentation in the US, there was another event in Shanghai, this time for future EVs. As part of this preview, the Chevrolet FNR-XE Concept was revealed. This sedan might have heralded the 'low roof Car-D sports sedan' or been a preview of a different model. As for launch timing, that may happen as soon as next year.
Production of A1BC, the sixth generation Camaro, will cease in January 2024. The model name will survive though, according to a recent statement:
"As we prepare to say goodbye to the current generation Camaro, it is difficult to overstate our gratitude to every Camaro customer, Camaro assembly line employee and race fan," said Scott Bell, vice president of Global Chevrolet. "While we are not announcing an immediate successor today, rest assured, this is not the end of Camaro's story."
Some believe that Lansing (Michigan), which is where the existing coupe and convertible are manufactured, may be retooled to become an EV-capable plant. Whether or not a seventh generation Camaro will be a pair of ICE or electric two-door cars and/or an electric Camaro crossover in the style of the Mustang Mach-E isn't yet known.
The C8 Corvette is already going electric, or at least electrified, an E-Ray being new for the '24 model year. A hybrid, it can travel up to 72 km/h (45 mph) on energy stored in a 1.9 kWh battery.
The E-Ray's LT2 engine (495 hp and 470 lb-ft 6.2-litre V8) will run on four cylinders as often as possible to save fuel. This, the fastest Corvette yet, reaches 60 mph in 2.5 seconds, a front-mounted motor greatly helping with traction. Outputs for this e-axle are 160 hp and 125 lb ft with combined power and torque being 655 hp and 595 lb ft.
A Corvette EV SUV is due for launch in 2025. This model will likely be somewhere between 4.6 and 4.9 m long and use GM's second generation Ultium batteries along with multiple Ultium Drive-branded motors. Production is expected to be at Lansing Grand River.
The C9 series Corvette isn't due until the 2028 model year so it's too early to speculate about definitive specifications. Nonetheless, gasoline engines shouldn't be ruled out even if they might only be for high-priced, low volume editions, something Aston Martin, for example, is already planning to do.
GMC
Production of the new-for-2023 Canyon commenced in January. General Motors has taken the opportunity of the model's arrival to pitch this pick-up at far higher prices than the previous generation. This also creates a clear distinction between the GMC and its larger volume Chevy Colorado twin. Both are based on an evolution of the 31xx platform.
There should eventually be a Canyon EV (as well as an electric Colorado). These will reportedly be launched in 2026 with production supposedly to be at the Orion Township plant in Michigan. Neither will be related to the gas-powered Colorado/Canyon, something which also applies to the Chevrolet Blazer and Blazer EV.
The gasoline-fuelled Canyon will most probably be manufactured at Wentzville in Missouri until 2031. A facelift should therefore arrive for the '28 model year.
When it comes to SUVs, a next generation Terrain is expected as soon as the '24 model year. As per the current one, it will be the twin of the future Chevrolet Equinox, each having a freshly updated Delta 2 architecture.
Yet another model to use a re-engineered architecture – in this case C1xx – rather than a new one, will be the next Acadia. This crossover should also return to the 5+ metre length of the prior model, today's vehicle being 'only' 4,917 mm long.
Production of the next model will shift from Tennessee (Spring Hill) to Michigan.
GMC's current full-size pick-ups were new for the 2020 model year, as were their Chevy Silverado HD equivalents. The Sierra Heavy Duty 2500 and 3500 were due to be refreshed for 2023 but this was delayed until the '24 model year due to Covid and the shortage of microchips.
As well as a facelift, there are transmission changes and more power for the diesel, choices becoming:
6.6-litre gasoline direct injection OHV V8 (GM engine code: L8T) which delivers 401 hp (299 kW) and 464 lb ft (629 Nm) mated to an Allison-branded (code: 10L1000) 10-speed transmission
6.6-litre Duramax diesel V8 (L5P) which delivers 470 hp (350 kW) and 975 lb ft (1,322 Nm) of torque mated to an Allison-branded (10L1000) 10-speed transmission
The '24 lineup includes the 2500HD and 3500HD in Regular Cab, Extended Cab and Crew Cab configurations while Denali Ultimate debuts as a trim level. Dual-rear-wheels are available on 3500HD and they support the highest trailering capacity: 36,000 pounds.
As for the replacement, this is due for the 2027 model year. There is a chance that the next Silverado HD and Sierra HD will be electric but ICE variants will also surely be available. Nor should a fuel cell be ruled out.
GMC Hummer
The GMC Hummer EV SUV was revealed online in April 2021 but production would not commence until "early 2023" the division stated. New for the 2024 model year, the vehicle has a maximum EPA-rated range of 300 miles and up to 830 horsepower with both two- and three-motor variants available. Build commenced at Factory Zero in Michigan at the end of January.
Both Hummer EV (pick-up) and EV SUV should be facelifted for the 2027 model year and replaced in CY30.
At four tonnes-plus, today's EV and EV SUV make a BMW XM, Grand Wagoneer – or even a Volvo EX90 – look featherweight. Their successors will therefore benefit greatly from next generation batteries. They may also or instead run on hydrogen.
The next GM future models feature (Buick and Cadillac) will be published on 18 April.