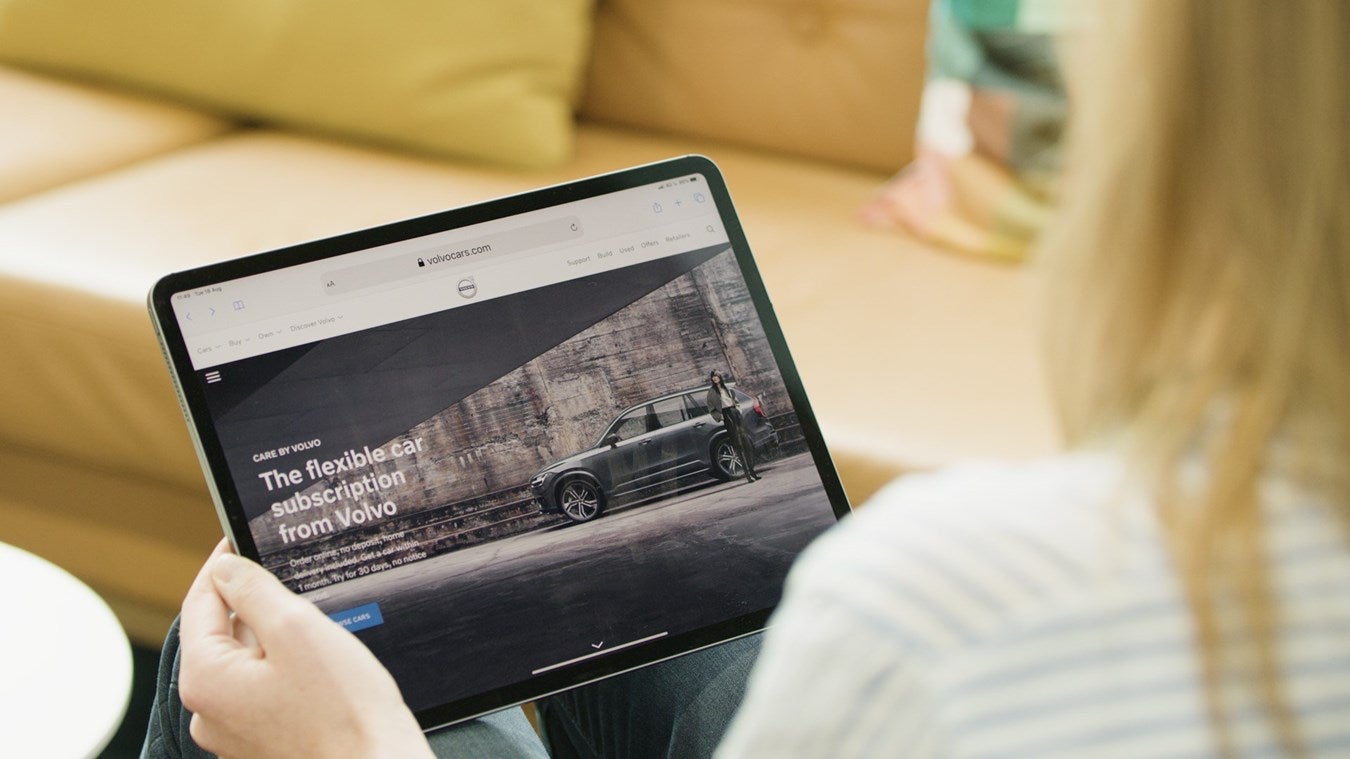 Being locked into a car contract may not be the most flexible option as lifestyle changes impact which vehicle you want and need over time. In a recent study carried out by UK-based car subscription and insurance company, Wagonex, it was concluded that more than 9m people would consider car subscription in the future. The study, which surveyed a sample of more than 2,000 people within the UK, also showed that 6% of respondents were familiar with car subscription with 32% saying that after learning more about subscription services they would consider using them. Car subscription services such as the ones offered by the company offer drivers a flexible alternative to leasing, allowing them to have a vehicle on short-period rental from one month to a year. The service also allows drivers to swap or return a vehicle at any time. We spoke to Toby Keron, CEO of Wagonex to learn more about this research and to discuss what the potential future of car leasing would look like.
Deal spotlight
New on the site: Each week, Just Auto's editors select a deal that illustrates the themes driving change in our sector. It may not always be the largest deal in value, or the highest profile, but it will tell us where the leading companies are focusing their efforts, and why. This week, it was Magna completing its acquisition of Veoneer's active safety business unit. The automotive systems supplier announced last December it had entered into an agreement to acquire the Veoneer Active Safety business from SSW Partners, a New York based investment group. It said it would acquire the business for $1.525bn in cash, subject to working capital and other customary purchase price adjustments. On 1st June 2023, the sale was completed. Why it matters: increasingly automated driving systems are a key growth area in the auto industry. While fully automated vehicles (SAE level 4+) are some way off full market introduction, advanced technologies for systems that assist drivers (ADAS) continue to proliferate in vehicles coming to market.
Farley on EVs, supply chains and China
We published a roundup of Ford CEO Jim Farley's key points at the recent Morgan Stanley Sustainable Finance Summit. This year has been a challenging start for Ford's electric vehicle division. In February the automaker announced it would cut approximately 4,000 jobs in Europe, with 1,300 of those in the UK. The cuts, attributed to rising costs and the need for a faster switch to EVs, coincided with the news the company had found measures to secure 8% margins on its next-generation EVs – but with an overall "cost disadvantage" of up to $8 billion against competitors. Ford's less-favourable EV position was reflected in its Q1 2023 results. Revenue for it its EV business was down 27%, alongside EBIT losses of $722m. Commentators note that CEO Jim Farley has a task in persuading investors that Ford's next batch of EVs can hit 2026 profit targets, especially while having to contend with China, which is proving itself to be a powerful force. Farley opened his presentation by outlining that Ford is leaning into its commercial products, signalling the end of its generic vehicles. The most important changes in the industry were no longer the transition into electrification, but rather the shift from analogue to digital products, he added. Notably, he called for more collaboration between rivals in the industry. For context, shortly after the summit, Ford and Tesla made the surprise partnership announcement that Ford EVs would have access to Tesla's 12,000 superchargers early next year.
Korea sales on the up
Domestic sales by South Korea's five main automakers combined rose by over 9% to 130,846 units in May 2023 from 119,879 a year earlier, according to preliminary wholesale data released individually by the companies. The data does not include sales by South Korea's low-volume commercial vehicle manufacturers such as Tata-Daewoo and Edison Motors, as well as sales of imported vehicles which are covered in a separate report later in the month. The market in recent months has been lifted by improving supplies of semiconductors, which has helped local automakers increase production compared with last year, while domestic demand has also driven by new models from leading automakers such as Hyundai, Kia and also GM Korea. Most local manufacturers reported higher sales last month, with Renault Korea the only exception with sales plunging by 52% to 1,778 units. Hyundai remained the leading supplier with sales rising by over 8% to 68,680 units; followed by Kia with an 11% rise to 50,821units; GM Korea 4,758 units (+71%); and KG Mobility 4,809 units (+13%). In the first five months of 2023 overall domestic vehicle sales increased by over 14% to 626,198 units from 548,068 units in the same period of last year.
Kia reputation management
Customer experience and satisfaction is key for OEMs and dealers. An unhappy customer could turn into more lost business. We spoke to Kia UK and CX consultants 'Reputation' to learn more.
Polarising US AM edict
The Alliance for Automotive Innovation has joined Consumer Technology Association (CTA), Zero Emission Transportation Association (ZETA) and TechNet in a new letter to Congress opposing a proposal to mandate analogue AM (medium wave) radio in new vehicles sold in the US. The letter noted requiring manufacturers to use a particular technology would slow innovation. The organisations also highlighted several alternative forms of emergency communication such as Wireless Emergency Alerts, the Integrated Public Alert and Warning System, and digital audio broadcasting. The organisations wrote: "As new products come to market, the federal government must prioritise policies that promote innovation, consumer preferences, and freedom of choice. "While there are many benefits to AM radio, there are several reasons why such a mandate is unnecessary and contrary to the principles of a free-market economy. While we acknowledge the important role AM radio has played over the last century as part of an emergency communications system layered across different media with multiple redundancies, the requirement would unnecessarily hinder progress in the automotive industry."
New EV truck brand opens London hub
Volta Trucks has launched its truck as a service hub in Tottenham, north London. The official opening was attended by the Ultra Low Emissions Zone (ULEZ) proponent London mayor, Sadiq Khan, Tottenham MP David Lammy plus policymakers, industry leaders, customers and stakeholders. The facility is said to be the first of its kind in the UK. "The Volta Zero is the future of London's freight – world leading in terms of green technology while also meeting the highest safety standard which can be awarded to an HGV," Khan said in a statement. The facility is a central hub for Volta servicing and maintenance. It also houses administrative offices, a training centre and a customer call centre. The launch of the London hub complements existing Volta UK operations which include engineering, software, and development in the Midlands and commercial operations in Reading.
ICEs not dead yet
GM said it was planning to invest more than $1bn in two of its Flint, Michigan, manufacturing sites – Flint Assembly and Flint Metal Center – to prepare those plants for production of the next-generation internal combustion engine (ICE) heavy-duty trucks. It says the investment will enable it to strengthen its full-size truck business. Product details and timing related to GM's future HD trucks are not being released at this time, GM said. The latest announcement brings GM's US manufacturing and parts distribution facility investment commitments to more than $30.5 billion since 2013. Just days later, came a second announcement: a $500m spend at Arlington Assembly in Texas which builds the equivalent full size SUVs. The latest spend is "subject to successful discussions with local government officials", the automaker said in a statement, adding: "This investment will enable the company to strengthen its industry leading, full size SUV business". Product details and timings were not disclosed. GM claimed the latest announcement took its US manufacturing and parts distribution facility investment commitments to $31bn since 2013.
Toyota, too
Meanwhile, Toyota Motor North America (TMNA) said it would spend US$50m to build a new laboratory facility at its North American R&D headquarters in York Township, Michigan, to evaluate batteries for electric and electrified vehicles. The new Michigan lab would ensure Toyota batteries meet North American customer requirements by ensuring performance, quality and durability of automotive batteries made by the automaker itself. Operations at the new lab should begin in 2025.
GM and Tesla
General Motors has announced it would be collaborating with Tesla to integrate the North American Standard (NACS) connector design into its EVs, beginning in 2025. It follows Ford's surprise announcement earlier this year that it would be adopting Tesla's supercharger network. GM EV drivers will have access to 12,000 Tesla Superchargers, in addition to more than 134,000 chargers already available to GM EV drivers. Tesla's Supercharger Network will be accessible to GM EV drivers as early as 2024 but will require an adapter.
Sunderland milestone
Nissan Sunderland has become the fastest UK car manufacturer to reach 11m vehicles since opening in 1986, assembling Bluebird badged Stanzas from imported kits. The plant, based in the north of England, is now the UK's largest car manufacturer by volume. It has a workforce of around 6,000 people, with approximately 5m parts arriving at the plant per day. The milestone car was a silver Qashqai e-POWER (hybrid), one of three electrified models currently being produced at the site.
Autonomous truck trials
Volvo Autonomous Solutions (VAS) has opened an office in Fort Worth, Texas to establish its first autonomous freight corridors from Dallas to El Paso and Dallas to Houston. VAS, a division of the Volvo Group, offers autonomous transport products which include hardware, software, and services. To ensure a successful commercial launch, initial load hauling operations will use use trucks driven partly by people, not automation. This testing phase will allow evaluation of various factors, establishment of operational framework plus ensure safety and reliability.
Tesla eyes Spain
Tesla reportedy is talking with leaders of the Valencis regional government in Spain about building a car factory, Reuters reported, citing newspaper Cinco Dias which in turn cited 'unidentified sources close to the discussions'. The company's total investment could pass EUR4.5bn (US$4.83bn), the newspaper reportedly said. A spokesperson for the regional government told Reuters it had held meetings and conversations with an unidentified company about a "large automobile investment" but declined to give more details, citing the confidentiality of the negotiations.
Supplier wields job axe
Safety systems supplier Autoliv has announced so called "global structural cost reductions, particularly within its European operations" which will see 2,000 indirect jobs cut, or 11% of that current workforce. "These actions support [our] medium- and long-term financial targets and the company reiterates its full year 2023 indications," Autoliv said in a statement. The company will also close "several sites" in Europe. "These initiatives are expected to reduce up to 2,000 indirect positions globally, or around 11% of [our] total indirect workforce. Of this, up to 1,000 are expected to be in Europe. All divisions and functions will be impacted by these initiatives and the company expects the first headcount reductions to occur in 2023," Autoliv's statement added. "To further drive global productivity and, specifically, direct labor efficiency, [we] also intend to reduce [our] global direct headcount. [We] anticipate this will lead to a reduction of around 6,000 positions globally, or around 11% of the total direct workforce, given today's sales levels as baseline."
Isuzu moving house
Isuzu Motors plans to relocate some vehicle production from Thailand to Indonesia, according to reports this week citing Indonesia's industry minister. The Japanese company is Thailand's largest truck maker and the country's second largest overall vehicle manufacturer behind only Toyota, with output of 334,000 vehicles last year – including 217,000 produced for the domestic market [it also produces Mazda's Isuzu D-Max-based BT-50 pickup on an OEM basis – ed]. The company also has R&D facilities in the country. Indonesia minister Agus Gumiwang Kartasasmita, after meeting with the truck maker's top executives in Tokyo earlier this week, said in a statement Isuzu plans to relocate some production to Indonesia as early as next year.
Have a nice weekend.
Graeme Roberts, Deputy Editor, Just Auto