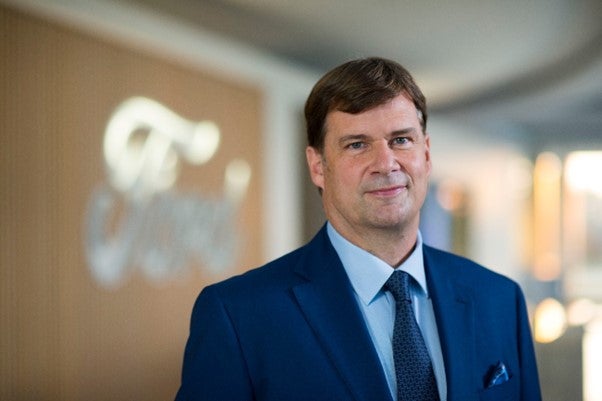 2023 has been a challenging start for Ford's electric vehicle division.
In February the automaker announced it would cut approximately 4,000 jobs in Europe, with 1,300 of those in the UK. The cuts, attributed to rising costs and the need for a faster switch to EVs, coincided with the news the company had found measures to secure 8% margins on its next-generation EVs – but with an overall "cost disadvantage" of up to $8 billion against competitors.
Ford's less-favourable EV position was reflected in its Q1 2023 results. Revenue for it its EV business was down 27%, alongside EBIT losses of $722m.
Commentators note that CEO Jim Farley has a task in persuading investors that Ford's next batch of EVs can hit 2026 profit targets, especially while having to contend with China, which is proving itself to be a powerful force.
"We have to take commercial charging into our own hands"
Farley opened his presentation by outlining that Ford is leaning into its commercial products, signalling the end of its generic vehicles. The most important changes in the industry were no longer the transition into electrification, but rather the shift from analogue to digital products, he added.
Notably, he called for more collaboration between rivals in the industry. For context, shortly after the summit, Ford and Tesla made the surprise partnership announcement that Ford EVs would have access to Tesla's 12,000 superchargers early next year.
"We are in the first innings of the infrastructure," Farley said at the summit. "We are most concerned about the grid – on the infrastructure side, I think there's some room for collaboration between the automotive companies, which is totally unnatural for us."
The US' ambition for a zero-emission future will require investment of up to $200 billion -into its "already strained" power grid, assuming there are 40 million EVs on the road by 2030, says Boston Consulting Group.
Since President Joe Biden took office, the number of EV public chargers has increased by over 40% since 2020, bringing that figure to 130,000 across the country. Further challenges to levelling up the EV network are severe weather events, which interrupt power supply. Given the US's varied terrain, these events include ice storms, hurricanes, and heat waves.
"Right now we have two different plugs," Farley pointed out. "They're completely different – it's ridiculous; we have an industry problem and we can't agree on what plug to use. That first step is to work together in a way we haven't, particularly with the new EV brands and the traditional old companies."
He continued: "For us [Ford] we have to take commercial charging into our own hands like Tesla with that for the supercharging network. On the retail side, there's no easy answer but that will take time."
"The Chinese are going to be the powerhouse"
Chinese automakers have been experiencing a boom thanks to the growth of its middle-class, with BYD emerging on top as the country's bestselling company. Ford's sales in China have been consistently declining since 2016, with Farley commenting earlier this year that Ford would have to "rethink" what its brand meant in China.
On the rise of China, at the summit Farley was clear: "As far as the China is concerned, it's going to be really humbling," he said, citing that China produces 70% of the world's electric vehicles.
He named the Geely, Great Wall, SAIC and BYD as its winners. "If you add the Western brands up in China, it's a 60% share," he said. "But not one name I've given you is a Western company."
"The Chinese are going to be the powerhouse," he said. Even with a distinctive brand, it is difficult to beat Chinese automakers on cost when their scale is "five times bigger than yours," Farley continued. "BYD's scale is way bigger than Tesla now. They [BYD] developed a key technology, which is a better battery.
"We see the Chinese as the main competitor – not GM, or Toyota," he said.
Against the backdrop of the US-China Big Tech wars, Ford's plans to collaborate with Chinese supplier Contemporary Amperex Technology Co. Limited (CATL) – the largest lithium-ion battery manufacturer in the world – has been a source of some tension for some in US government.
The new battery plant is expected to open in Michigan in 2026, costing $3.5 billion. It will produce lithium phosphate batteries (LFPs), rather than nickel cobalt batteries, which are more expensive to make.
In March, Republican Senator Marco Rubio introduced legislation that would block tax credits for EV batteries made using Chinese technology. He also requested that the Biden administration review Ford's deal to use CATL technology.
Ford has its targeted annual run rate of 600,000 electric vehicles by late 2023, and more than two million by the end of 2026. Ford has said CATL will provide full LFP battery packs for its Mustang Mach-E models for North America starting later this year, and for its F-150 Lightnings in early 2024.
"There will be winners and losers in the supply chain"
Ford's ambitions to deliver two million EVs a year by 2026 will require a significant quantity of materials which are crucial for its battery production.
Recently it signed four deals to secure supplies of lithium, including a long-term deal with Nemaska Lithium for around 13,000 tonnes of lithium hydroxide over 11 years. The deal is expected to offer Ford customers tax benefits under the US Inflation Reduction Act.
"There will be winners and losers in the supply chain," Farley said at the summit. "Lithium is critical: you have to have the best product strategy – but if you don't control the supply chain you won't win."
On Ford's ESG strategy, he said: "It's a very complicated supply chain. It's going to be very challenging to say, 'hand on heart we're good', but I think we have as good a process as anyone in the industry, but its's going to require physical oversight [for sites]."
He added that Ford was one of the first companies to implement a sustainability policy, and that as a family-owned company, having a robust ESG strategy and ensuring best practices were implemented was "the right thing to do."