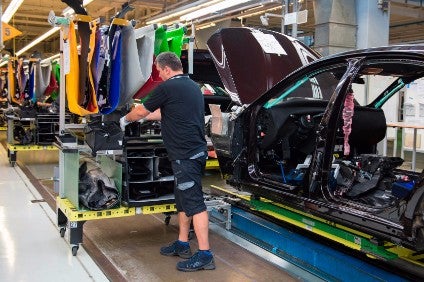 In markets other than the world's largest one, cars seem to be fading away in some respects as SUVs gain ever more popularity. But because Chinese buyers remain especially keen on four-door sedans, so Mercedes-Benz continues to invest in their development. This report new this week looks at what the German group has coming later in the 2020s, not only in terms of cars but MPVs/minivans/people movers too.
Tata Group will enter two new manufacturing segments in the near future, electric vehicle (EV) batteries and semiconductors, the company said at a media event in Mumbai. The Indian conglomerate said it planned to manufacture EV batteries to support its vehicle production plans under the Tata, Jaguar and Land Rover brands. The company previously said it hoped to establish deals with local and overseas companies to launch local production of EV cells and battery modules. Tata Sons chairman Chandrasekaran said a deal for the production of electric vehicle batteries "will be announced soon". The plans to help ease the ongoing global shortage of semiconductors by establishing a local factory with a foreign partner, in line with government policy of making India a leading producer of semiconductors and reducing its dependence on imports.
Magna Steyr has contract-assembled numerous vehicles for BMW over the years but the group was in the news this week for a new component deal: Magna started production of a mild hybrid transmission for BMW Group. The new seven speed, mild hybrid dual clutch transmission will be fitted to compact vehicles. The contract also includes production of mild hybrid transmissions for additional models starting with the 2 Active Tourer. With its 'specific torque-split concept for hybridization', it was claimed the 7HDT400 48V transmission enables optimal efficiency of an internal combustion engine and electric motor. It provides a maximum of 400 Nm of torque as well as offering scalable functionality benefits. The transmissions are built in Neuenstein, Germany, and Kechnec, Slovakia.
ATS Euromaster, the British affiliate of the European tyre service provider EuroMaster, has recently announced integration of a leading provider of intelligent automation and customer engagement solutions, Netcall's Liberty RPA software. The Robotic Process Automation (RPA) software mimics the actions of a person operating systems on a screen such as opening a system, accessing some data, copying it, pasting it to another system, generating a report, emailing that report to someone, called a process flow. A robot can be instructed to replicate that exact event. This is automation and it is especially effective for repetitive and tedious (to humans) tasks. We spoke to David Robson, IT director, ATS Euromaster, and Richard Billington, CTO at Netcall to find out more.
This just in today: Research and innovation in fintech in the automotive manufacturing and supply sector has declined in the last year. The most recent figures show that the number of fintech related patent applications in the industry stood at 101 in the three months ending March – down from 138 over the same period in 2021. Figures for patent grants related to fintech followed a different pattern to filings – growing from 20 in the three months ending March 2021 to 29 in the same period in 2022. The figures are compiled by GlobalData, which tracks patent filings and grants from official offices around the world. Using textual analysis, as well as official patent classifications, these patents are grouped into key thematic areas, and linked to key companies across various industries. Fintech is one of the key areas tracked by GlobalData. It has been identified as being a key disruptive force facing companies in the coming years, and is one of the areas that companies investing resources in now are expected to reap rewards from. The figures also provide an insight into the largest innovators in the sector.
India's vehicle market is expected to gain momentum this year and has very good long-term growth prospects, according to GlobalData unit LMC Automotive. Amidst the doom and gloom of the current year, India is foreseen to be a major driver of growth in the Asia-Pacific region. The market has consistently outperformed our expectations in the first three months of the year, with total Light Vehicle (LV) sales at about 1.1 mn units. Due to a high base last year, this is a mere 1% growth year-on-year (YoY), but the total was 20% higher than in Q4 2021, thanks to an easing of the chip shortage. Demand remains robust, as illustrated by the long delivery times of up to 10 months. Not only has the COVID-19 pandemic subsided, but also a number of new model launches this year will attract consumers' interest. Barring any escalation of the Russia-Ukraine war and the global supply disruptions, sales are expected to gain more momentum in H2 2022. Overall, we predict India's LV sales will increase by 13.5% YoY to 4.0 mn units this year. By comparison, sales in China are now predicted to slip by 0.5% to 25.4 mn units this year. The COVID-19 lockdowns in many cities have been extended and continue to disrupt economic activity. In addition to exacerbating tight supply, the lockdowns also hurt consumer confidence and spending power.
Pass the ride sharing parcel: Stellantis's mobility and car sharing unit Free2move has signed an agreement to acquire Share Now, a car sharing joint venture formed by Mercedes-Benz Mobility Group and BMW Group in 2019. Stellantis maintains that the proposed agreement further strengthens Free2move and adds 14 major European cities and 10,000 vehicles to Free2move's existing car sharing fleet of 2,500 vehicles. BMW and Mercedes said that the sale of Share Now would enable them to further develop mobility ventures in a targeted manner. The two companies intend to concentrate on two central business areas with high growth potential: digital multi-modal mobility (FREE NOW) and digital services related to the charging of electric vehicles (CHARGE NOW).
Another automaker attempts to lock in EV battery material supplies: Porsche is acquiring shares in US company Group14 Technologies, a producer of silicon-carbon technology for lithium-ion batteries. As lead investor, the automaker is raising US$100 million and leading a Series C funding round in which several companies are investing $400 million (Eur328 million euros). Group14 Technologies, based in Woodinville, Washington, intends to use the increase in capital to accelerate its worldwide production of anode material. It will begin construction of another factory in the US before the end of 2022. It will also supply the Cellforce Group in Tuebingen, in which the automaker holds a majority stake. From 2024, in Germany, the joint venture intends to produce self developed, high performance battery cells with silicon anodes.
Given the ongoing impact of supply chain constraints and broader macro-economic factors, SMMT has revised its UK market outlook for 2022, with 1.72 million new cars now expected to be registered during the year, down from the 1.89 million outlook in January. While this still represents a 4.5% rise on 2021, it highlights the effect the semiconductor shortage is still having on supply as well as anticipated impacts from rising living costs.
Numerous quarterly results in this week: VW brand operating operating profit before special items increased 4.6 percent to EUR 513 million in the first quarter; Aptiv first quarter 2022 revenue rose 4% to $4.2 billion following growth of 9% in Asia (which includes 14% in China), 7% in North America and 24% in South America, partially offset by a decline of 5% in Europe. Net income of $73 million and earnings of $0.27 per share compared with $279 million and $1.03 a year earlier. Operating income was $324 million versus $474 million; Tenneco booked first quarter revenue of US$4.6 billion, down 2% year over year. Lower production volume was offset by material cost recoveries. EBIT of $77 million compared with $204 million in first quarter 2021. Adjusted EBITDA was $253 million, compared with $388 million a year ago. This was driven by lower production volume and timing of recoveries on higher inflationary costs for material, freight and energy. The company posted a net loss of $38 million; seating specialist Adient booked a Q2 2022 net loss of US$81million and a loss of $0.85 per share. Adjusted EBITDA was $159 million, down $144 million year on year; BMW posted Q1 EBIT for automotive at EUR2.37bn, versus EUR2.24bn in the same quarter of last year. Automotive revenues in Q1 were up a hefty 17.4% to EUR31.1bn. However, BMW Group (all brands) automotive deliveries in the first quarter were down 6.2% on last year at 596,907 vehicles; Porsche first quarter 2022 sales revenue grew from EUR7.73 to EUR 8.04 billion (up 4.1% year on year), and operating profit from EUR1.26 billion to EUR1.47 billion (+17.4%). Return on sales improved from 16.2% to 18.2%. There's more; check out our full News section.
Have a nice weekend.
Graeme Roberts, Deputy Editor, Just Auto