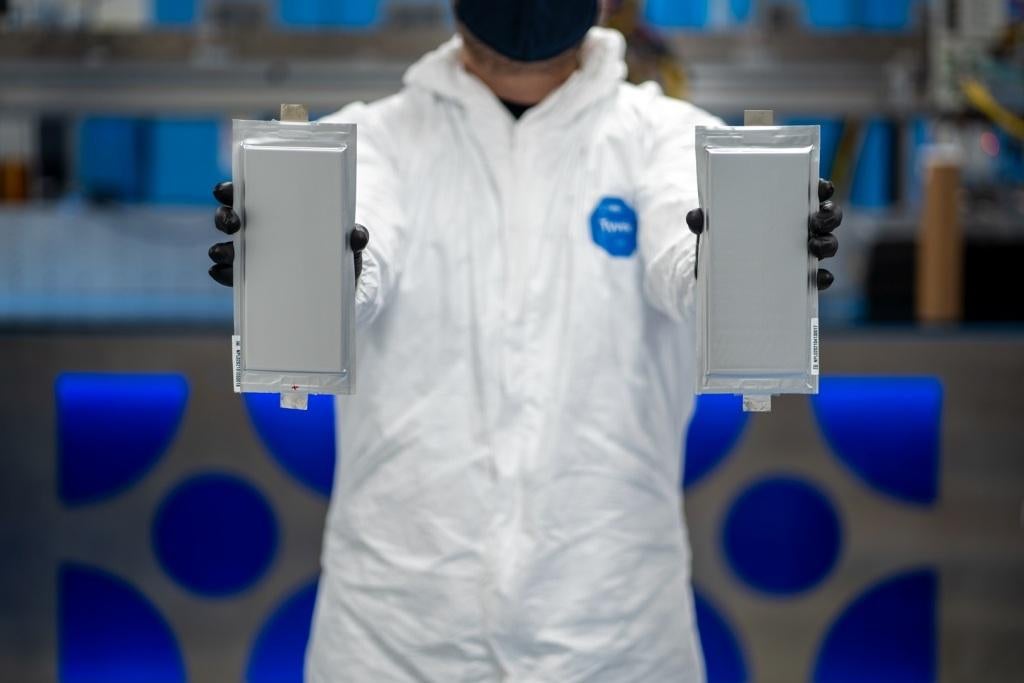 Solid-state battery cells promise major improvements to EV powertrain battery performance. How far off are they? How far away are mass-market solid-state EV batteries? Battery technology is emerging as a key differentiator among electric vehicle projects. With most of the EV powertrain beyond the battery pack achieving efficiency figures in excess of 95%, improvements in battery tech offer the greatest potential for range and performance gains. Incremental improvements have been made by adjusting the chemical makeup of a cell's electrodes or electrolytes, or by optimising the sizing, layout and structure of cells within a battery pack. However, none of these modest improvements compares to the giant performance leap promised by solid-state batteries. Solid-state cells generally use the same lithium-ion-based chemical reaction to store and discharge energy as conventional cells. The difference lies in the electrolyte used to separate the anode and cathode and facilitate the movement of lithium ions. Conventional cells use a liquid-based electrolyte – commonly a lithium salt suspended in an organic solvent – while solid-state cells swap that out for a wafer-thin solid electrolyte, usually made from either ceramic, polymer or glass. Removing the liquid electrolyte brings many potential benefits. Solid-state cells are lighter and more compact than their liquid-based counterparts, meaning pack weight can be reduced, or energy capacity increased. They should be more resistant to lithium dendrite formation, which will improve power discharge performance and raise potential charging speeds, along with extending the service life of the battery pack. In addition, once mass-manufacturing is achieved, they should be easier and quicker to make than conventional Li-ion cells thanks to the removal of solvents and having fewer production steps. There are even more pronounced benefits offered by solid-state cells in the field of battery safety. Fires caused by defective or damaged lithium-ion cells have been widely publicised, including the current problems faced by the Chevrolet Bolt and its LG-sourced batteries. In many cases, these fires occur because internal failure or external damage has caused the volatile lithium electrolyte to become exposed to the outside air, causing it to ignite and setting off a chain reaction that can destroy the whole battery pack. Solid electrolytes sidestep these problems entirely and are highly resistant to fire and explosion – even in the event they are punctured or impacted. While they offer many theoretical benefits, no company has yet demonstrated the ability to mass manufacture solid-state cells for light vehicles, with most still at the bench-test stage. There are still a number of issues left to solve including designing the solid electrolyte and electrodes in such a way that they interface evenly across their entire surface, because any warping can create gaps that limit cell efficiency. In addition, material stability has been shown to be a problem with the electrolyte's brittleness leading to microscopic fractures that limit cell performance.
China's automotive industry has stepped up its efforts to expand into global markets, with many local vehicle manufacturers having doubled their overseas sales this year even as the domestic Chinese market continues to stagnate. The Chinese vehicle market's explosive two decade-long growth has come to a halt after peaking at over 28 million in 2018, having expanded from little over two million units before the country became a member of the World Trade Organisation in 2001. Vehicle sales in the country fell by over 8% in 2019, according to data released by the China Association of Automobile Manufacturers (CAAM) – even before the market was affected by the COVID-19 pandemic, followed by a more moderate decline in 2020. This year, vehicle sales are expected to be slightly higher – mainly reflecting rebounding sales in the first half of the year. The global shortage of semiconductors has had a significant impact on vehicle output in the country this year, but demand has also softened in recent months due to falling consumer confidence. No doubt, the market will resume its long-term expansion when conditions improve. Chinese vehicle manufacturers are increasing their presence in a growing number of overseas markets, with the latest CAAM data showing the country exported a total of 1.6 million vehicles in the first ten months of 2021 – including 231,000 units in October alone. This compares with 995,000 exports in the whole of 2020, with volumes set top more than double to over two million units this year. Chinese automakers are not only expanding into developing regions such as Asia, Africa and South America, where they are already providing increasingly tough competition to established players in traditional internal combustion engine (ICE) segments, including Japanese and South Korean automakers. They have also stepped up their efforts to expand in developed markets, particularly in Europe, targeting also the fast-growing electric vehicle (EV) segment which is becoming a key strength among Chinese automakers.
According to data released by LMC Automotive, the US light vehicle market was down by 16% in November as dealers struggled to supply vehicles due to ongoing parts shortages impacting supply from manufacturers. LMC said November started strong, signalling that the worst impact of lean inventories on sales may be over, but the month ended with the reality that dealers are still struggling to meet demand. Sales ended the month at 1 million light vehicles, a 16% YoY decline. Sales were down by more than 20% in September and October compared with the previous year. The annualized (SAAR) rate of sales in November fell to 12.8 million units, down 200,000 units from October and the second lowest rate of the year, behind September. However, the daily selling rate grew to 41,700 vehicles, up from 39,000 units in October. Analysts note that underlying demand for new vehicles in the US is strong, boosted by an economic growth spurt due to a big stimulus programme from the US federal government. However, general shortages of new vehicles have constrained sales this year. November had 24 selling days, one more than in 2020. LMC said Black Friday deals may have helped slightly, but the close of the month was not as strong as the pace at the beginning of the month, suggesting there may have been batch releasing of vehicles to sell. Retail sales were below the 1 million threshold for the fourth consecutive month and fell to their lowest level so far this year, at an estimated 850,000 units. Average transaction prices continue to break records and were above US$40,000 for the sixth consecutive month, adding additional risk to demand. Retail demand fared worse than fleet, with both falling 17% and 12% respectively. Fleet deliveries likely accounted for 15% of total sales, the highest level since February.
BASF has said it plans to carve out its mobile emissions catalysts business and spend up to EUR4.5bn on battery materials and recycling. The stand alone mobile emissions catalysts and associated precious metal services entity will be based in Iselin, New Jersey. The new stand alone structure will prepare the business for the upcoming changes in the internal combustion engine market and allow for future strategic options, BASF said in a statement. The new entity will continue to operate globally and comprise 20 production sites and 4,000 employees. The carve out process will start in January 2022 and is expected to take up to 18 months. Markus Kamieth, in charge of the surface technologies segment, said: "BASF continuously evaluates its portfolio and with the carve-out we want to give this business more entrepreneurial freedom and agility, so it can focus even better on the needs of its markets and customers." BASF Automotive Catalysts and Recycling will be a distinct legal entity structure headed by Dirk Bremm as CEO.
Stellantis and Hon Hai Technology Group, (Foxconn) have signed a non-binding memorandum of understanding to create a partnership to design a family of purpose-built semiconductors for the automaker and third-party customers. Carlos Tavares, Stellantis CEO, said: "We aim to create four new families of chips that will cover over 80% of our semiconductor needs, helping to significantly modernise our components, reduce complexity, and simplify the supply chain. This will also boost our ability to innovate faster and build products and services at a rapid pace." The deal was announced as part of a software day event where the automaker unveiled STLA Brain, the new electrical/electronic and software architecture launching in 2024 across Stellantis' four battery electric vehicle platforms – STLA small, medium, large and frame. STLA Brain is fully OTA capable, making it highly flexible and efficient. "As a leading global technology company, Foxconn has the depth of experience in manufacturing semiconductors and software – two key components in the production of electric vehicles. We look forward to sharing this expertise with Stellantis and together tackle the long-term supply chain shortages, as we continue with the expansion into the electric vehicle market," said Young Liu, chairman & CEO of Foxconn Technology Group. Foxconn has a long history of developing semiconductors and applications within consumer electronics which will expand to the automotive segment "with the guidance and demand of a world-class mobility partner". The semiconductors will also be used by Foxconn for its own EVs.
Toyota Motor plans to launch a battery powered, medium segment passenger car in China late next year, helped by sourcing key technology from local automaker BYD Auto, according to a Reuters report. The Japanese automaker has stepped up efforts in the last year to play its part in the global electric vehicle (EV) revolution, having just announced a major new US$1.3bn EV battery plant in the US. But the company is still seen as a laggard in this segment, having focused significant efforts in recent years on hybrid technology and on developing hydrogen as the fuel of the future. The automaker has set up a dedicated zero emissions division in Japan, called ZEV Factory, which is focused, among other things, on developing safer and lower cost battery technology including solid state lithium ion cells. Toyota established a research and development joint venture with BYD last year, called BYD Toyota EV Technology, which is understood to employ 24 Toyota engineers working alongside 100 BYD staff in Shenzhen. The Reuters report suggested Toyota was planning to launch a "small and affordable electric sedan in China late next year" using key BYD battery technology to help it "make an affordable yet roomy run around" for the local market. According to the reports, Toyota would source BYD's less bulky blade shaped battery cells based on lithium iron phosphate (LFP) chemistry, a technology that has been improved significantly in recent years. The BYD batteries would help Toyota keep costs down, according to an unnamed company executive.
Daimler's supervisory board has approved the Mercedes-Benz business plan for 2022 to 2026, endorsing the strategic plan for the brand to go fully electric. Following the Daimler Truck spin-off (it was listed today), it will "focus on profit and growth opportunities in the passenger car and vans businesses". The most valuable luxury brand in the world will strive for leadership in the area of electric drives and car software. The board signed off an investment plan of EUR60bn euros. Although the company plans to reduce capex, research and development expenditure for the electrification of the product line and digital measures, including steps towards automated driving, will remain at a high level. CEO Ola Kaellenius said: "Our goal is technological leadership in the automotive luxury segment and in the area of premium vans while remaining committed to our ambitious margin targets." Mercedes-Benz is preparing to go all electric by the end of the decade, wherever market conditions allow. The investment plan for 2022 to 2026 remains in line with the goal of cutting capex and research and development spending by 20% between 2019 and 2025 and to further reduce it beyond then. The key to achieving this is stringent prioritisation of future investments – mainly by focusing on electric mobility. The company expects that the use of standardised battery platforms and scalable vehicle architectures – together with advances in battery technology – will contribute to a reduction in the variable costs of vehicles. The proportion of battery costs in a vehicle is expected to decrease significantly this decade.
Euro NCAP final safety ratings for 2021 tested 11 new models. Seven achieved a top five star rating – the BMW iX, Genesis G70 and GV70, Mercedes-EQ EQS, Nissan Qashqai, Skoda Fabia and Volkswagen Caddy. The electric FIAT 500e and MG's Marvel R also did well and earned four stars each. However, the Dacia Spring and facelifted Renault's Zoe EV qualified for only one star and zero stars respectively, performing even worse than expected. Despite having different powertrains and price tickets, all five star cars performed very well overall in terms of crash protection and crash avoidance. There were stand-out performances from the new Qashqai in the area of safety assist and the EQS for adult and child occupant protection. Fiat's 500e EV and the new MG Marvel R, also both put in strong performances and achieved commendable four star ratings. Michiel van Ratingen, secretary general of Euro NCAP, said: "Bravo to these manufacturers for giving consumers the levels of safety they have come to expect. These results once more make clear that safety is all about good engineering and less about the type of powertrain or price per se." Renault launched the Zoe EV in 2013. The 'new' model, a facelift introduced in 2020, received several battery improvements but no added safety. On the contrary, the seat mounted side airbag which previously protected head and thorax was replaced by a less effective thorax-only airbag, representing a degradation in occupant protection. The latest Zoe offers poor protection in crashes overall, poor vulnerable road user protection and lacks meaningful crash avoidance technology, disqualifying it for any stars. Things did not fare much better for Renault's cheap brand Dacia. The full electric Spring, marketed as a brand new vehicle, is heavily based on the Chinese-made Renault City K-ZE, itself a derivative of the troublesome Renault Kwid, sold in India and Brazil for several years. Dacia has staunch supporters across Europe: car buyers who appreciate the low entry prices and steer clear of 'useless features' in their car. However, with the Spring, the 'masters of frugal engineering' have launched a product that goes beyond no frills. Its performance in crash tests is downright problematic, with a high risk of life threatening injuries for driver chest and rear passenger head in frontal crash tests and marginal chest protection in side impact. The mediocre crash performance and poor crash avoidance technology resulted in a one star rating.
BMW says it is ramping up supply chain agreements on critical electronic components for the long-term and has concluded a direct agreement with high-tech microchip developer INOVA Semiconductors and Globalfoundries, a manufacturer of feature-rich semiconductors. Ford also recently struck a strategic agreement with Globalfoundries. BMW says its trilateral agreement with INOVA and Globalfoundries guarantees the BMW Group the supply of several million microchips per year. The microchips will be used in the ISELED smart LED technology co-developed by the BMW Group, which will be deployed for the first time in the BMW iX and rolled out in further models. Customer deliveries of the BMW iX got under way in early November.
Ford is claiming to be the first automaker to use 100% recycled ocean plastics to produce automotive parts.Wiring harness clips in Bronco Sport models are made of ocean-harvested plastic commonly referred to as 'ghost gear'. The automaker said the strength and durability of the nylon material equals that of previously used petroleum based parts but with a 10% cost saving and requires less energy to produce. The small parts represent a large first step in the company's plans to produce other parts of recycled ocean plastics on other models.
Have a good weekend.
Graeme Roberts, Deputy Editor, Just Auto