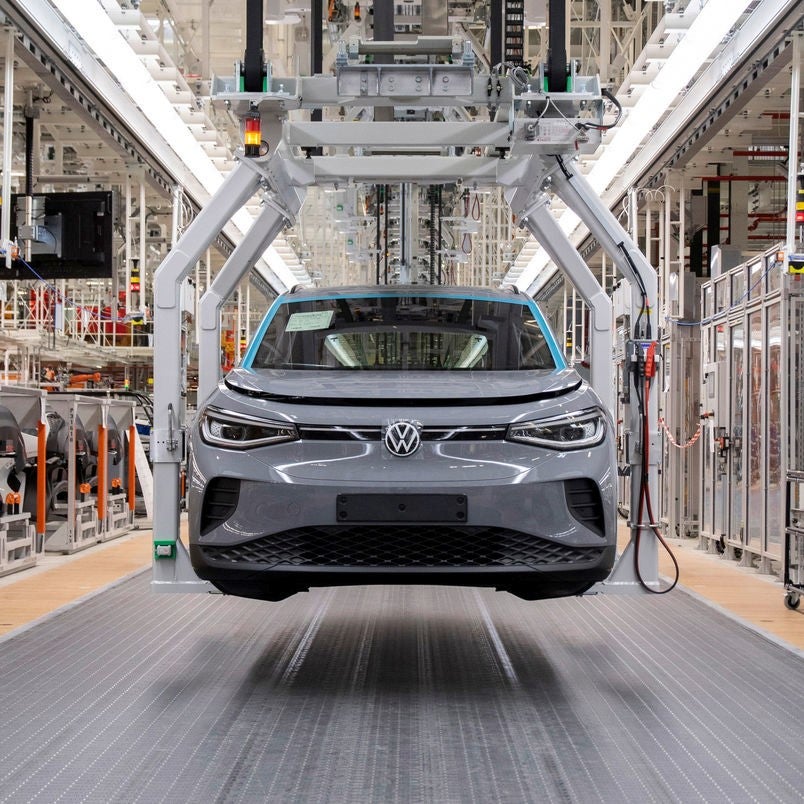 Unveiled at this year's CES, HERE Technologies has announced the launch of 'UniMap', a new highly automated mapping technology – that utilises AI – for the automotive sector. The launch of the new technology allows rapid creation of digital maps and location products – key elements for software defined vehicles when it comes to navigation. The real-time system can produce up to date map content at scale, serving the smart logistics, and automated transportation industry. UniMap is designed to deliver unmatched levels of map freshness, quality and coverage. At the heart of the HERE platform, the technology will produce the entire HERE map as well as enable customers to rapidly create their own private maps and customised location services. UniMap can use AI models to automate the processing of 500 million kilometres of vehicle probe and sensor data every hour, to extract map features such as 2D and 3D positioning of road signs, to validate speed limits and to build missing road geometry. We spoke to Leen Balcaen, vice president of product management to learn more about the new mapping technology and highlight its benefits.
The latest instalment from Marvel Studios, Ant-Man and The Wasp: Quantumania,
is now showing on big screens in theatres around the world. Quantumania brings audiences into the Quantum Realm, embarking on an adventure with one of the most likeable characters in the Marvel Cinematic Universe. The launch of the movie has not only put Marvel Studios and Disney in the limelight again, but also automotive brand, Volkswagen. The brand's fully electric ID.4 will feature in the movie acting as the family car for the superhero. Alongside featuring in the movie, the ID.4 will also make an appearance in custom-created content for social media, TV, and big screens, showing Ant-Man and Cassie Lang in a staged sequence for viewers to enjoy. Frankie Youd spoke to Salim Yüksel, who is responsible for future trends, strategic partnerships, and global branded entertainment at Volkswagen, to learn more about the collaboration and to discuss why Ant-Man is the perfect superhero for the ID.4.
Is relative newcomer VinFast wise to target the burgeoning global BEV market so soon? In 2022, VinFast announced its plan to be an all-electric carmaker and to penetrate the US and European markets by importing Complete Built-Up (CBU) vehicles from its Vietnam plant in the initial phase and adding local production in the US by 2024. In advance of this move, VinFast ceased production of internal combustion engine vehicles in Q3 2022 which negatively impacted VinFast's sales in its domestic Vietnamese market. Despite overall Vietnamese Light Vehicle sales surging by 24% year-on-year in 2022, VinFast sales plunged by 32% year-on-year from around 36k units in 2021 to just 24k units in 2022. VinFast's January 2023 sales were only 358 units, a drop of 83% year-on-year from 2k units in January 2022. Considering this trend, we expect VinFast's domestic sales to continue to decline to 11k units or around a 50% year-on-year fall in 2023 due to the lack of infrastructure for BEVs and the fact that adoption of these vehicles in the country is at an early stage.
Can a native FWD architecture be easily switched to RWD? Volvo's C40 shows what's possible with EVs. Volvo's shift away from petrol and diesel engines is accelerating, the company's latest worldwide sales data reveal. Comprising 19% of all deliveries in February, EVs are rising fast for the electric focused company. The numbers for the brand's European region are stronger still: a 204% gain in February compared to the same month in 2022. Volvo groups its PHEVs and EVs under a Recharge banner, these making up the majority of sales (13,698 out of 21,278 deliveries, of which PHEVs were 6,983 and EVs 6,715) in EU-EFTA-UK. In particular, one of Volvo's newest models is doing an excellent job of bringing in conquest buyers and convincing existing owners to go electric: the C40. And even though it was only launched at the end of 2021, already there are some major changes to the way torque and power are transferred to the road. The EV era is bringing with it all manner of fascinating engineering novelties, one of which in the case of Volvo, has been adapting a platform that used to be for ICE models only.
Electric vehicle (EV) maker Tesla is to build a new production plant in northern Mexico, another example of a reversal of the trend for low-cost offshore manufacturing among many technology companies. The Austin, Texas-headquartered company has two existing overseas plants in China and Germany, but following continuous global supply chain disruptions due to the Covid-19 crisis and the Russian invasion of Ukraine, many companies are re-evaluating their supply chains – including scaling back business expansions in new overseas manufacturing operations. Mexico, however, may provide a compromise for Tesla thanks to its proximity to the company's headquarters in Austin, while still being a low-cost manufacturing destination. Mexican President Andres Manuel Lopez Obrador is said to have confirmed Tesla's decision to locate a new production plant in the northern city of Monterrey and Tesla announced the plan at the company's investor day on 1 March 2023. While analysts have suggested the plant would help the company reduce dependence on Chinese operations, reflecting rising US-China tensions, CEO and largest shareholder Elon Musk said Tesla "will continue to expand production at all of our existing factories. So this is not moving output to anywhere, from anywhere. This is supplemental production". The new plant will help meet growing demand for EVs in the US as vehicles produced there would qualify for tax breaks and other incentives worth up to US$7,500 per vehicle under the US Inflation Reduction Act (IRA).
Western Europe's car market in February was up 11.3% on last year, according to data issued by LMC Automotive (a GlobalData company). The gain reflects an easing of the semiconductors shortage – which has constrained sales for the past 18 months – and comes in spite of some deterioration to the underlying demand outlook for the region over the past year. The February car market reached 797,330 units, while sales in the first two months exceeded 1.6m units, some 10.5% ahead of last year's pace. The analysis showed the Western Europe new car market selling rate (annualised and seasonally adjusted – or SAAR) in February climbed from 10.7 million units/year in January to 11.7 million units/year in February 2023, aided by improved performances in Germany and the UK.
The autonomous vehicle (AV) industry will not develop a fully self-driving car until 2035, according to a recent prediction from research firm GlobalData. "We expect the timelines for deploying fully autonomous vehicles (Level 5) to be pushed back over the next few years," the research firm wrote in a report. Level 5 autonomy relates to self-driving cars that do not require any human interaction – meaning that when they're eventually deployed, they won't have steering wheels or pedals. "Companies that have made big bets on the technology will continue to move toward commercialisation, but it could be closer to 2035 before we begin to see any meaningful deployments of fully self-driving vehicles," the firm added. However, the research firm does believe that level 3 AV vehicles will be deployed in the middle of the decade, with level 4 superseding quickly.
BYD, best known in the UK for electric buses, has launched its first electric passenger car in the UK. The Atto 3 is the first BYD C-SUV to built on the automaker's new e-Platform 3.0. It has scored a five star rating in Euro NCAP safety tests and has a 60.48 kWh blade battery with claimed 260 mile range (WLTP combined) and DC charging (30%-80%) in a claimed 29 minutes. Orders have opened and first deliveries start 15 March. Prices start from GBP36,490. First confirmed UK dealer groups are: Pendragon, Arnold Clark Automobiles, Lookers Motor Group and LSH Auto Holdings. The first 'Pioneer' showrooms will open "imminently" in Birmingham, Manchester, Glasgow and Milton Keynes.
BMW has updated the iDrive system with a new home screen with clearly arranged functions tailored to the latest curved display. QuickSelect provides an improved menu structure which takes its cues from consumer electronics devices. The new system will be gradually introduced in current models during 2023. The new system offers broader digital content for information and entertainment, shorter function update cycles, better information on charging points for electric vehicles and improved access to online services. With new graphical interface and optimised menu structure, iDrive will in future focus on interaction by using the touchscreen and natural language, the automaker said. The curved display will continue to serve as the point of interaction for the multi-sensory iDrive experience.
There are now more LEVC (London Electric Vehicle Company – the successor company to that which originated the iconic London 'black cab') TX electric taxis on the streets of London than diesel TX4s, as the UK capital's transition to a green EV black cab fleet continues to accelerate. Highlighting the transition away from fossil fuel, LEVC's TX taxi now represents more than 40% of official black cabs, with over 6,000 vehicles operating in the capital. Alex Nan, CEO of LEVC, commented: "We are witnessing a significant tipping point in the push towards cleaner transportation, with the TX overtaking the diesel-powered TX4 as the cab of choice in London." There are now more than 6,000 TX electric taxis operating in the capital, accounting for over 40% of the black cab fleet.
With its joint project 'MaterialLoop', VW Group-brand Audi says it is taking the next step toward closing more material cycles in the automotive industry. Together with 15 partners from the research, recycling, and supplier sectors, Audi is looking into the reuse of so-called post-consumer materials, which are taken from customer vehicles at the end of their lifecycle – from the automotive sector for the production of new cars. As part of Audi's circular economy strategy, it says the project provides valuable insight into how a circular economy can be put into practice. Currently, very few of the materials used in the production of new vehicles are recovered from old cars. Steel, for example, usually ends up as structural steel after end-of-life vehicle recycling. Audi says it wants to change that by reusing secondary materials taken from end-of-life vehicles in the production of new cars. Downcycling, which is a loss of quality in materials resulting from the recycling process, is to be avoided, it says.
Hyundai this week revealed its redesigned Kona Electric B-SUV with a long range 65.4kWh battery and WLTP estimated 490km (300mile) of claimed class leading range for the European specification model. Over the Air (OTA) software updates will be available. The Kona Electric has frunk storage, active air flaps, vehicle to load (V2L) outlets, head-up display, i-PEDAL driving mode, smart regenerative system, electronic-active sound design (e-ASD) and additional safety features. As with the outgoing generation, Kona buyers will be offered EV, hybrid electric (HEV) and ICE variants plus 'sporty' N Line versions of each.
Supplier Hyundai Mobis said it had developed an electronic levelling control (ELC) system that automatically adjusts the height of a vehicle based on driving conditions, including speed and load factors. The system, developed in collaboration with key customer Hyundai Motor, can also automatically adjust vehicle height to minimise fuel/energy consumption which is useful to held extend the driving range of an electric vehicle (EV) as well as to optimise performance of all cars. Vehicle height can also be adjusted manually by up to 6cm either way to increase ground clearance on rough roads and over speed bumps which can be useful to help protect EV batteries which are typically fitted in the floor, as well as to make it easier to get in and out of vehicles including purpose-built EVs. The system uses an electric hydraulic pump to control the height of the vehicle from all four wheels, which it monitors through a number of sensors. The two companies are currently verifying the reliability of the technology but Hyundai Mobis said it expected the ELC system would soon be available to automakers.
VW backed Scout Motors will build its first US manufacturing plant in Blythewood, near Columbia, South Carolina, the state governor announced. The state is already home to a BMW plant and associated suppliers. The company will build all electric trucks and SUVs, reviving a brand once part of International Harvester/Navistar which produced vehicles from 1960 to 1980. The company's US$2bn investment "has the potential to create 4,000 or more permanent jobs. At full capacity, more than 200,000 Scout vehicles may be produced annually at the facility" a statement from governor Henry McMaster said.
Mercedes-Benz said it was the world's first automaker to use Visa's Delegated Authentication and Visa Cloud Token Framework technology to enable secure in-car payment. Customers in Germany are now able to pay for digital services and on demand hardware upgrades in the Mercedes me Store using a fingerprint sensor in the car. Payment from the car by fingerprint will be extended to other services such as fuelling as well as to other European markets later this year. By 2026, 4.7bn in-car payment transactions are expected worldwide. The vehicle itself now enables biometric two factor authentication in conjunction with the fingerprint sensor. It is no longer necessary to type in a PIN on the infotainment system or to use an additional mobile device to verify a payment in the car. Instead, the car itself turns into a payment device.
UK new car registrations grew by 26.2% in February according to the latest figures from the Society of Motor Manufacturers and Traders (SMMT). While February is typically low volume ahead of the March number plate change, this year it marked the seventh month of consecutive growth as easing supply chain shortages steered the market closer to pre-pandemic levels – it was down just 6.5% on the same month in 2020. The month saw almost universal growth across the market, with deliveries to private buyers up 5.8% and those to large fleets up 46.2%. Business registrations, which account for a fraction of the market, increased by 0.7%, equivalent to just nine units.
Have a nice weekend.
Graeme Roberts, Deputy Editor, Just Auto