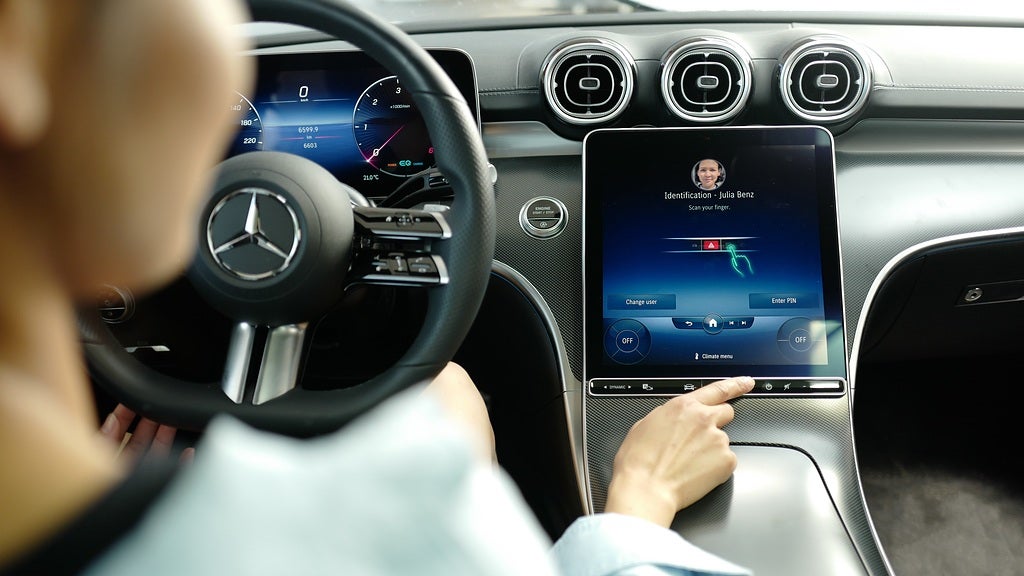 Mercedes-Benz said it was the world's first automaker to use Visa's Delegated Authentication and Visa Cloud Token Framework technology to enable secure in-car payment.
Customers in Germany are now able to pay for digital services and on demand hardware upgrades in the Mercedes me Store using a fingerprint sensor in the car.
Payment from the car by fingerprint will be extended to other services such as fuelling as well as to other European markets later this year.
By 2026, 4.7bn in-car payment transactions are expected worldwide.
The vehicle itself now enables biometric two factor authentication in conjunction with the fingerprint sensor. It is no longer necessary to type in a PIN on the infotainment system or to use an additional mobile device to verify a payment in the car. Instead, the car itself turns into a payment device.
First models available with fingerprint sensors are the EQS and EQE series, the S-Class, C-Class and GLC.
Visa Cloud Tokens provide an additional layer of security as they help to protect and encrypt sensitive payment information by converting data and storing it securely.
The Mercedes me Store offers the ability to unlock already installed hardware components on demand by fingerprint in the car. For example, a vehicle owner can subscribe to Remote Parking Assist, a service to park the vehicle remotely with a smartphone, or activate and pay for the Adaptive Highbeam Assist or the Rear Axle Steering with larger steering angle.
Cardholders with a Visa credit or debit card can use native in car payment by linking their card with their Mercedes me user account and activating Mercedes pay+ in the vehicle via MBUX. Subsequently, more card systems will be added and enabled.
The option of in car payments will be expanded to other car related services, such as refuelling. Mercedes-Benz drivers in Germany and other markets can already pay for fuelling directly from the car via the Mercedes me app and a smartphone or via the MBUX infotainment system using a PIN. The introduction of payment authorisation by fingerprint will make this process easier later this year.
Mercedes said paying for fuel will be the most common use for in vehicle payments over the next five years, accounting for 48% of transactions by volume.