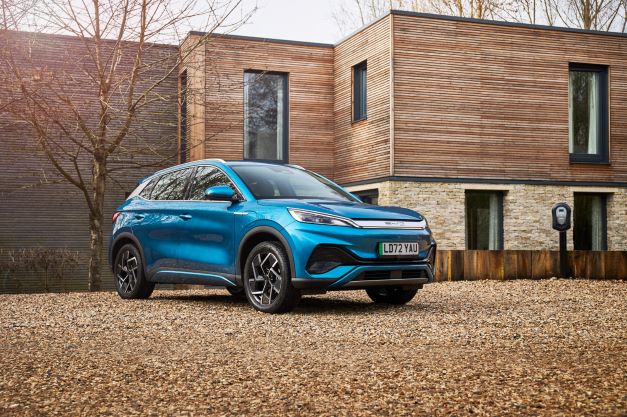 BYD, best known in the UK for electric buses, had launched its first electric passenger car in the UK.
The Atto 3 is the first BYD C-SUV to built on the automaker's new e-Platform 3.0.
It has scored a five star rating in Euro NCAP safety tests and has a 60.48 kWh blade battery with claimed 260 mile range (WLTP combined) and DC charging (30%-80%) in a claimed 29 minutes.
Orders have opened and first deliveries start 15 March. Prices start from GBP36,490.
First confirmed UK dealer groups are: Pendragon, Arnold Clark Automobiles, Lookers Motor Group and LSH Auto Holdings.
The first 'Pioneer' showrooms will open "imminently" in Birmingham, Manchester, Glasgow and Milton Keynes.
BYD claims to be the only New Energy Vehicle (NEV) producer to have developed its own powertrain systems, batteries, semiconductors, drive motors and motor controller systems.
Three model variants are called Active, Comfort and Design. Comfort and Design models are on sale now and the Active follows in the second quarter.
BYD said its e-Platform 3.0 comprises a world first mass produced, highly integrated eight in one electric powertrain connecting all electric control units and management systems. "Such seamless deep integration delivers overall system efficiency of 89%," it added.
Other features include a heat pump.
The car also has a claimed industry first direct cooling and heating system for power batteries, increasing thermal efficiency by up to 20% in the winter, using residual heat from surroundings. With intelligent thermal management, efficiency is achieved in a wide range of temperatures with "excellent" low temperature driving range
The cobalt-free blade battery uses lithium iron-phosphate (LFP) as its cathode material, which BYD claims is safer than conventional lithium-ion batteries due to "inherently excellent thermal stability".
The Atto 3 can accelerate from 0 to 62 mph in 7.3 seconds.
Overnight charging from an almost empty battery to full range can be completed in 6.5 hours. All three trim levels include a VtoL function so external devices can be charged by the car battery.
All models have Forward Collision Warning, Automatic Emergency Braking, Rear Collision Warning, Rear Cross Traffic Alert and Rear Cross Traffic Brake, Lane Keep Assistance, Lane Change Assist, and Emergency Lane Keep.
Other driver aids include Blind Spot Detection, Automatic Vehicle Hold, Traction Control, Hill Decent Control, Traffic Sign Recognition, Intelligent Speed Limit Information, and Intelligent Speed Limit Control.
Over the Air (OTA) software updates will be available and GPS navigation is standard.
The 12.8 inch touchscreen (15.6 inch on Design versions) can be rotated to portrait or landscape layout and voice recognition and Apple CarPlay are included.