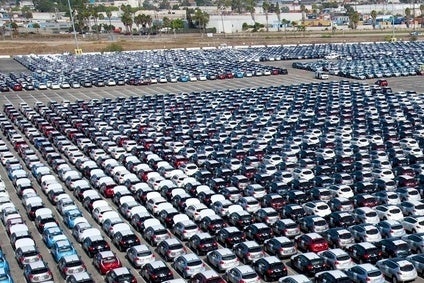 Western Europe's car market in February was up 11.3% on last year, according to data issued by LMC Automotive (a GlobalData company). The gain reflects an easing of the semiconductors shortage – which has constrained sales for the past 18 months – and comes in spite of some deterioration to the underlying demand outlook for the region over the past year.
The February car market reached 797,330 units, while sales in the first two months exceeded 1.6 million units, some 10.5% ahead of last year's pace.
The analysis showed that said the Western Europe new car market selling rate (annualised and seasonally adjusted – or SAAR) in February climbed from 10.7 million units/year in January to 11.7 million units/year in February 2023, aided by improved performances in Germany and the UK.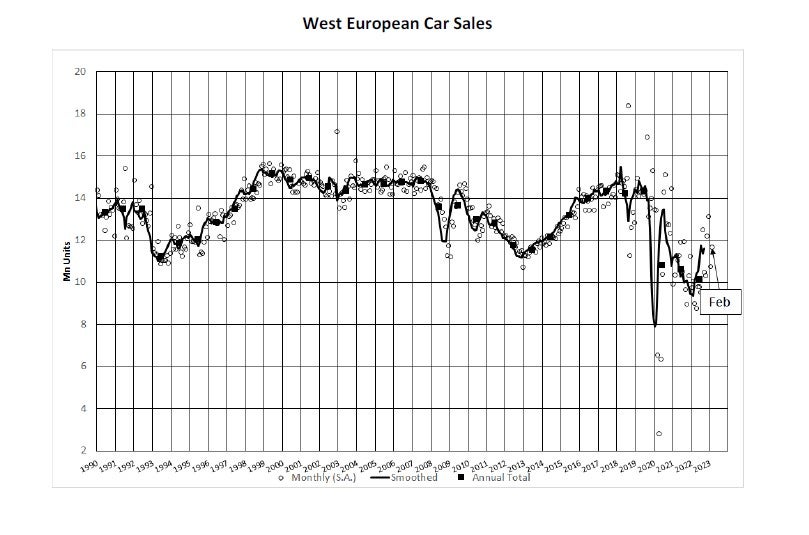 The German car market selling rate for February 2023 improved to 2.9 million units/year, from 2.6 million units/year the previous month. For the UK, the car market selling rate increased for a second month to 2.5 million units/year, from 2.1 million units/year in January. The French car market selling rate remained stable at 1.6 million units/year – the same performance as seen in January. Similarly, the Italian car market selling rate remained flat from January to February at 1.4 million units/year. The car market selling rate for Spain slipped from 900k units/year in January to 870k units/year in February.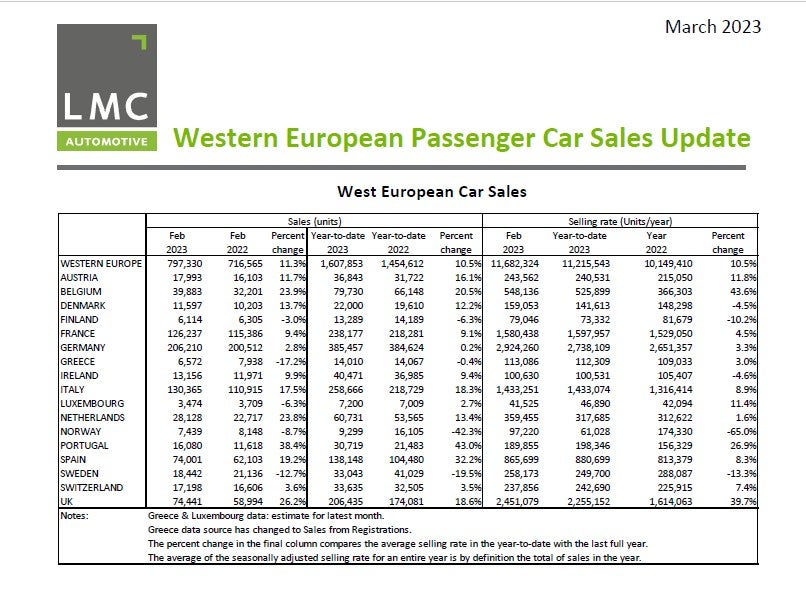 GlobalData analysts said that they expect YoY growth for Western Europe in 2023 on the back of a weak 2022 (the forecast is for a 7.9% increase to just under 11 million units), although they still see supply constraints dominating this year.
The analysts note that underlying demand faces challenges too, with much of the region facing recessionary conditions and weak growth thereafter.
However, they also note that consumer sentiment has become a little less pessimistic recently and with a backlog of orders, they believe that a faster recovery in production this year would be supported by demand. Nevertheless, they conclude in their research note that 'it remains clear that rising costs of living and elevated levels of inflation seen across the region pose a downside risk to our forecasts'.