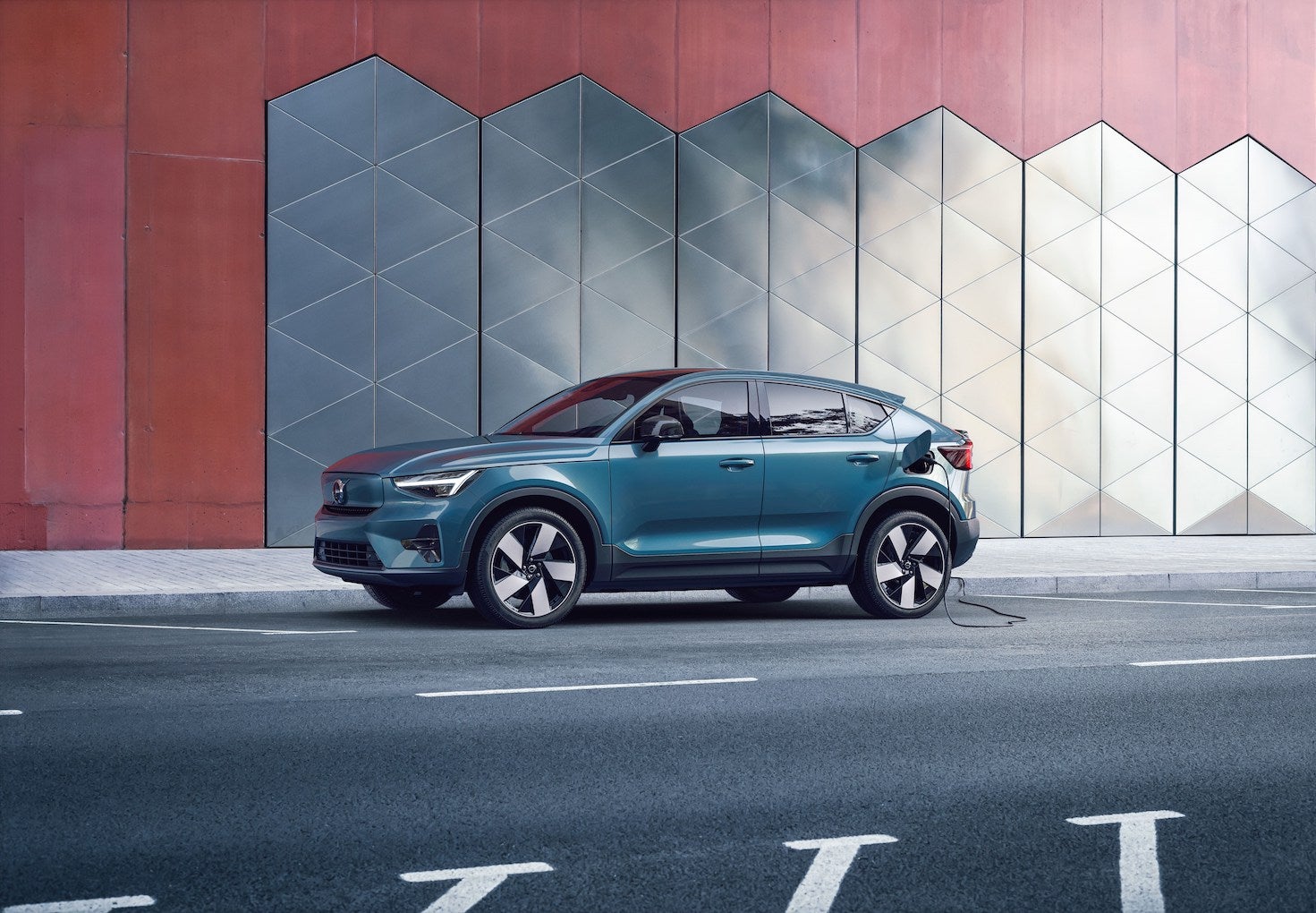 Volvo's shift away from petrol and diesel engines is accelerating, the company's latest worldwide sales data reveal. Comprising nineteen per cent of all deliveries in February, EVs are rising fast for the electric-focused company.
The numbers for the brand's European region are stronger still: a 204 per cent gain in February compared to the same month in 2022. Volvo groups its PHEVs and EVs under a Recharge banner, these making up the majority of sales (13,698 out of 21,278 deliveries, of which PHEVs were 6,983 and EVs 6,715) in EU-EFTA-UK.
Compact Modular Architecture goes RWD
In particular, one of Volvo's newest models is doing an excellent job of bringing in conquest buyers and convincing existing owners to go electric: the C40. And even though it was only launched at the end of 2021, already there are some major changes to the way torque and power are transferred to the road.
The EV era is bringing with it all manner of fascinating engineering novelties, one of which in the case of Volvo, has been adapting a platform that used to be for ICE models only.
CMA, which stands for Compact Modular Architecture, was co-developed by the Gothenburg-based firm in partnership with its owner Geely. The latest evolution used to be for all manner of front- and all-wheel drive vehicles. In addition to the XC40, examples still include the Geely Boyue and Xingyue plus the Polestar 2.
Why has Volvo made such a major change to one of its still relatively new architectures? Cost is one reason: as the brand's future models will all be electric, components sets need to be either replaced or fundamentally re-engineered.
First RWD Volvo for 25 years
Until the EV-native SEA platform arrives – the substructure of most next generation models – CMA is the current state of the art. And along with the similarly updated XC40, the re-engineered C40 is soon to become the first RWD Volvo in a quarter of a century.
Before looking at the technical changes, it's worth a brief overview of what this model is.
The 4,431 mm long C40 Recharge remains an electric-only coupé-crossover which shares some elements of its appearance with the XC40.
New self-developed motor
Launched in the fourth quarter of 2021, a 78/75 kWh (gross/net) battery and two-motor ('C40 Recharge Twin') drivetrain featured. This, incidentally, was shared with the XC40 Recharge P8 and Polestar 2. Several variants were available, including the 300 kW and 660 Nm Pro Twin Motor.
A 69/67 kWh (gross/net) battery alternative was announced in May 2022 for what Volvo termed its 2023 model year. This came only in front-wheel drive/single motor (170 kW & 330 Nm) form. As for production, Ghent (Belgium) remains the lead plant with Geely's Luqiao factory supplementing build for China.
Now, it's all change, the following updates set to apply from May production:
a self-developed second-generation permanent magnet electric motor operating on the back axle
170 kW & 330 Nm FWD single motor replaced by a 175 kW permanent magnet electric motor (e-motor) driving the rear wheels
69 kWh (gross) battery of single-motor variants carried over, but enhancements in cooling efficiency mean a 478 km WLTP maximum range (+38 km)
82 kWh (gross) battery and 185 kW motor combination offer a WLTP maximum range of up to 533 kilometres, DC charging at up to 200 kW
for AWD variants, the 150 kW front and 150 kW rear motors replaced by a 183 kW permanent magnet e-motor on the rear axle and a 117 kW asynchronous electric motor on the front axle, 82 kWh battery and 507 km WLTP maximum range (compared to 451 km for previous AWD cars)
Charging at up to 150 kW
In the context of the above news, sampling what is now the outgoing 150+150 motors 'Recharge Twin Pro' gave me an insight into what will soon be an historic model. The additional miles will be welcome yet the stated "up to 273" of the current two-motor AWD is still good for the class.
Cold weather naturally knocked the reality of how far the C40 would travel down below 250 yet that's still better than the Toyota bZ4X for example. You can also replenish the Volvo's battery at a 150 kW charger with 10-28 per cent taking a claimed 37 minutes.
It's a speedy thing, the Twin Pro, reaching 62 mph in 4.7 seconds in spite of weighing in excess of 2.1 tonnes. Top speed, like all Volvos, is limited to 112 mph (180 km/h).
Luxury interior
There are all sorts of lovely touches inside the C40, much of the interior being shared with the XC40. That includes some beautifully backlit dash and door trim elements, each of which feels and looks like a piece of art. Soft surfaces seem to abound everywhere too, including high quality carpeting which extends up the sides of the centre console.
Lifting the bonnet reveals a 30-litre boot where cables can be stored, while the rear hatch covers a handily shaped 489-litre main cargo area.
The all-wheel drive system was ideal for the damp and generally mucky conditions of my time with the C40 and the HVAC system should also be praised for how quickly the car heated up. Not all electric cars' air blower, seats and steering wheel remove the chill as well as those in this Volvo do. Nor did keeping the warmth going seem to drain the battery as badly as is so often the case in EVs.
With the XC40 being such a popular model, especially in Britain, it's clever of Volvo to have added this alternative. And to judge by the advance information about added range from the forthcoming RWD variants, the C40 seems to be on target for ever more sales growth.
The Volvo C40 Recharge is priced from GBP48,355 or available from GBP699/month
The next EVs
We know that the EX90 will give Volvo a new high-end electric SUV from early 2024 but what else is the company planning for the coming years? The C40 is probably still two years away from a facelift, at which time the name might change to 'EC40'. Its XC40 brother, meanwhile, is due for replacement in the second half of 2025. It too could gain fresh badging: probably it becomes 'EX40'.
It's no secret that Volvo will soon expand into the segment below the 40 series models. When revealing the EX90 in November 2022, the outline of a smaller SUV with '2023' illuminated in the background was previewed. The EX30 should be revealed on 15 June.
Production will be in China (from September) and in a second phase, potentially Slovakia. This follows the 1 July 2022 announcement of Volvo's first new factory in Europe since Torslanda (1964) and Ghent (1965). Vehicles should begin rolling off the line at the Košice plant in 2026. The initial annual capacity is to be 250,000 units.
This one probably won't be offered outside China but the brand's first MPV is also on the way. What might be badged 'EM90' will be very closely related to the Zeekr 009. That vehicle offers the choice of 116 kWh and 140 kWh lithium-nickel-manganese-cobalt batteries supplied by CATL. Both versions have two motors, drive is to both axles and the architecture is SEA.