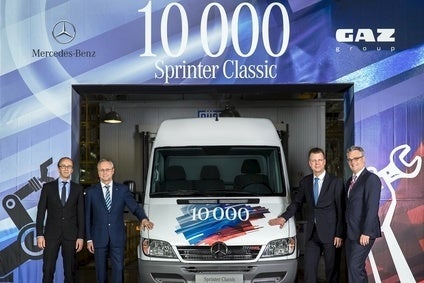 Mercedes-Benz has become the latest western company to pull out of Russia, following the invasion of Ukraine in February.
The automaker stopped manufacturing in and exporting to the country early in March, bbc.co.uk reported
The company said it would withdraw from Russia and sell shares in its subsidiaries to a local investor.
Separately, the BBC noted, Ford confirmed earlier it had finalised a deal to exit its Russia joint venture with Sollers.
Ford had announced a full suspension of its operations in Russia in March and had now sold its 49% stake in the JV although it had the option of buying the shares back within five years "should the global situation change", the report added.
The JV with Sollers was set up in 2011, primarily to build the Transit van, but also encompassed Ford's own factories, established earlier, which were building Mondeo and Focus passenger cars.
"Russia is set to become Europe's largest market for new vehicles by mid-decade and provides the Ford brand a huge growth opportunity," the automaker had said at the time.
Even in 2015, as the value of the rouble fell and new vehicle sales faltered, the JV said it would take full advantage of market exits by a number of brands who were quitting the market and was committed to staying in Russia.
Ford's then European chief, Jim Farley, had recently told Just Auto Ford believed the Russian market retained good long term growth prospects in spite of the severe downturn.
In 2019, Ford axed the JV's Russian car production, to focus on light commercial vehicles.
The BBC noted Nissan left Russia earlier this month, following the same move from Toyota and Renault.
Nissan took a US$700m (GBP600m) loss in handing over its business to a state owned entity for a nominal fee, reportedly less than GBP1, the report added.
Truckmakers Scania and Hino have also joined the race for the Russian exit.
Mercedes CFO Harald Wilhelm reportedly said the move out of Russia was not expected to have any serious new effect on the company's profits.
Many other western companies pulled out of Russia earlier in the year, including Starbucks, McDonald's and Coca-Cola, the BBC noted.
Other car firms, including Jaguar Land Rover, General Motors, Aston Martin and Rolls-Royce, had earlier all halted deliveries to the country in the early months of the war.
Natalia Koroleva, chief executive of Mercedes-Benz in Russia, said in a statement cited by the BBC the main priorities in the move were to fulfil obligations to Russian customers and preserve jobs in Russia.
The Association of European Businesses (AEB) told the BBC 9,558 Mercedes vehicles were sold in Russia from January to September, down 72.8% from a year earlier.
Mercedes-Benz Cars said on Wednesday unit sales rose to 530,400 vehicles in the third quarter from 383,500 in Q3 2001. It forecast Q4 sales above Q4 2021.