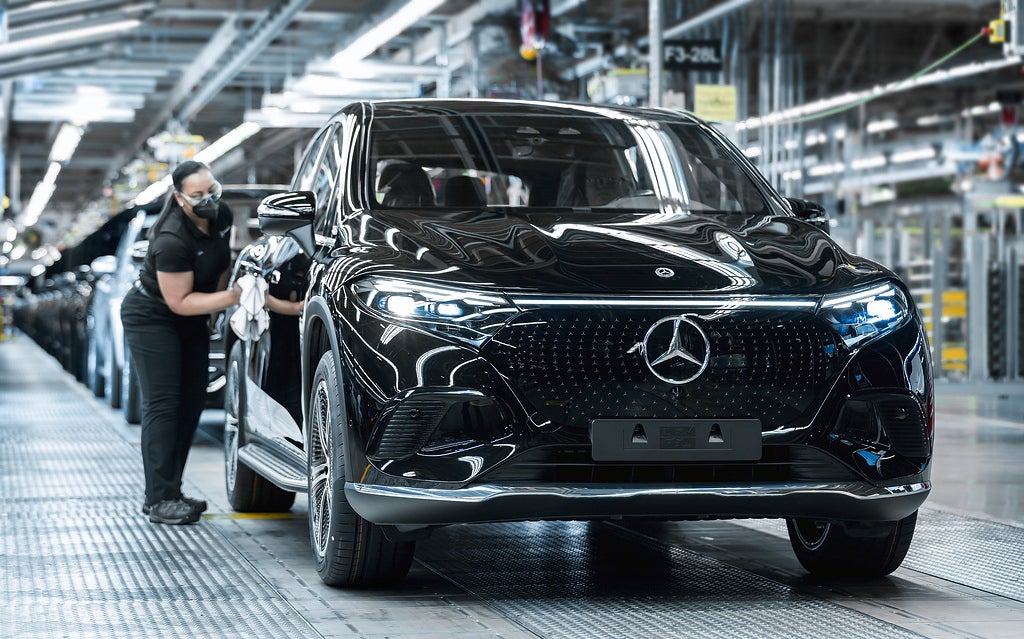 Mercedes-Benz Cars has reported third quarter 2022 EBIT [operating profit] up 83% year to EUR2bn as group revenue rose 19% to EUR37.7bn.
Adjusted return on sales [margin] (RoS) reached 14.5% from 8.8% while the vans unit achieved 12.7%, up from 5.3%.
Full electric passenger car sales "more than doubled", the automaker said in a statement – it now has eight models on sale.
Adjusted RoS for full year 2022 has been raised to 13%-15% (from 12%-14%) with vans adjusted RoS now pegged at 9%-11% (8% – 10%).
"Mercedes-Benz saw robust demand especially for its top end and electric vehicles as customer orders exceed the constrained supply in large part due to the ongoing semiconductor shortages and bottlenecks in logistics," the automaker added.
"Passenger car BEV sales more than doubled in the first nine months of the year (+156%) and increased 183% in the third quarter."
Q3 earnings per share rose to EUR3.66 from EUR1.74 a year ago.
Mercedes-Benz Cars unit sales rose to 530,400 vehicles in the third quarter from 383,500 in Q3 2001. Revenue rose 26% "due to strong model mix and pricing", boosting adjusted EBIT 106%.
Vans Q3 unit volume was 104,000 versus 88,000 "despite semi-conductor shortages".
Adjusted EBIT rose to EUR0.5bn from EUR0.2bn "thanks to continuing strong margin with healthy model mix and net pricing".
Year to date, the automaker has boosted sales of its electric vans one third versus YTD 2021.
Outlook
Mercedes said: "The macroeconomic and geopolitical conditions continue to be characterised by an exceptional degree of uncertainty, including the war in Ukraine, its effects on supply chains and on the availability and the development of prices for energy and raw materials.
"Further effects due to the rapidly changing situation in Russia and Ukraine are not currently known and have not yet been taken into account in our key figures. An escalation beyond its current state could possibly have substantial negative consequences for [our] business activities.
"In addition, the continued very high inflationary pressure for consumers and companies and the associated central bank increases in interest rates as well as ongoing bottlenecks in global supply chains make the outlook more difficult.
"Not least the further course of the pandemic, in particular in China, holds uncertainties for the expected development of the market."
Q4 car sales are forecast above Q4 2021.
Investments in property, plant and equipment plus research and development remain unchanged at "significantly above" the prior-year level.
Van sales are expected "to remain slightly above 2021 levels".
Group revenue continues to be forecast "significantly above" 2021 levels. Group EBIT is now seen "significantly above" 2021, rather than "slightly above."