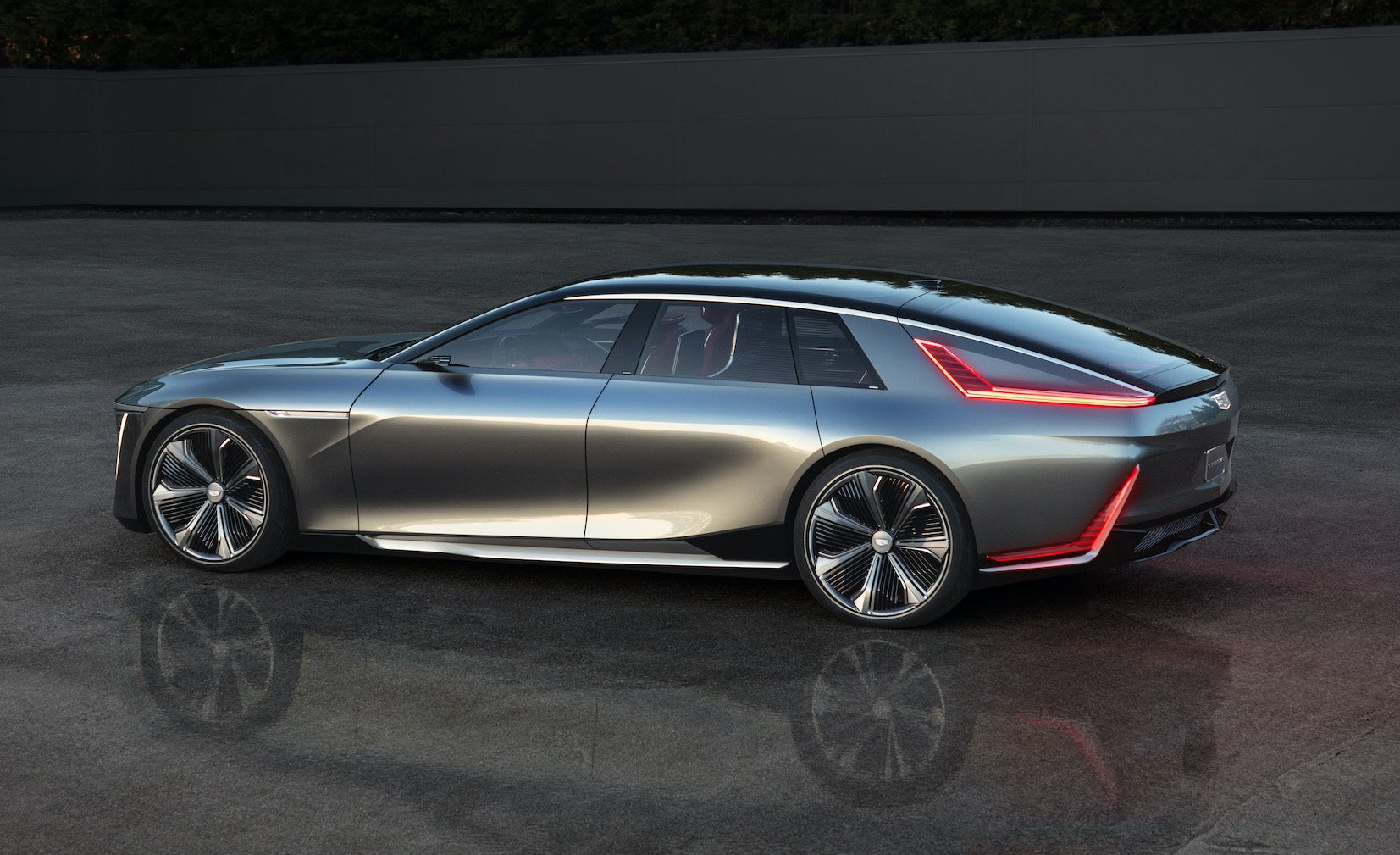 GM says Cadillac will eventually offer four electric SUVs or crossovers plus one low volume 'statement' vehicle. This feature explores those plans while also looking at what becomes of existing models.
Cars
Introduced in the fourth quarter of 2019 for North America's 2020 model year, the 4,756 mm long CT4 is Cadillac's smallest car. This RWD-AWD sedan is aimed at the Mercedes-Benz CLA-Class, BMW 1 Series Sedan and 2 Series Gran Coupe, Audi A3 sedan and others in that size class. Until the arrival of the China-built cars, the US was the main market.
Even though it is smaller than the ATS, the CT4 was the replacement for that model. It was announced in May 2019, solely in V-Series (i.e. CT4-V) form in March 2020.
The CT4 V Blackwing, revealed in February 2021, was added for North America's 2022 model year, production starting in July 2021. This high performance variant is powered by LF4, a biturbo 3.6-litre V6. An earlier version of this engine put out 464 horsepower and 445 pound feet of torque in the car which the CT4 V Blackwing replaced, the ATS V. Both six-speed manual and ten-speed automatic gearboxes are available. In the CT4 V Blackwing, outputs are 352 kW (479 PS/472 hp) and 603 Nm (445 lb-ft).
The Chinese market preview of the CT4 took place in October 2019, the car going on sale there in April 2020. Only a 177 kW four-cylinder engine was offered at that time. SAIC-GM builds the CT4 at its Jinqiao plant in Shanghai.
A replacement had been expected to be based on GM's VSS-R architecture, with the codename of 7CLL. However, GM's decision to make all future Cadillacs electric means a direct successor for the CT4 will not now happen.
Introduced three years ago, the larger CT5 has just gained some minor changes for 2023. This follows the arrival of the CT5 V Blackwing for the '22 model year. This features a special version of GM's LT4, a supercharged 6.2-litre V8. Along with six-speed manual and ten-speed automatic gearbox options, engine outputs are 498 kW (677 PS / 668 hp) and 893 Nm (659 lb ft). Those numbers are up by 21 kW and 39 Nm compared to the former CTS-V.
Meanwhile in China, the CT5 will soon become available with a 1.5-litre turbo engine for entry level variants. Then next year all versions of the car are due for a facelift and the model name may change to a word at the same time.
A CT5 replacement won't arrive until the 2027 model year with that car becoming an EV. In fact, the successor will likely arrive in CY2025 with the CT5 to be phased out a year or so later.
In the size class above the CT5 sits the CT6. Introduced in 2015, North American production and sales stopped in early 2020. Now, the only plant manufacturing this sedan is Jinqiao in Pudong (Shanghai).
With GM planning to add so many crossovers, SUVs and low-roof vehicles, along with wanting all Cadillacs to be electric, a direct replacement for the CT6 seems unlikely. Build should cease in 2023.
Cadillac knows that worldwide, interest in full sized luxury sedans (and hatchbacks) remains strong. You need only look at how well the Mercedes S-Class sells in countries such as China, South Korea and yes, even the USA, to see the proof. The brand has therefore decided that it will use a car to try for a push into the upper levels of the market in parts of Asia, the Middle East and North America.
The Celestiq (see image above) was revealed in near-production form in July. build is due to start this time next year. Unlike Cadillac's previous entrants in the 5m+ long car class, this one will be electric and a hatchback. All-wheel drive and four-wheel steering will feature. So too will 'Ultra Cruise'.
Compared to 'Super Cruise', a Level 2 system, what sounds like Level 3 AD will allow a driver "…to travel truly hands-free…across nearly every road including city streets, subdivision streets and paved rural roads, in addition to highways," GM claims.
As pricing will start at around 200,000 US dollars, volume will be low, potentially just 200 cars a year being built at the Warren Technical Center in Michigan.
SUVs
The SAIC-GM joint venture is expected to produce a BMW X1 rival from early 2023. There are as yet no confirmed reports of any build for North America. Also, at the moment, only 1.5- and 2.0-litre turbo engines are expected but some form of electrification will surely follow. The platform will be GM's E2.
Despite Cadillac telling the media that it would employ words for its vehicles from now on, China-based sources claim that the name will be GT4.
Another additional model should be an Audi Q4 e-tron-sized electric SUV. Launch timing is unclear but the final quarter of 2024 is rumoured. The architecture will either be BEV2 or BEV3. Ramos Arizpe 1 or 2 is believed to be the plant.
The Chevrolet Equinox EV and this Cadillac will share platforms and much else.
General Motors has filed to register Vistiq and Lumistiq in multiple countries. So far at least, it isn't known what the 4.6 m long E-SUV will be called. There had also been applications to trademark two other names – Symboliq and Optiq – but GM subsequently let both applications expire during 2021. However the company then reapplied for Symboliq last November.
The Lyriq (Ruige in China) is a further electric SUV. Production started slowly six months ago at GM's Spring Hill plant. GM will also manufacture an Acura vehicle at the Tennessee factory for American Honda. Due for launch in the second half of 2024, it will revive the ZDX name.
Build in China was added in May with the first (44) examples showing up in registrations data two months later. Only RWD, single motor vehicles were built initially: AWD ones come later.
This electric SUV is 5,003 mm long, 1,978 mm wide and 1,635 mm high with a wheelbase of 3,094 mm. The RWD version weighs from 2,580 kg (5,688 lb) with the AWD Lyriq tipping the scales at a minimum 2,683 kg (5,915 lb).
Cadillac says the launch versions have an estimated torque output of 440 Nm. This explains the '450E' badge on the tailgate as per the brand's system of rounding up or down to the nearest fifty. Other Cadillacs can have a T or D with their number, which means (gasoline) Turbo or Diesel. As for power, the division said this would be "an estimated 340 horsepower" (254 kW) for RWD versions with the 12-module 100 kWh battery pack.
The single-motor for China's introductory Ruige has outputs of 255 kW and 440 Nm with SAIC-General Motors quoting 375 kW and 710 Nm for the two-motor four-wheel drive alternative.
The Lyriq is based on General Motors' BEV3 architecture, a platform developed especially for electric vehicles. The EV1 was the sole model for the company's first generation EV architecture, with the second generation platform having been developed for the Chevrolet Bolt. BEV3, which can be front-, rear- or all-wheel drive, will become a mainstream architecture with multiple vehicles for several GM brands to be based upon it.
After a facelift for the 2027 model year, the Lyric/Ruige should be replaced in CY2030.
There have been unofficial reports that GM intends to manufacture an Escalade-branded EV at Factory Zero (formely D-Ham or Detroit-Hamtramck) in Michigan. Such a vehicle would of course use the BT1 architecture. That means 350 kW fast charging and an 800 V battery pack. Production timing isn't clear but it could be as soon as 2023.
This is the seventh of seven features in a series examining future models for General Motors' JVs plus its wholly-owned brands. The first six were, in order: Baojun, Wuling, Chevrolet EVs, Chevrolet ICE models, GMC/GMC Hummer, and Buick.