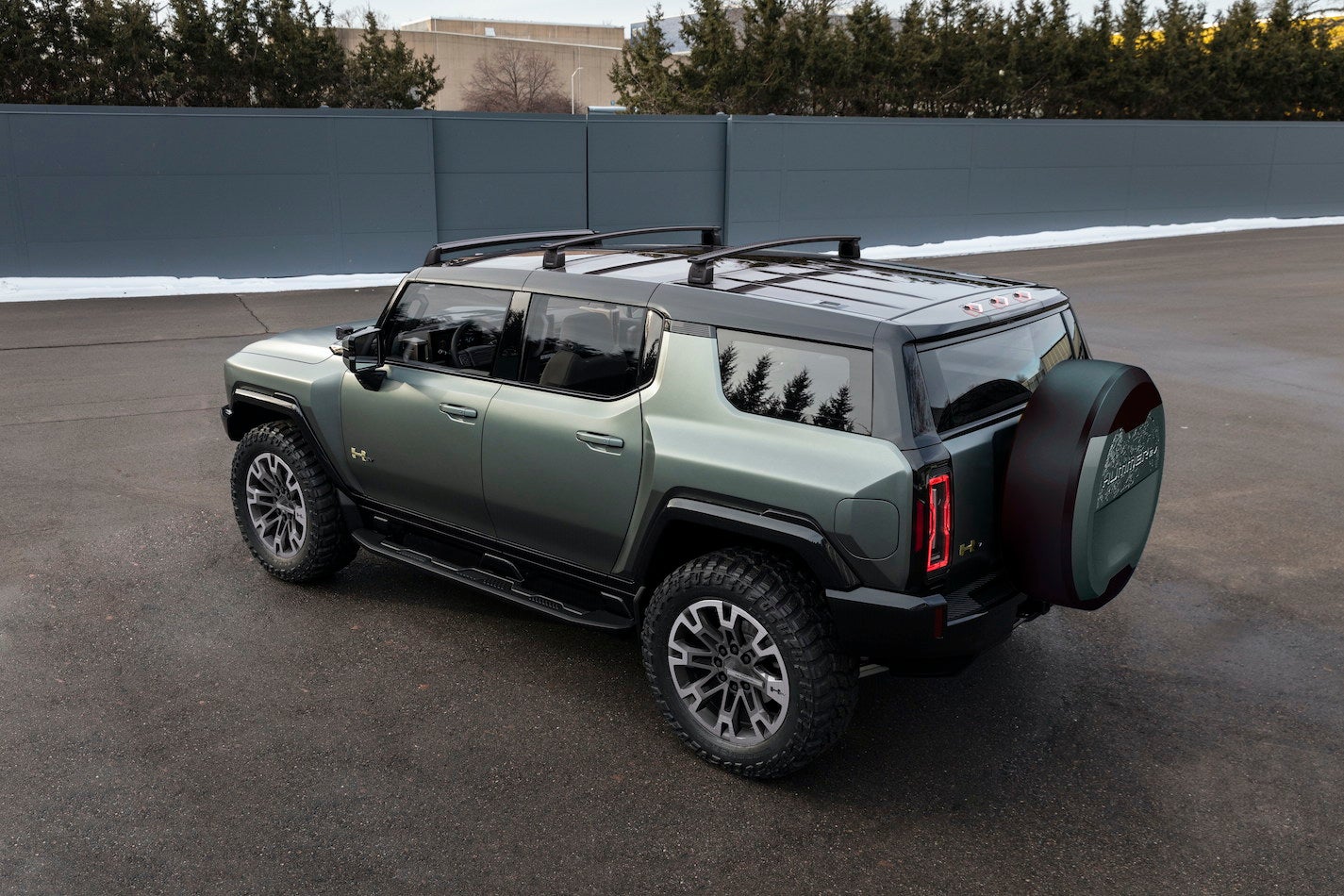 General Motors intends to keep shifting the goal posts for GMC, the brand's existing high-end trim levels having already proved to be successful at improving margins.
The strategy is also working in the Middle East, not just in North America and it might well do so for GM Korea as the brand launches there. For this reason, the decision to reinvent Hummer as a luxury off-roading division ties it in with – and above – GMC.
GMC pick-ups
Just Auto's recent report on Chevrolet's forthcoming model plans (see link at bottom of page) included much advance information on the next Colorado. GMC's equivalent, the 2023 Canyon, while mechanically identical, differs in one major way: pricing.
The new pick-up's arrival will present an opportunity to pitch this model at far higher prices than the previous Canyon. If the market agrees, that will create a clear distinction between the GMC and its higher volume, more affordable Chevy brother.
As per the Colorado, there is a single engine (2.7-litre four-cylinder turbo) and the just one body (short bed crew cab). GM will likely add a Canyon EV in 2026, which is when both the GMC and Chevy trucks will be due for a mid-life refresh.
The electric pick-ups would not only be on a different architecture but unlike the Missouri-built gas models, they should be made at Orion Township in Michigan.
One size up, today's Sierra 1500 doesn't differ too much from the Chevrolet 1500. Each of these large pick-ups was introduced in the second half of 2018.
There will continue to be the usual annual model year changes for the Sierra, though none of them major between CY2023 and when the next generation arrives. That should be in the fourth quarter of 2025.
We can expect a re-engineered version of the VSS-T frame architecture for the '26 Sierra 1500 and more fuel efficient engines. Due to the addition of the Sierra Denali EV during CY2023 however, the next generation Sierra (and its Chevrolet Silverado twin) might be brought forward to CY2024.
A battery version of the Chevy Silverado was confirmed by General Motors in April 2021 but it took a further eight months for its GMC twin to be announced. The Sierra EV heralded in a short promotional clip was the high-end Denali model grade, which will be the only trim level at launch.
The truck will be revealed at some point later in 2022 but build won't start until 2023. As for the name, this could be one of the few things it shares with the piston-powered Sierra. That's because GM will base the EV on BT1, an electric-only architecture whereas the gas and diesel Sierra use VSS-T.
GMC's biggest pick-up will be mostly unchanged for the 2023 model year, a planned facelift now delayed to MY24 due to Covid and a shortage of microchips. Meanwhile, there is a chance that next Sierra HD will be electric although ICE variants will also surely be available. The new Heavy Duty is due in 2026.
GMC SUVs & Crossovers
Other than the Savana, a van series introduced in 2002, GMC's oldest model is the Acadia. The 4.9 m long crossover, which introduced GM's C1 platform in 2016, seats five, six or seven depending on the model grade.
A facelift for the 2020 model year was followed by one major change for MY21 which saw the end of a 2.5-litre engine. That leaves a 2.0-litre turbo or a 3.6-litre V6.
There are only minor adjustments to the line-up for MY23. The same should apply for MY24 but there should be a new Acadia during the second half of CY2024. The big crossover will again share a platform and probably a production line with replacements for the Buick Enclave and Chevy Traverse.
General Motors has gone public with its plans for an electric GMC crossover although it has yet to give any guidance of when the market introduction would be. This model, which could be called EnVoy, Jimmy or a different name entirely, will have Ultium branding for its battery pack and motors.
Finally, GMC's biggest SUV. In common with GM's other such models, the Yukon is based on the T1XX architecture, also known as VSS-T. All variants, including the off-road AT4 trim, premiered at the Chicago auto show in early 2020.
Production is at the Arlington plant near Forth Worth. The Yukon's twin is the Chevrolet Tahoe, while the lengthier Yukon XL's Chevy equivalent is the Suburban.
There are three engines, each paired to GM's 10L80 ten-speed automatic gearbox:
207 kW (277 horsepower) and 623 Nm (460 lb ft) 3.0-litre Duramax in-line six-cylinder diesel
265 kW (355 horsepower) and 519 Nm (383 lb ft) 5.3-litre gasoline OHV V8
313 kW (420 horsepower) and 623 Nm (460 lb ft) 6.2-litre gasoline OHV V8
Denali variants – formerly GMC's top model grade – have their own grille, seats and instrumentation. The Denali Ultimate, announced in May, is added for the 2023 model year.
The Yukon range will be facelifted for the '24 model year and replaced in CY2027.
GMC Hummer
While Cadillac obviously has luxury level pricing, this division doesn't have much in the way of an off-road image or heritage. Which is why GMC was chosen to have responsibility for the return of Hummer.
The first model for GMC Hummer – as the brand is officially known – was revealed just under two years ago but build was delayed until November 2021.
The platform is BT1, a special EV-compatible version of T1. The GMC Hummer EV Pick-up is equipped with what GM calls an Ultium battery pack. This has a nickel-cobalt-manganese chemistry and is assembled in Ohio as part of a JV with LG Chem.
The first variant was the US$112,595 Edition 1. Despite weighing an astonishing 4,103 kg (9,046 lb), it is claimed to have a range of up to 350 miles. Production of what will be 10,000 Edition 1s commenced in November 2021.
Next comes the 3X which also has a three-motor drivetrain, costs $99,995 and goes on sale in October, to be followed by the 2X ($89,995) in six to eight months' time. The 2 ($79,995) won't arrive until April/May 2024.
The EV Pick-up is 5,507 mm long with a 3,445 mm wheelbase and width of 2,201/2,380 (with/without mirrors). Ground clearance varies depending on which mode the pneumatic suspension is in: 257 mm (Standard) to 302 (Terrain) or 404 mm (Extract). Bed length is 1.5 metres and the turning circle is either 13.5 m or 11.3 with four-wheel steering.
The lifecycle could be as many as ten years or as few as seven: it isn't yet known what GMC's intentions are.
Joining the EV next year will be the EV SUV. New for the 2024 model year, this vehicle will have a maximum range of 300 miles and up to 830 horsepower with both two- and three-motor variants available.
General Motors will inevitably be planning to bring other Hummer models to market. One obvious opportunity would be a smaller pick-up, potentially linked to the electric one which GMC itself (and Chevrolet) will gain later in the 2020s. And after this, possibly in 2026, would be a second SUV, probably sized around the 5-metre mark. This would be aimed at the electric Range Rover Sport and other relevant models in that high-priced segment.
This is the fifth feature in a series examining certain future models for General Motors' JVs plus its wholly-owned brands. The first four were, in order: Baojun, Wuling, Chevrolet EVs and Chevrolet ICE models. Buick will be next, the series ending with Cadillac.