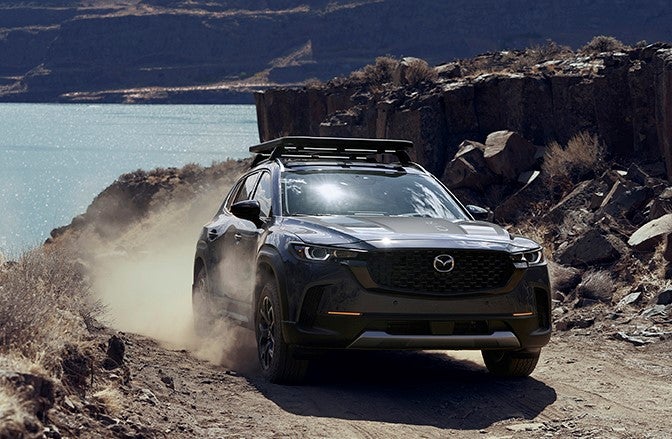 Might Mazda's independence be at stake if the big bets placed on lots of non-EV future vehicles fail to pay off? That's the question asked by our model futurist this week and a valid question about the automaker that once had strong links with Ford. The Japanese company is in far better shape these days than it was a decade ago. The experience of being more or less cut loose by the Blue Oval caused trauma but also a fresh approach to model development. Casting about for new alliances, Mazda found a willing partner in Toyota plus it has continued to manufacture cars and SUVs in China with both FAW and Changan. Isuzu is another collaborator, as is Suzuki. Even with its multiple JVs, the Hiroshima-based OEM greatly treasures its independence. This is obvious from the large investments Mazda has been making in new platforms and engine families. There is a particular emphasis on larger capacity petrol and diesel units, a new line of both now starting to come on stream. But shouldn't this company, which has had brushes with financial ruin twice during the last half century, be investing a lot more in electrification? Mazda sees itself as being prepared for all eventualities and there is truth in this. For a medium-sized car maker, it has an excellent spread of technology, including decades of expertise with Japan's future fuel of choice: hydrogen. Not to mention the company's belief that IC engines have a lot of life left in them – something it shares with a certain giant partner called Toyota. Do read the rest.
Last month, the Volkswagen Group supervisory board appointed Oliver Blume as the new chairman, effective 1 September 2022, so Blume replaces Herbert Diess as VW's CEO. He will also continue to act as chairman of the Porsche board and VW also said that he would continue in the Porsche role 'after a possible IPO'. This week, Blume outlined the major tenets of Porsche's powertrain strategy.
Another interview popular this week: to learn more about the latest trends in the OE road wheels sector, Matthew Beecham caught up with Dymag CEO, Tom De Lange.
And, from the same author: Motion simulators have changed beyond recognition in recent years. To learn more about the stage reached, Beecham spoke to Dynisma CEO Ash Warne.
Another popular interview, different author: Realtime Robotics, a specialist in autonomous motion planning for industrial robots, has announced a partnership with Kawasaki Robotics on a project that aims to automate the programming, deployment and control of its industrial robots. The partnership is described as a gamechanger, providing manufacturers with increased flexibility from programming collision avoidance on multiple robots, automating the programming of robotic motion and help with optimising automated outputs. Initially, the focus is on automotive applications. We spoke to Realtime Robotics' CEO Peter Howard to find out more about the latest advances in robotic technology operations and the origins of the partnership.
Mature markets lag in recovery from COVID-19 and the chip shortage, according to GlobalData research. You could forgive the automotive industry for feeling a little bruised at the moment. It was already straining to address CASE megatrends – Connected cars, Autonomy, Shared mobility, and EVs – but then had to endure the financial and production disruption wrought by the double whammy of the COVID-19 pandemic and the subsequent chip shortage. Despite the many forces conspiring to make life harder for auto OEMs and their suppliers, we have witnessed an impressive amount of resilience and adaptability across the industry as it responded to each crisis. However, as far as actual sales of vehicles are concerned, the recovery we have seen has not necessarily been evenly distributed. In a chart our analyst published this week, we compared the seasonally adjusted annualised selling rate (SAAR) of vehicles around the world from 2019 to the present day, overlaid with approximate timings for major geopolitical disruptive forces. We split global markets into two categories with roughly equal sales at the start of 2019 – one being mature markets such as West Europe, the US, Japan and Australia; while the other included the rest of the world, generally made up of less-mature auto markets.
Stellantis and GAC recently confirmed they would close their struggling joint venture building Jeep models in China. This is another nail in the coffin of Stellantis' efforts to recapture the market share it used to enjoy in the country, which has now dwindled to less than 1%. However, where there is challenge there may also be opportunity for Stellantis, by pursuing its so-called 'asset-light' strategy as highlighted in its 2030 business plan. Previously, the GAC-Stellantis JV operated two factories, one in Changsha and another in Guangzhou, building SUV models for local sale including the Cherokee, Compass and Renegade models sold globally. The Changsha plant also built the Chinesemarket-only Jeep Grand Commander – a three-row SUV built to meet demand for large, premium SUVs in China but unrelated to the more luxurious three-row Jeep Wagoneer recently launched to the North American market. The joint venture has found it exceptionally difficult to reverse Jeep and Stellantis' shrinking Chinese market share, leading to excess capacity across its plants. This saw the pair announce that the Guangzhou plant would be shut by March 2022, to better align Chinese production capacity with sales.
Ford's original Focus, out in 1998 to replace the Escort (or the Mazda based Laser) in global markets, was a smash hit almost from day one. But times and trends change. As with VW's Golf, the rise of EVs means even the Focus – still the best car in the segment – may not have a successor. It seems ridiculous to entertain the possibility that Ford could banish the Focus name to the history books. Or does it? Already, we've seen the end of the Mondeo, the Edge might be vanishing and of course the Taurus – once a huge seller in the US – is gone. Something else which the American company does, is reinvent certain names. Cougar, once a niche coupe, has become an enormously successful crossover with a different spelling. And we all know about the Mustang Mach-E. For now at least, the Focus is safe, having recently had a mid-life update.
The 10-day event known as Monterey Week takes place from today until 21 August inclusive and is an event much looked forward to by those able to attend. These days, auto shows have become a bit passe with some automakers who choose instead to launch new models at events such as this. Just Auto has the list of global premieres at The Quail, The Pebble Beach Concours d'Elegance and related events.
US electric vehicle (EV) subscription company Autonomy said it had agreed to buy 3,140 Hyundai and Kia EVs to add to its fast growing fleet in a deal worth US$143m, according to local media. The order is for 1,640 Hyundai and 1,500 Kia EVs which will be added to the existing fleet of 1,000 Tesla Model 3 and Model Y vehicles. California based Autonomy said it plans to spend US$1.2bn building up a diversified fleet of 23,000 EVs from 17 different brands by the end of 2023. This latest order also included 8,300 additional Teslas worth US$443m, as well as 3,400 GM EVs, 2,200 from Volkswagen and 1,800 Fords. Autonomy launched its EV subscription business in January to provide access to the latest EVs to a broad segment of the US public without customers having to take on long term commitments through traditional leases or loans.
Ford claimed its newly agreed deal with DTE Energy in Michigan was the "largest renewable energy purchase from a utility in US history". Through its MIGreenPower programme, DTE would add 650 megawatts of new solar energy for the automaker, increasing the total amount of installed solar in Michigan by almost 70%. By 2025, every Ford vehicle manufactured in Michigan will be assembled "with the equivalent of 100% carbon-free electricity", 10 years earlier than the automaker's global goal. The purchase of carbon-free electricity would avoid as much as 600,000 tons of carbon dioxide emissions, Ford claimed, while advancing its progress towards carbon neutrality and also also create jobs and tax revenue in the state.
Have a nice weekend.
Graeme Roberts, Deputy Editor, Just Auto