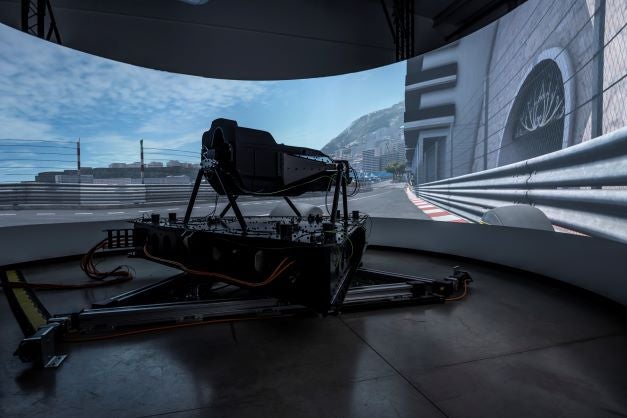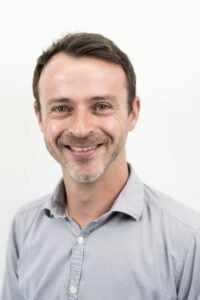 Could you tell us a little more about Dynisma?
Dynisma is a UK-based motion simulator technology company, which has been building simulators since 2019. The DMG (Dynisma Motion Generator) simulators have been designed specifically for automotive manufacturers and suppliers for advanced vehicle development and testing, as well as motorsport teams who want to optimise driver and car performance.
You say the sim is "the most dynamic and realistic" simulator in the world – what have you done in the design of the sim to enable this? And what is new about the approach you have taken?
When designing the DMG simulators, we wanted to get as close to reality as possible and to achieve this we focused on achieving the highest bandwidth and lowest latency possible.
In the simplest terms, latency is the delay between a simulator registering an input – such as from the road, tyres, suspension or from the driver in the form of steering, braking, and acceleration – and then generating an accurate motion output for the driver to experience. Our simulators have a latency of between 3 and 5 milliseconds, whereas competitors have a latency of anywhere from 15 to 50 milliseconds.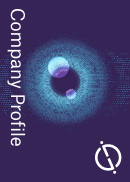 Our systems have greater bandwidth than our competitors, up to 100 Hz or more across all axes, which is five times better than many other systems and at least twice as high as any of our competitors. This means the DMG-1 can put vibrations and movements through its platform that contain more information than other simulators.
Vehicle development – particularly EVs – is a race. How important is it to factor a simulator into the R&D process?
Vehicle development has seen growing use of simulation and simulators for several years. Driver-in-the-loop (DIL) simulators give engineers a viable alternative to real-world tests with a very accurate representation of reality, especially in rare, difficult, dangerous, or expensive scenarios.
In EV development, manufacturers have faced a number of new challenges. Firstly, EV architecture results in several vehicle parameters such as weight, weight distribution, ride height and the tyres being very different to an ICE vehicle. This has meant that previous norms and data sets cannot be relied on, so there is a lot of new ground to cover as most current EV developments are first generations of a particular model. Secondly, because most of these cars do not have natural predecessors, it is difficult to create physical prototypes. Thirdly, the compromises between vehicle performance, comfort, packaging, range etc. are different. All these factors have created an additional push towards virtual development using simulation and simulators.
Using simulators, engineers can conduct extreme testing in a safe, confidential, and repeatable environment. They can trial new concepts and accurately benchmark new vehicle technologies, such as autonomous vehicles. Simulators enable the development process to be more efficient, in terms of both cost and time and provide more scope to bring innovations through from concept to product delivery.
Is your simulator useful for specific use cases? And is having different types of simulators for different use cases a more cost-effective solution or just more efficient?
We have a range of simulators, each of which covers a number of use cases. Our DMG-1 and DMG-360 simulators are especially well suited to vehicle dynamics and handling scenarios. Our DMG-X simulator has been specifically developed for ride and NVH simulation with large automotive payloads.
The simulator specification can also be customised according to the requirements, for example, some types of work may require specialised visual, audio or software solutions, or custom-designed cabins that represent a customer-specific vehicle.
Can you see your simulators being useful for developing autonomous vehicles?
Our simulators are especially useful for the development of autonomous vehicles where the emphasis becomes more about occupant comfort. Vehicle ride and the vertical dynamics simulation will become ever more important in this regard, and these are areas in which our simulators excel.
What can you do with your sim that hasn't been possible before?
One of the biggest areas where our simulators offer a real difference in what is possible is at the intersection between ride quality evaluation and noise, vibration, and harshness (NVH).
Until now, no other vehicle dynamics simulator has enabled automotive engineers to effectively develop a car digitally in these two areas; it has had to be done physically, which brings cost and adds time.
Our simulator makes this possible owing to the low latency combined with the ability to provide the full range of frequency content that would be experienced in the real vehicle. While a lot of simulators cover a range of 15 to 20 Hz, which can capture the natural body modes of the car itself, it's not enough, because what gets overlooked is the amount of high-frequency content which, while attenuated by the suspension, does pass through it to the body and the driver. Our driver-in-the-loop simulators provide accurate motion up to 100 Hz, well into the human auditory range, providing important cues for NVH.
When it comes to ride quality development, a lot of simulators are continuously correcting motion errors, and there's usually mechanical noise as well. The result is a ride that transitions between uncannily lifeless and unrealistically harsh. We've worked very carefully on our control strategy and our mechanical design to give a smoother, more organic feel. As many test drivers describe: "it just feels like a real car". If a test driver runs over a cat's eye – a displacement of a few millimetres of the sim itself – our simulator can deliver the correct short, sharp jolt that's so crucial to evaluating the ride.
By how much can an advanced simulator from your company play a role in reducing the reliance on physical prototypes?
Highly advanced Driver in the Loop simulators, such as the DMG systems, enable testing to be more productive. This is achieved by putting a more developed prototype into the hands of the test drivers which is much closer to the vehicle manufacturers aim to produce and reducing the number of prototypes which need to be developed.
These benefits don't mean automotive OEMs will completely get rid of all real-world testing – and neither should they. Vehicle development – whether for the road or a Formula 1 racetrack – will always require some real-world driving for manufacturers and teams to feel comfortable because of that natural expectation that it is only in the real world that we get the random, unexpected elements that together over 1000s of miles make up a vehicle's life.
However, with road cars, there is already approximately a 20% reduction in real-world testing miles required when using a high-performing DIL simulator. This could potentially increase to 50% in future when all workflows are optimised to make the most use of simulation. That is a huge leap in terms of speeding up a vehicle programme and dramatically cutting development costs.
I guess it is also a sustainability benefit.
Reducing the amount of real-world testing that needs to be done has sustainability benefits, in addition to improving time and cost efficiency. The ability to develop a car using fewer physical prototypes and real-world miles reduces the amount of materials required, the amount of energy used to produce the prototypes and the resulting C02 emissions created during their development.
What's next for Dynisma?
Dynisma has been scaling up over the last two years to the point that we are now delivering multiple projects across the globe. Our vision is to continue widening access to our unique technology, bringing the benefit of our high bandwidth, low latency technology to an ever-larger audience in diverse markets where high fidelity motion simulation is key.