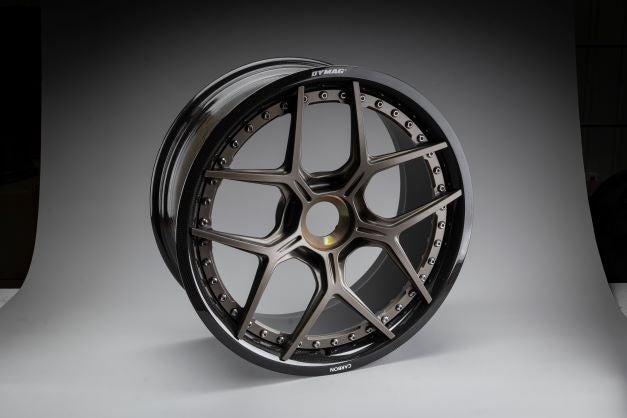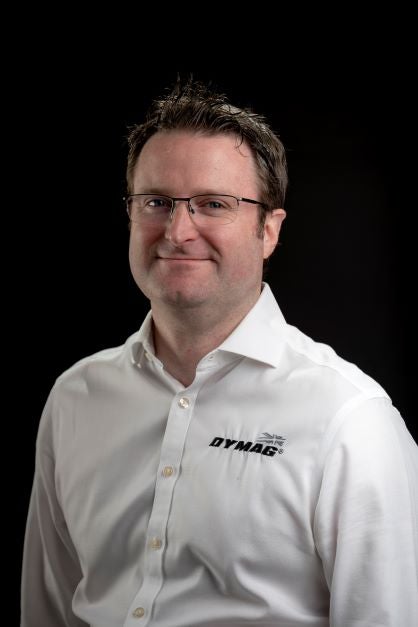 Could you tell us a little about the history of Dymag and its expertise in lightweight wheel technology?
For almost 50 years Dymag has produced world-beating wheel technology for road and track, forging a reputation for cutting-edge innovations in the design and manufacture of motorcycle and automotive wheels, clocking up a vast number of motorsport championship wins and speed records.
Launched in 1974, the company initially produced magnesium wheels for F1, IndyCar, IMSA, Moto GP and Superbike championship winners, including Senna, Mansell, Prost, Sheene, Fogarty, Dunlop and Hislop – but Dymag is not a brand that likes to dwell on past glories.
An innovator at its core, always with a keen eye on new technologies, Dymag began making carbon composite wheels for road and track motorcycles in 1995, launching the world's first carbon composite motorcycle wheel. Uniquely, it was certified for road and racing use, winning the World Motorcycle Endurance Championship at the first attempt.
In 2004 Dymag became the world's first company to productionise composite hybrid wheels for road cars, technology that was quickly adopted by OEMs such as Koenigsegg, as well as aftermarket options for BMW, Porsche and Ferrari customers who wanted striking lightweight wheels that function as well as they look.
Almost two decades on and Dymag is now best known for advanced wheel technology that combines lightweight carbon composites with a forged aluminium or magnesium centrepiece. This technology brings multiple advantages for automotive OEMs across all sectors, from luxury to high-performance, ICE to BEV, offering weight savings of more than 50 percent over a traditional cast alloy wheel, but with far greater strength and durability.
Could you explain the concept of a carbon hybrid wheel?
By opting for a hybrid construction with a carbon fibre rim and metallic centrepiece, Dymag utilises carbon fibre in the areas that have the most impact on the inertia of the wheel, while using high-strength forged aluminium or magnesium in the spokes where carbon is less optimal due to the compressive forces experienced during normal operation and particularly under impact.
Wheels made using carbon fibre as a key component bring advantages in terms of reduced unsprung mass but also a reduced moment of inertia, with less energy required to accelerate and brake. Another dynamic benefit is a reduced gyroscopic force thanks to the lightness of the rim itself, which means less steering effort is required.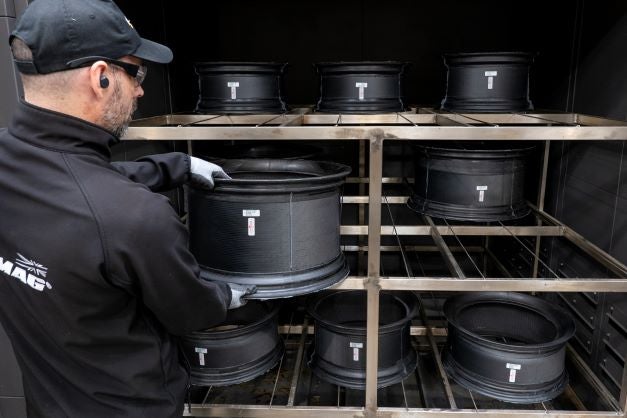 What are its benefits over traditional alloy wheels and also pure carbon wheels?
For the end user, hybrid wheels sit in a sweet spot between traditional alloy wheels and full carbon monobloc wheels. While not as lightweight as a full carbon offering, the Dymag hybrid range is over 50% lighter than a cast wheel while maintaining better affordability, design freedom and lead times compared to a carbon fibre monobloc.
Although 5-10% lighter than a hybrid wheel, the carbon fibre monobloc has limited design options where large section spokes are required to provide the necessary stiffness. Hybrid wheels have infinite centrepiece styling options and flexibility on carbon weave finishes.
What are the specific benefits for electric vehicles? And also large vehicles such as SUVs and pickups?
Whether it's keeping weight down or maximising range, handling, and aerodynamics, designing an EV is a major challenge, and while battery technology advances are enabling ever greater distances between charges, cars – particularly SUVs and pickups – are also only getting bigger.
Our wheels are more than 50 per cent lighter than a traditional alloy, yet also stronger and more durable. Further advantages come in terms of reduced un-sprung mass, but also a reduced moment of inertia, with less energy required to accelerate and brake. Another dynamic benefit is a reduced gyroscopic force thanks to the lightness of the rim itself, with less steering effort required.
These gains can make a huge difference on any EV, but a quantum leap on a BEV SUV or pickup.
Not that long ago, a 20-inch wheel might only be seen on a motor show concept, but now that size is standard on any sports car let alone a large SUV, with customers demanding 22-inch, 23-inch and even 24-inch rims.
Make a 23-inch wheel from traditional aluminium and the penalty is well over 20kg per corner – all of it un-sprung mass. An alloy wheel this size also operates at the very edge of that material's capabilities, particularly if you place it on, say, a large electric pickup, which could weigh more than 3,000kg.
Controlling this rotating mass is also difficult, requiring stronger suspension, and in extreme cases, an OEM can find that the addition of larger wheels literally shakes the vehicle apart. As SUVs and pickups get bigger and heavier, the last thing an engineer wants to do is add further weight. Dymag's carbon composite wheels can solve all these issues immediately.
What's more, that step-change four-corner weight saving potentially brings range improvements too, while carbon fibre's flexibility can also benefit NVH – a lifeline for any engineer developing an EV where the ICE is no longer masking nasty noises. Factor in the ability to make a wheel more aerodynamic too, and very quickly it becomes easy to see why using carbon hybrid wheels can solve so many issues.
In fact, the benefits are so great that it is best to look at carbon hybrid wheels, not in isolation, but as a key part of the whole EV solution. By adding them, everything quickly becomes a virtuous circle enabling smaller batteries, lighter suspension, and less sound deadening. The result is simply a better-performing EV.
What is the production process and how scale-able is this?
The production process is essentially very simple – it is the IP in the design that is the USP of the rims. In summary, the process consists of wrapping layers of high-strength carbon fibre around an aluminium cylindrical mandrel along with foam inserts in the wheel flanges that add fatigue resistance and impact strength to the end product. Outer form blocks are then fitted to form the tyre mounting surface and the tool is heated up. Epoxy resin is injected under low pressure using an infusion process and finally the wheel goes through batch post-cure, trimming and lacquering to end up with the final product. The centres are made using either forged aluminium or magnesium through traditional wheel processes and fixed in place using titanium bolts. This process is fairly manual currently, but it is easy to automate with relatively low capital investment and get the takt times down to a level where making tens of thousands of wheels per year is very feasible. We are on this journey now and should have our first production line ready within the next couple of years.
Stepping back a little, what do you feel are the big challenges facing the OE road wheels industry globally?
The challenges are pretty much the same as other OE parts – reducing CO2 footprint and recycling. This is a challenge for traditional metallic wheels which are energy-intensive in their production processes, but obviously, carbon fibre wheels have challenges on that front also. Our emphasis at the moment is on recycling and re-using the constituent parts (which looks very feasible), whilst we are also keeping an eye on the development of bio-rich materials (though their mechanical properties are not where we need them to be right now for the main structural components of the wheel).
What do you see as the main trends in wheel design?
Larger and larger diameter wheels continue to be the trend. Wheels are one of the most significant visual cues on vehicles and designers always want the largest diameters that they can. Currently 23" is about the maximum, mainly because the weight, and more importantly, inertia, of metallic wheels gets to such a level at that diameter that it isn't possible for the suspension on the vehicle to cope without it being incredibly heavy. The wheels start shaking the car apart and coping with even 23" wheels can bring compromises concerning ride comfort and NVH. At the same time, OE's don't want heavy wheels from a range or fuel economy perspective, and they also increase acceleration times.
This is where we hopefully come in by offering a much lighter option as described above, which either allows OE's to save weight whilst maintaining wheel diameter or possibly move to larger diameter wheels to satisfy the demands of their designers and ultimately consumers.
Is recruitment a challenge?
More than ever – we are in a high growth phase so recruiting both the shop floor and support staff that we need is challenging. People are somewhat reluctant to move in the current environment and when they do there are affordability challenges linked both to a lack of candidates and the cost of living. We are getting there though and generally moving towards recruiting factory staff that don't have prior composites experience (but the right attitude and aptitude) and training them up.
What's next for Dymag?
We have recently signed a memorandum of understanding with the South Korean firm Hankuk Carbon to develop our first automated production lines together and we are actively talking with a number of OEs about larger volume projects. In the meantime, we are continually improving both our product and current production processes to cement our position as the leading aftermarket supplier of hybrid carbon wheels.