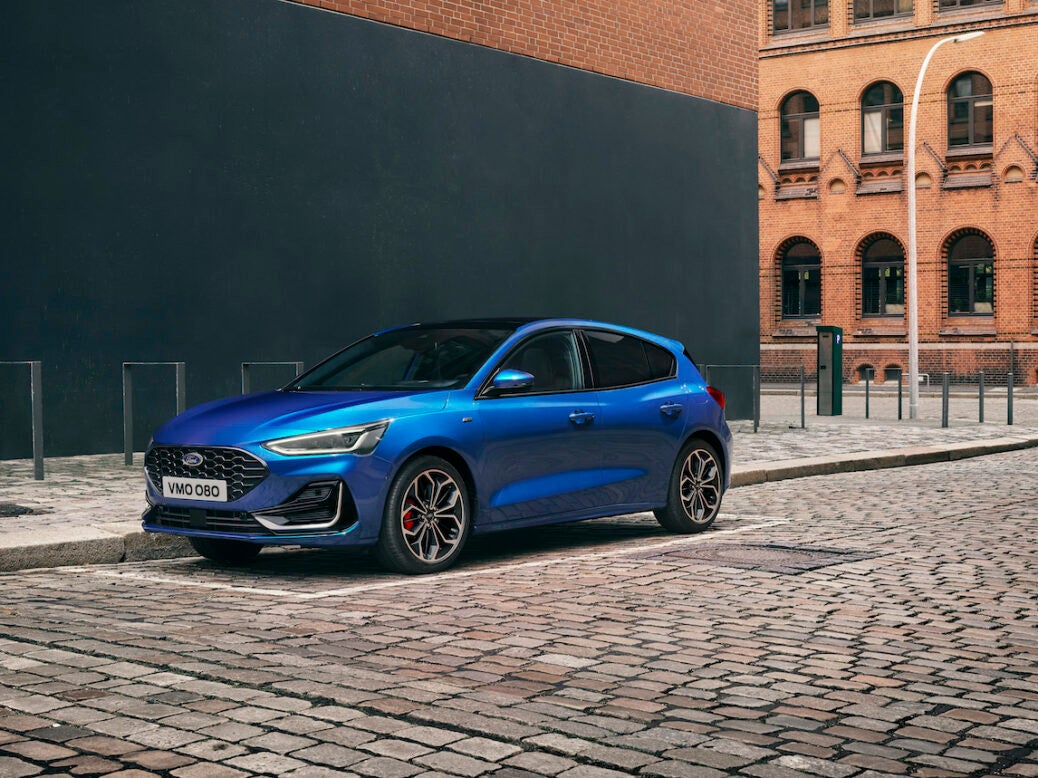 It seems ridiculous to entertain the possibility that Ford could banish the Focus name to the history books. Or does it? Already, we've seen the end of the Fusion and Mondeo everywhere but China, the Edge might be vanishing and of course the Taurus – once a huge seller in the USA – is gone.
Reinventing certain names is something else which the American company does. Cougar, once a niche coupe, has become an enormously successful crossover with a different spelling. And we all know about the Mustang Mach-E. For now at least, the Focus is safe, having recently had a mid-life update.
Power-economy mix
The engine line-up contains mostly mild hybrids and these offer a good mix of lower CO2 with excellent economy to boot. Having spent some days with the latest 155 PS ST-Line Vignale hatchback, I can confirm that this range of hatchbacks and estates is still at the top of its game.
The 155 PS 1.0-litre engine is linked to a standard six-speed manual transmission and as with all Ford of Europe vehicles, the revised Focus has sharp dynamics and beautifully compliant suspension.
With this engine and transmission, the CO2 average is 121 g/km, 0-62 mph takes 9.0 seconds, top speed is 130 mph and Combined consumption is 52.3 mpg. In fact, I saw even better fuel economy, if not quite as good as the official best WLTP number. Which is 60.1 mpg.
Facelift and interior revisions
In addition to some powertrain tweaks, the car has been given a new bonnet, fresh lights front and rear, new alloy wheel choices and a revised interior.
Inevitably, the former buttons for HVAC functions have gone, replaced by these functions now being on a screen. Still, they're fairly easy to locate quickly if not as easily as what went before.
Like most of the latest Fords, the dashboard, door trims, headlining and upholstery all have an appealing soft touch to them. Instrumentation is clear, lighting feels premium and there are few of the nagging beeps which bedevil many rival models. All in all, the inside of this latest Focus is really nice place to be, especially in Vignale trim.
What about sales?
Even though there wasn't a single Ford in the UK's July top ten, a sales tally of 68,024 keeps it in first place for the year to date. The brand has a lead of 1,948 passenger vehicles over second placed Volkswagen, while Kia is in third, the gap being 3,563 cars and SUVs.
On the face of it, the lack of Ford's long-time C segment hatchback and estate in the sales chart is shocking but it shouldn't be. A combination of buyers instead flocking to hybrids, PHEVs, EVs and the national infatuation with crossovers and SUVs are only two of the reasons. The other one is lack of cars.
Production
The company's Saarlouis plant makes all versions of the Focus for Europe. The regional division and national sales companies have reportedly been told recently that the German factory can take no fresh orders. Build slots are apparently backed up until 2023, a recent report further adding that production will fall short of 120,000 cars this year.
All of this comes on top of component shortages earlier in the year following the invasion of Ukraine and before that, Covid-related supply chain issues. Ford has also stated that it has no new model or models scheduled for Saarlouis once the plant stops manufacturing the Focus in 2025.
An EV as the successor?
It may be the case that Volkswagen either discontinues the rival Golf at the end of its own life cycle (potentially towards the end of 2026) or merges the successor with a larger replacement for the ID.3 ('ID.Golf') in early 2027. Could Ford do something similar? It probably will, in fact.
We know that there's a second EV coming as a result of the deal struck between Volkswagen and Ford, the first one being a crossover for Europe. Why not an electric hatchback-crossover that also uses the German OEM's MEB (platform)? It could certainly happen.
In 2021, Ford told us, "by mid-2026, 100% of [the] passenger vehicle range in Europe will be zero-emissions capable, all-electric or plug-in hybrid; moving to all-electric by 2030". Yet still there has been no mention of any new C-hatch and/or estate electric model.
Could Ford perhaps even pull away from today's Focus class? It might well do that, downsizing not only its manufacturing footprint but also the European model range.
Officially, two 'high-body' models are coming, at least one of these being an electric 'Sports Crossover' for the Niehl plant in Cologne during 2024. A year later the same factory begins making a 'medium-sized crossover'. Combined annual production capacity is 200,000 units.
Both of the electric crossovers were confirmed five months ago and each is an MEB architecture model.
The here and now
The update which the Focus has been given puts the car in a good place for the final years of its life cycle. And who knows, the name might well be used again, for example Focus-E or something similar. Whatever the future holds, what's at least certain is that the refreshed 2022 Focus is the best yet.
Focus pricing starts at GB22,965. The as-tested example costs from GBP28,625 before options.