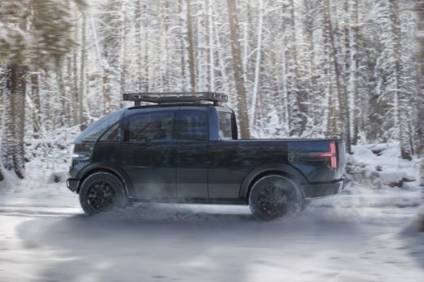 Can Canoo keep going? A question asked by one of our expert analysts this week. The pressure is on at Canoo as the much-hyped EV startup held a tough Q1 earnings call with investors after posting heavy Q1 losses. Canoo, based in Bentonville, Arkansas, lost $125 million in the first quarter of 2022, versus a $15 million loss this time last year. Most concerningly, Canoo stated it had "substantial doubt" that it could continue as a going concern due to the timing of its funding announcements. At the end of March 2022, the company had $105 million in cash and cash equivalents, and claims it expects $600 million in accessible capital to start production of its Lifestyle Vehicle in late 2022. Half of that capital comes through PIPE financing, while the other half comes from a universal shelf Canoo has filed for. The company has more than 17,000 pre-orders for its pod shaped, part van part mpv, and has also committed to delivering several customised versions to NASA by June 2023 for use as crew transportation vehicles for the Artemis space programme. Both of those approaching deadlines will be further weights around Canoo's neck as it races to start production.
Europe's diesel car market has been in seemingly inexorable decline in recent years. This week, Al Bedwell crunched the data and considered the outlook. In share terms, Europe's diesel car market peaked in 2015 at 48%, 30 years after it first achieved double digit penetration of the pan-Europe car market. But within a decade of the peak, it will have fallen back below a 10% mix of the region's passenger vehicle fuel type spectrum. By the end of this decade, it will have disappeared altogether from many markets with share across the region likely to be well below 5%. At its most prolific, diesel car sales were not far off nine million units (in 2007) and were in excess of seven million consistently from 2004 to 2017. We tend to think of VW's dieselgate incident in 2015 as the start of the decline of diesel but in fact the seeds of its demise were planted before that time. There was growing concern that diesel's CO2 advantage over gasoline meant that it was being given excess leeway as regards regulation of its noxious emissions (primarily NOx and PM) compared with the tougher standards that gasoline cars had to meet. Making diesel achieve similar levels was possible (and has been achieved with the latest diesel cars) but it was expensive and hence slow to evolve. At the same time, the type of technology that made diesel efficient was migrating to the gasoline sector resulting in torquier gasoline engines with efficiency that may not match diesel (all things considered) but wasn't far behind. Governments then started to disfavour diesel cars by way of penal taxation which eroded savings from better fuel efficiency and cheaper (in many markets) fuel versus gasoline fuel. Of course, VW's diesel image destroying activity was a catalyst for acceleration of diesel decline but as noxious emissions targets in Europe (Euro 5, Euro 6…) became tougher the cost of diesel emissions compliance widened the price gap between diesel and gasoline cars and made diesel uneconomical in firstly small and then increasingly in medium sized car segments.
More future Mercedes model analysis out this week: AMG's new showcar previews a Porsche Taycan challenger for mid-decade. The just-revealed Vision AMG previews project C295, a Taycan-fighter. A newly stated emphasis on returns from high-end Mercedes-Benz Group models means AMG's sales volume in 2021 may remain the division's record for many years. There will also be a transition to electrification and that's already begun via PHEVs and, increasingly mild hybrids. One such MHEV is the latest generation AMG C-Class, the C 43 4MATIC sedan and estate having been announced a few weeks ago. Powered by Mercedes' M139l engine (l for longitudinal installation), this 1,991 cc four-cylinder turbocharged unit features 48V electrics. A C 53 or C 63 may follow. As for the life cycle, there will be a facelift in 2024 and a successor in 2028.
Renault unveiled a hydrogen powered car – the 'Scenic Vision' – at the ChangeNOW summit in Paris. The company says it embodies Renault's commitment to sustainable development and reflects the brand's plan to decarbonise its entire lifecycle. Luca de Meo, Group CEO, said: "All our corporate commitments are not enough if we are not taking them all the way down to our vehicles. That's why I requested the Renault teams to come up with the first concept-car that fully embodies our new ESG strategy and its three pillars: environment, safety, and inclusion. We called it Scenic Vision. Scenic, like our iconic voiture a vivre, and Vision because it fits people's new expectations." Renault says eco-design and circular economy innovations, incorporating over 70% recycled materials, including several closed loops, and 95% recyclable, contribute directly to resource conservation.
VW's appetite for making EVs knows no bounds. Its has expanded global production capacity for electric vehicles by making the ID.4 in Emden as well as Zwickau and Chinese plants in Anting and Foshan. Chattanooga and Hanover will also commence EV production this year. The company plans capacity for 1.2 million EVs a year based on the MEB platform. It spent EUR1 million converting the Emden plant (8,000 employees) to EVs. It is spending EUR21 billion in Lower Saxony up to 2026 to make the federal state Germany's centre for electric mobility. Emden will make the AERO B2 next year and production of the ID. Buzz3 will commence this year at Hanover. In 2023 the ID.3 will also be made in Wolfsburg with the Trinity4 to follow in 2026.
Lear Corporation, the seating and E-systems supplier, said it had acquired Thagora Technology, a privately held company specialising in material use hardware and software technology based in Iasi, Romania. Lear said Thagora's proprietary products would complement its sustainable manufacturing processes by reducing scrap and lowering energy use during production. The new acquisition's Industry 4.0 technology also brings "significant advances" to manufacturing operations through engineering and logistics, including improved material traceability, and facility footprint use. "Thagora offers Lear access to scalable, smart manufacturing tools that will be a valuable addition to our business," said Frank Orsini, Lear's seating chief.
BMW Group said it was stepping up its commitment to achieving climate neutrality and expanding its use of secondary material in closed recycling loops. For the first time in China, the BMW Brilliance Automotive joint venture (BBA) has established a closed loop for reuse of the raw materials nickel, lithium and cobalt from high-voltage batteries that are no longer suitable for use in electric vehicles. The batteries come from fully and partially-electric development vehicles, test systems and production rejects and, in the future, also from end-of-life vehicles. In this way, the company says it is laying the foundation for a pioneering material cycle, which is becoming increasingly important as e-mobility ramps up. To realise this, BBA is working with a local recycler that dismantles retired batteries and uses innovative technology to recover a high percentage of the raw materials nickel, lithium and cobalt from the battery cells. The raw materials obtained in this way are then used in production of new battery cells. The closed-loop material cycle conserves resources and, at the same time, reduces CO2 emissions by 70%, compared to using newly extracted primary material.
The proportion of automotive manufacturing and supply companies hiring for robotics related positions rose in April 2022 compared with the equivalent month last year, with 53.8% of the companies included in our analysis recruiting for at least one such position. This latest figure was higher than the 47.5% of companies who were hiring for robotics related jobs a year ago but a decrease compared to the figure of 58.5% in March 2022. When it came to the rate of all job openings that were linked to robotics, related job postings kept steady in April 2022, with 2.5% of newly posted job advertisements being linked to the topic. This latest figure was an increase compared to the 2.4% of newly advertised jobs that were linked to robotics in the equivalent month a year ago. Robotics is one of the topics that GlobalData, from whom our data for this article is taken, have identified as being a key disruptive force facing companies in the coming years.
The proportion of automotive manufacturing and supply companies hiring for machine learning related positions rose in April 2022 compared with the equivalent month last year, with 41.5% of the companies included in our analysis recruiting for at least one such position. This latest figure was higher than the 32.2% of companies who were hiring for machine learning related jobs a year ago and the same as the figure of 41.5% in March 2022. When it came to the rate of all job openings that were linked to machine learning, related job postings dropped in April 2022, with 1.2% of newly posted job advertisements being linked to the topic. This latest figure was an increase compared to the 0.7% of newly advertised jobs that were linked to machine learning in the equivalent month a year ago.
Seven years on, dieselgate still reverberates through the industry. The Volkswagen Group is paying GBP193m to settle 'dieselgate' claims here in the UK. Claimants reached an out of court settlement in the Volkswagen NOx Emissions Group Litigation. That group action concerned claims, which first became public in September 2015, made in respect of the two mode software installed in some VW group vehicles with EA189 diesel engines. The terms and conditions of the settlement were confidential.
Not to be outdone, the US business of Fiat Chrysler Automobiles has agreed to plead guilty to criminal conduct and pay about US$300 million in penalties to resolve a multi-year emissions fraud probe surrounding vehicles with diesel engines, Reuters sources said. FCA US, now part of Stellantis NV, has agreed to plead guilty to a criminal conspiracy charge arising from its efforts to evade emissions requirements for more than 100,000 older Ram pickup trucks and Jeep SUVs in its US lineup, the news agency sources said. The plea deal, negotiated with US Justice Department officials, was set to be unveiled as soon as next week, though the timing could slip. The company would then enter its guilty plea during a subsequent hearing in a US district court, Reuters reported.
China's government is reportedly planning to slash auto sector taxes in order to stimulate sluggish demand and help domestic companies. China's automotive sector is considered by Beijing to be an essential pillar of the economy and the government has not hesitated to support it in the past when economic growth prospects have weakened. The State Council is, according to media reports, preparing a number of measures to stimulate the economy including a cut to vehicle purchase taxes – though no details are available yet.
UK car production fell 11.3% in April with 60,554 units rolling off factory lines, according to the latest figures released by the Society of Motor Manufacturers and Traders (SMMT). The drop was a result of several factors exerting downward pressure on UK car producers including the ongoing global shortage of semiconductors, the impact of the war in Ukraine on supply chains, model changes and broader industry structural changes. These factors also had a significant effect on year-on-year export comparisons, with the closure of a Honda's UK car plant (Swindon) in 2021 continuing to impact export figures, particularly to the US.
Have a good weekend.
Graeme Roberts, Deputy Editor, Just Auto