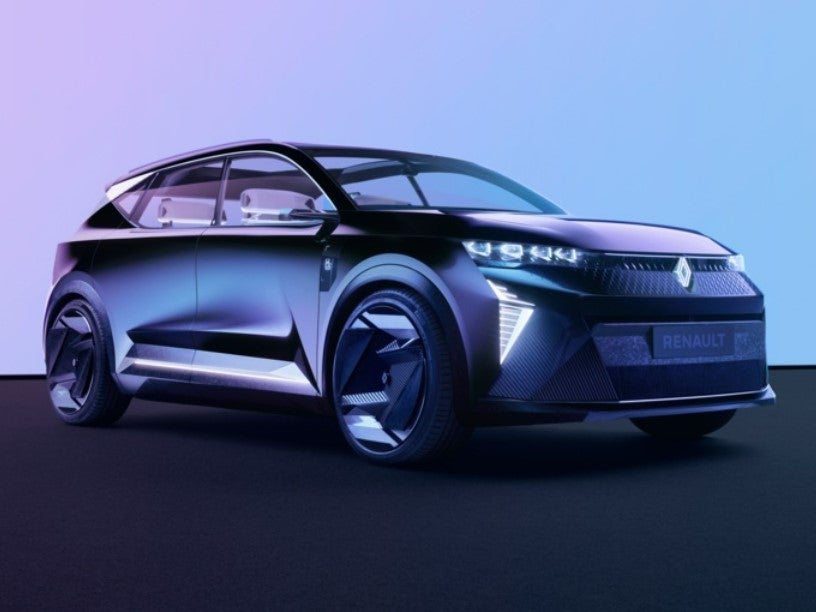 Renault has unveiled a hydrogen powered car – the 'Scenic Vision' – at the ChangeNOW summit in Paris. The company says it embodies Renault's commitment to sustainable development and reflects the brand's plan to decarbonize its entire lifecycle.
Luca de Meo, Renault Group CEO said: "All our corporate commitments are not enough if we are not taking them all the way down to our vehicles. That's why I requested the Renault teams to come up with the 1st concept-car that fully embodies our new ESG strategy and its 3 pillars: environment, safety, and inclusion. We called it Scénic Vision. Scénic, like our iconic "voiture à vivre", and Vision because it fits people's new expectations."
Renault says eco-design and circular economy innovations, incorporating over 70% recycled materials, including several closed loops, and 95% recyclable, contribute directly to resource conservation.
Its hybrid electric and hydrogen powertrain, aims to reduce downtime related to energy recharging while reducing the carbon footprint, including the battery. Renault Scénic Vision is zero emission in production and in use with a 75% smaller carbon footprint than a conventional battery electric vehicle.
Renault says the exterior reveals the shapes and style of a new all-electric family model that will be marketed in 2024.
The company says the hydrid electric and hydrogen powertrain, reflects Renault's desire to find solutions for all types of use and is part of a longer-term vision, beyond 2030. This design opens the way to new perspectives, that of a world where cars and people converge towards the same values.
Gilles Vidal, VP Renault Brand, Design, said the concept's exterior design previews a new electric car planned for 2024.
"Scénic Vision represents a new chapter in the history of Renault Group and for the brand. This concept prefigures the exterior design of the new Scénic 100% electric model for 2024 and the new Renault design language," he said. "The interior design is a forward-looking study of future Renault interiors. Scénic Vision provides a suite of technologies and innovations at the service of a more sustainable mobility."
There is also a collaboration with musician Jean-Michel Jarre. Scénic Vision sets the beginning of a close collaboration with Jean-Michel Jarre. The artist will be an ambassador of the Renault brand, working with the teams on future solutions to be included into the product lineup.
Some 70% of the materials used in the vehicle are recycled and over 95% of the vehicle is recyclable, including the battery.
The floor of the vehicle was composed by agglomerating plastic scraps from other sources (milk bottles, plastic pipes, etc.). On the whole vehicle, 30% of the plastic is biosourced. The vehicle's fittings are made of recycled carbon from the aeronautical industry.
Short loops are being deployed on strategic materials such as platinum, copper, aluminum and steel as well as the battery's minerals.
The leather is abandoned and replaced by 100% recycled low carbon polyester. The fuel cell tank is made of carbon fibre from recycled paper waste
Powertrain: H2-Tech technology
H2-Tech technology means a hybrid vehicle, both electric and hydrogen, equipped with a 16kW fuel cell. The H2-Tech technology is based on the "range extender" technology, which makes it possible to carry a battery that is twice as light, for the same range, thus contributing to decarbonization beyond the electrification of the vehicle. Although this solution is a vision for a passenger car, Renault Group through Hyvia (joint venture with Plug Power) already offers H2 solutions on LCVs.
Timeline
Renault is targeting 2030 and beyond for this tech, once the network of hydrogen stations is large enough. It says by then you should be able to drive up to 800 km – or, for instance, 750 km from Paris to Marseille – without stopping to charge the battery. You will only have to stop for 5 minutes or less to fill the hydrogen tank.
Renault claims that following on from the partnerships already entered into, this vehicle has a carbon footprint that is 75% smaller than that of an electric vehicle such as the Megane E-Tech electric. Its battery is up to 60% less carbon intensive than an equivalent battery, thanks to the use of short loops and low-carbon sourcing of minerals, and the use of low-carbon energy to assemble and produce the battery.