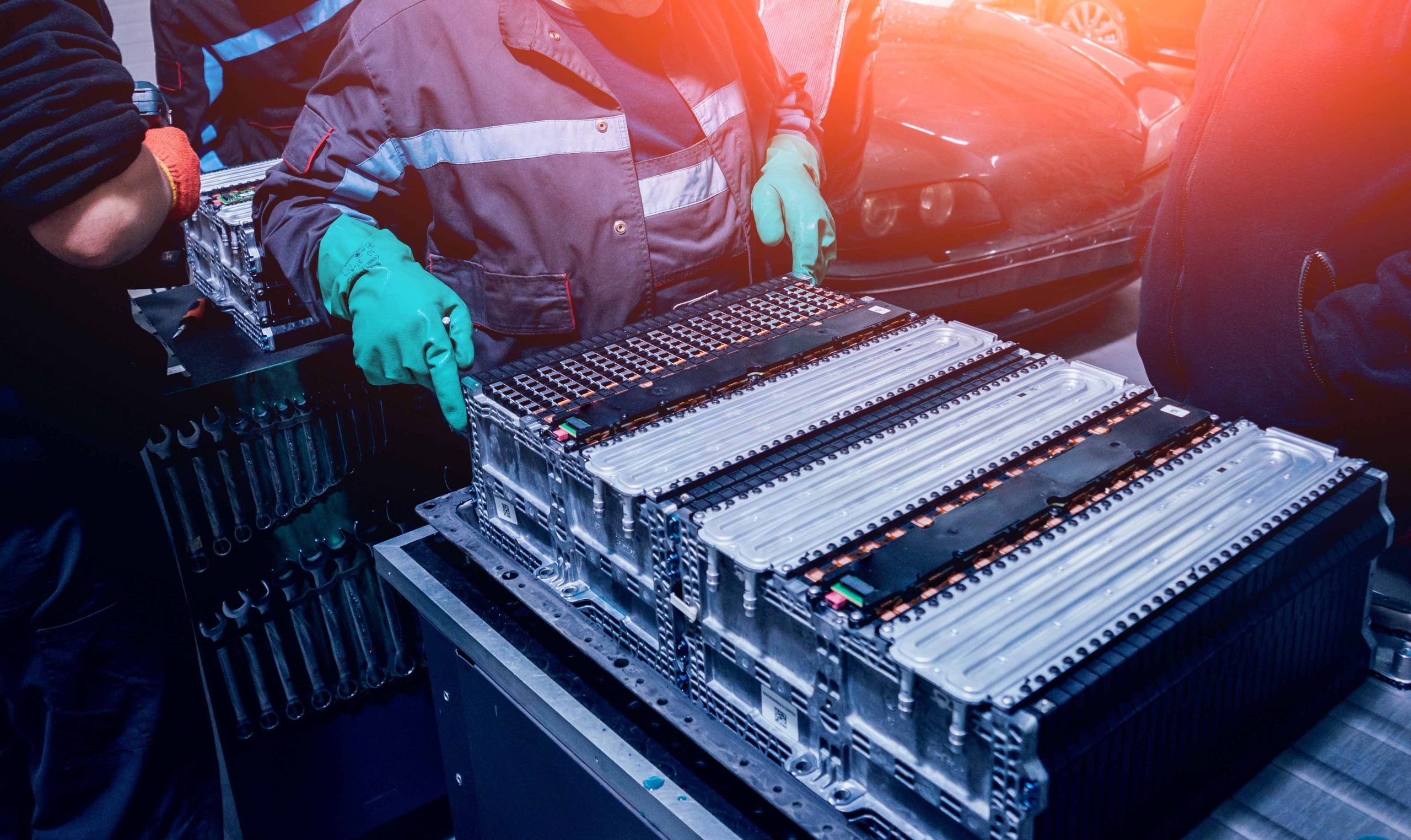 Technology is advancing rapidly, transforming our urban spaces with electric vehicles (EVs) and autonomous cars, with promises of flying taxis and hyperloops for fast and efficient journeys in the near future.
Approaching a net-zero world, high-energy density, safe, and cost-effective batteries are crucial for transportation moving forward.

Battery development requires collaboration across many sectors: chemical, electrical, electronics, mechanical, and software, and traditional engineering methods developed for internal combustion engines (ICE) are inadequate to face the challenges ahead.
New patents on the rise
GlobalData's patents database shows that published patents in batteries and other electrification tech are way ahead of other sectors. Data for the second quarter (2023) shows more than 25,400 patents in batteries and 18,800 in other electrification technologies.
Major manufacturers, Toyota, Hyundai, and Kia are leading in electrification technologies, while LG Corp and CATL are leading in batteries.
While Toyota is playing catch-up in EVs and hybrids, LG Corp is expanding automotive powertrain battery manufacturing and exploring next-generation technological refinements.
Meanwhile, CATL has developed new materials that it claims improve charging efficiency for EVs, particularly in extremely cold conditions. Hyundai Motor and Seoul National University (SNU) have established a collaborative battery research institute to boost innovation and enhance industry-academia collaboration, with the auto company investing heavily in the project.
Analysis by GlobalData suggests the dominance of batteries and electrification technologies is a result of the work of major corporations' R&D departments to create innovative systems and processes that will facilitate advancements in future electrified vehicles.
Net zero, safety, and the supply chain
Challenges to electrification include the lack of robust charging infrastructure, higher upfront costs of EVs, and limited local battery manufacturing capacity, leading to reliance on imported battery technologies.
The high cost of battery packs also remains a hurdle for battery producers.
Sustained growth will depend on yet-to-be-proven battery technology and supporting government policies.
Additionally, the rising cost of battery raw materials is translating into higher costs for consumers. The industry is heavily invested in lithium-ion technology but is increasingly looking to alternative battery chemistries to reduce production costs and/or improve storage capacity.
Battery safety remains a high priority.
EV designers must not only ensure the safety of drivers and passengers, but also the batteries themselves during collisions to prevent damage and the potential for fire. Space constraints mean it can be difficult to keep batteries secure. Optimal EV design requires collaboration, with separate design teams coming together and managing engineering processes efficiently.
Other challenges come from supply chain issues, and in many parts of the world, supply bottlenecks continue to be the principal factor impeding sales.
At a recent summit, reported by Just Auto, Ford CEO Jim Farley noted that: "There will be winners and losers in the supply chain. Lithium is critical: you have to have the best product strategy – but if you don't control the supply chain you won't win."
Ford's plans to produce two million EVs annually by 2026 has led to the firm recently securing agreements to guarantee its access to lithium supply, including a long-term agreement with Nemaska Lithium for about 13,000 tonnes of lithium hydroxide over an 11-year period.
Forecasted trends in battery technologies
GlobalData's recent report, Global Sector Overview & Forecast: Battery Technologies – July 2023, suggests that trends in batteries are driven by the need for extended range, power storage capacity, and recycling concerns.
Lithium-ion batteries are expected to remain popular and dominant for the next few years, but there is a growing interest in alternative chemical technologies for batteries, with solid-state, sodium-ion, aluminium carbon GNG, sodium-based cells, and lithium-sulphur emerging as alternatives.
Energy security is still a major political concern worldwide, driving governments to consider alternative fuels and promote electrified vehicles. Countries leading in EV adoption are predominantly oil-importing nations.
The high cost of battery packs also remains a challenge for battery producers. Reduction in costs could come from efficient factory management, cutting waste, or other management-related expenses.
The report concludes that environmental regulations and the global focus on fuel economy and CO2 emissions are principal drivers of developments in almost all automotive sectors, including battery technology.
The transportation industry is changing
As net-zero targets start to hone into view, auto-makers are now looking to new battery technologies and digitalisation processes to ease supply chain worries and decrease costs in a high inflation environment. Recent stories in Just Auto highlight some of the following initiatives.
Electric car maker and big gun Tesla plans to produce its 4860 battery cells by 2024, aiming to revolutionise the industry by eliminating tabs (metal components that connect batteries to external power sources). Tesla says its aims are to streamline production, reduce faulty products, and reduce the need for paused production lines.
In March of this year, Daimler Truck AG and Siemens Digital Industries Software announced a new partnership utilising the Siemens Xcelerator portfolio of software and services. The new platform is said to allow Daimler Truck to explore more efficient product development and lifecycle management of trucks and buses.
Other recent deals include ProLogium and Mahle collaborating on solid state batteries, to create a thermal management system with the aims of improving safety, energy density, and lifespan.
The transport sector is evolving, possibly even more quickly than you realise.
Learn more about battery development
Companies like Siemens Digital Industries Software are giving businesses the agility, flexibility, and adaptability they need to translate ideas into innovations more rapidly and efficiently by adopting digital transformation.
Join experts Dr Puneet Sinha, Ed Bernardon, and Tom Spangler for a wide-ranging discussion on transportation sector changes and the implications for companies that develop, integrate and use batteries, battery packs, and related components.
Further details
To register for this exclusive webinar, click here.