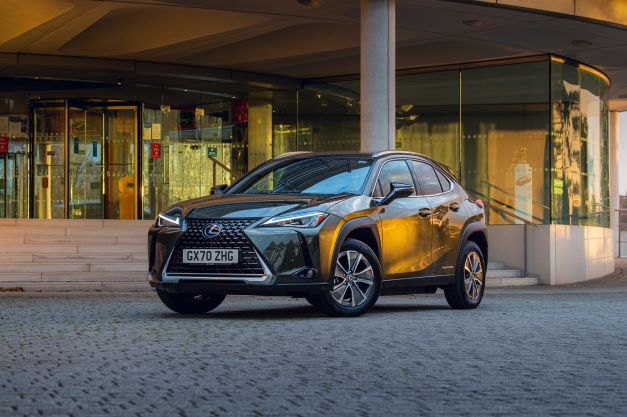 As a switch to EVs begins, Lexus' USP should be its reputation for standard-setting reliability and dealer service. Hybrids have brought the brand success in many countries. Now even in the US, six- and eight-cylinder ICE engines are being replaced by petrol-electric I4s. Next, Toyota will little by little begin to standardise batteries rather than liquid fuel for many Lexus models worldwide. Key to this will be keeping existing customers – some of the happiest of all car owners – thrilled as they trade in an ICE car or SUV for an EV. Equally vital is attracting those who drive an electric vehicle made by Tesla, Nio and many other high-priced alternatives. So what does Lexus have in the future models pipeline?
EV subscription services offer customers the opportunity to access EVs without the barrier of a high paywall. As countries set goals and targets for EV adoption, many potential consumers are faced with barriers, the most common being purchase cost, when it comes to taking on an EV. Alongside the issue of initial cost comes the problem of availability due to part shortages and other uncertainties that impact the attractiveness of EVs from a Total Cost of Ownership (TCO) perspective. This is where subscription services come in, offering customers the opportunity to take on an EV without the high paywall or long-term financial commitment. They can also offer the flexibility of easily changing vehicles according to customer preferences. All-inclusive EV subscription service Onto, has recently raised $60m USD in equity enabling the business to further develop within the UK and expand into Europe, starting with Germany. The subscription is all-inclusive of insurance, breakdown cover and public charging without an upfront deposit or long-term commitment. We spoke to CEO and co-founder, Rob Jolly, to find out more about the companies next steps for Europe as well as the benefits the subscription offers to customers.
Simulator manufacturer Ansible Motion has made significant sales with its Delta series S3 simulator revealed earlier this year. Alongside BMW, Honda and Continental, the UK firm announced it had sold its simulator to Deakin University in Australia, underlining the versatility of its driver-in-the-loop simulator. The demand is not just for the products either, as the Hethel-based company has just been acquired by AB Dynamics. We spoke to founder and technical director Kia Cammaerts from Ansible Motion to understand the reasons behind its acquisition and plans.
Daihatsu Motor Company and its subsidiary Perodua dominate certain small car segments in some Asian markets. The Malaysian brand even controls its home market with a 40% share. Meanwhile in Japan, Daihatsu regularly battles Honda and Suzuki for second place overall despite offering only a handful of non-660cc models. As electrified and electric models begin to become mainstream, both companies must soon begin to reinvent their model lines. Yet they must not forget that there will continue to be lots of demand for combustion-only cars, SUVs and LCVs. This report looks at certain Daihatsu and Perodua models plus others yet to be launched.
Honda of Canada Mfg (HCM) has begun mass production of the redesigned, sixth generation 2023 CR-V. HCM is the global lead plant for the CR-V which has been built in Canada since 2012. Production is also about to start at the US Indiana Auto Plant (IAP) and East Liberty Auto Plant (ELP) in Ohio. Production of the hybrid version will start in Canada in October, followed by IAP and ELP. Honda said it would increase production of the hybrid to half of CR-V sales, a key step in its overall electrification strategy.
What is now the Stellantis assembly plant in Tychy, Poland has built its 12,500,000th vehicle. The nominated car was a two-tone Fiat 500 Dolcevita hybrid destined for Belgium. Vehicle No. 12,499,999 was a Lancia Ypsilon Hybrid for Italy while #12,500,001, was an Abarth 695 Tributo 131 Rally for Germany. The plant has previously built a Ford Ka variant using the Fiat 500 platform. Build ended in 2016.
Good news for beleagured Ssangyong: it signed a final contract to export 170,000 semi knocked down (SKD) kits to a Saudi Arabian distributor by 2030, as the South Korean automaker's recovery from technical bankruptcy and court protection continued to gather pace. Ssangyong signed a preliminary agreement last January to supply vehicles to Saudi National Automobiles Manufacturing Company over a seven year period starting in 2023. The final agreement provides for Ssangyong to supply three variants of the new Rexton SUV range for Snam to complete the final assembly process at a new plant currently being built in the port city of Al Jubail. Around 30,000 SKD kits will be shipped each year from South Korea from 2023; new business which will be welcomed by the South Korean consortium led by KG Group that is scheduled to complete the acquisition of Ssangyong in October.
Both automakers and EV battery makers are scrabbling to lock in supplies of materials: latest is SK On's announcement it had signed a preliminary lithium supply deal with Australia mining firm Global Lithium Resources to secure supplies of raw materials for future battery production. SK On said securing lithium from an Australian supplier for the batteries it plans to produce in the US would make its products eligible for EV tax credits because US tax regulations "favour batteries with parts made in the US or by its free trade partners". SK On said it had signed a non-binding memorandum of understanding (MOU) to procure spodumene from two Global Lithium mines which are estimated to have reserves of around 500,000 tons combined, although the timeframe has yet to be finalised.
After a sustained period of decline, European new vehicle registrations finally increased in August. According to Jato Dynamics data for 27 European markets, volume increased 3.5% year on year to 739,037 units but YTD volume fell 12% to 7,143,460 units. Only six markets posted a decline during August with the big five (Germany, France, Spain, Italy, UK) among those that saw growth during the month.
UK car manufacturing output rose for the fourth consecutive month in August, up 34% year on year to 49,901 units, according to the latest figures published by The Society of Motor Manufacturers and Traders (SMMT). The August performance was, however, some 46% below August 2019's pre-pandemic level of 92,158 units, underlining the scale of recovery still needed for the under-pressure sector. The SMMT said the rise, though welcome, follows a very weak performance in August 2021 when production stoppages and extended summer shutdowns caused by the global chip shortage saw volumes plummet to historic lows.
Volvo has developed a new interior radar feature designed to be accurate and sensitive enough to detect the tiniest movements at sub-millimetre scale, such as those of a sleeping toddler. It's the first such feature to cover the entire interior of the car, including the boot (trunk). The new radar will be included in the upcoming BEV EX90 SUV designed to prevent children being accidentally left in cars. US government statistics show that since 1998 900 children in the US have died after being left in hot cars. Heartbreakingly, a majority of hot car deaths occur because someone forgot that their child was in the car at the time. The system will be standard in the EX90 where regulation allows and added to other models later.
Have a nice weekend.
Graeme Roberts, Deputy Editor, Just Auto