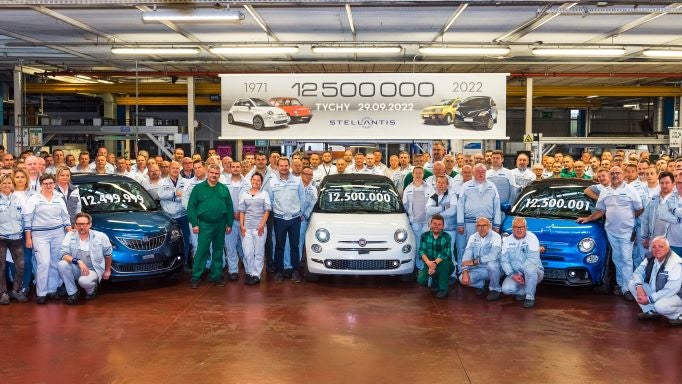 What is now the Stellantis assembly plant in Tychy, Poland has built its 12,500,000th vehicle.
The nominated car was a two-tone Fiat 500 Dolcevita hybrid destined for Belgium.
Vehicle No. 12,499,999 was a Lancia Ypsilon Hybrid for Italy while #12,500,001, was an Abarth 695 Tributo 131 Rally for Germany.
The plant has previously built a Ford Ka variant using the Fiat 500 platform. Build ended in 2016.
"We are beating new records and it is all thanks to our beloved Fiat 500, because it is with the production of this model that our plant has reached such an impressive figure of 12.5 million," said plant manager Tomasz Gebka.
Tychy plant will soon build the new Jeep Avenger, the brand's first fully electric SUV and the first electric vehicle produced in Poland for the mainstream market.