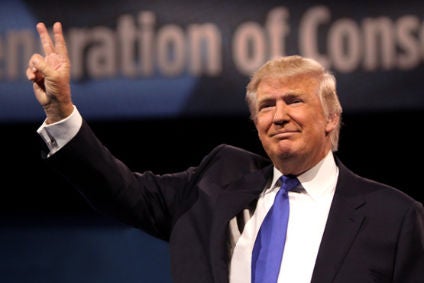 A certain president-elect Trump remained in the news this week, as you'd expect. First up, a couple of possible scenarios from LMC Automotive, one of which foresees the sales loss of a million units a year for the US. LMC's 'Adverse Trump' scenario assumes that many, though still not all, of the stated Trump policies are implemented. The resulting slowdown in the US economy, and declining trade flows between several of the world's largest economies, has far-reaching consequences around the globe, it says. It would also include more punitive tariffs on Mexican and Chinese goods, which is ultimately extended to other countries. A 'strong retaliatory response' would be expected.
Last night, in a couple of tweets, the prez-elect claimed credit for stopping Ford shifting production of a Lincoln SUV to Mexico, even though, local media reported, there would not be any job losses as more Escapes (Kuga) would be made instead. Ford made the most of it in a subsequent statement: "We are encouraged that President-elect Trump and the new Congress will pursue policies that will improve US competitiveness and make it possible to keep production of this vehicle here in the United States."
Meanwhile, it's wait-and-see. As the Detroit Free Press said in a report on the apparently canned Lincoln shift: "Trump also has promised to bring manufacturing jobs back to the US and has said he wants the US to withdraw from the North American Free Trade Agreement and has talked about imposing a 35% tariff on cars made in Mexico as well as other products."
"A tariff like that would be imposed on the entire auto sector, and that could have a huge impact on the US economy," responded Ford CEO Mark Fields at the Los Angeles show. Several other top-ranking executives at the show declined to comment directly to the Free Press on Trump's comments about NAFTA or the tariff. Instead, most said it was too early to comment on Trump's comments on the campaign trail because he hasn't formally proposed anything yet. Roll on post-January when the reins of power are finally handed over.
Meanwhile, Samsung's swoop on Harman attracted a lot of interest this week as did our look at car sharing. Alfa Romeo launched an SUV at the LA show and Jaguar previewed its vision for electric models. In other news, Faraday Future halted factory construction and the NHTSA demanded automakers make EVs noisier. That'll spoil all the fun of sneaking up on an unsuspecting pedestrian in your Prius but responds to a long-standing, serious and justified call from people who are blind or have low vision.
Just today, Volkswagen has agreed a major deal with its workers that will see the axing of 23,000 jobs in Germany alone – with no compulsory exits – while preserving 9,000 other posts doing new mobility things. The goal is greater efficiency and profitability. Meanwhile, premium brand Audi is being eyed over CO2 emissions – the automaker really does not need 'CO2gate' on top of 'dieselgate'. And there was news of plans to give the brand a boost in China with a new JV.
Have a nice weekend.
Graeme Roberts, Deputy Editor, just-auto.com