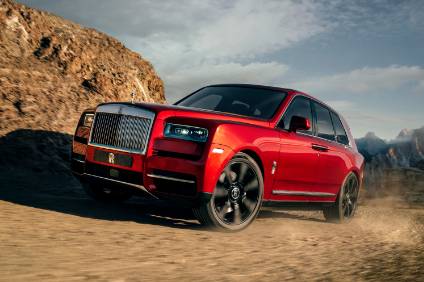 2018 was quite the year and threw up one or two surprises in the automotive business. Editor Dave Leggett's personal review picks out some highlights as seen through the prism of just-auto's industry coverage.
What a year that was. We got to know a new acronym and one that caused some OEMs a fair bit of grief (WLTP). A trade war broke out between the world's two largest economies and a couple of big beast auto company executives found themselves deprived of their liberty by prosecutors. And, here in Britain, Brexit was always on our minds as the automotive sector contemplated (and, indeed, still contemplates) the uncertain outcomes that will impact trading arrangements between the UK and its biggest trade partner next door – the EU. Here's a month by month rundown, January-June (part 2 – July-December follows later this week).
January
January means CES, which is increasingly competing with Detroit's auto show – NAIAS. Next month's NAIAS will be the last one held in January as the event moves to the more pleasant weather-wise month of June in 2020. I must be one of the few people around who actually likes Detroit in January, when it's properly cold with no shortage of ice and white stuff (here in the UK, we play at it by comparison and if we do happen to get a dusting of snow, everything is disrupted). And there was a striking installation outside the Cobo. Well, it's not every day you see a full-size SUV encased in synthetic resin.
Here's our collated coverage from both shows.
Something that stuck with me at Detroit was a chat I had with Richard Chung on the Adient stand. I had the opportunity to sit in a futuristic cabin and was able to imagine, a little bit, how the experience in a fully autonomous vehicle could turn out. The re-thinking of the interior space is clearly an important element in this future vision. There would no longer be a requirement for the driver (or 'lead passenger') to sit in the corner of the cabin. Rather, as Adient's concept demonstrated, the passengers can potentially be moved around in dynamic seats for the most comfortable configuration – according to how they spend the time in the vehicle. You can position the seat towards the middle of the cabin rather than being fixed and squeezed into the corner, for example. And turn one of the seats around for one-to-ones. Fascinating stuff. What will we actually DO in a car with fully automated point-to-point driving. I suspect the answer to that will be many-fold, human nature being what it is.
DETROIT – Adient looks to future with AI18 autonomous concept
Self-driving cars have been talked about for decades. The earliest representation of such a car appeared way back at the 1939 World's Fair where GM depicted electric cars powered by circuits embedded in the roadway and controlled by radio. Here's a handy guide to suppliers exhibiting AV technologies at the CES:
Suppliers use CES to showcase Level 3-4 autonomous driving technologies
January also brought news of how well Audi's 'employee suggestions' scheme is working.
Ideas from employees saved Audi over EUR100m in 2017
And if you are wondering how Big Data can improve our quality of life beyond the personalisation of the advertising hoarding you walk past, how about this neat synergistic tie-up between Lyft and a brewing company in Chicago. Cheers to that.
Lyft drinks in the big data with beer tie-up
The end of the month ends on a bizarre and slightly uncomfortable note when details emerge of Volkswagen's testing of harmful tailpipe emissions on monkeys. And some human volunteers, also. Well, it's perhaps not just VW. And the practice of similar testing on animals goes way beyond automotive of course. It's slightly disturbing to think about (and we mainly do not, of course).
German diesel fumes testing scandal deepens
February
News emerges of a big slowdown in Nissan profits, something that may well contribute to pressures inside the company later in the year. Incentives in the US and the effects of a testing scandal in Japan are denting its bottom line and outlook.
Amid the constant chatter of disruption and the march of megatrends, a think piece on just-auto points out that there is a new competitive dynamic at work – FOMO (the Fear Of Missing Out). In a year of acronyms, it's a good one to bear in mind when listening to the latest CASE (or ACES) briefing from an OEM/supplier/management consultant.
In what turned out to be quite a tumultuous year for Tesla and its mercurial founder, it books its largest ever quarterly loss. Making electric cars at high volume (while managing quality and the supply chain) and turning a profit is no walk in the park, although Tesla does succeed in ramping up volume with the addition of the Model 3 during the course of 2018.
Tesla books biggest ever quarterly loss
General Motors' restructuring efforts turn to South Korea, where a plant that used to supply Chevrolet models to Europe is now operating at a very low rate of capacity utilisation. GM said it would end production and close its Gunsan plant by the end of May. "The Gunsan facility has been increasingly underutilised, running at about 20% of capacity over the past three years, making continued operations unsustainable," the automaker said in a statement.
General Motors axes a South Korean assembly plant
In its latest projections of long-term global energy trends, oil company BP forecasts that electric cars will form around 15% of the global car parc in 2040. Yep, just 15%. However, because of their higher intensity of use, BP forecasts they will account for around 30% of total passenger vehicle kilometres.
In BP's projections, overall global transport energy demand grows by only 25% despite total demand for transportation more than doubling, reflecting accelerating gains in vehicle efficiency. The transport sector continues to be dominated by oil (around 85% in 2040), despite increasing penetration of alternative fuels – particularly natural gas and electricity. Fossil fuels will perhaps be around for a while longer (although BP might well say that…and oil companies do have a good record of finding new reserves…).
EV share of world car parc forecast at 15% by 2040
There are a few comings and goings executive level through the course of the year, naturally. Some are expected, some unexpected. It's fair to say that Ford CTO Raj Nair's sudden exit from the Blue Oval is a surprising one and it's out of the blue.
Raj Nair exits Ford after investigation into behaviour
Joint ventures and company partnerships in China are anything but exclusive. Which is iullstrated when BMW announces it is planning to make an electric MINI, working with another local partner besides Brilliance – Great Wall Motor.
BMW in talks with GWM for electric MINI production in China
We also published an in-depth interview with Jaguar Land Rover's global purchasing director (chassis systems), Neil Marsons. It is well worth a read for an OEM perspective on supply chain matters.
March
The month of March means Geneva, for the show conveniently located next to the airport and in a relatively modestly sized exhibition hall. There are a few manufacturer no-shows, but there's still plenty on show (our list of debut models). VW got a fair bit of attentions with its Vizzion and there was a flying car, too. Well, I am not sure if 'car' is quite the word…
It's around March that US President Trump starts to make waves in the automotive business with talk of new tariffs in response to international trade imbalances. It gets more serious with the imposition of new, higher and unilateral US import tariffs on steel and aluminium.
It's an important and much anticipated launch from Jaguar – the I-Pace. It's a clever design to maximise interior space and a 90kWh lithium ion battery and 298 mile with EV navigation to ensure range optimised routing. Jaguar launches its electric SUV. It's made by Magna in Graz, Austria.
In March, we took the automotive temperature in Russia at a major conference – and it's warming up from the deep freeze it was in until fairly recently. Firmer energy prices have helped, but they have gone the other way lately. Next year should see recovery continue, but much depends on what happens to energy prices and they remain subject to volatility.
Volvo-Geely's coming together takes another twist when Geely-owned near-premium brand Lynk & Co announces it is to make cars at a Volvo Cars plant in Belgium. Starting in 2019, the Lynk & Co 01 model will be produced at the Volvo Cars facility in Ghent, Belgium. The cars will be made on the same assembly line as the Volvo XC40.
Ford announces a major strategy plan out to 2020 for the US market, claiming it will have the freshest line-up among all full line automakers with average showroom age dropping from 5.7 to 3.3 years as it replaces three quarters of its range. It is also promising full connectivity ahead of over the air updates and the 'Transportation Mobility Cloud'. There's a major move into SUVs and away from conventional passenger cars.
How quickly is electrification coming? Newly-installed ZF CEO, Wolf-Henning Scheider, says the supplier is positioning itself to address electromobility penetration of up to 40% by 2030 as the shift from conventional fuels gathers pace.
In the UK, it was a very cold start to spring, with snow and ice keeping the daffodils at bay. One of our number found himself fortuitously in a Mercedes X-Class in conditions that could properly test the 4-wheel drive set-up. As OEMs search for niches, it's certainly an interesting one for a premium marque.
Challenging automotive futures are bringing extraordinary and sometimes unprecedented moves from companies. News emerges that BMW and Daimler have signed an agreement to merge their mobility services business units. A joint venture company is to be set up to facilitate this unprecedented collaboration between the two rival premium carmakers.
After a controversial – and at times bitter – hostile takeover bid, investment company Melrose finally takes control of UK supplier giant GKN (master of the constant velocity joint). Melrose had to make certain commitments to ensure it could get enough shareholder support though. The financial problems in the group are in the aerospace division. Some restructuring is likely to be ahead; it's a question of when. Watch that space in 2019.
Alibaba-owned Tmall unveiled what it says is China's first 'auto vending machine', partnering with Ford for what is described as the first phase of a larger push to upgrade the test-drive experience for Chinese consumers. The giant vending machine is called a "Super Test-Drive Center" in Guangzhou and offers three-day test-drives to potential buyers researching their next purchase, allowing them to choose from more than 100 vehicles, including the Explorer SUV, Mustang, Edge and Everest models. Love the pic.
April
Finally, Fiat Chrysler Automobiles (FCA) announces it is to develop and implement a plan to separate the Magneti Marelli business from FCA and to distribute shares of a new holding company for Magneti Marelli to the shareholders of FCA. The divestment of Magneti Marelli has long been trailed by FCA, which is looking to raise capital to shore up investment in its core car business.
Wolfsburg politics goes into overdrive and we receive a somewhat cryptic press release. Later in the week, Herbert Diess is confirmed as new chairman and CEO of Volkswagen Group as part of a plan to speed up change in the vast company and make it more efficient. He replaces Matthias Mueller. The impression, in some quarters, is that Diess will be better able to drive change and manage cost.
Toyota controlled truckmaker Hino Motors and and Volkswagen Truck & Bus also sign an agreement aiming to build a mutually beneficial strategic long-term partnership in their commercial vehicles businesses.
Attention turns to Beijing in April. This year, it is Beijing's turn (it alternates with Shanghai) to host China's big annual motor show – Auto China 2018.
BEIJING MOTOR SHOW – Final world debuts list
Geely-owned near-premium brand Lynk & Co announces it is to make cars at a Volvo Cars plant in Belgium. Starting in 2019, the Lynk & Co 01 model will be produced at the Volvo Cars facility in Ghent, Belgium. The cars will be made on the same assembly line as the Volvo XC40.
Bosch claims a major breakthrough in diesel technology which it says 'promises to reduce emissions of nitrogen oxides to unprecedented levels'. The new developments were unveiled at the company's annual press conference, where Bosch announced record sales revenue of EUR78.1bn. Bosch said the technology will enable vehicle manufacturers to reduce emissions of nitrogen oxides (NOx) so drastically that they will comply with future limits, without the need for any additional technology. A combination of advanced fuel-injection technology, a newly developed air management system, and intelligent temperature management has made such low readings possible, the company says.
May
BMW-owned Rolls-Royce unveils its super-luxury SUV, the Cullinan. It says the car – named after the largest diamond ever discovered – is an 'all-terrain high-bodied car that makes the idea of authentic, luxury off-road travel a reality for the first time'. Luxury travel is, according to Rolls-Royce, now 'Effortless, Everywhere'. Described as the most practical of Rolls-Royces, the Cullinan is fitted with a 6.75 litre twin-turbo V12 Rolls-Royce engine that delivers 563bhp/420kW and 850Nm/627lb ft of torque to the all-wheel drive, all-wheel steer system.
Aston Martin reveals plans for a new Lagonda SUV, which will be the first Lagonda sub-brand product to market. It is scheduled to be unveiled in 2021 and Aston Martin claims it will be the 'first emission-free luxury Battery Electric SUV to market'.
As the year progresses, vehicle makers with investments in Britain become more vocal in their warnings of the risks associated with uncertainties and scenarios associated with Brexit. A senior executive at BMW tells us of the particular concerns associated with pressures further down the supply chain.
There are different messages from OEMs though, which serve as evidence that intense discussions are taking place. Toyota Motor Europe's London representative, Tony Walker, tells just-auto that the UK government is listening and understands the concerns of the UK's auto industry over future trade arrangements with the EU when the UK exits from the EU.
WLTP comes onto the radar as the deadline for its application in the EU (September 1st) starts to loom. We publish a backgrounder and explainer.
June
Clever engineering. Audi reveals that optional virtual exterior mirrors will be making their world premiere in the series production version of the Audi e-tron prototype. They are much narrower than the standard mirrors, reducing the vehicle width by 15cm and, thanks to their new shape, reduce wind drag and noise.
A German media report of remarks attributed to US President Trump hits investor confidence in German automakers, amid an ongoing ramping up of trade tensions between the US and countries around the world. One reported version of the remarks is that Trump threatened to pursue German carmakers until there are no Mercedes-Benz rolling down New York's Fifth Avenue. It sets the tone for rising trade tensions between the EU and US throughout 2018.
Fiat-Chrysler lays out its strategic plans – it's the last one for FCA supremo Sergio Marchionne (who is tragically lost to illness later in the year). A big achievement is removing corporate debt.
Fiat Chrysler lays out its plans – what happens next?
Geely's Volvo Cars announces new financial and operational goals which, it said, "will position the company as a leading player in the global automotive business by the middle of the next decade". On the operational side, it expects to generate half of all annual sales from fully electric cars, one third of all cars it sells to be autonomous and half of all cars it offers to customers from its new 'Care by Volvo' subscription service.
Volkswagen and Ford sign a memorandum of understanding and are exploring "a strategic alliance designed to strengthen each company's competitiveness and better serve customers globally". The automakers say they are exploring potential projects across a number of areas – including developing a range of commercial vehicles together to better serve the evolving needs of customers. Later in the year, it seems that the pendulum is moving towards a deepening of the relationship.
Volkswagen Group and Audi are thrown into crisis after Audi CEO Rupert Stadler is arrested in connection with 'dieselgate' and reports that he has tried to influence potential witnesses. Investigations continue into Audi executives' role or knowledge in the 'dieselgate' emissions cheat scandal. Stadler is arrested after his phone is tapped by the police.
Volkswagen announces it is increasing its stake in the California technology company QuantumScape Corporation and forming a new joint venture to commercialise solid-state battery technology by 2025.