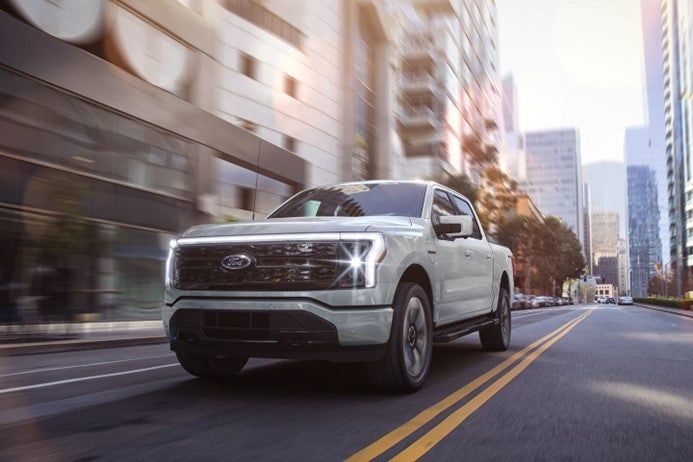 South Korean electric vehicle (EV) battery manufacturer SK On Company is considering suspending operations at its Georgia plant after customer Ford Motor reported unspecified "issues" with batteries that power its new F150 Lightning electric pickup truck.
Ford halted production of the Lightning at its Michigan plant at the beginning of last week to address problems with the nickel cobalt manganese batteries which emerged during the pre-delivery inspection stage.
Ford had not issued a recall notification so far and its dealers continued to sell existing stocks of the Lightning truck, launched last April.
Ford had stopped deliveries to dealers, however, and said it expected production to be suspended, until at least the end of the month, to address what is reported to be "a potential battery issue that resulted in a vehicle fire".
The automaker said it thought its engineers had found the root cause of the problem. An investigation was expected to be completed by the end of next week, followed by adjustments to the truck's battery production process which could also "take a few weeks."
SK On said it was "cooperating with Ford to find out what exactly caused the output suspension".
The battery problem came as a wake up call for SK On, which had been expanding aggressively in the US in the last two years. It has a joint venture with Ford, called BlueOval SK which is currently building two EV battery plants in the US (and another joint venture with Hyundai Motor which plans to build a battery plant in Georgia).
Separately, SK On Company was considering pulling out of an agreement to build an electric vehicle (EV) battery plant in Turkey in a deal with Ford due to deteriorating funding conditions, according to reports last month.
The first phase of SK On's US$2.6bn plant in Commerce, Georgia, which supplies the Lightning batteries, was completed in January 2022. When the second phase is complete, the factory will have a total production capacity of 22 gigawatt hours (GWh) of batteries per year, enough to power 430,000 EVs.
By 2025 SK On and its joint ventures are expected to have production capacity of 150 GWh in the US alone.
The battery problems came as a blow to Ford, as it was looking for the Lightning to help make up for a slow start in the North American EV race. The automaker this year still planned to produce 150,000 Lightnings, competing with the GMC Hummer EV and Rivian R1T truck. Next year Tesla plans to disrupt this segment with its own EV pickup.
Earlier this month Ford announced a new technical partnership with China's CATL to build its own US$3.5bn EV battery plant in the US, scheduled for completion in 2026 with capacity for batteries to power 400,000 EVs per year.
Ford talks with LGES to replace SK On in Turkey