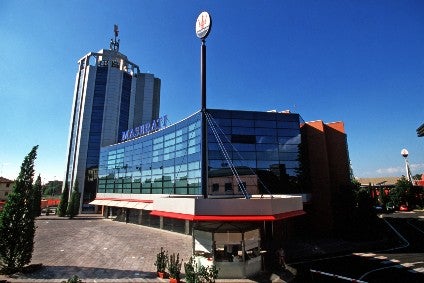 Those rumours about FCA wanting to transfer ownership of Maserati, along with perhaps Alfa Romeo to ZGH were quashed by the Chinese OEM a few weeks ago. We know the outline of what's ahead for Alfa but the trident logo brand also needs a reboot. It had a disappointing 2018 and, in common with other parts of the Fiat Chrysler empire, desperately needs new models. So what's on the way, and when?
From 15,000 to 51,000 in five years
Even though deliveries missed Fiat Chrysler's stated annual target, Maserati reached a fresh peak in 2018, sales touching 51,500 cars. What's lacking is the profit margin which rivals such as Porsche (granted, it sold five times as many vehicles) or indeed certain smaller ones such as Ferrari (sales were less than a fifth of Maserati's last year), enjoy. With Harald Wester back in charge, we should expect a bit of a shake up. In a good way. Something he ought to insist on is an end to stated targets, at least when it comes to the number of cars to be produced and delivered.
Five years ago, the same man who was then the CEO before being moved to Alfa Romeo, told journalists, "We confirm our targets: 50,000 in 2015 and 75,000 in 2018."
During 2013, the year prior to these aspirations having been announced, just 15,400 cars were sold. Which is why those who focus only on the company's recent sales dip should also remember how far Maserati has travelled. There is though, much work to be done, and most of that is due to the start-stop-restart nature of how FCA's senior management has overseen certain divisions.
Alfa-Maserati breaks apart
The separation of Alfa Romeo and Maserati which took place four months ago will, it is hoped, not see Wester becoming bogged down in an overly complicated restructuring. And that all the talk of FCA potentially handing over Maserati, Alfa Romeo and/or any other marques to a new owner will stop. Under the current FCA chief executive officer, the company's workers haven't heard any statements to the media about a supposed 'merger' with General Motors or a sale to 'the Chinese'. In theory then, their morale should have been restored, and with it, goodwill to go the extra mile in producing the highest-quality cars.
Three vehicle plants in Italy
A recent statement to the press about fresh funds for the historic Viale Ciro Menotti plant in Modena should cheer those who work there and reassure them that they have a future. While we don't know for certain what model is going to be made there after a refit which is scheduled to begin in October, the Alfieri (see below) seems the most likely. The other two plants which produce Maseratis are in the greater Turin metropolis. Mirafiori and Grugliasco have also had investments in the not too distant past.
Next: an electric supercar and a smaller SUV
It has been eight months since Fiat Chrysler's Balocco briefing, at which certain plans were presented. Details by brand can be seen here. Or to see only what concerns Maserati, these are the bullet points:
Alfieri (also a concept from 2014) will be the name of the replacements for the GranTurismo and GranCabrio rather than an additional, cheaper model
GT and GC will likely finally cease being built later in 2019 – the first of the two dates to 2007
Ghibli and Quattroporte will be replaced
an emphasis on electrified powertrains with the Alfieri to be electric
overdue Porsche Macan rival still part of the brand's future, now expected in 2020
former logical plans for a range of vehicles to be priced above Alfa Romeo and below Ferrari may or may not have been abandoned – unclear from presentation
One of the interesting, if unsaid things about Maserati's future model line-up is the expectation that its links to Alfa Romeo will broaden rather than dwindle. The additional SUV could be based on the Stelvio and perhaps even manufactured on the same line at the Cassino plant. Alfa needs and will have a larger 4×4 to take on the Cayenne et al. FCA hasn't told us much about that vehicle. It would be an intelligent move to base it on the Maserati Levante.
There is always the chance that stated plans will change, so until any of these models appears in showrooms, planning for their proposed arrivals should be noted. Rather than regarded as 100% guaranteed. FCA's track record of delivering what it says it will isn't great yet it is by no means alone in that. Things change. JLR for example showed us the Range Rover SV Coupé, only to subsequently cancel it for reasons which are still not fully clear.
Sports cars
The statements made about the future Alfieri model at the so-called 'Capital Markets Day' last June, the venue for which was Alfa Romeo's Balacco test track, contradicted what had been said on previous occasions. It is now claimed that a coupe and a roadster which could look something like the Alfieri concept from nine years ago will be positioned as the replacements for the GranTurismo and GranCabrio.
Back in December 2012, Fiat told us that successors for the GranTurismo and GranCabrio (GranTurismo convertible in some markets) would be launched during 2015. Then at an investors' briefing by FCA in May 2014, the GranTurismo replacement was simply listed as being due for launch in 2018 – no explanation for a three-year delay was given. Not much was announced for a while after this, but a Maserati executive confirmed to just-auto.com in November 2016 that there would be successors for both cars. Eleven months prior to this, there were reports claiming that the GranTurismo and GranCabrio had been delayed until 2019 and 2020. Plans subsequently changed yet again.
At the end of 2016, news broke that the coupe and convertible would likely now appear in 2018 and 2019 respectively and that the smaller, two-seat Alfieri had been pushed back until 2020/2021. Both would use a new architecture, this platform to be an evolution of that which underpins the Quattroporte, Ghibli and Levante. It would have more aluminium in its construction than the sixth generation Quattroporte's platform.
The successors for the GranTurismo and GranCabrio might now be released in 2020, 2021 or 2022. They could become more expensive as the Maserati brand might be positioned above Alfa Romeo and below Ferrari in terms of pricing. In the UK market, that would mean £50,000-£150,000, just-auto.com was told at the market launch of the Levante. Now, with this latest media release from Maserati about money going in to its Viale Ciro Menotti plant, the Alfieri could well the new sports car which the firm says it will begin manufacturing there "in the first half of next year".
At the Balocco briefing, the slide on Maserati's future models stated that the Alfieri would be electric. But surely there will be petrol-powered variants too?
Sedans
The Ghibli, which revived and reinvented a model name from the firm's past, is the smaller of two Maserati sedans. It has been around since mid-2013. This sedan, which is about the same size as the Mercedes-Benz CLS-Class, is manufactured at the former Bertone plant. This is located in Grugliasco, 10km west of Turin. FCA acquired this factory in 2009 and refitted it for the production of Maserati models. Renamed in honour of Fiat's patriarch, Giovanni 'Gianni' Agnelli, it is officially known as Officine Maserati Grugliasco or AGAP for short.
A facelifted Ghibli had its world debut at the Chengdu motor show in August 2017. The name also changed, the suffix 'GranLusso' being added and electric power steering replaced a hydraulic system. There could be another facelift this year or next as a way to jump-start sales, which have slowed. A PHEV powertrain seems likely too. The next generation may become available in 2021. It is possible that FCA may instead make the facelift a major one and keep the car on sale until 2022.
Generation six of Maserati's largest four-door car was a world debut at the Detroit motor show six years ago. So the Quattroporte is way, way overdue for a facelift. There have at least been a series of tweaks, including new and upgraded engines. A true facelift is due this year and there should also be a PHEV powertrain as an additional variant, not a replacement for existing propulsion systems.
Even though FCA said last June that replacements for both Maserati sedans would arrive by the end of 2018-2022 plan, that could change. In fact, the seventh generation of Maserati's longest model may be as far off as 2023. That would give FCA a fair bit of time to watch how well cars such as the Mercedes EQ S are received in the market. If the electric S-Class bombs, the Italian OEM can then decide – probably during 2020 or 2021 – whether or not there will be a BEV variant of the Quattroporte VII.
SUVs
Maserati's second SUV was claimed to be under development and due out in 2020, FCA's then CEO Sergio Marchionne told analysts in October 2017. While this would make sense – to have a vehicle which would be sized at around 4.6-4.7m and so compete with the Porsche Macan – such statements from the company do not always lead to the model in question reaching production. Or reaching production on time.
A 'D-UV' was mentioned in FCA's brand presentations at its so-called 'Capital Markets Day' in June 2018. No release date was named but 2020 or 2021 would be the best guess. It would also make a lot of sense for FCA Italy to manufacture this model on the same production line as the Alfas Giulia and Stelvio.
The larger Levante (5,003mm) has been in production since February 2016 which means it's probably about 6-12 months away from a facelift. Sales have taken a hit during the last year, especially in China.
The Trofeo, a V8-engined variant, was added to the line-up in 2018. This was the first time that the Ferrari-built 3.8-litre engine from the Quattroporte had been fitted to the Levante. Its outputs are 590hp and 730Nm.
A Levante plug-in hybrid will be another addition to the line-up, FCA stated in June 2018, without giving a date for its introduction. Even though the Maserati SUV uses a RWD/AWD architecture, the powertrain is expected to come from the Chrysler Pacifica Hybrid. Despite its model name, the big Chrysler minivan is a PHEV.
The successor for the Levante should be on sale in 2023, although this could well be pushed out to 2024, 2025 or later, given the unpredictability of FCA's actions for many of its brands.
Will there be a third SUV for Maserati? Some sources say yes. A model aimed at the Bentley Bentagya is said to be something which FCA is considering. Bigger still than the 5m long Levante, such a vehicle could work well in the same price range as the top end Quattroporte variants. Crucially, it would have to be priced below Ferrari's SUV. The business case might be tricky to make, as there is already a lot of competition with even more vehicles on the way, so by 2022 or 2023, Maserati may find it hard to take on the incumbents.
Reports for many other manufacturers' future models are grouped in the OEM product strategy summaries section of just-auto.com.
Future product program intelligence
More detail on past, current and forthcoming models can be found in PLDB, the future vehicles database which is part of QUBE.
Fiat was the first, then came Abarth, Lancia, Alfa Romeo, Ferrari and now this one is the sixth feature in a series covering current and future passenger vehicles made by Fiat Chrysler Automobiles. Others to come will focus on Chrysler, Dodge, Jeep, and finally, Ram.